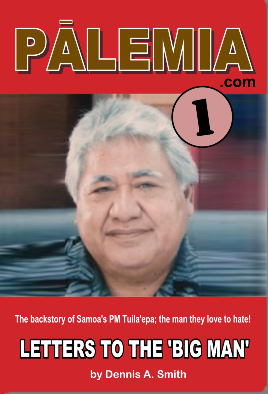 I share here three big 'shames' relating to Tuila'epa , the Prime Minister of Samoa, a man whom I call a coward and a crook – a corrupt politician overseeing a small proud nation.
1. TUILAEPA.COM – In 2010 I secured the domain name www.tuilaepa.com for the 'big man'. Sadly, or humorously if you despise the man, it is now an Asian porn site.
He will never get the domain name back.
For the record, I had nothing to do with this state of affairs. I always attempt to be the consummate professional and was a leader in the IT industry in New Zealand. I still retain information given to me by the 'big man' up there in confidence, and no action taken against me by a cowardly political leader will ever cause me to stoop to a level of petty politics. Even now, if he approached me, apologised and admitted his illegal conduct in declaring me a prohibited immigrant and preventing my return to my Samoan wife and family in Samoa, I would help him. He won't however, for Samoans can never apologise, for cultural 'shaming' reasons.
The facts are however that while he used my expertise his online profile went up. When he cast me adrift over a matter of integrity (surely there wasn't a woman involved, was there?) I withdrew my supporting advice. He is now facing shame across the globe with women's genitalia in the face of visitors to his personal name. It is difficult to describe the disgrace that this brings the people of Samoa, the majority of them highly religious and within a culture where they say, "shame is worse than death".
IMHO, it is appropriate that his name will now be associated with sexual immorality as it was my naming of his mistress, a 'close' CEO caught having sex with him in his office, that was his undoing.
2. PALEMIA.COM – When releasing his memoirs, Tuila'epa called his book Palemia (Samoan for Prime Minister). I wrote four books of the same name and own www.palemia.com. 2 + 2 = ???
3. THE ENTIRE .WS NAMESPACE – In 1999, Tuila'epa and one of his 'friends' Octevi (eventual owner of the then government owned CSL) sold the entire .ws namespace to a private entity – along with only one other island nation stupid enough to do this. Akin to selling the goose that lays the golden egg, the income to Samoa in the 20+ years since would have paid off the national debt. And he regularly calls others a fool? Go figure!