What follows is the Introduction to my latest book, 'EVIL UNMASKED!! Understanding Widespread Systemic Satanic Pedophilia', ISBN: 978-0-473-56629-6.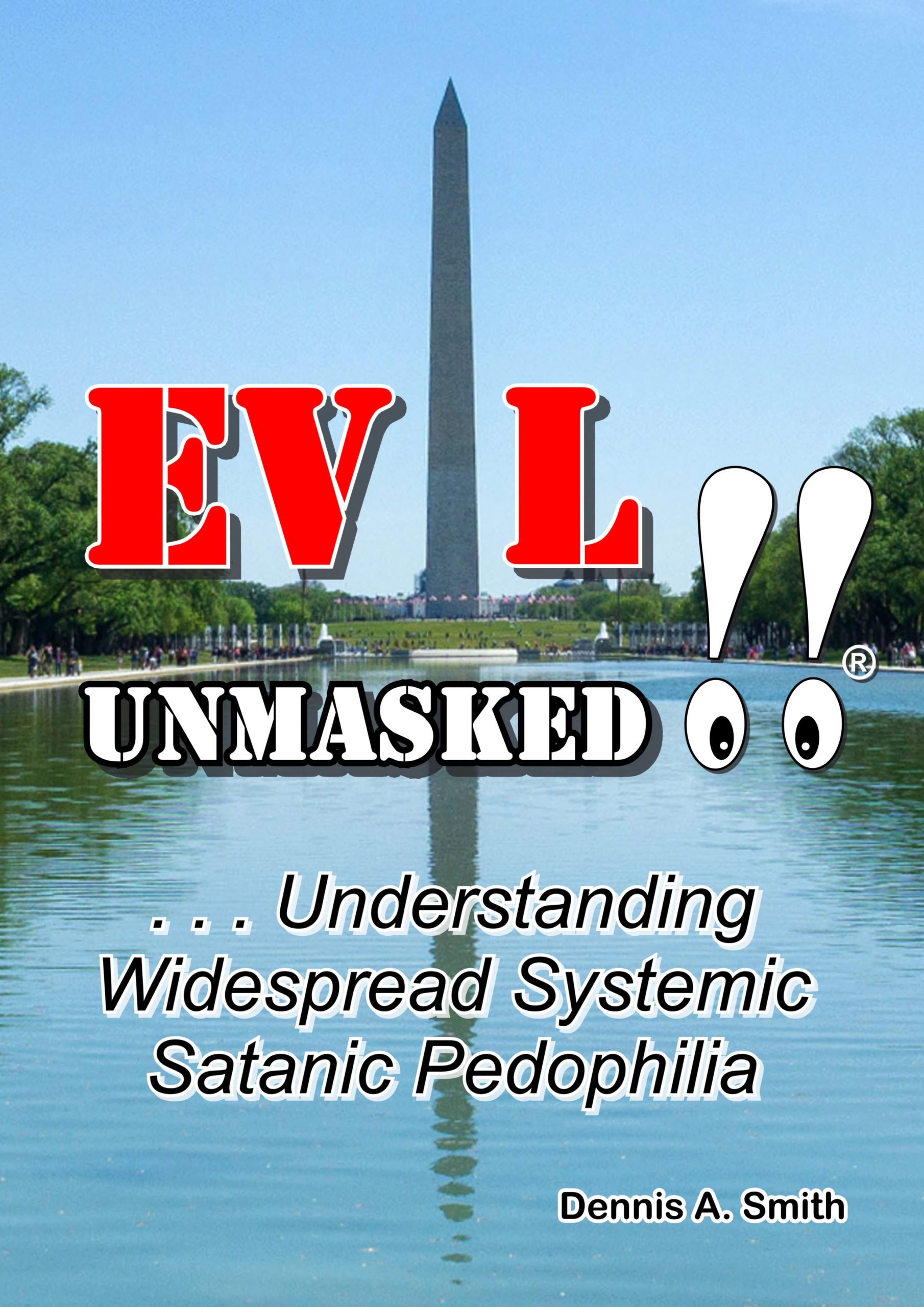 A newbie to conspiracy usually starts with the default position that the world is good. It usually doesn't take long though, for one who appreciates truth to recognise an alternative reality – evil is instead, the default position on planet earth. The former may come to pass eventually but it is currently wishful thinking.
I realised this subconsciously quite early in life when my father raised his voice and denied an emotion that I knew to be true. "I'm not the boss, I'm your father!" thundered from the families authority figure as he drove us when, where and how he alone had determined. As if that wasn't enough to confuse a young innocent fella like me, I also learned from my sister that Santa's shopping list was written in my mother's handwriting.
Ouch!! I hate it when that happens!
It is a mark of maturity therefore, to accept that evil exists. Indeed the more that we know, see and accept that there is evil all around us, the wiser we become. Increased maturity is shown by our capacity to learn how bad the world is, or can be, yet at the same time hold a constructive balance sufficient to help and bless those around us – family, friends and the wider society.
In Christendom we talk of "being IN the world [of evil] but not OF it". This mindset can easily become offensive to those outside of the Christian belief system when it is perceived as judgmental, but it need not be and it holds a truth. The key here is that we all have a choice to think or act a certain way, what we [Christians] also call "free-will choice". This is the power to make decisions of our own rather than having God (or karma or fate) predetermine what we think or do.
Interestingly this free-will choice is the only thing that the Lord prevents the evil one interfering with. The book of Job, one of the earliest books in the bible, explains that He permitted Satan to mess with all aspects of Job's life except that of his faith, his capacity to choose to remain faithful to God stayed with Job untouched, despite a full range of other traumas.
The question, "From whence evil?" coming from both a conceptual and practical level, is the subject of this book.
I start with the process of defining evil, explaining that darkness is simply the absence of light. I then spiritualise this concept. I share my life-long learning experiences showing how I've found that the Christian world-view holds the greatest credibility, and that when we are honest, this perspective matches most closely to reality.
Essentially it is the Christian message that there is a Creator and that He created good. Mankind chose evil and to put it crudely, screwed up. All hell broke loose (literally) and we were sent packing, away from His presence because He just cannot handle arrogance and rebellion. This distancing at the eviction of His creation broke His heart. Being outside of time however (having created it), He knew that His solution to this arrogance and distancing was just around the corner, a few thousand years hence! Jesus the Messiah restored that relationship – assuming our humility, faith and obedience of course.
In this book therefore, I move into discussing this arrogance and describe how we are all "up our selves" and explain exactly how our humility is required to deal with this evil.
The Good Book puts it pretty directly when Paul says,
For all have sinned, and come short of the glory of God;

Romans 8:28
So if we're all in the poo, why is it then that some of us kiddie-fiddle and some of us don't? Why on earth is it that people can actually enjoy chopping up live babies in the womb, even 'viable' ones, then participate in Satan worshiping pedophile orgies, drink Adrenochrome and participate in snuff movies and do worse – and much, much worse too?
While I do cover the results of my investigation into what goes on in the elite Hollywood, political and financial circles, this is not so much a book describing the details of this evil, rather it is an explanation of the how and why Satanic Pedophilia is "widespread" and "systemic". There are several reasons, I detail three of them in this book:
1. Putting aside issues of media bias and sensorship for a moment, we see and hear things more readily now with the opened communications via modern technology. One would be crazy to think that in times gone by the evil of Satanic Pedophilia did not exist. It is though quite likely that this is now being seen by more whereas previously it was a hidden activity;
2. The Western world has largely turned its back on the Creator, thus He permits evil to flourish by removing His restraining influence. One has to expect then, that evil will both increase its influence & attraction and that it becomes more visible; and
3. There is more money and power in the hands of the elite than ever before. It is natural then that those with huge power and influence will 'play' to a greater degree than previously. While a hundred years ago it was only the Black Nobility and a few powerful elite who had the power and resources to play as they chose, now there are unprecedented thousands, if not millions with huge resources at their disposal which many of them use to control the weaker members of society.
Self-promoting human decision-making in a spiritual void or moral vacuum takes a slippery slide down that proverbial slope. In the last century or two, having increasingly rejected the absolutes of scripture, mankind has increased its capacity for and tolerance of evil.
This book concludes with big-picture explanations of how to deal with this curse. As always I reference back to the Master's example and instructions, and as always He asks us to HEAR and OBEY, individually.
Evil is not first a societal problem that is 'out there' like "Widespread Systemic Satanic Pedophilia" may be. Its "widespread and systemic" aspects actually come second in importance for it is first and foremost a personal 'internal' issue, where individuals choose to ignore that still small voice that speaks within, then with independence says, "No!" to Him.
It's pride that permits deception to gain a foothold. Humility on the other hand permits us to ask appropriate, deep and meaningful questions, then to think, process and then choose to bring the light in. When we do this darkness has no choice but to disappear.
Let's get started then . . .
Dennis
7 May 2021