I define evil as 'anything that falls short of God's desires' but Satanic Ritual Abuse (SRA) & Pedophilia are widely seen as the pinnacle of evil. Even murderers treat pedophiles with contempt – all this makes perfect sense when the original sin is seen as a sexual act. In this post I discuss the trial and conviction of President Clinton, noting that his confession should have very serious repercussions moving forward. Learn from this if it is not possible to actually enjoy this one.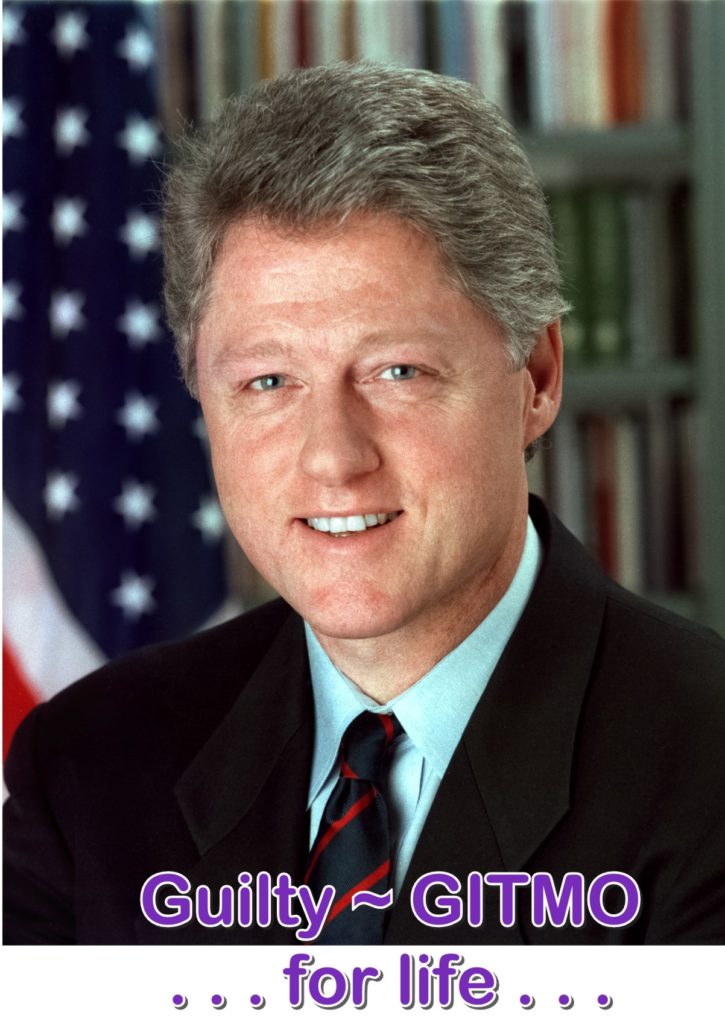 The background to viewing sexual matters as the pinnacle of sin, is that by analysing the guilty parties response (covering up their 'privates') the original sin appears to have been sexual in nature. Some theology accepts this as fact and in my experience this is my observation too. After all how many a preacher, pastor, mentor or regular business man has fallen to sexual misconduct? Politicians and public servants too show incredibly high incidences of sexual misconduct, to the point that blackmail and covering up by way of me-too-ism guilt is a major factor. Pot calling the kettle black sort of thing. "Can you really judge another if you too are guilty of the same thing?" Jesus asked of His followers.
Journalist Michael Baxter established a website Real Raw News in December 2020 and he seems to be the go-to-guy for all things Gitmo at the moment, with his reporting of events at Guantanamo Bay being ignored by the MSM – showing yet again that they clearly are an arm of the Deep State. As his credibility grows, his reliance upon "unnamed insiders" appears to have moved more to statements of fact issued in his own name.
His reporting of President Clinton's conviction and life sentence was highly predictable. What wasn't, at least for me, was Bill's lawyer's incredible confession to evil on behalf of his client following an emotional breakdown. Oh how the mighty have fallen when the man made famous by wagging his finger at and then lying to a TV camera, "I never had sex with that woman!" begs for his life. The cynical side of me asks what side of, "Save my sorry a*se" did this politician see, that day!
The Conviction
The Office of Military Commissions on Tuesday [22 June 2021] convicted former President William Jefferson Clinton on charges of treason and child trafficking, but sentenced him to life in prison instead of death after he threw himself on the mercy of the court in a tearful collapse.

https://realrawnews.com/2021/06/military-tribunal-convicts-bill-clinton/
The three officers serving as both judge and jury rendered a verdict less than two hours into the proceedings, as Vice Adm. John G. Hannink, prosecuting JAG's case, provided evidence of Clinton's participation in "adrenochrome parties" and of his many visits to Epstein Island, where he and convicted pedophile Jeffrey Epstein had taken part in drug-fueled parties with underage children.
For those few unaware of the significance of this, Jeffrey Epstein ran an island where the rich and famous flew to have a 'good time' with children. This is a high profile situation but it was reproduced across the globe in multiple cultures and jurisdictions, and underground. Consider the worst thing you could do to a human being – these guys did and do it.
Many of those children, Vice Adm. Hannink told the panel, were victims of a child trafficking ring that Bill and his now-deceased wife had orchestrated during Clinton's presidency. It eventually blossomed into a $1,000,000,000/year industry in which the Clintons and their friends either profited from or partook in criminal, lascivious behavior. Vice Adm. Hannink showed the tribunal transaction records proving that minors—often runaways and orphans—were routinely flown on chartered jets to Epstein Island and other secret locations, including the Clintons' majestic $3,000,000 mansion on Whitehaven Street, Washington, D.C.
The "billion dollar/year industry" is still operating and when the details eventually come out, it will, I believe, shock the world to its core. Indeed much of it will not be spoken of openly simply because it is so ghastly.
"Innocent children were coming and going from that home, and no one said a word. No one said a word because Bill Clinton controlled everything. Since all his pals were involved, no one talked back then, as talking would have implicated them or got them killed. Make no mistake, for the Clintons, killing was as easy as breathing. Bill Clinton, rapist, murderer, traitor, had limitless power to engage in reprehensible crimes," Vice Adm. Hannink said.
"Limitless power" indeed . . . until someone stood up and said, "No more! It is time to drain the swamp."
The Evidence
Vice Adm. Hannink responded by producing a dozen images, which he showed the tribunal, that clearly showed Bill, Jeffrey Epstein, and Ghislaine Maxwell engaging in sexual activity with underage boys and girls.

"We obtained these photographs courtesy of Ghislaine Maxwell," Vice Adm. Hannink said. "And we have many more."

"She rolled on me?" Clinton blurted.
Yes, Bill, she did so to save her sorry a*se too. Gissy was a Mossad agent and 'turned' in order to save herself in a plea bargain that spared her life in return for Queen's Evidence.
"Indeed she has. She told us how, after molesting them, you would openly threaten to kill them and frighten them out of their minds, then strap them down to gurneys and draw blood to convert into that adrenochrome concoction you people seem to love so much. She told us how you had erectile dysfunction, and that chronic use of conventional ED meds eventually made them useless. But you got newfound vim and vigor from Adrenochrome," Vice Adm. Hannink said.
Adrenochrome is a blood product created from extracting human blood from terrified children. It is high in Adrenalin and is incredibly expensive. This is a PDF with a sample of children held for extracting blood when traumatised. It was released in 2020 when the first evidence of Adrenochrome hit the alternative news sources. Most of us could believe it but we hadn't seen much evidence. These kinds of resources though, tipped the scales as too will Bill Clinton's confession when it gets into the public arena properly.
Kendall [Clinton's lawyer] objected, citing hearsay.

Before he could finish his objection, Vice Adm. Hannink maneuvered to a laptop at the prosecutor's table and rapped on the keys. A moment later, the face of Ghislaine Maxwell, live via a ZOOM call from her 6X9' foot holding cell in a NY prison, appeared on screen. She corroborated the prosecution's arguments, claiming she had personally witnessed Clinton have sex with 23 different minors between 1995-2016.
Oh boy. Yuck . . . the gory details!
The Confession
In either a transformative moment or a ploy, Clinton suddenly broke down in tears. He asked the tribunal for a moment to confer privately with his lawyer, and Vice Adm. Hannink put the tribunal on recess for 15 minutes.
I hope that this ploy was genuine, but that possibility is around 1% in my mind. People this far down the track do not generally turn around and confess from the goodness of their heart. While it is possible, the circumstances also count against this – at the end of a Military trial where he has a very good chance of facing the firing squad, and has been caught out with an eye witness, nah! To me this was a game played by a highly experienced and natural manipulator.
I hope that this ploy was genuine, but that possibility is around 1% in my mind. People this far down the track do not generally turn around and confess from the goodness of their heart. The circumstances also count against this – a smug, experienced lawyer and a politician, at the end of a Military trial where he has a very good chance of facing the firing squad, and has been caught out with an eye witness, nah! To me this was a game played by a highly experienced and natural manipulator.
Afterward, Kendall addressed the court: "William Jefferson Clinton committed the most egregious crimes known to man. He is truly remorseful and regrets his crimes. He accepts full accountability. He stipulates to all charges, and asks to be spared capitol punishment. He is 74 years old and in poor health and has one foot in the grave already. His only child has been left motherless. Should she be left fatherless, too?"
I find this "stipulation" incredible. "Stipulate" is a legal term and it is an old English word. Bill Clinton – a US President, admitted in one of the highest courts of the USA (a Military Tribunal) that ALL charges were true. While it will never happen, this should silence all critics of "conspiracy theories" once and for all! Vindication of SRA, Epstein, the evil Cabal partaking of Adrenochrome, child trafficking and worse evil indeed . . . OMG!
The Waco murders; ethnic cleansing in Serbia in return for millions in cash; Epstein adventures; murder; sex crimes against minors; treason; theft of government property . . . all now admitted fact.
'That only child will be here soon enough," Vice Adm. Hannink interjected.
Chelsea's pedigree will be no excuse for her as she is of age. While having a "wicked witch" for a mother and "like father like son" may be mitigating factors in any punishment, the sense of entitlement she carries though is of her own volition.
We all have a cross to carry and this may be of different size and weight depending on our circumstances. It is our human pride though that is the same across all people, all cultures and all time periods.