Legion are the ways that evil can manifest but it is always based upon deception. This is why Christ's claim to BE the Truth was so stunning. So too in business, and the deceptive practices of Commercial Barter companies (like BBX, Bartercard and others) demonstrate this perfectly. Enjoy.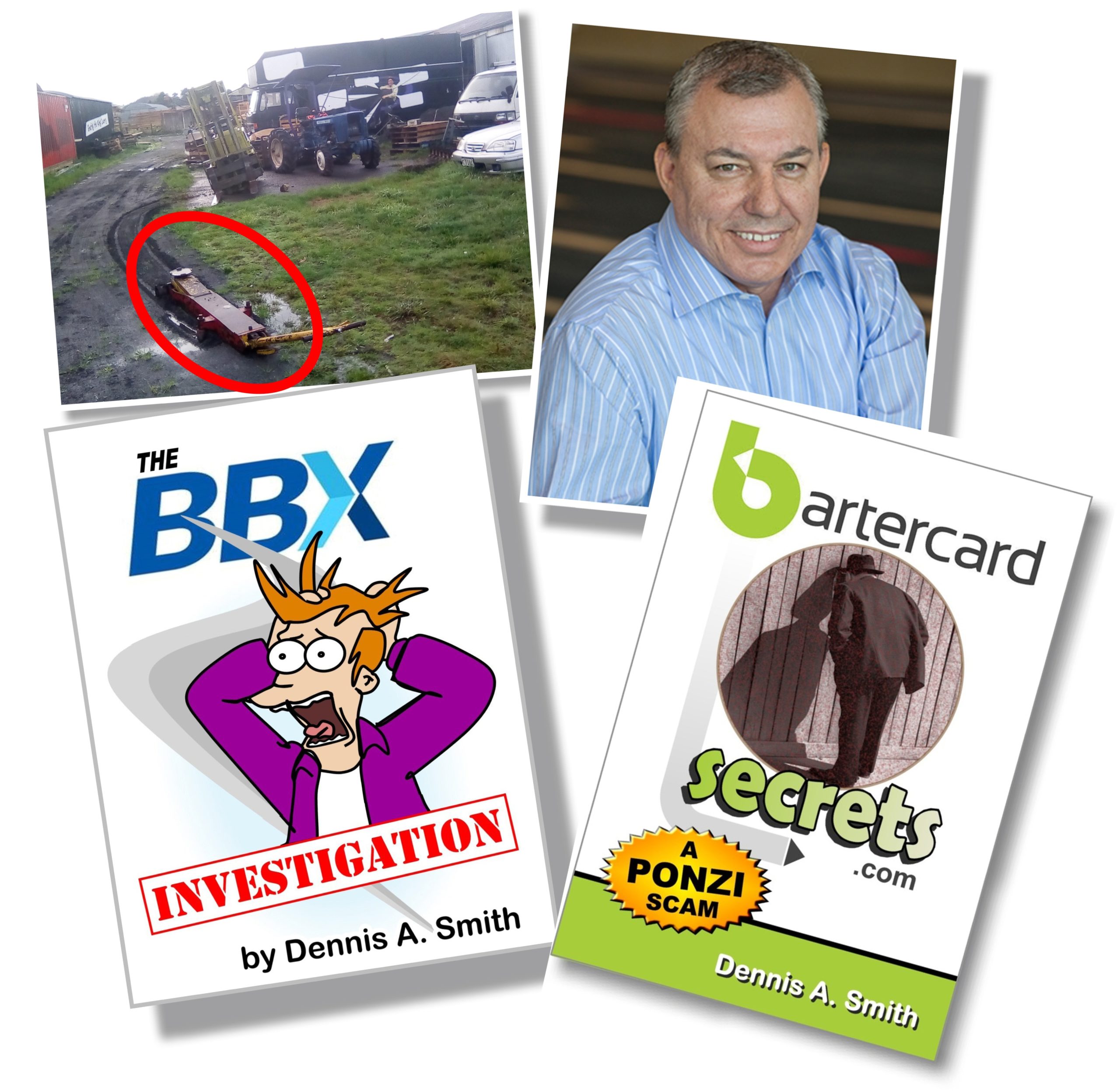 I recently got yet another email from a person caught up in the Bartercard con/scam:
I am a … Bartercard member of 5 years. I currently have 5 figures T$ sitting in the account with no way to spend. All I am doing now is let them hold my money (albeit useless it's my asset) at the same time paying them fees.
I feel very trapped and have no where to turn. Hoping you could advise or refer a local lawyer to help me move forward.
Kind regards,
[name withheld]
A fellow businessman recently took interest in the possibility of his establishing a Charitable Trust for his fundraising. We also discussed the establishment of a Trading Trust and I suggested that this would provide him creditor protection (as well as potentially tax and estate planning advantages). He replied that even though he had all his assets tucked away in a couple of companies he was safe, because he didn't ever get to go to court. "You have to have a reason to sue me!" he said. Umm, no . . . people lie and deceive all the time, my friend! I think he's led a bit of a sheltered life, actually.
I spend my time helping people take on the myriad crooks, crims & crazies of this world. If you've got something, they will do everything they can to get it . . . from the well-known local transient [currently] who tried to take my truck forklift . . . to the principals of Bartercard who steal from their members through deception at an international level . . . to the human manifestation of the [now executed] 'devil' whose name is on the organisation that takes children from their parents in Haiti. It's always done in the dark; under cover; in secret and it's all lies. All of it!
Let's work backwards from the case of Hillary Clinton towards the Bartercard scam, ending with my analysis of a supremely gifted conman, Paul Bolte.
Hillary Clinton was a high profile witch, literally. She was an overt Satanist in many circles but lied to the majority of her constituents when she attempted to gain the primary political power in the USA. Her failure to gain what she had bought sent her seething in rage telling her team to kill President Trump as a result. She was executed as a result of this and other things, hanging in Trump's presence, literally. Her deception meant that many children were stolen from their parents in the aftermath of the Haiti earthquakes and then sold. Most consider this conduct evil. Even some on her team thought so too, according to their damning testimony. I point those interested in Hillary Clinton's demise (and her husband Bill's arrest and impending court martial) to Michael Baxter's recounting of her arrest, trial and execution at www.realrawnews.com.
My business friend too had an issue dealing with the possibility that he could lose his wealth to adversity. In commerce we call preparing for this "Creditor Protection". It is good business sense to protect ourselves from adversity before it occurs, rather than stitching things together again after a crook strikes. It's the fence at the top of the cliff, rather than the ambulance at the bottom. It's the burglar alarm and security system rather than the insurance policy. It's asking the questions, "Could it happen?" and "What if?" rather than the smug feeling that it will never happen because it hasn't yet happened – yet!
There are many people out there all too ready to lie, steal and deceive – most in order to get something of yours, for themselves. It can be the "cussies down the road", the Pakehas across the street, the CDC, WHO and a gazillion other NWO con artists after your natural health; the taxman (or in NZ's case the tax woman) or those "Smiles in Suits" as I call them. It seems that when you expect them; when you prepare to protect that which is yours, then you have the best chance of remaining attached to what is actually yours!
The Bartercard Scam
Commercial Barter as a concept is sound, and simple. A trading exchange where people trade among themselves is a strong business concept. A central organisation creates a currency; provides a payment platform, and facilitates trading. They make their fees from the traders – membership fees; commissions on turnover, whatever is agreed.
Simple.
The problem* comes when (or it can be designed into the system at the outset) the individual trading figures are distanced from the corporate figures. Secrecy and fraud replaces transparency and honesty as the greed of human nature takes over. People will exchange their goods or services (real value) for credits within the system (funny money) and this is fine as long as people have trust in the system to "spend" their funny money. When trust evaporates, the con job is revealed and everybody goes away to lick their wounds.
This is a repeating pattern in any monetary system – the Roman Denarius to the Dutch Tulips through to the Weimar Republic mark through to the USD or the BBX or Bartercard Trade Dollar – where the power brokers abuse their power for personal gain. Little by little the currency devalues and inflation increases in both time and value rates until it eventually bursts its bubble when the scam is revealed. Of course the little guys (usually the good guys) miss out and the bad guys have the bulk of the value and have scarpered off – usually laughing all the way to the bank!
I will be sharing the bad news that they will have probably lost their investment with this investor above because I have been blogging for years about these crooks, and if it takes them this long to do some basic diligence I can't help them!
This person has sold good value into a system that has not only returned them funny money credits hugely over-valued but they have also been paying monthly cash fees as well! Sure the principals of this outfit are rotten to the core, but spare me days, how silly can you get?
So this is how it works . . . "Put your ten apples into this black box and take as many pears as you want. OK there's only two pears left? Then take them both and we'll give you an IOU for eight fruit." The crooks will then sell or eat six apples. To another grower, "Put your 20 oranges into this black box and take some pears or apples. OK there's only two pears and no apples? Then take them and we'll give you an IOU for 18 fruit." The crooks will then sell or eat 18 oranges. And so it goes on and on. When the balloon goes up, everybody has an IOU; there's only a couple of mouldy figs in the black box and the con artists are nowhere to be found.
Just so you can see how evil is associated with deception, please read the following glowing testimonials from a LinkedIn testimonial screen for a very classy 'crook' named Paul Bolte, masquerading as a 'great guy'. If you already know, just assume for a moment that you don't know that I've previously had a very serious run-in with Trevor Dietz, and that he's another Bartercard crook and that Weise, Qoin and other names are known conmen and businesses too.
Elaine FrenchSenior Executive Assistant/Facilities Director at Capital City Home LoansJune 13, 2019, Paul worked with Elaine in the same groupPaul is a man of integrity, character and a "get it done!" attitude. When my boss was interviewing for the EVP of TrustBridge, we went through 648 resumes. My personal communication with Paul always placed him at the very top of the pack. When we got to the final 3, without a doubt, Paul was my choice. My boss's position recently changed and my job ended. It was Paul Bolte that stepped up. He prayed for me, helped me get my home office set up and actively sent my resume out to his contacts. Paul's Christlike attitude will remain with me forever. He is not only exceptional with people but he is a leader worth following. See less

Geoff LoriganFounder and Advisory Board Chair at Institute for Strategic LeadershipAugust 31, 2018, Geoff was Paul's teacherI have known Paul Bolte since 2011 when he attended our Strategic Leadership Programme at Millbrook. Paul has impressed me as a talented, strategic CEO who makes things happen fast and to perfection. I have found him to be a man of integrity whom one can trust and rely on.

Josh WaltersExecutive Pastor of Ministries Seacoast ChurchMay 14, 2018, Josh was Paul's mentorPaul has been such a gift to our organization. One of our values is 'Make It Better' which requires us to mine the gap between where we are and where we could be. Appreciating the work ethic, processes and products of today while helping us see what tomorrow could look like. I think I've had 100 such "What if…" conversations with Paul around every aspect of what we do. He is always thinking about engaging our primary customer, how we could throw open the front door, close the back door and help people grow while they are here. Paul brings decades of professional experience and serves with the kind of character and integrity that will raise standards. I would recommend Paul without reservation. See less

Patrick GarnerEquipping CEO/Owners Build Better Businesses for a Greater PurposeMay 4, 2018, Patrick was Paul's mentorI've had the distinct pleasure and honor of working alongside Paul Bolte as members of the C12 Chapter here in Charleston, SC these last two years. Paul's love for people and his passionate pursuit of excellence have been a real joy to see up close. He is a thought leader for our group and his company's North Star when it comes to leading by example. All of us who are joined together by C12 in Charleston admire his faith, his positive contributions to our group, and the boundless creativity and enthusiasm he generates within and without our organization. Paul will add value to any enterprise that he leans into! See less

Jason WalterChief Executive OfficerMay 4, 2018, Jason was Paul's mentorI've gotten to know Paul through a CEO mastermind group I'm involved with over the past 2 years. I can say from experience that Paul is one of the strongest leaders I've ever met. His thinking is very strategic and his managerial skills inspire others to be be great! I've become a better leader by learning from Paul.

Trevor DietzManaging Director at Everest MB Pty LtdMay 4, 2018, Trevor managed Paul directlyI have known Paul for more than a decade – many of those years in a direct reporting relationship. He is a clear thinker who can lead individuals, teams and Boards to achieve great success and deliver both the Vision and Mission of the business. He is a man of his word, is regarded by his peers as a person with the highest of personal ideals and standards. Paul does not require supervision once given the direction and outcomes that he must achieve. Always respectful of all parties he is quality speaker at conferences delivering clear, concise and motivating presentations. He is totally comfortable with all things "On-Line" especially Social Engineering, Digital Marketing, the use of LinkedIn and in fact anything that can run on a PC. A good man to have on your team. See less

Steve McCulloughChairman at The C12 GroupMay 3, 2018, Steve was Paul's mentorI have gotten to know Paul over the last 5 years and can say that he is one of the very best and most principled CEOs I have had the privilege of working with. Paul has a gift of communication and administration. He operates with excellence in all he does and has abundant capacity. Paul is a true servant leader and this approach has served him well leading his team. See less

Frank WellsTruly CARE for your employees with Unlimited Medical Visits for $37/month!May 3, 2018, Frank was Paul's mentorPaul Bolte is a tremendous resource in the areas of leadership, serving customers and great communication. He is trustworthy and passionate about caring for people!

Bill T.Senior Business Development Manager at RapidFunnelFebruary 17, 2017, Bill reported directly to PaulAs a current Bartercardusa franchise owner and 30-year entrepreneur owning multiple businesses in many industries, I feel I am qualified to endorse both Bartercardusa and Paul the president and CEO. His leadership qualities rival that of the top CEO's in the world and has proven it over and over in his career at Bartercard. He opened the USA market which is now projected to become the largest market in the world for Bartercard. His core leadership skills include integrity, honesty, respect, and complete transparency with not only his teams but with the 1000's of business owners that are part of the Bartercard network throughout the world. When you join the Bartercardusa team as an employee, franchisee or business owner using our incredible barter exchange, you not only get a proven business model to work in, but you get Paul, a servant leader that will work tirelessly to help you achieve your goals and dreams. See less

Catherine CFreelance Contractor – Strategic & Brand ManagementOctober 15, 2014, Catherine worked with Paul but at different companiesI have known Paul since 2010 and have always found Paul to be a thinker outside the box; a connector of many people and not for the benefit of himself but to enable others to grow or establish themselves. The last 18 months have been very difficult for me professionally and personally and since reaching out to Paul and despite the fact he is in another continent he has not faltered in his professional friendship towards me and willingness to help. Thank you Paul for all your assistance, encouragement and most of all belief in me. The world is a better place for having people like you in it who selflessly go about their daily lives empowering & uplifting others before their own needs. I applaud you! See less

John SantosExecutive Vice President at Second Sunrise Credit RepairSeptember 14, 2014, Paul was senior to John but didn't manage directlyI have worked with Paul for the past year at Bartercard USA. During this time I have found Paul to be a visionary CEO and leader of our organization. His leadership style is extremely refreshing as he practices "servant leadership", whereby those at the "top" of the organization act as servants to all those who they manage. Paul practices what he preaches and in doing so he empowers, motivates, and inspires everyone that works for him to follow his lead. I have also observed Paul to be an excellent strategic planner, people manager, and extremely technologically astute. See less

Kate Duffy-PolchaBranch Manager at Island FederalSeptember 8, 2014, Paul was senior to Kate but didn't manage directlyWhen I think of Paul Bolte, I think of a man who is energetic, honest, hardworking, passionate about his path in life and possesses the highest level of integrity and moral standard. I have had the pleasure of working with Paul over the last 12 months at Bartercard, and I am inspired by his leadership. Paul is approachable, he leads by example and most importantly, Paul LISTENS. He hears what those around him have to say. I find that trait to be the one that impresses me most, and to be what truly sets Paul apart from others in similar positions to him. I have sincerely enjoyed working at Bartercard USA under Paul's very capable leadership, and look forward to all that the future brings! See less

Glen GreenGlen Green MNZM CEO / Founder of the Award Winning There's a Better Way Foundation Theresabetterwaynz.comApril 9, 2014, Glen worked with Paul but at different companiesPaul Bolte is one of the most caring individuals I have ever come across. He not only has vision but what separates Paul from many others is his action. Paul is Bartercard in the flesh. He has the ability to think outside the box and go after it. My passion and calling is the empowerment of others. After meeting Paul things started to happen. BarterCard gave me the opportunity to expand my vision across the County with out spending a cent. This included getting the Better Way message out Nationally, trading my time for products, discounts that were not made available to others,a network of companies I would have never had the ability to meet. We have growing over 100 percent each year after meeting Paul and joining the BarterCard community, impacting many communities, schools, I am now a busy key note speaker as well. We are now giving thousands back to Communities,signing contracts with FIBA, the list go's on. Paul and BarterCard have helped me take a dream as a Constable in the New Zealand Police force to the most amazing heights… Thank you Paul for allowing our organisation the opportunity to fly. Glen Green CEO/Founder There's a better way foundation See less

Mark PowellProfessional Independent Non-Executive DirectorApril 5, 2014, Mark was a client of Paul'sI know Paul from when he was CEO of BarterCard New Zealand. I am CEO of a retail business and with Paul and his team we fond a number of ways to innovatively use BarterCard to generate sales. Paul is a leader of passion and high integrity who I would have no hesitation in recommending to others.

Lorraine Beattiefine art Photographer – Photographic Artist at Lorraine Beattie PhotographerApril 3, 2014, Lorraine reported directly to PaulI have worked for/with and directly reported to Paul at two companies in New Zealand, (Omegatrend and Bartercard ) over a 14 year period. Paul is very business savvy and I found him to be an excellent Manager in his positions in both companies as CEO. He has a leadership style that allows his team to take ownership of their areas of responsibility and always encourages personal and professional growth of those around him. Paul is a person with the utmost integrity, true to his word, motivated, positive, goal oriented and totally committed. I have the greatest respect for Paul both professionally and personally and it is exciting to see Bartercard USA blossoming under his stewardship. See less

Tony WieseGovernor of the Qoin Reserve,March 29, 2014, Tony worked with Paul in different groupsPaul migrated from Australia and became CEO of Bartercard New Zealand for 5 years where he generated exciting growth in the business as well as in the people. Paul is a people focused leader and enjoys to work with their aligned values to help them achieve their goals. Due to this dedicated focus on building business through people Paul was asked to kick-start the USA business for the Bartercard International Group. In a short time he had all the legalities, systems and processes implemented and their first few franchise partners are already established. I recommend Paul to achieve a healthy franchise footprint in the USA, based on his proven success elsewhere and his outstanding leadership skills. See less

Josh SurrattPastor at Seacoast ChurchMarch 28, 2014, Josh was a client of Paul'sPaul is the real deal. He's a servant leader and he has been a huge help to me personally and professionally!

Richard ClarkeHead of Major and Business Events at Auckland UnlimitedMay 28, 2013, Richard was a client of Paul'sPaul introduced our organisation to the benefits of working with Bartercard in a way that made simple sense and clearly showed the tangible outcomes for our bottom line. Paul was as passionate about our business as he was about Bartercard, and continually provided ideas on how we could achieve better results through the relationship. The Bartercard relationship and Paul's personal approach resulted in more than $200k per year being moved from our cash expenses to Bartercard suppliers. See less

P RICHARDSONAdmin Team at Pacific 2 NationsMay 28, 2013, P worked with Paul but at different companiesPaul is one of the most exceptional Leaders of Leaders and PUBLIC SPEAKERS , I have ever meet and have had the privilege of associating with. He is what I would call "Exhibit A" , When it comes to entrepreneurial Business LEADERSHIP,Paul is a pace setter and servant leader.

Darryl ToreauxQoin Accredited Master WASeptember 27, 2012, Darryl worked with Paul in different groupsI have know Paul for around 4 years now, and although he works in NZ with Bartercard, our paths have crossed several times Internationally. each and everytime, I find him to be inspirational in his approach to not only Bartercard and the business, but to his people and staff. If all CEO's had a leaf out of Pauls book, they would be running a very successful company, with very happy staff. As a leader, I salute you Paul. See less

Paul O'DonohueCEO & Founder SalesStar ★ Sales Effectiveness Expert ★ High-Performance Sales Coach ★ Sales Growth Specialist ★September 13, 2012, Paul worked with Paul in the same groupPaul and the Bartercard team have delivered time and time again. How often do you get that? If you want to know why Bartercard is doing so well then contact Paul today and you will find out in a few short minutes of sharing. Paul is one of the most engaging CEOs I have ever had the pleasure of dealing with. A natural leader. I thoroughly recommend him. See less

Jay DaleyIETF Executive Director at IETF Administration LLCNovember 17, 2011, Jay and Paul were students togetherI spent an intensive week with Paul on a leadership course that examined every aspect of our personality and leadership style in depth and laid it all bare. What I learned about Paul, how he operates and the feedback he gets from the people he works with, left me in awe. Where others champion values, Paul lives and breaths them. Where others empathise with colleagues, Paul lives life through their eyes. Where others motive, Paul inspires. And to cap it all, Paul is one the most commercially astute people I have ever met. Simply awesome! See less

https://www.linkedin.com/in/paulbolte/
Now the essence of Bartercard's deceit is their capacity to hide debt.
This was admitted by Paul Bolte (whom I crossed swords with when he was in charge of Bartercard New Zealand). He then became Manager of the now defunct Bartercard USA. I knew him and his true values very, very well – a self-confessed Christian and unafraid to preach to men while simultaneously running a corrupt business. How corrupt was Bartercard? Thousands? Hundreds of thousands? Millions? Hundreds of Millions? Nah, nowhere near that . . . try a "B" – a billion – that I know of. Paul knows this well. Uncomfortably, (for him) he also knows that I know that he knows.
While investigating IRTA's corruption I had earlier caught him describing their (Bartercard's) secret as their capacity to conceal debt. Of course like all crooks and hypocrites he actively avoided speaking to me then and ever since, but this is the core of their success indeed – deception. Present yourself as one thing to one person (or group of people) but actually slip an apple, or two, or ten into your own pocket. OMG if the people only knew!
It's the same con as it always has been, lie, defraud and hide!
Sounds a bit like the Garden of Eden doesn't it? Lies, fraud and a cover-up!
Luckily there is eventually justice, albeit it may be outta this world.
* "The problem" here is defined as the RETAIL problem; the visible problem; the problem that the members see and react to as per this communication. Far bigger though, is the WHOLESALE problem whereby the operators of a trade exchange buy and sell businesses (commonly franchises) and leverage their members' credit for personal gain – sponsorship fraud, tax fraud/advantages, the use of offshore entities and other board-level greed.
.