In this post I discuss the challenges that a living Jesus brings to those who deny or twist the simple biblical understanding of evil. According to scripture, Jesus nailed it on the cross, and the uncomfortable truth for evil is that He's very much alive and well today, here and now!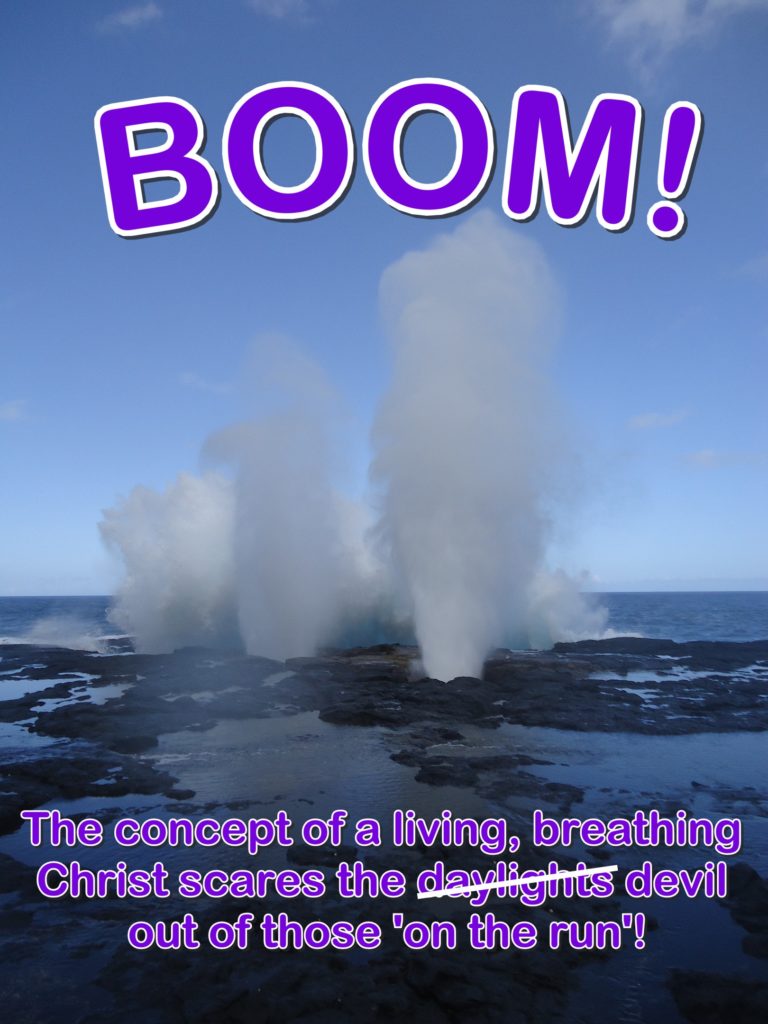 Evil has a deep problem with a living Christ. The fact that Jesus was a good man and ran a tight and effective Ministry for three years on earth is, to those agin Him, largely not a problem. The fact that He was the Son of God – the immaculate conception and all, can be discussed and argued at length – for sure. The fact that he was strung up on the Cross and maltreated too is easily accepted by most, but the fact of His resurrection scares the living daylights out of the devil! This is because it means that the moment that He broke free from the power of sin and death, the power of evil had been snapped, once and for all.
This power shift was huge as His conquering technically and legally de-authorised evil – it has no authority and can now only exist through deception. When we reject that deception, we have the authority to deal with it. Like in the Garden of Eden, it's our choice. Nothing has changed from God's perspective in the structure He set up, but everything changed in the 'assessment department' at the Fall and then again at the Cross.
Many other religious leaders throughout history can claim to be the true source of wisdom, love and more, but it is the fact that Jesus Christ is alive and well today that makes the forces of evil fear Him so much. Technically the Christian description of events are that He is seated at the right hand of God (interceding for us) and it the Holy Spirit who lives within us, but we in the Christian community truncate this to say that "Jesus lives within us".
People who talk about a hugely impersonal "Christ consciousness" or the "Source" then, simply don't get it. He has a name. He lives. He requires us to respond by way of a relationship with Him. This is like when you are married and somebody talks about your wife or husband as if they are dead or don't matter, simply because they are not physically there. For example, adultery and its betrayal hurts those who care because their relationship is real, with a real person who is betrayed. If the party in a relationship is unreal (like with a movie, dream or a picture) then it can be easily messed with but if like Christ He is alive and living within us then failure hurts the relationship, and therefore us. If we are real then this is a two-way relational thing.
Genuine truth-seekers must break through from the spiritual beliefs of David Icke and others, who negate the absolutes and literal descriptions contained within Scripture.
There are many ways to negate and twist the Scriptures but I'll just take a small section here from out of David's 2004 book, And the truth shall set you free to show how this works.
If you read the story of the Tower of Babel, you can see this described symbolically: "Then the Lord [extraterrestrials] came down to see the city and the tower which those men had built, and he said …

The Christian belief in a Son of God and a Lamb of God dying so our sins could be forgiven can be found in Sumer, Babylon, and Egypt. The idea of a lamb dying to forgive the sins of humanity originates from the Sumerian belief that if you literally sacrificed a lamb on the altar, it would remove the sins of the people involved.

Source
In the above sections David twists the original text three times in three different ways – Altering, Denying and Interpreting:
ALTERATION. David ascribes an event as "symbolic" when there is nothing within the chapter that supports this supposition. He has a serious problem with the events being literal. The writer didn't. I don't either.
DENIAL. He inserts his opinion that the Lord is instead an "ET". Ascribing the events to something other than "the Lord" as per the Scriptures is an outright denial of fact and places the opinion of the writer above God. On what basis does he deny that the Lord did something and that it was ET's? ET's own words spoken to him about themselves as creator? I'm not prepared to do that, even though David does because I believe the Good Book over ETs' claims about themselves as reported by David Icke; and
REINTERPRETATION. He explains that in his opinion the source of the concept of a sacrifice predates the biblical claim and therefore presumably leads to an error of interpretation. It does nothing of the sort, BTW, and is a logical fallacy because logically it doesn't matter where the concept came from, the fact of a sacrifice (if it is true) remains.
The problem with this explaining away of the Christian message, is that if Jesus Christ is who He said He was and if He is alive today, then what? Based on many things, I do believe that indeed He is, so IMHO David's claims are false and essentially meaningless. Sorry David. I know that you are a smart man and that you believe what you say, but I don't. In my book, ET's did not create us a gazillion million years ago. The Lord did and in a lot less of a time-frame than you seem to believe too!
The concept of a living Christ truly terrorises many who are on the run from the truth, but like myself to those who know me, He is a loving Son of God, sitting at the right hand of the Father. The Good Book tells us that He is interceding for us (that means intervening, praying for us and helping us) and since the outpouring at Pentecost, His love is manifested through the Holy Spirit here, now, today. This is the core Christian message BTW.
I teach my friends to tell the world that indeed, I can be an absolute a*hole, but then to enjoy the time they have with me absent of the losers, liars and those on the run who fear me and stay away from me. Leave them to their gossip and little weak and pathetic lives. The hardness I have when it comes to standing up for the oppressed and the manipulators means that I can be seen as a prickly character when I never give up, but that doesn't mean that I am 'a prick'.
This lifestyle, one that I have called VICTUS IN AMBITUS (Latin for Life/Living on the edge) also opens up truth in many areas of my research and brings a far greater sense of purpose, reward of living, understanding of the world around us as well as a good dollop of wisdom. If continued without respite it will also eventually return that ultimate phrase at the end of time that we should all be actively seeking from the Creator, "Well done good and faithful servant!"
You will be wise to make sure that you set this as your primary goal too.