This post explains how the organised [Christian] church can be a dangerous place for genuine truth-seekers; not because they are wrong theologically; nor because they may have faulty leadership but structurally because ALL churches by their very nature provide a spiritual covering – an error since Christ's sacrifice which is akin to idolatry.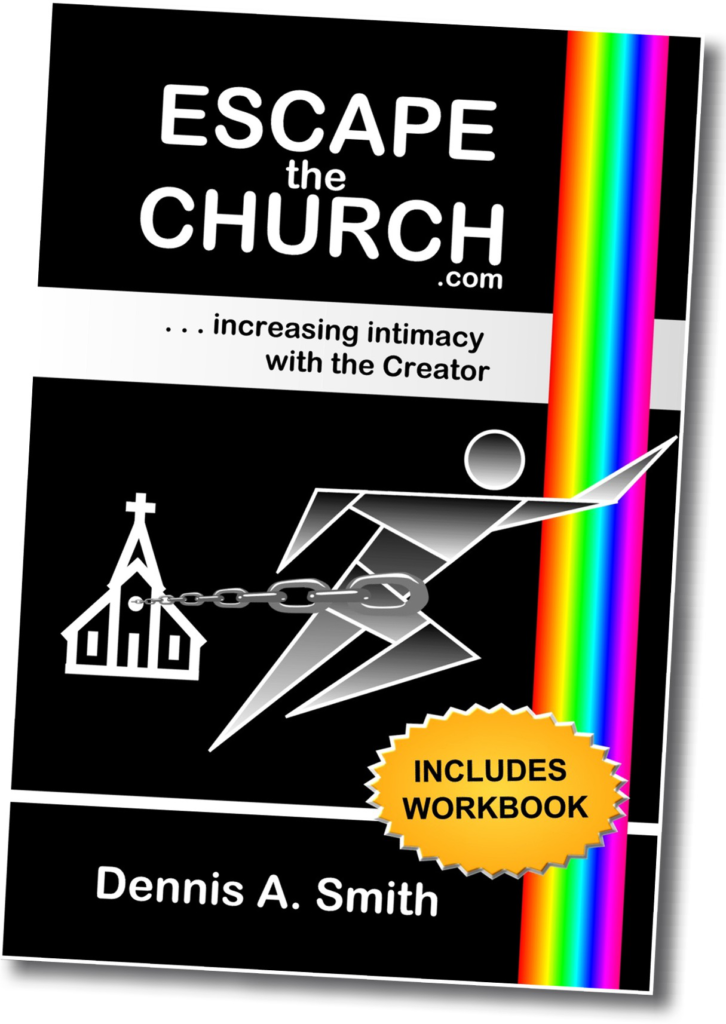 Jesus asked His people to follow Him. He taught this and encouraged those that did so. Nothing has changed. When the Master walked the earth He showed the people of that day how their religious leaders were robbing them of the freedom that God had intended for them. What we Christians call the Gospel (the Good News) was a simple message that even children could see and understand. God is a loving father – One that cares. He 'sent' His Son to show us the way. Good things happen when we follow Him. Pretty simple really.
This was too profound a message however, for those that manipulated, so they took Him out. Through their religious leaders, evil bound the people in a multitude of religious rules that brought confusion and enslavement. Taxes, political correctness and other forms of peer pressure were used by the manipulators of the day to enslave.
Does it really sound like things have changed much in the 2,000+ years since?
I lived in Samoa for quite a while and got sick and tired of the people complaining about how the church took their wealth through taxes and coercion. I also tired of the elite going on and on about how "Samoa was founded upon God!" I keep asking the Prime Minister whether this was the Catholic or Protestant version (Tuila'epa is a Catholic). I also noted that Muslims say the same thing as well, but politicians being politicians, that there appeared to be 'BS in the meme', seemed to go over their heads.
Jesus' ministry took it to the elite – the ones in religious and political power and it revealed them to be the crooks, crims and crazies that they really were. He took the Truth right into their lair, deliberately and He reserved His most vociferous anger for the hypocritical religious leaders of the day.
Today nothing has changed, except that His mission was accomplished with His sacrifice on the cross and His resurrection. People still to this day use religious rules and peer pressure to enforce their authority over others. This is true in business, politics and also in religious communities. My experiences within a range of church settings have been a mixed bag over the decades that I have engaged with the Christian community, both in New Zealand and Samoa. I summarise them now, then wind up talking about the problem of any religious system or structure and explain why I wrote the above book Escape the Church.
I sought to know the truth at the age of five as a result of personal trauma. My father got angry at something I knew to be true and while in later years I came understand it, I perceived this as betrayal and it knocked me off-kilter for my 15 formative years. I got zapped at the age of 20 in a traditional church setting in St John Lutheran Church in Mt Eden (it's now closed) and I enjoyed a short honey-moon there until I had a disagreement with a new Pastor over the partaking of Holy Communion in a home setting. My take of the bible back then was that it was fine for a bunch of us to grab a bit of bread and wine and toast it to the risen Lord.
He saw it differently though and required that only he could distribute it and only on Sundays twice a month in the church building. I forget the justification for what I then saw as a power-play but it went something like this: "Yeah I know that it looks like a duck and walks like a duck and yeah I know that it quacks like a duck too, but if you stand on a tree-stump on one leg in a full moon and close one eye, then turn clockwise one and a half turns then look at it again you'll see what I see – you gotta stop having your own party or else . . . "
"You mean I gotta submit to your 'crazy' rules or you'll ask me to leave?" I asked. "Well I wouldn't put it exactly that way . . . " he started off trying to explain, but that was exactly what he was getting at.
So needless to say, despite the purity of the Lutheran doctrine of grace, I moved on. Was I bumped or did I jump? To this day I do not know. A good lesson though for a young man on standing up for truth, and backing yourself even when it's against your own religious authority.
In those days Valley Road Baptist was the place to go. David and Dale Garrett led the worship and they were a real 'hot number' having developed the Scripture in Song brand in the decade before. At the time they were just bringing dance into worship (which for a guy with two left feet was a bit of a challenge) but I loved David's freedom in worship. He would stop, start and 'pull' the rather large congregation around (this was in the days before the mega-churches) as he led us into deeper worship. It really was a delight to behold how a large number of people could be united in common purpose by an experienced, strong and sensitive leader.
I was happy to 'get dunked' there (you gotta do this if you're a Baptist!) and I got to know a couple of really lovely and humble leaders but over time I came to see more and more of the hypocrisy that existed within the church proper. Eventually I departed in disgust, spent a few years outside of the church getting over myself, licking my wounds and working out that life really isn't all a bunch of roses! Sure, my observations were right but being justified doesn't give me a leg up on others I didn't happen to like.
Returning to the Christian scene in Auckland as I raised my family, I involved myself with a few smaller churches on the North Shore. I then spent a decade or more committed to Takapuna Assembly of God, now renamed Harbourside. I had a lot of time for Wayne Hughes who led the entire New Zealand Assemblies of God thing from there for quite a while until he pulled out in what I know to have been pretty trying circumstances. I never took any major leadership role there but I was a loyal trooper doing the needful day in day out helping the team as they needed it. I think the leadership knew instinctively that I was different and outside of their circle.
I was called out of the church scene, a little dramatically I have to say, and fought the idea for too long until I had no choice but to listen up and do it, I've previously shared this experience but to cut a long story short I had to go through withdrawal symptoms as I had to undo mantras and look at things in fresh ways. Rather than seeing myself as a coal leaving the fire and dying out without the heat of others around me, I found myself lighting a truckload more fires than I could ever have dreamed. Rather than leaving the harder issues of eschatology to experts (who all never seemed to agree anyway), instead I found myself wrestling with the tricky subjects and settling on things that made sense to me so that new I'm no longer worried about them. Instead of going to church or doing religious things because I wanted others to get benefit I now encourage others to help others and I seem to get some benefit naturally.
I sense a tectonic shift in my capacity to accept responsibility. It seems like man is designed to take responsibility for things in his care and when we step up to the mark, and do the honourable thing, we nail it!
The interesting thing I learned from departing my churches spiritual covering was how their leadership demonstrated their insensitivity to His calling when it didn't fit their vision. Instead of empowering people to do what they feel led to do, larger organisations tend to require compliance with their own leadership vision. This doesn't mean that they are wrong in what they do, but this highlights a systemic issue whereby those who are independent thinkers are often squashed of their independence. They can be squeezed into the corporate mold – the corporate of course requiring obedience and compliance in order to keep the peace.
This can be best seen by the response from the church leadership on my departure which sought my commitment to avoid taking others with me. Ummm, I get it. Please don't rock the boat too much will you? I left and couldn't share much with my friends because of my commitment to "just go, so as to safe the peace".
Churches range in their use of control systems and approaches to their members. Some have a light touch and others much tougher. Some (like Brian Tamaki's Destiny) are geared towards more of the Polynesian needs with an authoritarian approach, or (like Peter Mortlock's City Impact) for the Pakehas with the same need for high commitment. Others are looser and easier on the wallet or claws, but the principles are the same regardless . . . all living entities, from a business to a mushroom, a dog to a University, or an individual to a church can only exist if it has an effective system of defense.
This defense mechanism, whatever it may be, from a system of beliefs, a mechanism that fights disease, a marketing strategy or simply an attitude and a bark, enables that entity to live. This is only a natural thing but when a church defends a threat, and that threat comes from within, then this can be a dangerous thing. In no way do I claim that churches do not do good things. Obviously they can and many do, even if they err and lean towards cult-like controls. The problem that pushes them into evil is that when they go off-kilter, then they miss the mark of His perfection.
Rather than talk about the myriad of Christian's who fail in some aspect of their lives, and Christian leaders who lead their people to the grave (sometimes literally), I'd like to focus for a moment on the positives that come from escaping the binding of the church.
The Christian walk is a personal one. At the end of our spell on earth we will be standing alone before our Maker. We must face Jesus personally, alone. "But the Pastor said … or did … " simply doesn't cut the mustard. "But I believe … I thought … " likewise doesn't either. This truth requires us to front for our words and actions, regardless of our church allegiance. When I face my Maker, I can say that rejecting the falsehood of a Lutheran power-play to take responsibility for what I do in my own home set me up at the beginning of my Christian walk on the straight and narrow. Sure it has been tough at times, but now I can appreciate the importance of all of us taking full responsibility for what happens in our own spheres of influence.
As I stretched out in faith and away from the organised church, I found myself rising in faith higher and higher. I'm not worried about whether there is any other blogger in the world who can talk as constructively about the Samoan culture from a Christian perspective or not. I don't care whether there are a hundred or a thousand others who know the supreme importance of understanding money – it is that I do, and that I share this with the world when and how He wants me to. I'm not bothered in the slightest what the people 'in town' think about me when I share that I've found their corrupt actions in kicking out a man from the Memory Bank. Cookie is a man who gave his life in service of his community. Thank God one man had the b*alls to speak up and save him in 2018 & 2019. It is only because I reject the corrupt, gutless political, religious and business leaders that I gain the power to speak it like it is. It is only because I have come out from under the covering of the church that I can speak openly like I do.
There is a deeper and more sinister aspect of evil when related to the church and it is that the spiritual affects us in the physical. When we submit to any authority, we open ourselves up to the spirits that inhabit the authority that we submit to. Jesus taught this in His parables but you can see it with children mimicking their parents' behaviour in classrooms. A wise teacher can tell the nature of a home by watching the children. If they are bullies to other kids, then you know that one of their parents at least, will surely be pushing the other around. The same with anger or frustration, or peace and understanding. This is simply natural, so that when there is a failure within a denomination and/or its leaders, you will see this quickly propagated downwards, almost automatically as the spiritual authority is set from above.
As a teacher can observe their kids behaviour, so too with corruption in politics, and sin in religious leadership. The Prime Minister of Samoa sat over a massive rise in the countries debt and oversaw a huge increase in greed and corruption. Is it little wonder that he has very large homes and resources offshore? If he had determined that corruption was evil and therefore wrong then his people too would have feared his wrath. Instead it got worse on his watch. This shows his true nature as he was their leader. Likewise with church leadership. It is incredibly difficult for church attendees who have submitted to flawed religious leaders to avoid temptation of the same kind as their leaders have failed – pride of life, unhealthy focus on a certain religious doctrine, sexual sins or financial misappropriation or whatever.
Church can be a very dangerous place, indeed!
If evil is personified in the presence of Satan or the demonic, so too is God personified in the presence of Jesus or the angelic. God's answer to any frustration with a church with failings is not to church-hop, seeking a better or a good church. Nor is it to submit to "the best of a bad bunch". The biblical answer is to escape the church altogether and turn to Him directly. Since the event of Pentecost, the Holy Spirit has been available to all who humble themselves, listen up and seek His help.
I know how threatening this can be, especially when our mind-controlled conditioning kicks in, but there comes a spiritual freedom when we step out from under the covering of a religious organisation. From my experience, if this step of faith is undertaken through obedience, and isn't done in anger, then the freedom that results can be like moving from 2D to 3D or from walking into the world of colour and out from a colour-blind state.
Thank you again for swinging by again today.