Ex-Pastor Laurie Bull from Taumarunui has a lot to lose, should even some of the BS surrounding his recent conduct ever get out. I share some of the gory details as part of a series entitled Evil UNMASKED! Today I tackle the 'secret/confidential' evidence he tried to slip into a Disputes Tribunal (DT) court case and I show how even things you thought would never come to light can (and in this case did) come back to bite ya. Enjoy.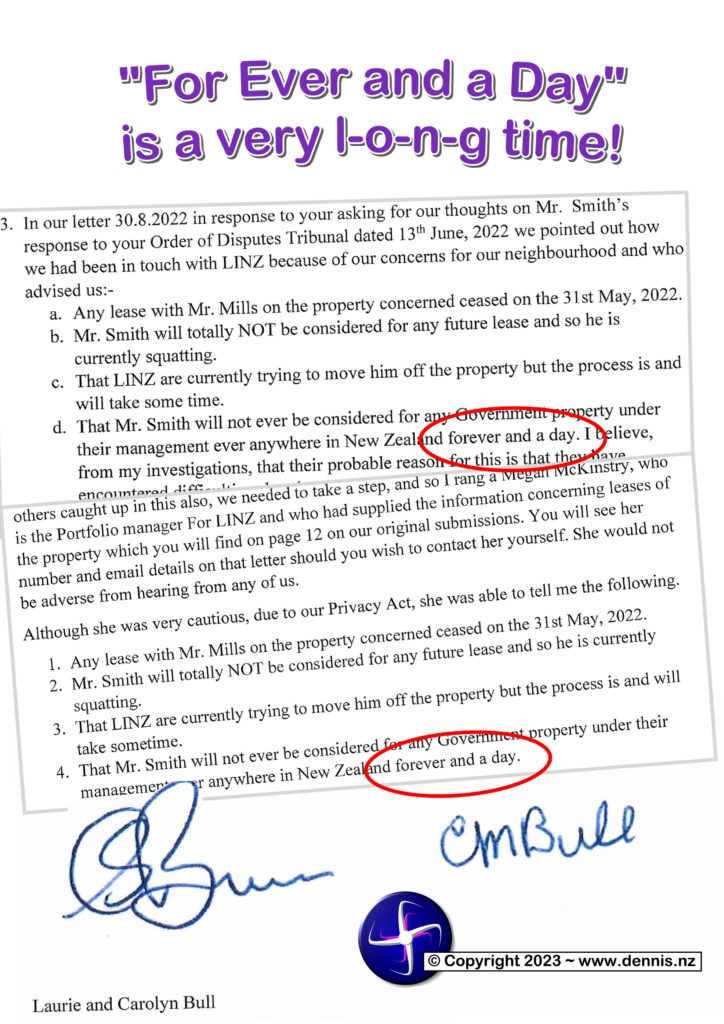 I've had to bring this previously confidential evidence into public this week because last Friday, Megan McKinstry from LINZ referred to it in a High Court affidavit. The HC is an open court so anyone can attend and watch and share things that go on in there, except when a judge specifically says, "No you can't!" So, Open Justice is an important legal principle. Even though I'm willing to do it, it's more a defense thing than an attack, something I was advised to do years ago actually – wait for them to do something then respond.
Bringing hitherto secret or confidential documents (like things heard in the DT) to the light of day, is called 'washing' them, a practice that President Trump and his team have been doing secretly for years. Essentially what you do is to flush hidden things into the light of day with minor references and third party cases, bringing them into the public domain legally and openly using guile and smarts to ensnare. I'm not smart enough to get my house searched like Mar-a-Lago so that things previously hidden could be washed into evidence, so how this happened in this case is amazing but true.
The background is that in 2018 I sought to lease 7x properties from Railways and there was some argey-bargey, so in 2019 I agreed with LINZ to do what I wanted in Matapuna. The deal was that at the end of the lease they'd roll it over but they renegged. I found out later that Megan knew for years and she pretended to help but they used all manner of excuses to try to get out of it – I'm a bad guy this and that; the neighbours this and that, and on and on it went.
Then last year we had a ruling from a Disputes Tribunal adjudicator in a fencing dispute down here. Normally DT disputes are confidential, no lawyers present and the ruling is final sort-of-thing. I didn't blog about this although there was a lot I could have said about my neighbour, Laurie Bull at the time. I referenced this document, the one parts shown above without providing it. I sent my Affidavit in and lo-and behold, I'd forgotten to take one footnote out, done because my lawyer told me to. Last week I got an email from LINZ' lawyer asking for a copy of it, so I obliged. I could have fought the issue, but didn't. Blow me down if a couple of days later LINZ had included their original reply to my request for confirmation of Laurie and Carolyn's claims where Megan says essentially, "Oh I can't remember saying that, but am unlikely to have ever said that!" [Cough, cough!]
So Laurie and his wife Carolyn are either both liars when they said this – or Megan McKinstry has conveniently 'lost her memory' [yeah, right], at a VERY important time over a VERY important matter – the subject of whether she had it in for me or not! My take is that she most definitely said this to Laurie and Carolyn, because of several reasons, which will all come out in court, hopefully, and things will get very interesting from there!
The 'Secret/Confidential' Communications
Laurie and Carolyn didn't want the world to see what they said, as it showed up what they really thought about me, and themselves, and it must have pretty embarrassing to have it all gotten out especially as they had revealed LINZ' real (but secret) motives. Their communications (both of then sent on the same day to the court) follow and the interesting part is copied in the graphic above, with more available online.
Section 116. Conspiring to defeat justice
Every one is liable to imprisonment for a term not exceeding 7 years who conspires to obstruct, prevent, pervert, or defeat the course of justice in New Zealand or the course of justice in an overseas jurisdiction.

https://legislation.govt.nz/act/public/1961/0043/latest/whole.html#DLM329005
Now you'd think that section 116 of the Crimes Act (the part that talks about perverting the course of justice) would be clear enough and that the principles of natural justice would be engaged by any honest or genuine person, but no, that's not Laurie. You see, Laurie made it a lot worse for himself by admitting to this, then even arguing the toss in court to the DT adjudicator! This is all a fascinating look into the mind of a dopey, low-level, dishonest, lying retired Pastor, one who really has a lot to lose as his kids and grandkids will now fight (probably in vain, from what I hear) to try to keep his 'good legacy' alive.
It's kinda sad too to see how pride blinds ya too, 'cause I know a little more than most about the family, their finances, sexuality, lifestyle and their past, as do various people around town, but that's his choice. I know that I'm up myself and can be an absolute [professional] arsehole because I have no fear, shoot straight and that I NEVER give up but one of the first things I always do, is to fess up to my arrogance – and quickly too. Pastors though, just can't do that. Actually, they MUST not do that, well based on their operational creed – from what I've seen, anyway!
I'll be sharing more about my experiences with this crook and why he does what he does another time, but despite what he says, he hates me enough for the moment, so let's now dive into what he has for us all here.
Here are the relevant parts of the transcript of an engagement in the Disputes Tribunal, GM being the DT Adjudicator, DAS is me and LB being Laurie Bull, with Carolyn silent. Note that this was previously confidential (being a part of the DT) but has now come out as evidence in open court.
"System: This meeting is being recorded …
GM: … material that you supplied Laurie to Dennis. So Dennis …
LB: I didn't supply any material for Dennis' eyes. I specifically (as stated under the guidelines) sent that material to you personally – meant to be for your eyes only. [OMG!!] 1. I want to know why they were sent on? and 2. Why are we doing this? I mean you struck this claim out back in August … Gordon, and I'm not getting angry or anything like that but I want to know why this is going on when you've already struck it out. It's not able to be heard under the Fencing Act anyhow.
GM: No, I know that but the thing is that Dennis has raised this issue so …
A couple of things here. This is an admission of guilt. Laurie not only gets the law wrong, but he later argues the toss with the adjudicator. Not only has Laurie admitted guilt, he has given the reason to us all of why he did what he did! This man has no clues and thinks he's always right. He's not.
I then used the term 'secret" which caused Laurie concern on the day but confidential is an equally valid a term.
DAS: I did not know that you were sending secret communications to the adjudicator. I did not know that.
LB: It's not secret. It's just that I have the right to send him stuff for his eyes only. It says that under the rules of the Fencing Act and the Tribunal Rules.
DAS: Ah, show me where please. I have them open.
There was no gap in this transcript and there is no law as Laurie tried to explain his immorality. The DT Adjudicator however stepped in to save this man from himself, because of course he knew the law. He knew that Laurie was wrong which is the reason why he approved the rehearing in the first case, because the court had screwed up and issued a judgment without giving me a chance to sight let alone to even respond to these secret/confidential communications!
GM: OK Then if that's your position, let me answer that Laurie. 'Sending communications to a judicial officer in the course of a judicial hearing'. The officer cannot take one side's information without disclosing it to the other.
This case was simple. Laurie had gotten things wrong. He thought that he could sweet-talk the DT Adjudicator around to his way of thinking by slipping him some gossip, but it back fired, he got found out as the documents 'got out' legitimately. As if that confession of committing a crime wasn't enough, now, incredibly Laurie continued to argue the toss.
Most people would give up and shut up at this stage, but not my loopy neighbour. Remember that the law says that you don't have to know the law to break it.
LM: That's not what it says! It says I have the discretion to send it to who I like, and I have that discretion to send it to you, and you alone …
Wrong!
… but I tell you right now he's not going to be round long enough to see the beauty of it.
If you listen to the recording (at 16:19-16:24) you can hear a mocking in Laurie's voice. Laurie has been harping on and on for more than a year and a half now telling everyone and his dog that I'm going; I'm outta here, and on and on! He may be right and I may be gone 'before lunchtime', but seeing as I bought the buildings here on the basis of an agreement with LINZ, they will have to convince the NZ courts that their word means diddly-squat!
So far Laurie has been angling pretty hard to get me removed! No doubt the word will get out the instant it's happy news for him, and LINZ, and everyone within RDC who has and does conspire to try to interfere in someone else's life. In the meantime though it is for me to 'box on' doing what I always do . . . causing trouble for others by providing direct factual and logical commentary.
Laurie lost this one. I hope he learns his lesson but I tend to doubt it. I warned a patriarch of a family in Samoa once that he was taking on something bigger than he could handle. Three weeks later I heard that he had died, with his grandson on the same day. The village blames me and the curse that I put on him when I waved my finger at him and told him off. I warned a guy three weeks ago about something and two weeks ago he went off line. I am not God and He does not jump at my command but He is very much alive and well. I do the same now to this idiot and the others that want to take on the Lord – He has a reputation for protecting His own.
I don't know the future and I can't tell what ill may befall the involved staff of LINZ, Colliers, RDC, Laurie and others who enjoy this game of gossip but He does work in mysterious ways and I have warned you. Back to this amazing conversation and my last preaching:
DAS: You [Laurie] may be pissed off that I've got hold of … whatever you've sent to the court but if you send it to the court, my understanding is that it needs to come to me, and that's before the ruling. So any ruling [made] before I've got all the information – that's bullshit. You can't do that! Not in NZ. You have no right and you cannot produce any rights under law to be able to convince a judge that I'm an arsehole (which is what you think) without me knowing about it. What's the accusation? Natural justice says that I need to know what you're accusing me of and I have every right to that and I believe that the law backs me up. Show me elsewhere – that's fine.

Source.mp3
Now, this is the point . . . if you send documents to an adjudicator in a Disputes Tribunal and if you talk out of turn and if the documents that you and your wife sign breach the trust of those who have shared things with you secretly (i.e. in confidence) that you talk about, then DO NOT complain when or if somebody ever gets wind of it and takes you to account for it. I don't know what the upper courts of New Zealand will find.
Personally, I think that Laurie and Carolyn have told the DT adjudicator the truth. I think that Megan McKinstry has shown and continues to show the world that she is a dangerous animal out to get people like me out of government property, by hook or by crook. The court of public opinion though can be pretty brutal though. Perhaps Megan, Laurie and Carolyn know this already?
Personally, while it would hurt to 'lose all' at crooks' hands again, it's not up to me to adjudicate the law. Whatever! I just observe and 'commentate' – but white conservative males beware, especially if LINZ is your landlord and Megan McKinstry is your property manager and Laurie & Carolyn Bull are one of your many neighbours!
Oh, and if you think that I am angry with Laurie and have it in for him and can't stand him, you're right. To me he's a liar, crook and now a criminal – certainly under s116 of the Crimes Act 1961, anyway. I hope that nobody has the wherewithal to find an honest cop or judge and conduct a Private Prosecution!
Oops.
Pastors are not allowed to hate others, so they lie about it pretending to love all. I can and do call a spade a spade. I hate deception and that means unrepentant deceivers too. Sure I'm an arsehole, a professional one that is, one that never gives up and always speaks it like it is. Church people beware.
I've shown you and told you – Crooks, Crims and Crazies beware! There's a lot more to come about this one, I tell you!
Advice
Some people advise me to "Hit 'em hard!" and "Take 'em Out Once and for All!" explaining that there has to be accountability and more. Boy I would love to do that, but there would be a lot more dead bodies around the place if I did! There are a few reasons that I don't:
I am not an activist. My mother was, saving the trees and all. I'm not. I blog (a lot, and in detail). I report my opinions. This has always been good for all when I share the truth, honestly and fearlessly. Sure sometimes I can get a bit emotional but in a couple of decades, 2.5m words and 36 books I've never been sued yet.
God has extended His grace to these fools, so why should I step in to do His business? I do what I do as best as I can and leave the rest to Him.
I was once advised not to attack aggressively. Sure, stand up for your rights but do not cause others unnecessary trouble. This has been good advice. It's been hard, I must admit especially when losers gossip but it has worked very well in the long run.
Lastly I had three experiential dreams in 2017 before I even came to the King Country, I haven't shared this previously but in the third dream I killed a man, calmly and matter of factly, then woke up normally as if this was all just a walk in the park. A guy well-known for his accurate interpretation of dreams told me that this was a warning, from the Lord. I know that there are people no longer with us as a result of my words and actions, so I exercise extreme restraint.
My Terms of Trade make it clear who I am and what I do. I wrote to Karen 24 hours before publishing this:
Hi Karen

I have scheduled the following post for tomorrow after hours. Please supply it to your clients, with time being of the essence.

As always I welcome your clients' comments and I provide it here prior to publication as a courtesy and to give your client an opportunity to correct any error of fact and/or to make comment for potential inclusion.

Background

According to Terri Frith from the Taumarunui DC, on or about 30 August 2022 Laurie & Carolyn Bull provided DT Adjudicator Gordon Meyer with 'secret/confidential' communications prior to a DT judgment. I found out later and Gordon ordered a rehearing as a result of my questioning. At this rehearing on 3/3/223 (I note, recorded) Laurie confirmed that indeed it was his clear intent to communicate with the adjudicator privately and he argued unsuccessfully with GM that this was his right. NZ Law makes it clear however that this is a crime and Laurie's confession and argument confirms his intent to present aspects of his case to the adjudicator without my knowledge. I believe that s.116 of the Crimes Act applies to this matter.

Publication

In July 2023 I quoted from these communications as part of my defence in another matter (LINZ v Smith) but I did not provide the source document to the court. LINZ' lawyer sought a copy of this communication which I duly supplied them. On Friday 28 July 2023 I received an affidavit from Megan McKinstry that referred to them specifically. Prior to close of business on 3 August 2023 I will be providing them to the court as part of my defence. I note that Megan has essentially denied that she would have said what your client has claimed that she has said, and I have noted in my blogging that I believe your clients over her denial.

Reserving the Right

As advised previously, I reserve the right to take a Private Prosecution against the writers of any secret/confidential communication provided to any judicial officer with the intent of influencing them – an act that I consider to be an attempt to pervert the course of justice.