In this post I continue my series explaining the nature of Evil and share how it manifests in the small South Pacific Island nation of Samoa. I share the recent experiences of Australian Graham Liao learning about and dealing with corruption (and worse) then I compare his experiences with my own very similar traumas. Hopefully with the truth getting out there, less Palagi get taken in like we both have been and will avoid this cultural trap of greed and arrogance.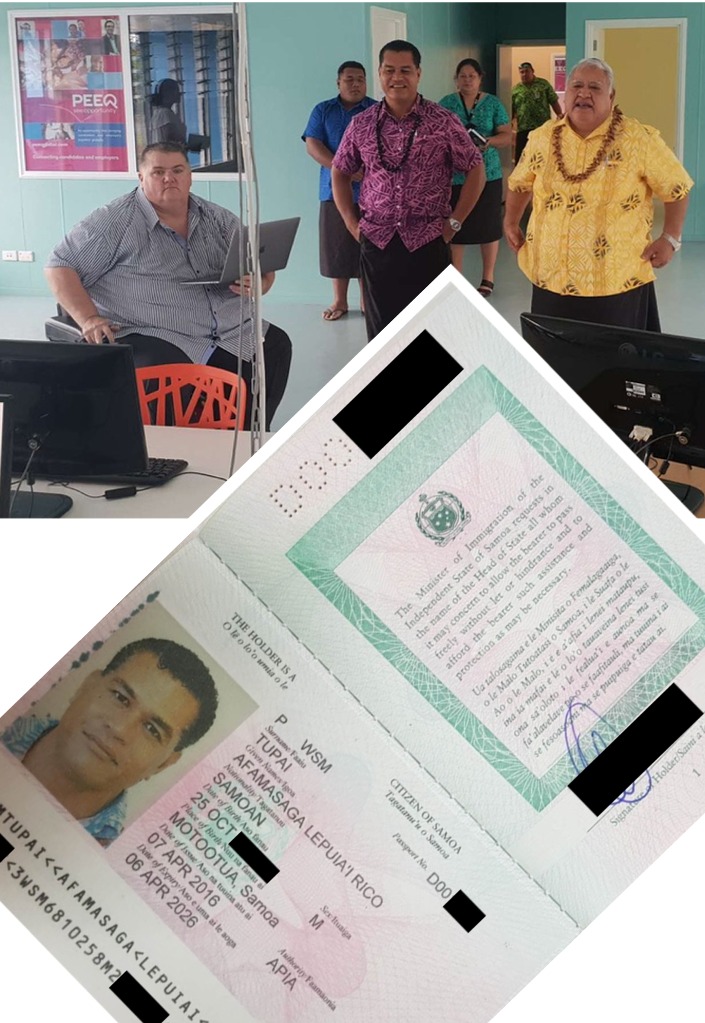 Graham (like I did) got used by some 'evil' people up in Samoa. He's lucky because he pulled out of Samoa after only 7 months. He is a lot faster learner than me because I got done over for some seven years*. Like me, he lost thousands but he walked with his life pretty much in tact except for the substantial business losses – nigh on a quarter of a million bucks Aussie I am told. I lost all. Sometimes though it is not the money, it's other losses that hurt. Samoans though don't really care about others, especially in Samoa. It's all about them and how they look, or more accurately how they think they look!
In this series I am sharing that the widespread accepted concept of evil is that evil is "everything 'south' of where we stand"! Putting this more directly and into Samoan context, this means that when something (like Corruption in Samoan politics or political leadership) is a social norm then it is not evil. When we do it (whatever it is) then it is maybe a little naughty (which is why we hide ownership of property and businesses offshore for example) but it is not evil per se. Even the rape of our daughters or family (and yes, it does indeed happen a lot up there) or sexual affairs on the side (again yes, it is indeed common too from the PM down) or helping ourselves to church money for the local rugby team (which is what this Minister did) is not seen as evil by the perpetrators. This is so because of pride.
The Christian perspective however butts right in though, because if evil is considered a state of being, rather than an action measurable by the social norms surrounding us, then even a white lie is evil according to a Holy Creator. Of course we do NOT like hearing the words, "We have all fallen short of the glory of God" because this requires personal repentance. If we deny absolutes (and the Samoan culture excels at this) then religion can naturally be held at a distance, the same as powerful people like a corrupt Prime Minister can use what is called "Plausible Deniability" in a political sense . . . "Well that letter is a forgery!" or "I never knew the details!" and more are used by the people in power to present themselves as something they are not.
This afternoon I (along with a couple of dozen other journalists) was sent evidence of Graham's 'negative experiences with these political goons from Samoa. Apparently Graham does not want to cause grief up there but he does want to protect his good name. Graham has made his choice. He's standing up for the truth, so at the risk of p*ssing off the old man Tuila'epa and a crooked Minister, I'll stand by him and help him get the word out. Keeping silent is what the journalists up there will have to do if they want their careers to continue. Getting the truth out there will show these crooks up to be . . . well who they are, crooks and fools!
So above are two of the faces of evil in Samoa – Minister accused of having his hand in the [church] till and the PM who will cover up the sordid affair. When I spoke to Graham I asked him whether the PM was in on it all or whether the Minister was responsible. My current read of the situation is that under Tuila'epa's tutelage they are all in on the take. Just as you can't borrow your way out of debt, corruption can never be removed by the master of corruption – this is simple political reality – they are taught to help themselves when they need it and it is the job of the boss to cover it all up when they are caught. Remember that in Samoa things are different. The crime simply doesn't exist if one is never caught or if the high chief does a deal to protect the crook who committed it. Never forget that the crime in Samoa is not lying or stealing or corruption to any degree. It is bringing shame upon the family, village or nation.
Graham's story is that he was getting used. Essentially the old man wined and dined the Palagi lad who even hosted the Minister and his CEO in his house in Australia I am led to believe. It makes my blood boil when short-term thinkers use and abuse foreigners like Graham for their own benefit. It's just selfish greed puffed up by pride. I know this guy Graham well enough in just a few phone calls to see what these Samoan politicians have done. It's despicable.
Graham though has continued to learn. I listen as he starts to understand how the Samoan people think; how they are wired differently and therefore comes to understand how evil manifests in the cross-cultural mix. His story is told in the affidavit he issued to the media this afternoon, basically he lost his business investment at the hands of a crooked Minister. The take homes are this . . . if you are not part of the system you will be bled. When the barrel is empty then you will be cut off. It's that simple. Palagi be warned . . . the smiles; the wining and dining is all for show. If you've got it and a Samoan politician wants it, they'll get it from you somehow. If you shut off the gravy train then you are the one who has caused offence and therefore you are the one who will be evicted.
In my next post I will be getting into more of the gory details of Graham's story, revealing the extent to which these people use and abuse their power, and describing the consequences for themselves in the long term, but for the little people who end up paying in the short term. Sure, there is a little bit of gossip in there, but it is sad too. Samoa you really, really need to start doing the right thing before the Master sorts you all out once and for all.
Would I reinvest into Samoa now that I know what I do? Probably not. Would Graham reinvest if given a second chance? Probably not either. The point for both of us is that we'd love to help others but just giving and giving to people who seemingly just want to take from you and then bad-mouth you for the privilege? Nah!
* Actually I chose to go to Samoa as a result of a religious experience and I only left when the PM, a coward by the name of Tuila'epa who runs the place booted me out after I named his floosie, but the facts remain the same despite the faith motivations.