ET's existence is now going mainstream. The secret to understanding Aliens and indeed anything to do with ET's is to recognise patterns and to seek out the source of this 'advanced' knowledge. These belief systems always have a spiritual base and is almost always New Age and/or Occultic in nature. Without actually stating that Aliens do not exist I explain that the Christian world-view puts all Alien experiences into the realm of the supernatural and therefore outside of His greatest design for us, individually.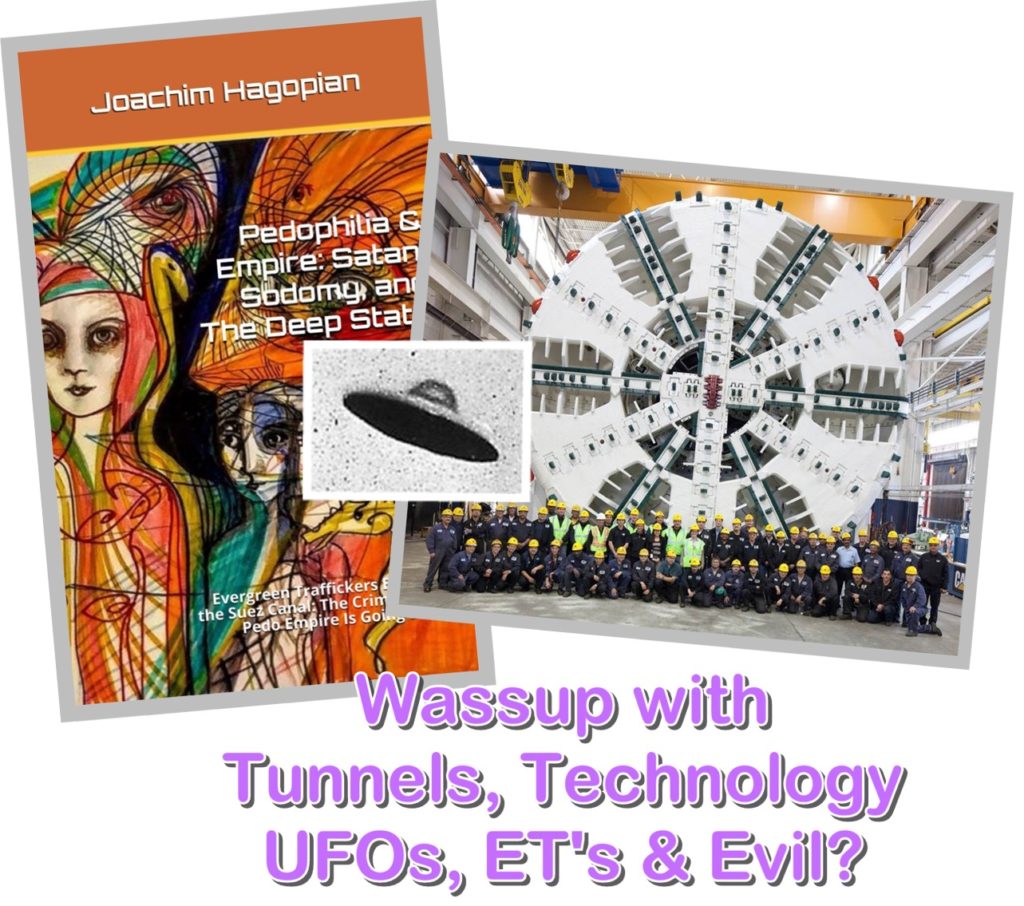 The existence of Aliens (ET's or Extra Terrestrials) has been a Conspiracy theory for the best part of 80 years. Rockwell and Area 51 are two of the primary subjects based on the supposed crash of an Alien spacecraft, a UFO. Over the years substantial information has developed around the existence and role of Aliens, and an entire sub-culture exists in UFOlogy. Since the 2020 Election Fraud was revealed a massive increase of public awareness has occurred in this discipline with a significant sector of the Alternative Media market absorbing and promoting aspects of Alien/ET mythology (or truths, depending on your take).
A common and accepted thread (a lot of it IMHO true to a point) is that the geo-political financial wars are actually spiritual in nature (good vs evil by way of the [good guy Alliance] "White hats" vs the [evil Deep State] "Cabal"). President Trump is the appointed global leader to bring good to its triumph over evil, first in the USA then globally. Earth has apparently achieved its self-determination status in 2012 as predicted by the Myan calendar, and the multiple Alien races that have visited Earth (and tricked, raped & stolen from it) are now under control as earth is now protected by the 'good guys', Greys who are keeping the bad guys out, or at least under control. There is a truckload of other stuff such as pedophilia, Satanic worship, human harvesting, Super Soldiers fighting the bad guys, advanced energy & technology, time & space travel via portals, underground tunnels, DUMBs, spiritual growth concepts and more. Apparently this is all too much to grasp for most of us – at the moment anyway.
To those getting into this Conspiracy stuff, it will suck you in taking you further than you ever expected and blow your mind. If you are like most of us, you'll likely then bounce out and back to real life in due course and get back to reality. It might not take you very long, especially if you are of the older generation or if you are skeptical by nature. It might take years of your life if you are more inquisitive, have a more open mind and you are younger.
Our perpetual challenge is to divine truth in a sea of rapidly growing information, much of it clearly speculative but potentially mesmerising. I can help you by sharing my findings, and I have done this but the key question for most of us on this topic though is, "To what extent is this Alien/ET thing true?"
I'll start here by saying that for decades, I have shown substantial skepticism over the existence of any Alien existence. It has though not been a simple exercise such as analysing the JFK, 9-11, Moon or Holocaust conspiracies. Those are relatively simple things – we just look at the evidence, and ask the key question. In the case of the Holocaust for example, that there was no order from Hitler to exterminate is not denied by any serious researcher; the six million figure is obviously a marketing meme and nobody has ever taken up the challenge to show a functional gas chamber, ever. Because it is an impossibility then the hoax is revealed for what it is. Simple.
The same with the challenge of getting a human through the radiation of the van Allen radiation belt. Forget the technical impossibility of getting their 'bathtubs' to fly or analysing a myriad of doctored images – that 'they' faked the whole thing is obvious. Simple. The same thing with 9-11. Simply ask some basic questions like Judy Wood asked, "Where did the two towers actually go?", and why the 47 storey WTC7 building just imploded in sympathy and you've got your proof of an inside job and that the official story is bunkum! Again, simple.
The Alien/ET thing though is a little harder – it's a little bigger and a quite a bit more complex.
Then finding where the original source of the information came from is also a vital clue. In decades of research into Conspiracies galore I have always found that identifying the original source has been an important factor that helps me divine truth. Take for example Robert David Steele's incredible array of research and analysis. He's not short on perusing information (he was a CIA spy who analysed information professionally after all!) but while he has my vote for big-picture take on American politics, diving into the books and websites that he endorses shows me that he's not so smart as he presents himself.
Take his endorsement for example by way of writing the Forewords of a couple of books, both with major reference to Aliens and ET's:
i) Satanic Empire's, "Pedophilia & Empire: Satan, Sodomy and The Deep State" (shown in the image above) and
ii) PhilBetaIota's, "Ascension Christianity", quoted from previously.
When you reference the concepts accepted within the former book, you find shallow validation of long-age earth claims. These ideas that Aliens have visited the earth many times over many hundreds of thousands of years run contrary to the short-age biblical world-view. They are simply ideas and concepts, not provable, nor proven fact but they are presented as fact. This is IMHO deception proved.
Drilling down into the source of much ET & Alien again brings us to the New Age philosophical base. Here it is again, put clearly by an ET 'Swaruu' or at least someone channeling Swaruu:
Self-responsibility is always the key. Have the maturity to make your own decisions and to create your own reality. Do not accept that of others just because they come from a position of socially accepted authority and therefore Matrix. Creating your own value system and your own Universe is the key.

Swaruu of Erra
Note the New Age thinking that it is us that does or should determine reality. The sound (correct) truth that we should take personal responsibility (the godly independence of thought) goes too far however and takes it over the edge and into error. This worship of our own reality runs totally contrary to the biblical absolutes that claim that reality exists outside of us as an independent thing. It (the Lord) determines this and it is our job to interface with it. Like the wall in my short story of the same name, we can deal with it however we want to but we cannot change it no matter how much we try to. It exists. It's our job to deal with this reality.
On the flip side however, Alien involvement in human affairs can indeed be seen in some way in ancient times; advanced technology was used and is present way back when and most compelling to me is that the stories told of alien encounters (at least by the credible ones) do have an internal consistency of message – the tellers do indeed show remarkable credibility. They truly do believe their stories.
The truth is though that there is an obvious pattern visible to me, that New Age and Occult influences are almost always present in or around Alien & ET encounters. I cannot say 100% that this is a spiritual only thing because there is increasing credible evidence of physical reality. What I can say however is that the forces of evil as well as the God-factor are certainly making their presence known more overtly.
In assessing the presence and reality of Aliens from a Christian world-view, the ancient presentation of Alien visitation of things or people that they are Gods is an obvious outright falsehood. No creature, no matter how advanced they or their technology is, can be the Creator. If Jesus is alive, well and died for us, then the presence, role or power of Aliens of any race or variety is of little importance to each of us. Sure, there may be Super Soldiers fighting underground, and Alien bases on Mars or the Moon or on Planet X with interstellar transport systems, but the fact remains that if evil exists, and if evil is best described as I have described it correctly thus far, then the Christian world-view retains its credibility – ET or not.
So to summarise, I do not know definitively to what extent the Alien/ET thing is true. Their existence is of course possible, but the source of validation of this entire subject is at best dubious and unproven, possibly utter deception based on spiritual influence or activity. Based on biblical accounts, I can say with confidence that giants interfaced with mankind prior to the global flood, and that the spiritual also interfaced with the physical [i.e. mankind] in those ungodly times. I can also concur that the forces of evil do promote population reduction, the increased consolidation of power and wealth (aka the New World Order agenda) and that they do promote transhumanism (the mixing of man and machine), but whether this is of Alien initiation or whether they are simply human rotten eggs being deceived, I'm not prepared to take a punt on at the moment. If forced to choose I would tend toward the latter option but I am open minded at present.
I am aware that most reading would like to have a definitive answer – to laugh at or to agree with either way. Sorry to let you down on this subject if that is the case. Sometimes we do not know and it is wiser to park the subject! Just take the 99 other results of my analysis in which I do come down with a yay or a nay! Thank you for understanding.