In this post I share the way that evil manifests through the generations: father to son, and son to grandson; mother to daughter, and daughter to granddaughter etc. and how it can spread in both depth and breadth unless nipped in the bud with constructive affirmative action. As an example I use the cover-up of by the Zacharius family following the exposure of the hypocrisy & sexual sins of their recently deceased father, husband and colleague – the [now in]famous Christian apologetic, founder of RZIM – Ravi Zacharius.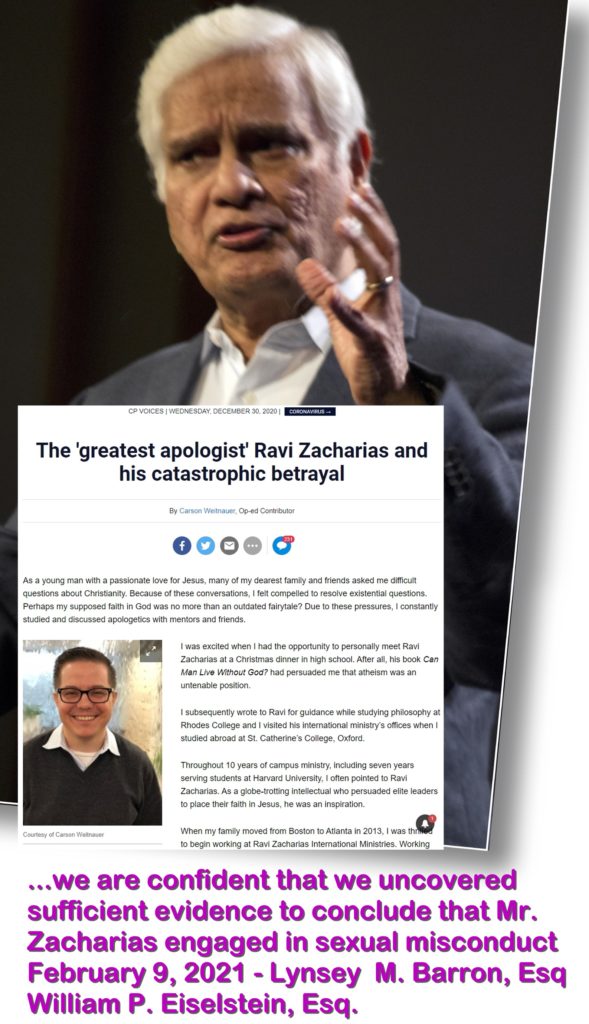 Ravi Zacharius is a name esteemed in both Western and Eastern Christendom for decades, but only months since his death he's been exposed as a sexual predator. According to some of his employees, his surviving family and Board haven't really done much constructive to help the situation, indeed being accused of covering up. They say that it's not the crime but the cover-up that gets you.
A recognised and powerful preacher within the Apologetic Ministry community, Ravi syndicated his materials globally and brought many either into the Kingdom of Christ, or closer to Him (building their faith and confidence) if they were already in it.
A young American Carson Weitnauer speaks for many when he shares his story as a young man, of getting a good grip on reality with Ravi's help, then ending up working for him and then learning of both Ravi's betrayal – but more importantly – the cover-up by his family and company leaders, the essence of this post.
Let's hear from Carson now:
In August 2017, the ministry team at RZIM was informed that a greedy couple in Canada had identified Ravi as a target for extortion – and felt no scruples in falsely accusing Ravi. Taking advantage of his friendly, even naïve, approach to people, they had conspired together to defraud him of millions of dollars. Through prayer meetings and regular updates on these "Satanic attacks," we managed to get through this trial with renewed unity and commitment to our mission.

As we sometimes heard troubling details that suggested Ravi was guilty of what he had been accused of, it was a relief to hear that his incriminating emails were taken out of context, that exculpatory material had been reviewed by the board, and that his courageous RICO lawsuit had put an end to their falsehoods with a non-disclosure agreement. We gave thanks that Ravi's bold leadership had freed us to focus once more on the ministry God had called us to. Convinced of this narrative, I served at RZIM with great passion and joy, and then wept and grieved for weeks when Ravi's health unexpectedly declined, followed by his death in May of 2020.

However, in September 2020, new evidence surfaced about Ravi's relationship with Lori Anne Thompson. As I studied this information carefully – again and again and again – it slowly dawned on me that Ravi had personally and repeatedly lied to me and others in the ministry about his relationship with her. If true, it revealed that his RICO lawsuit was a malicious attempt to bully his victim into silence, and that Ravi had perjured himself in the effort.
I am sick at the thought of this but this is quintessential human behaviour when caught . . . lies then attacking the source of the revelation. But was it a one-off event?
… Ravi's abuse of Lori Anne Thompson wasn't an isolated affair, but rather part of an ingrained pattern of life stretching over a decade or more.
Ouch!
As I discussed these revelations with colleagues at the ministry this fall, I have often felt discouraged. A senior leader took the initiative to email me, saying, "While I agree that we should remain transparent with the truth, I don't think repeating potential lies or passing on judgment are qualities we want to embody at Ravi Zacharias International Ministries." And despite an obvious conflict of interest, members of the family have actively spoken out in Ravi's defense, while Ravi's daughter has guided us through this crisis with the unwavering support of the board and senior leadership. Yet the day after I asked her a series of questions about the non-disclosure agreement between the Thompsons and the Zacharias estate, two senior leaders challenged me on the propriety of my questions. Unfortunately, I have heard similar stories from other colleagues within the ministry. It is only a matter of time before their voices are heard . . . we have been badly misled by our secretive board and senior leaders.
And here is the problem that this ministry has faced . . . Ravi's sin is one thing but he is long dead and buried now. His wife has covered up, surely it must be no surprise to her that her husband was mucking around for that long? Nobody is that stupid that a multi-decades long deception from a man to his wife? His daughter who is now leading the multi-million dollar show has also been complicit in covering up.
This is the problem for deceivers – the spiritual environment was set by the father as one of hypocrisy. It is the father who established the values and this is both overt and subconscious. You can't deceive the Lord here. Ravi knowingly deceived for reasons of perceived self-interest and therefore the fruit is that when his wife was faced with exposure she did the same. His daughter too was concerned with appearances, thus tried to hush it all up. Like father like daughter eh? And the Board too failed to do the right thing, as this brave young man has said here, for years too!
It is a shock for anyone who loved and admired Ravi Zacharias to accept the news that he was a sexual predator. Now unmasked as a uniquely charismatic manipulator, his deceptions were altogether convincing.
A little bitterness here methinks, but oh so very real a story! So what, and where to now?
We can still thank God for how His truth changed our lives, despite the hypocrisy of the one who preached it.
So true, so true. Think back to the donkey the Lord used to speak to another failing man. Of all the animals He had to use a donkey!
Understanding evil requires us to accept that we ALL have gone astray, each to his own ways, and the words we speak, when anointed by God and are in time and in season "[how it] changed our lives, despite the hypocrisy of the one who preached it."
As Jesus took the unpleasant and unpopular step to expose hypocritical leaders, so we must not silence those who tell us the truth about Ravi's egregious abuses. Instead, RZIM must change its name, remove Ravi's material, repent for its many failures, and provide a restorative response to the harm that Ravi's victims experienced.
These are brave and brutal words Carson but they are dead right. Immediately I heard the news, I thought, "That's it for RZIM. Kill it!"
The depth of complicity by the board and senior leadership in this cover-up must be clearly established. Finally, an organization with credibility in the survivor community must be hired to do a thorough assessment of the organization and its culture, and their proposals for reform will need to be implemented.

If they want to avoid following RZIM's example, Christian ministries and churches should rigorously evaluate how their systems and culture could prevent them from personally experiencing this crisis. May God give us the clarity and courage we need to become faithful advocates for the survivors of abuse — and to deter such abuse from occurring in the future.

Source
I have little hope that the RZIM leaders will do the honourable thing like Carson recommends here. Their public response gives little reason for hope because while the words seem right, it came very late and there is a lot at stake. Leaders like this are not likely to fire Ravi's wife and daughter, nor to rename the organisation and purge the BS from within. A new board maybe, but it is exceedingly rare where the fools who get one into a bad situation are the ones who can get you out of it. Sadly I predict more of the same and that Carson moves on with his life, elsewhere and RZIM boxes on trying to put the tough stuff behind them and pretending that it's in the past.
There's one thing that can be assured though . . . nobody has ever mocked the Lord and got away with it. Ravi will be wishing like hell that he'd kept his life cleaner than he did, and his family too will be wishing that he'd not set the wonky pattern for them to follow. Thank God though that He is gracious and fair.