This post includes the text of a report issued by myself under the Writing the Wrong Ltd entity, my NZ-registered Private Investigation company into a cover-up by a New Plymouth-based legal company Govett-Quillam, when one of their partners, Lauren Wallace, slipped up then covered up. In essence, some District Court Judges down there have worked on some dodgy information and justice will be a challenge to now dispense, short of revisiting the entire matter. Greater evil is sometimes perpetuated by way of cover-up of lesser evils. As they say, it's often not the original crime that gets you – it is the cover-up! Enjoy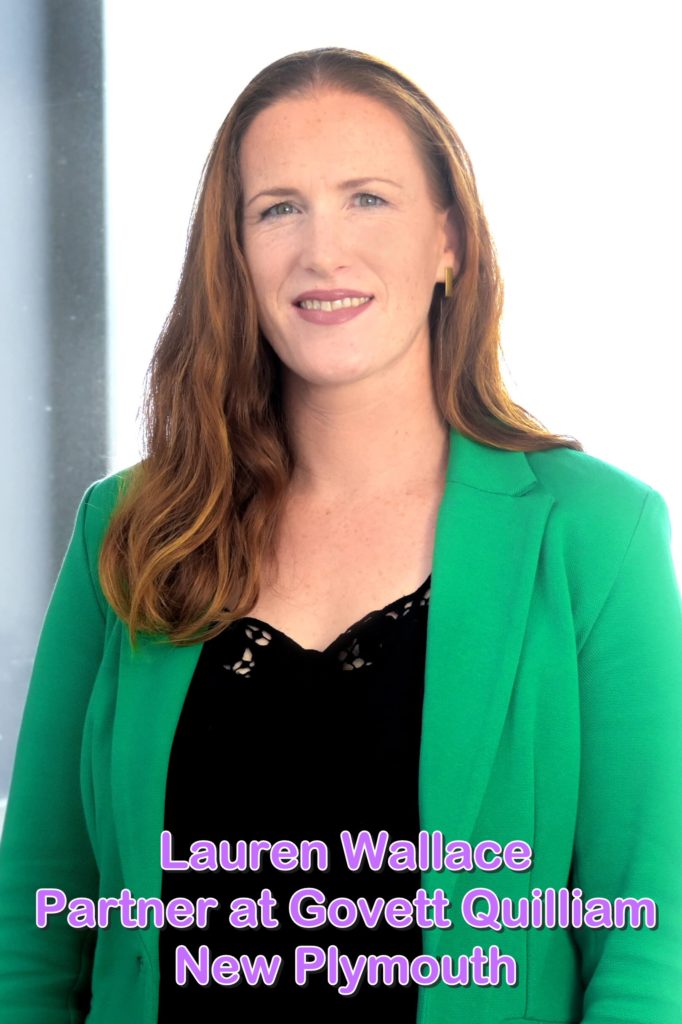 Last year (2020) a mate of mine asked for advice and I helped him. In essence he had a company with a bad debtor who was causing him problems. This fruitloop (the other guy, not my mate) has Autism and simply doesn't understand human relationships, so he has a history down in the Taranaki region, having roughed up a gazillion people over the years. It is his way to sue everybody over everything, just making sh*t up especially when he doesn't have a case. He convinces himself of his stupid position then tries to convince others and this is common with these kind of people.
I'm not aware of any case that he's won and from what I understand, most of the judiciary and certainly the business community down there know him and his BS ways very well. The fact that he destroys others in the process of playing his games hurts but hey, things happen and he gets away with it when the weak ones give in and won't fight him.
I'm used to it, and while naturally a pacifist, I'll stand and fight professionally especially over a matter of principle any day!
My mate is one of those "weak" people I refer to, straight as a die, wouldn't hurt a flea sort of thing, so push came to shove, I bought his company then designed a sting operation and prepared to fight this dude all the way to the cleaners. I just love it when BS artists like this guy (the crook I mean) try to swing a fast one on me because I am usually a step or two ahead, and they always miss. This guy came out swinging (so-to-speak) with a counter-claim to our $16k bill and tried to go us a few hundred thousand bucks on some BS made-up claim. "Bring it on!" I said and the legal stuff started. Then the legal BS really happened.
Apparently I can't represent the Defendant company! WTF? It was true that the DCJ (that's short for a District Court Judge BTW) ruled that I wasn't a Solicitor so, "Bugger off Nisi!"
So whatever, I did.
There's only one problem, the other dude's lawyer was present at the court and she didn't do the right thing. If she was professional she would have put her client's adversary (the company I had bought) on a simple, free Companies watchlist and she would have known that I had bought the company. This is normal practice in the legal industry, one of the reasons that you pay these people so much BTW. It's their job to know these sort of things and to give you good advice. She SHOULD have told the judge, "Oh no sir, I'm sorry, I got it all wrong, the Defendant was sold way back months ago and Mr Smith is the new director and he does have a right to represent the company before you!" but she didn't.
Darn! Don't you hate it when that happens?
The judge then (assuming something that was not true) effectively put the company into a Catch 22 – the director had done the right thing but the DCJ had refused his right to defend. OMG! This is a fundamental breach of due process, the law, natural justice and the works! In legal speak, (among other things such as downright BS) these things are called "lacunae" – a legal lacuna is literally where there is no jurisdiction. How the h*ll can anyone issue justice if the dude is denied the right to defend? Ummm, is this NZ or Zimbabwe? Samoa? Libya? Haiti? Crumbs, even Iran allows the poor suckers they take out to at least have a word before they get to their virgins in the sky don't they?
So now the lawyer's initial mistake (omitting to keep herself properly informed) is amplified into the court system which could (and did) create even more problems, mostly for her and her client actually. The matter proceeded and in due course she found her error – horrors, she found out that not only had the company been sold months before, it had even been struck off! She was actually suing a non-existent company for goodness sake!
So like all good honest lawyers [DON'T laugh, please] of course, she probably then fessed up to the court, and to her client, and to me, and she fixed the problem that she had created and then gone to court in the normal ways . . . surely?
I jest of course! Nah! What she actually did was sneaky and IMHO dishonest. Typical of all crooks, liars and fools she tried to deny it and cover-up. Here it comes . . . she advised the court she had "recently" (note that word because it is important that it was only "recently") that she had recently found out that the Defendant company had been struck off. She was in the process of reinstating it, she continued – well you can't sue an entity that doesn't exist can you? And cutest of all, she slipped it off to the court BUT NOT THE DEFENDANT! I had to ask for it from her – wait for it . . . in February 2021 long after it all happened!
Hmmmm Naughty, naughty!
But you say, surely the court sent a copy to you or the Defendant? Ummm No! Remember that the DCJ said that I couldn't possibly represent the Defendant company, not being a solicitor?
So then of course the DCJ issued his judgment against this non-existent company who wasn't even registered and in these circumstances this poor little company that had sold all of its assets and paid off all its liabilities, then taken off the companies register because it had ceased trading and its existence was proven to be long gone (months in fact) that I was prohibited from representing but the 'honest' lawyer was there in court of course . . . you get the picture?
Are you laughing or scratching your head? Please, don't cry, whatever you do!
But this cover-up doesn't finish there because then I receive communications addressed to the old companies Address for Service a lovely letter introducing herself as the lawyer representing this fruitloop, then another one telling me that the company owes her client money, then a hand delivered (properly served) statutory demand that gave this non-existent company 15 days to cough up or to come to some arrangement or to get ready for another court appearance – this time to force things once and for all.
Whatever? She was very polite though, well, except when denying that she had done anything wrong of course – you cannot call a lawyer unprofessional you know, without them knowing that you know, that they know, you know!
"Look I'm very sorry I must have made a mistake there, but, ummm, honey, you may have a bit of a problem collecting on this one!" methinks … and says.
Now to the sting operation. This guy owes me $16k, personally. So far I estimate his legal bills to be over $20k and we've only just got started! On or before 26 April 2021, I will be commencing a sting operation against Clarence William Withers that will ensure that the whole world knows and forever, who he is (just another fruitloop caught in the horrible Autism trap), what he does (we call this his modus operandii) but most importantly how and why he can take his own lawyers to the cleaners for incompetence. You see, spending $20k to avoid paying $16k is not good legal advice. Doing ten minute's due diligence on your client's adversary would have found out that Dennis A. Smith loves exposing evil, especially when it comes from the legal profession and especially when they try to cover-up with a string of unprofessionalism going back almost a year.
Look, they say some really nice things about this lady who has been a partner for a decade at the biggest law firm in New Plymouth and I'm sure she's a great mother, but listen up folks, covering up your errors is wrong. It's bad and it's evil.
And when it's attempted at my expense it's also foolish and destined for exposure. I waited and waited for the court to tell me what really happened – nothing, even though I knew. I waited and waited and waited for Ms Wallace's professional courtesy to tell me what was going to happen – hell's teeth I even gave her hints on how to find out what she was up against, still nothing . . . so on Sunday I'd had enough and sent this to her, and the New Plymouth court:
Time Sensitive Request for Comment, Correction or Right of Reply
Hi Lauren & Sandra
The attached report from WTW details concerns identified in the process of investigating matters relating to Clarence William Withers, participant of litigation past, present and probably future within your jurisdiction as you probably both well realise. I am now both personally and professionally p*ssed off. You can see this with my damning and mocking post (also attached).
I draw your attention at the outset here to the urgency of this communication based on deadlines – I will be publishing this report and my take on these events on Tuesday 23 March 2021 and the proposed sting operation against Mr Withers will commence on or before 26 April 2021. The former date is a fully flexible date, but the later date is fixed for financial reasons outside of my control. This means that I can alter the date of publication to anything after Tuesday with agreement, but the second date can only be altered with payment of a small fee to WTW.
It is my conclusion, summarised in this report, that Lauren's company failed to note changes in the company ownership of the Defendant in a professional manner, thus the DCJ issued his order of 21 September 2020 upon false information and that injustice has occurred as a result. My report concludes that a cover-up by Govett Quilliam occurred to the disadvantage of the Defendant company although I note that this has been vociferously denied in Lauren's communications. To be quite frank I don't give too hoots about motivation of the first error – whether this was done in error, an oversight or whatever really doesn't bother me, but the possibility of a cover-up, the most likely scenario IMHO does. My blogging of this matter deals with the covering-up aspect of dealing with irregularities – not so much the fact that an error occurred in the first place.
Putting things into direct words to make this simple, Lauren may have difficulty enforcing any Summary Judgment issued in the circumstances where she has obtained the said SJ knowing that the director of the Defendant company had been previously excluded from representing the Defendant company by a DCJ working off incomplete information that led him to mis-read the situation. Now a defence to this claim may be that Lauren did not know the error even in November 2020 but this would then raise the question, why did she not send her Memorandum of November to the Defendant company and how on earth did she know that the company had been struck off without knowing that it had been sold and renamed? Furthermore, why did she commence collection efforts against the correct company name without informing the court of her previous error so that the judgment could be corrected? The bottom line is that the lacuna I refer to in the report – the one that led to repeated errors – was created through her failures. Yes, of course I knew of the JSC in November 2020, but do you really think I would drive all the way down there just to be told to bugger off because I had already been barred from representing the Defendant company?
Matters have also been exacerbated with failure by both of you to respond to me for now more than a week. These delays are NOT conducive to good faith engagement, hence my intention to raise these matters in public with the publication of this report and my blogging (both attached) on Tuesday.
I herewith give all parties the opportunity to respond by way of right-of-reply and undertake to correct any errors of fact and/or publish any comments that you may wish to provide as per my terms listed on the bottom of every page of my website: https://www.dennis.nz/disclosure-statement/. This communication will also be a part of the post on Tuesday in full.
Regards
[footer redacted]
You can read the full report here in PDF format.
Here though is the raw text in web format for those of you still interested. The takehome? Never FWAB, (B=Blogger) especially one who never gives up and doesn't like getting ripped off by lawyers trying to cover their ar*es at my expense. It makes me angry. For the record, Clarry Withers owes me $16k. I'll do deals and yes, if this crooked, stupid, big-shot legal representative apologises and fixes the problems she created I'll update this post and grant her the space she deserves to learn from her errors and get on with life. Until then, remember, it's not the crime that gets you – it's always the cover-up. And Lauren, my legal advice to you is that if you haven't informed your underwriters already that negative press was coming your way your company will not have insurance cover. You'll be coughing up for your impending defamation case against me personally if you're not very careful from here on!
Peter Cribb (previous owner of the Defendant company) responded to a pre-publication request for comment by confirming the accuracy of this post and my report, "very well put together and acurate [sic]".
Sandra Hopkins (New Plymouth DR) responded resupplying three documents.
Lauren Wallace did not respond (but her senior partner did, with a 'nonsense' Cease & Desist Letter which I've shared and blogged about).
Second Report into "New Plymouth Legal Issues" (PDF)
Author: Dennis A. Smith
Date: 21 March 2021
Intended Audience: Public (following opportunity for Right of Reply – Lauren Wallace [Govett Quilliam] & Sandra Hopkins [Deputy Registrar, New Plymouth])
Declaration
Writing the Wrong Ltd has been contracted to design and participate in a [currently] confidential 'sting operation' planned against New Plymouth resident Clarence William Withers, the client of New Plymouth-based legal firm Govett Quilliam of which this matter relates.
Details of this sequences of events will start to become publicly known from Tuesday 23 March 2021.
The timing of this report is prior to these events in order to give a 'last opportunity' for peaceful resolution to unresolved matters.
Executive Overview
Corruption appears to exist within the New Plymouth legal community based on my personal experiences 2020/2021. Evidence includes professional failure of a leading New Plymouth law firm, then an apparent cover-up (hotly denied of course) and a hurry to Judgment with the court having been provided with false information.
Background
In mid 2020 the writer (Dennis A. Smith) was approached regarding the affairs of a New Plymouth-based construction company.
In the process of analysing the company affairs (i.e. during due diligence) I established that it had a positive equity position for someone prepared to engage with legal matters, but would have had difficulty realising its assets for someone not legally competent.
Essentially this company had one troublesome debtor owing it in the order of $16k, a substantial claim against it (that IMHO had little chance of success if defended), and debts owing of less than its assets.
My analysis was that it was solvent to anyone ready and capable of legal representation but not to anyone either unwilling or unable to undertake litigation on its behalf.
I therefore purchased this company in July 2020; renamed the company; cleared all company debt; sold its assets (which included the above-mentioned bad debt) and closed all its operations.
In due course the company ceased to exist, being struck off the company register.
Litigation
In regards to a matter of litigation then before the courts, the company director (in a private arrangement) agreed to advise the New Plymouth court of a change of representation and address for service, from a Hamilton based lawyer to itself.
The company did this.
The New Plymouth District Court rejected the companies notice of change of representation that effectively put its legal position into a lacuna [a 'legal hole'].
The New Plymouth lawyers advised the New Plymouth court that they were applying to reactivate the company, but did not notify the Defendant company of this.
Subsequent legal actions resulted in a judgment by default against the company while it was deregistered.
The Company Registrar's intent to resinstate the company was Gazetted post judgment on 3 December 2020 and the company was reinstated on 12 January 2021.
The Core Professional Error – Failure to note changes
The New Plymouth-based lawyers representing the bad-debtor appears to have failed to correctly identified the company ownership change.
This appears to be the core (and first) professional error as it is normal practice for lawyers to put related companies engaging with their clients onto their company watch-list.
This appears to be their first professional error.
The Second Professional Error – Attending court against the wrong entity
Upon notice of changes on the watch-list it would be expected that this matter would be then discussed with their client, contact details updated, the court advised of name changes and address changes etc. none of which occurred.

"Lauren Wallace" then appeared in court for the Plaintiff against a wrongly named Defendant company whose director had previously been informed of his lack of standing to represent the Defendant (now his company renamed).
The Third Professional Error – Engaging with the court privately
What instead occurred was that there was an off-the-record discussion with the New Plymouth court staff privately, which resulted in a ruling from a DC Judge that the Defendant company director had no standing to represent the [now misnamed] company – an 'incorrect' decision clearly issued by a misinformed DCJ.
The court [correctly] advised the [misnamed] Defendant of this [incorrect] ruling.
A Cover-up
The New Plymouth-based lawyers seem to have noticed their original error on or about 16 November 2020, shortly prior to a scheduled JSC, likely as they did due diligence for the first time immediately prior to the JSC.
They informed the court (only) of the fact that the company had been struck off and that they were intending to apply to have it re-registered:
"The plaintiff has recently become aware that on 28 October 2020, the defendant company was removed from the Companies Register",
failing to address the previous errors of representation, address for service and naming resulting from their previous failure.
It is normal that professional legal representation will correct any errors with the court at the earliest opportunity, but this was not done in this case, despite knowledge now that the Defendant's director was falsely precluded from representing it.
The New Plymouth-based lawyers then engaged with the New Plymouth court directly, not only asking for instructions without informing the Defendant, but a DC Judge appears to also have liaised with the New Plymouth-based lawyers too without reference to the Defendant as evidenced by his comments in the judgment:


This is clearly a prime facie case of breach of natural justice, whereby a lawyer obtains benefit to her client, deceiving the court, then interacting with the judiciary to supply information without the knowledge nor input of a defendant.
Documentation that the New Plymouth-based lawyers issued to the Defendant company in late January 2021 for the first time identified the correct Defendant company without noting the changed entity name.
Again the New Plymouth court was not advised of the correct name of the entity, nor that an error had obviously been made in 2020 prior to the judgment by default, despite the New Plymouth-based lawyers knowing that the Defendant company was precluded from representing itself by order of a DCJ.
This indicates a conscious and continued covering up by the New Plymouth-based lawyers … to this day.
Direct Contacts
The Defendant made direct meaningful contact with Lauren Wallace of Govett Quilliam more than once, first on Sunday 28 February 2021 by way of an introductory email; the second time in a phone conversation on 9 March 2021 and lastly a follow-up email the same day.
Matters were left awaiting Lauren's contact with and instructions from her client, but she has failed to respond.
The Defendant sought clarification of communications from the New Plymouth DR, but has failed to receive any response.
Analysis
It appears to this writer that a fundamental error was made by the New Plymouth-based lawyers at the outset of their handling of this case that has disadvantaged the Defendant company thereafter.
Writing the Wrong are not lawyers therefore in a legal sense there may be issues not fully covered here but it is clear that something has gone very wrong in ensuring natural justice when the Director of a Defendant company is prevented from representing his company in court.
It also appears as though a cover-up has taken place following the revenation that occurred "recently" (according to Lauren Wallace's submission to the court on 16 November 2020) when the court should have been informed of the legal firm's error in assisting the court to prevent the writer appearing.
This also makes any subsequent events adverse to the Defendant company subject difficult to enforce, should this be necessary.
Recommendations
This report should be issued to both the legal firm and the court in question for comment, correction and/or right of reply prior to distribution.
Any exposure of or any attempts at collection and/or enforcement against the Defendant company (without reference to this report) should be firmly defended in a public forum.
The sting operation planned against the New Plymouth-based lawyer's client should proceed as planned, following resolution of any matters raised in the Right of Reply process.
All parties involved should be strongly advised to inform their superior(s) and/or underwriter(s) in the event that matters escalate from here given the fact that there is now serious time sensitivity.