This post reveals defamation from Clarry Withers (New Plymouth) and explains how his lawyers Govett Quiliam appear to now be in hiding following exposure of their crooked conduct. In this post I continue to explain what Clarry did by way of defamation; why (when seen in proper context) it is so bad but what his lawyers did which is a magnitude worse. Those who have gotten their fingers burned at the hands of NP's 'top' Lawyers should take note. For the record, in regards to my exposure of these crooks I stand behind EVERY WORD I have written here and previously. Enjoy.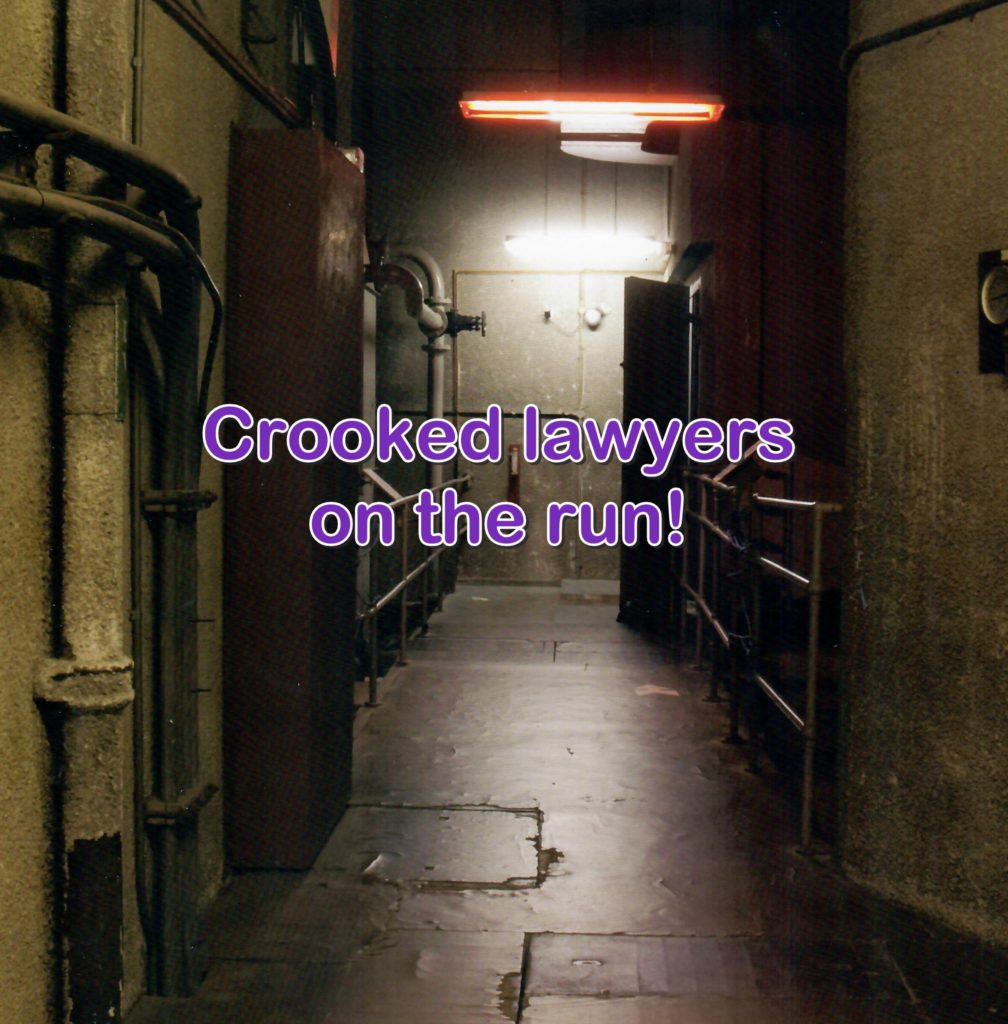 In previous blogging I shared how I received an unannounced visit from Clarence William Withers. I explained that this meeting started out amicable but that it ended with Clarry walking away in a huff and hurling threats at me as he did.
During that meeting Clarry clearly defamed another Taranaki businessman more than once. The defamation was so severe that I contacted his lawyers and sought ethical resolution to what I believe were false claims. Here is my communication to Clarry's lawyers ten days ago. Their response – nothing. Figures!
Subject: Defamation warning C W Withers
Fri, 11 Jun, 14:44

Hi Lauren (cc [name redacted])

I have just completed a face-to-face meeting with your client Clarry Withers who called in unscheduled. I reserve the right to trespass him from this property but will await your response before initiating this action.

During this meeting Clarry made two claims which I seek clarification of please, both of which could be defamatory should they be unverified and if the second one is repeated.

The first is that the personal reputation within the New Plymouth region of [name redacted] is poor, and the second is that I "blackmailed" Mr Withers somehow through or via your company. I note that "blackmail" was my word, but Mr Withers explicitly agreed with my use of it and then used it himself, Mr Withers was unable or unwilling to clarify or verify either of these claims when asked to (but he refused to either qualify or retract them) thus it appears to me that they are or have the potential to be defamatory.

I seek please to:
a) Have meaningful verification of the former concern, and
b) Have detailed clarification of the second claim, or
c) Have a formal retraction of them in writing.

In the former I seek to know specifically who said what to whom and when they said this sufficient for Mr Withers to come to his logical conclusion of [name redacted]'s poor commercial reputation (as I have found the opposite to be the case) and in the latter matter I seek clarification of what and how he/you considers my actions to have exerted unreasonable coercive force sufficient to be deemed morally or legally wrong i.e. blackmail. I note here that Mr Withers is perfectly entitled to his opinions and to share them but to diss another as fact without supporting evidence and especially doubling down on erroneous claims when asked for verification IMHO pushes the matter to defamation.

For the record I have CC'd [name redacted] into this email and I seek a timely response to this request please.
In the event that either you or your client fail to respond constructively please consider this communication as a warning of defamation.

As always please also consider this matter to be either public or that it has a high potential to become a public matter.
So, following Clarry's instructions that he was happy for me to speak to his lawyers, ten days ago I issued this respectful and formal request from New Plymouth legal outfit Govett Quiliam, Clarry's lawyers, for clarification or retraction. Silence. Crickets. Zip. Ta-daah – nothing. Peter got his copy so I know that Lauren too got her version. It's now a public communication.
Why the silence? A professional legal outfit would normally reply. "Received" is all that was needed, with a "Thank you" if you wish to show good manners too. Not so these fools. My take: Like their client Clarry, they're running scared. My conclusion is that they realise that they have screwed up and someone above them has instructed the lot of them to STFU.
This is what 'professional a*seholes' like me do though . . . We play it straight, tough and as hard as they want. I warn them what I will do before I do it. I share a post with them before it is published seeking their feedback and corrections if needed, then I adjust, alter or share the post to make sure that it is accurate. If they are lawyers I warn the fools to advise their underwriter of the potential for negative press. They almost always never do, so they make it doubly difficult for themselves as they lose their public liability cover if they don't.
I bait the crooks to step right on up and hit me with all they've got and then I wait for them to move. Nine times out of ten, actually more but that's the saying anyway, they will hit below the belt and they ALWAYS underestimate the power of truth. You see when you don't play games with the truth, you have nothing to hide; you have no fear and exposure works in your favour – always. You actually want them to do more stupid things so you up the ante to show the world what the reality is.
Cockroaches though, fear the light. They run and hide. When there is nowhere to hide it is easy to stomp them into oblivion. Lawyers are especially proud people and always go way too far. They are eminently predictable. Govett Quiliam appear to be no exception!
So what happened?
I bought a company that Clarry Withers owed some money to – a little over $16k to be precise. He sued us for a gazillion dollars to avoid paying his account. Long story short, I traded the company to a zero balance sheet (the ethical thing to do) and closed the company down. During the winding down process I informed the New Plymouth District Court that I was now representing the defendant company and advised them of the change of address. Lauren Wallace of Govett Quiliam screwed up by not doing proper due diligence and therefore misled the judge. She was present (I wasn't) when the DC judge banned me from representing the Defendant company. This was an error by the judge which was either allowed to happen or was created by her, on her watch.
An honest professional lawyer would normally have known that I was the Director of the Defendant company and would therefore intervene to prevent the judge making a basic error of assumption like he did. I wasn't present but I can just imagine her glee and I can visualise the help offered to the judge, "Mr Smith may be a Private Investigative Blogger but he is NOT a lawyer, so I submit that he cannot represent the Defendant company!" would have sounded so cool to her own ears and especially to Clarry when she would have reported events to him following her 'win' in court.
Umm, this is a big claim from me that she screwed up so badly, so what is it based upon? Well Lauren actually confessed to this failure as she said that she only just "recently" found out the facts when she did do due diligence a day or so before the hearing proper.
Hmm. Interesting! Even more interesting was what she then did – oh dear, that's when the cover-up began. Everybody makes a mistake every now and then but the ethical ones fess up and attempt to rectify the matter. What she should have done is inform the court that an error may have been made and that Mr Smith was actually a Director of the company and that he could actually represent the Defendant. The court (assuming that it was interested in proper justice) should have then put the matter on hold, contacted me and given me an opportunity to defend in the normal course of events.
There's just the little matter of human ego however to get over. A lawyer, especially a partner in a prestigious legal firm like Govett Quiliam, has a huge weight of responsibility in the local society and can never lose face like she would, especially if she is charging her client for her time. Clarry told me more than once that it's cost him $60k in legal fees so far. I actually don't believe that anybody is that stupid to pay $60k to try to get out of a $16k debt, but hey, he said it more than once so she's got a real problem if she's screwed up on this job hasn't she?
Her job also toys with words and pedantics in the legal realm so her success in life has come from utilising power of legal knowledge. Unlike her however, I deal in the truth and ethics so we crossed swords . . .
It gets worse – a lot worse – for her and Clarry, not me. I win either way, as you will have worked out by now I am sure.
So this top lawyer Lauren got a dose of the guilts real smart and slipped off a note to the court informing them that she had just found out that the company no longer existed. She also said that she would be applying for its reinstatement in due course. I don't know whether this actually got into formal filings or even whether it got before the judge and into the judgment process or not. Until somebody reverses the dumb ruling that I cannot represent my own company and I can see the court file, I'm in the dark. I've seen the ruling, and there is no mention that the company didn't even exist at the time of the judgment so I suspect some hokey pokey between this crooked lawyer and the courts to hide this from the judge. I mean what sort of judge would knowingly rule against a company that didn't even exist? Even if he did still rule against it he surely would have made mention of it in his judgment . . . surely? So if he hasn't then he'd surely have to have been hoodwinked to do that . . . surely? Not for a second time would this crooked lawyer have pulled one over the local judge . . . surely not?
Whatever . . . this is the beauty about playing things straight, in that the truth exists, forever. It is never in a hurry, nor does it need any force. Somebody screwed up, somewhere. I never give up nor go away as other crooks, crims and crazies have found out to their horror, so unless I am suicided, one day you too will find out who deceived who.
I find it very interesting too, that the defendant company wasn't even advised of this communication! That's very naughty for a lawyer to do, and especially when covering up their own mistakes too. You gotta let the other party know of anything you send to the court. And its the court's job to make sure that all parties receive formal documents.
As I said, it will all come out in the wash but I have [good] reason to believe that Lauren's document was not filed in the proper manner and that the court staff assisted her, so that the judge did not know critical information before he ruled, if at all! Some would call this corruption.
Now lawyers love being lawyers and lawyers really don't get it when it comes to real life. Despite warning them, advising them and speaking the truth (defined as anything that has been established from applying logic onto fact) these fools threatened me with defamation! OMG! Thankfully they have left that idiocy out of the equation now that they understand what defamation actually is! Ten to one that it was their public liability underwriter who told them to STFU.
So then this is all fun and games to be sure. Who's paying for all this? Well the $60k sure as eggs won't be coming from me. The company has nothing. I have always acted ethically. Mr Withers thinks that he can adjoin the previous owner personally and or any of his other companies because … well, just because. I know the situation and I can assure this bunch of Wallies that they may scream blue murder and they can play legal tricks for as long as they want – I really don't care if Govett Quiliam charges Clarry a million bucks for all of this. Every time that there is more BS hitting the streets Internet, the world has another chance to find out the truth about the crooks at Govett Quiliam and now the "professional swindler", as Clarry is called down there.
For those wishing to look it up, the current case is CLARENCE WILLIAM WITHERS (Taranaki) v CLARENCE WILLIAM WITHERS (PROFESSIONAL SWINDLER) STING OPERATION LIMITED (1481177) (NZBN: 9429035550686) scheduled to be held in the New Plymouth High Court next month. I renamed my company to this name following its reinstatement to the Companies Register. Both GQ and CWW are of course caught up in this skulduggery and the sting operation is specifically designed for exposure.
Let the truth out.
Legal Charges & Charging
Many a friend has advised me that they avoid lawyers like the plague because of their charging. This section of the post is designed to explain how and why lawyers charge like they do. It starts off generic, then I'll drill down to Govett Quiliam's 'excessive' billing, I promise!
As a rule (yes, there are always exceptions, I know!) lawyers all know how to charge like wounded bulls. This is so prevalent that it can be hard to argue against it. I once did an analysis of the difference between the boys working a hard day in the heat of Samoa and my Auckland lawyer sitting in his air conditioned office just talking and it was an embarrassing difference – $2.00 WST vs $ hundreds of NZDs!
Charging many hundreds of dollars an hour and measuring a days work in thousands, if not tens of thousands of dollars is normal. It is done because it can be done. It is enabled by "the system" – a system that perpetuates benefit to the elite, the privileged few who climb the ranks to get there. This also happens in other disciplines too – it is human nature after all – but the reason it is perpetuated is because it is in the financial and political interest of those within the system to play the game and perpetuate it. This is a social norm. It manifests in different ways in different cultures but it is essentially pride.
When Lauren Wallace erred, rather than fessing up and doing the honourable thing, she deceived both her client and the court because she thought she could. Ten to one (again) she has done this before and got away with it. Ten to one though she has never had a Private Investigator on her tail; she has never been told to inform her underwriter of a potential PR disaster; she has never been outed for legal dishonesty and she has NEVER been caught in a sting operation like this before.
I do this for a living and I know exactly how these crooked lawyers think. You can almost smell feel the contempt that they have for us mere mortals oozing out of their shoes as they walk. You can see the eye contact between judge and lawyer and you know that if you took any notice of them that you would be a lesser person in their presence. You can see the ugly side of game players as they toss their power games out before a judge and yet call each other "friends". You can digest the legal pomp and puffery in the way they write, think, speak and even their dress sufficient that I almost feel like attending court in my jandals and old work clothes to spite them all, and probably would except for my own self-respect.
Then after a while you understand the bar; the commitment that these people make to 'the system' and the rules that they work under and you realise that they feel they have a right to charge you whatever they want because … well just because.
Personally, I like lawyers, no I love them. I love them because they are so predictable and they think … well they think like lawyers. I do too, but thank the Lord that I never had the brains nor inclination to play a closed game.
I've said that Clarry Withers told me more than once that he's spent $60k suing us. He said it more than once and repeated it again more than once when I challenged him, so he's spent a lot, even if he hasn't spent $30k winding my reinstated company up, which he also claimed more than once. Nobody is that silly unless . . . wait for it . . . unless a lawyer has justified it to him.
Govett Quiliam are not litigation lawyers. They may claim to be but they do not understand the basics of conflict. Anybody who spends a cent with them in a conflict situation needs to contact them immediately and demand a third party (non-legal) appraisal of the quality of advice given to them. Based on my research I have found that more than once GQ's charging has been excessive for the value returned to their client. I am NOT saying that they cannot legally charge you whatever they want for whatever service they choose to provide you, I am saying that the value returned to their clients does not equate in a normal world to reality.
Take Clarry Withers and his account for example. I do not accept Clarry's version of events that he has spent $60k trying to recover a false quarter of a million bucks from a non-existent company that literally doesn't have anything when he actually owes me $16k. I believe that he has some form of Autism and is worried about his legal case – that's why he visited me in person. I can accept that he has spent a lot on legal fees – I can see $20k without too much trying but even at that, is this good advice for a lawyer to give, spending more than he owes to not have to pay it? It is primarily as a result of GQ's advice that he is in the poo at present after all! Has Lauren fessed to Clarry that she screwed up way back when and that all her billing thereafter by rights should be on her and her company?
I doubt it! The only reason Clarry would have any clue of this was if he read my blog, which BTW I know he has.
Now let's flip the tables for a minute and ask you whether you get a client to pay you for your mistake on a job. Do you? Would you? It may have taken you 6 hours normally but if you made a mistake and you were on the job for seven. Who pays the extra hour when the person wasn't home, or your error was not known? And who set your hourly rate? You or your client?
It doesn't change the situation for Withers, but put the above on steroids in the case of lawyers. Do you see the issue, now?
Future Events
Unless the leopard changes its spots, in due course I will Trespass Clarry Withers from my business, house and home. He came to my premises unannounced and ignored my requests in person to justify his defaming a Taranaki local and wouldn't explain his beef to me in a way that I could understand. He left abusing me and is not welcome here again.
I will also attempt to rectify the damage to this dude's reputation as a result of Clarry's ultra unwise gossip and I will do this in a variety of manners including continued blogging and probably in due course a Public Notice or similar. It is my understanding that he has a good reputation around town and that Clarry Withers' is the opposite.
I will continue to stand for justice; and to fight for this even if it means a lengthy hostile relationship with Lauren Wallace and her company Govett Quiliam. The little people appreciate any 'David', especially when they stand up to any 'Goliath' i.e. 'big' boys and girls acting like bullies. Exposure GQ, will occur no matter what happens and justice may come via the court system or by way of exposure here or though both, but rest assured, it will come.
You, Govett Quiliam and Clarry Withers, are on notice and as I said before, if Clarry ever gossips about me or claims that I have blackmailed him, or his lawyers, it will backfire as I share the facts with the world. This is no threat, it is a promise!
To the rest of you, please, do the honourable thing in business will you? If you make a mistake – just fess up and fix the problem – please! And if you don't take that care, you'll end up here.