This post provides commentary of the legal BS surrounding a New Plymouth businessman Clarry Withers, called a Professional Swindler (and worse) by the local business-people, and his attempt to avoid paying his bills and to secure monies due to his own bungling and therefore not due to him. I summarise both the scenario that brought on this legal stuff, and the legal events currently before the High Court. I am sure that you will enjoy this one.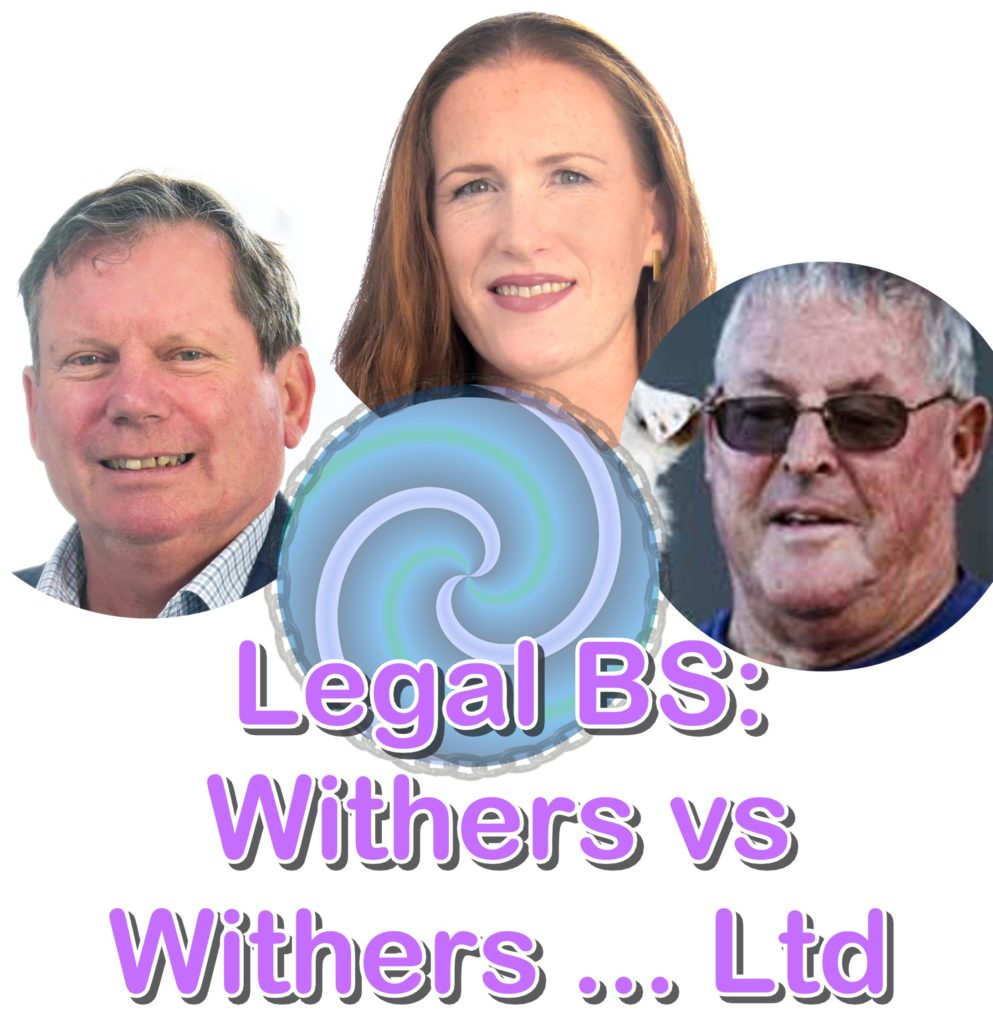 Clarence (Clarry) Withers is a businessman with a few buses and a nice house on some big lands in New Plymouth. Although he can easily pop his fuse, he's a jovial character by all accounts and doesn't pay his bills on time; generates excuses and races off to court at the drop of a hat. I've traced many of his cases, mostly in the Small Claims Court but also in the higher courts and I've yet to find an instance where he's won. I suspect that he hasn't ever won anything but I have heard of many people who have just given it all up and gone away, writing his account off as a bad debt – not worth chasing, sort of thing.
Most people consider conflict like this a problem and want to get it out of their life. To me though this is bread and butter – especially if the crooks have psychiatric issues, like Clarry. He shows me all the signs of ASD – poor human relationship skills and a huge inability to understand the terror he creates for those around him.
So let's go through what happened with this case . . . in 2020 a mate phoned me up and asked for help. Clarry owed his company $16k and Clarry was making life difficult for these people. Long story short, I bought the company and set a trap for him. His lawyers walked right into it and then did a few naughty things to cover up. Now things have got messy with the courts, thanks to these shonky lawyers. First, having bought the company I did deals and traded it to a nil balance sheet. This is what you do when you've decided to close an operation down. Rotten eggs will let a company get into debt and then just walk away which is legal but actually a sneaky form of theft, but straight dudes will trade it down to zero. What you do is sell off the assets, pay off the liabilities and then when it has all balanced you pocket what's left of it, pay tax and go have a beer.
If there's nothing left, you've done well. No tax! If you're short, you gotta top up its coffers and then the company can be legitimately struck off the Companies Register – either an active process or a passive process. Both ways achieves the same result.
So it took me a while to work things out and what I was going to do with it but this company did all that and because there was this upcoming legal case with Withers, the company notified the court of two things, a) A change of representation (this means that the court records that the previous lawyer is no longer representing the company) and b) A change of address for service (this is the minimum that one has to do in any court proceedings). All good?
Well, no it wasn't because Lauren Wallace from Govett Quilliam didn't know that I'd bought the company and was its Director. I've pinged her for this error previously but this is a big baddie from these supposedly top legal eagles in New Plymouth. She screwed up there, which wouldn't be such a big thing except she was in the courtroom on the day and so she misled the court. Lawyers get big money because they are supposed to get the basics right. But the shame doesn't rest there because instead of correcting the court she covered up and carried on with her litigation! I mean why would a lawyer do the honourable thing when she can get a judgment by default for her client by keeping things quiet?
Except, bugger those pesky bloggers that keep talking about things like this eh?
So the day before the day of the judgment she finds out that she's screwed up and slips a secret note to the judge advising him that she has "recently" found out that the company doesn't exist and is going to apply to have it reregistered! Now the judge ruled against a company that didn't even exist and on the basis that the Director couldn't even appear in court BY ORDER of the same court!
Corruption or incompetence? My guess is the former for sure, and I can prove it too!
So here's a copy of the Memorandum that I've just sent off to the High Court explaining that the company wants to defend. It has to file a document in the High Court to defend but because it cannot incur debt in a situation where it can never, and is unlikely to ever pay the debt back, it's in a Catch 22.
May It Please The Court
This memorandum follows new advice received today from a Deputy Registrar at Wellington Central Processing Centre that a Statement of Defence previously accepted for filing within the required timeframe cannot now be filed.
The Defendant company ceased trading in mid 2020.
It currently has and had no assets, nor liabilities at that time.
As the new Director of this company, I correctly advised the District Court in New Plymouth of a change of representation and a change of address for service.
This notice was returned to me by a DCJ at New Plymouth with instructions that I could not represent the company, as I was not a lawyer, but with no reference to my role as Director of the company.
The companies registration then lapsed in October 2020 and it ceased to exist.
Following those events, on 16 November 2020, solicitor for the Plaintiff, Lauren Wallace from Govett Quilliam in New Plymouth advised the District Court in New Plymouth that she intended to apply to restore the company to the Company register.
On 17 November 2020 the District Court issued a judgment (in my absence) from the District Court New Plymouth against the Defendant company even though the company did not exist at the time.
No reference was made to the company status at the time (that it didn't then exist), in the judgment.
Govett Quilliam's application to restore the company was Gazetted on 3 December 2020 and in due course the Defendant company was restored in January 2021.
This current proceeding is an abuse of the court processes. It is frivilous and vexatious as all parties know full well that the company ceased trading, was struck off and has neither assets nor liabilities, and was only restored in order to attempt to cover for the fact that a judgment was entered against a non-existent entity.
As a Director I cannot secure legal representation as the company has neither capacity to pay for any legal fees, nor will it ever, as it ceased trading in 2020. I cannot also therefore permit it to incur debt.
It is my submission that I have been incorrectly prevented from representing the Defendant company in the District Court which led to this matter.
A judgment has been entered against one of my companies without the opportunity to defend which is, I also submit, a clear miscarriage of justice.
I filed a Statement of Defence within the required timeframe which was initially accepted but recently rejected.
I respectfully submit that in the circumstances the Statement of Defence be accepted for filing and that I be permitted to address the Court on behalf of the Defendant company.
I am prepared to file a Strike Out Application if the court so orders.
I'm not a lawyer but the way I see it, there are three concepts here that apply:
This is an abuse of the court processes. The lawyers knowingly led their local judge into a sequence of errors – telling me to "bugger off" when I should have been allowed to represent my own company; then getting a judgment under those false pretences; then getting it against a company thatt never even existed . . . OMG!
It is frivilous – FFS, the company doesn't have anything. As I have explained before, is Clarry really happy that he's spending tens of thousands of dollars chasing the wind on the advice of these lawyers?
It is vexatious. I can tell you hands down why these 'smart' lawyers reinstated the company . . . it's not because it had anything to sue, it is that pulling out of litigation before it goes to court doesn't look good – for them. It would have meant that they would have lost, so they boxed on spending more of Clarry's cash to cover up their BS.
Humpf. So much for bloggers eh?
So what did these lawyers do . . . call me and say, "Hmmm, Mr Smith, it seems as though Clarry's not going to get very much is he?"
Nah! They threatened to sue me for defamation if I carried on blogging, despite me having warned them to advise their underwriters due to bad press about to hit the web-o-sphere. I note that they have gone really, really quiet now. Methinks they have finally realised their cock up and spoken to their public liability underwriters who will have warned them in no uncertain terms to stop digging the hole they have dug themselves into.
Look, I care about people, and I don't want to make their lives unnecessarily difficult for them but Clarry owes me $16k and they have made a real meal out of this whole thing. The courts now have to unwind it all . . .
A. Was the New Plymouth DCJ right to prevent me (as the company Director) from representing the company? If not, then the judgment cannot really stand because I was denied the right to defend.
B. Did the New Plymouth DCJ err in issuing a judgment against a non-existent entity? If so, then the judgment has to be undone, does it not?
C. Does the High Court tell a company that has nothing; that was only restored so it could be sued; that it cannot defend because it needs a lawyer yet it cannot afford one, and never will?
Clarry, if you ever read this and you need real help, common sense, give me a call. I'll show you how you can sue your own lawyers for a gazillion bucks, and probably win in the process. They've got a lot more in the bank I can tell you – certainly more than the company Clarence William Withers (Professional Swindler) Sting Operation Ltd that you're trying to wind up! You know of course that it doesn't even have a bank account?
And make sure that you only pay good money for good advice. I haven't seen a lot from your 'professionals' thus far though.
I love dealing with legal people. They are so smart and so predictable that they lose the plot. Common sense always bamboozles them though. I'll keep you informed when this saga gets to the next stage. Surely somebody's got to do something about all this nonsense . . . surely?
[resigned, sigh!]
UPDATE: 11 June 2021. Clarry popped in unannounced and met with me this morning. I will analyse this engagement shortly.