In this post I share the utterly predictable response of top law firm of New Plymouth Govett Quilliam to threaten defamation against me following their perusal of a damning draft blog post showing one of their partners in a bad light. Like I said this afternoon to a new neighbour of mine when he asked me what I have found doing my job, "Nobody ever does the honourable thing when caught out . . . nobody!" Enjoy.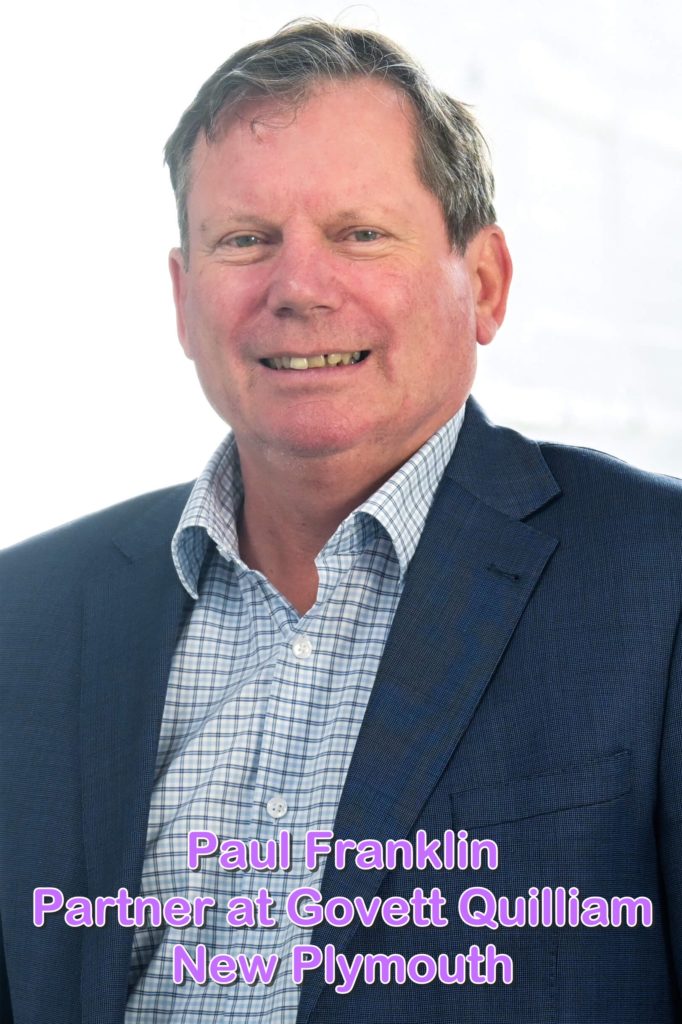 The background to this post is that I purchased a company mid last year (2020) and Govett Quilliam represented a Defendant who I claim has Autism. He owed the company some $16k, then he counter-claimed for 100s of thousands and legal stuff happened that really shouldn't have. Govett Quilliam dropped the ball and got themselves into a pretty mess over it.
"We did nothing wrong!" they claimed.
"Oh I'm so sorry. Maybe I got things wrong. Send me the documents that I don't have and I'll look at them," I said.
I got them in short order after asking for them but IMHO the missing document made it a lot worse for them. A lot worse, because it proved that the things that went wrong were as a result of their failure and also confirmed their subsequent cover-up. Then they ignored me and tried to wind the company up in court. Fat chance of that happening given the circumstances but that's another story for another day.
So let's go through their response received at 4:54pm this afternoon by email and consider their position in relation to facts, as I know them. I had emailed the report and the intended blog post to three people giving them all more than 24 hours to respond and assuring them of their position being made public at the same time under my standard Right-Of-Reply and my promise to only deal with the truth.
Here it is:
Subject: Unsubstantiated Allegations/Defamatory Statements
Click for original PDF.
Dear Mr Smith
Unsubstantiated Allegations/Defamatory Statements
I refer to your email of 21 March 2021 addressed to Lauren Wallace and copied to Sandra Hopkins of the New Plymouth District Court. It contains within it not only inaccurate statements and unsubstantiated allegations but also a number of statements of a personal and professional nature which defame this firm and in particular Ms Wallace. Your allegations and accusations are wholly denied.
If you, your company or any related parties believe you have been wronged in respect of any matters that have been brought before the Court, then we would strongly recommend that you seek legal advice as to your rights and the legal remedies that are available to you.
However, we will not tolerate bullying tactics, threats or blackmail. Any actions or statements which are designed to bring the reputation of this firm and its partners into disrepute are treated seriously.
We formally request you cease and desist any further publication of defamatory and inaccurate statements against our firm, or Ms Wallace. Should you choose to further publish the email and/or the attachments referred to in the email, then we will take all necessary steps to ensure your actions are restrained and pursue all available legal remedies, including but not limited to injunctive relief, bringing a defamation claim against you and seeking damages and costs from you.
Yours sincerely
GOVETT QUILLIAM
[signed]
PAUL FRANKLIN
Partner
So let's understand what this is NOT . . . it is not a helpful response. It does not detail any specific accusations for me to respond to nor does it give me any option other than to guess WTF this fool has gotten his dander up over. It does not provide any validation of their dodgy conduct. It does not address ANY of my claims specifically.
It does however deny "wholly" my allegations or accusations. Which ones? That I spoke to their lawyer – like the one now in the gun? That she then sent me missing documents when I asked for them? It also hints at "blackmail" – hang on, I was asking for their comment in order to present their side of the events correctly – this is NOT blackmail! Did I ask for something from this goon? It talks of "threats" – what threats? I told them I was publishing and gave them the chance to talk the details through. OK sure, this could be seen as a threat, perhaps, but really? Come on. What did they want me to do? Publish and catch them by surprise? Nah, I'm not like that. And as for "bullying tactics" – humpf. Toughen up GQ! This is just the beginning!
And the statement that they take PR issues seriously – yeah right! My take is that GQ have no idea what a PR problem really looks like. From this pathetic response to real tangible BS from their firm I can assure you that they've NEVER had to deal with reality like this before. Wake up and smell the roses GQ. This is 2021. You're 30 years behind the real world fellas!
Have they ever issued a Cease and Desist letter before? Probably not. Even a US based template has better legal structure than this attempt. Do they know what Defamation actually is? Not according to this anemic offering! Do they even know what the Streisand Effect is, let alone apply it into their PR strategy! Guys, when you are attacked by an unknown enemy don't shoot back into the darkness with blanks. It reveals your position and tells the attacker that you are out of ammo and don't know where the attack is coming from!
You see the problem with this communication is that it is a meaningless document that any court in the country would just look at and say, "Poof! Whatever!" and then get into the substantive issues. "1. Mr Smith claimed that Govett Quilliam did not follow standard industry practice by putting one of their clients' litigant participants on a free, Companies Office watchlist. Is this good or standard practice and if it is, then did Govett Quilliam do this?"
"It is. They clearly didn't. GQ's first defamation claim – denied. Next . . . !"
And it would continue . . . when did GQ find out about the company name change? Did they conduct themselves professionally thereafter and so on?
But Paul Franklin's problem is not really that he has made a fool of himself here, it is actually that he has walked straight into a trap . . . and taken the bait hook line and sinker! His approach is that typical of a lawyer – he thinks like a lawyer because he is a lawyer. They are so very predictable, just like machines. Pull this lever and bang out pops the golden egg. Hit this hot button and oops, here's another egg!
Did you note the legal advice in the middle of this response? Note how he "strongly recommends"! This after he got himself into the proverbial because his company didn't do the right thing in the first case! He actually deigns to suggest that I should pay one of his colleagues so that I can take him to court again! WTF! Then later he talks about "legal remedies" and "injunctive relief". The guy's a Dick clearly out of his depth! Doesn't he realise that I live on the Internet and play in the courts. I know that he lives in the courts and plays on the Internet. If he goes for an injunction and all he's doing is giving me more reason to talk online about his big ego and stupid decision-making on behalf of GQ and how lawyers are the best adversary to have in a courtroom because they are so predictable! Baiting me into courtroom on a dopey defamation case like this is like putting a naked prostitute in front of a shipload of randy sailors returning home from months at sea and saying, "Go on, I dare you!"
Now I am as sure as eggs [pun intended] that there is no way this goose [and again!] informed his underwriter that there was a pending PR issue here with this matter like I warned him to do. I say this because first, lawyers don't take legal advice easily, and especially not from non-legal people like me, and secondly if he had, then there is NO WAY that they would have permitted this nonsense to go out from GQ. None! They would have advised him to go VERY carefully, back off and shut up and (if they were onto it) they would have gone for time. "Mr Smith could you please hold off publication while we look into your claims?" sort of thing. And if they had really done their due diligence properly they would have prohibited GQ from responding at all. They would have taken over the matter themselves.
But now, having been warned to inform their underwriters and not doing so, GQ is now without public liability insurance possibly not just in regards to this matter but in any future matters too. You may think this is going too far, but why do you think I warned them about the sting operation? Why do you think I warned them more than 24 hours before publishing the post and report? Why do you think I warned them to advise their underwriters long before the SHTF? Why do you think I bothered to spend so much time doing all this? Is it because I am a fool or could it be that I know who GQ really are and that by doing this they will be . . . ummm . . . forever taken down a peg or two?
Just think about what this underwriter will be faced with if the matters escalate, and they are sure to with these fools as Partners. This underwriter will have taken on a risk that requires that the legal firm they are underwriting advises them the moment that they may be exposed. If I am correct and they don't do this (especially if I have actually advised them to do this) then GQ will have breached their contract. This is a very serious situation. Is this the first indiscretion that GQ has made? I can tell you this, I would be VERY p*ssed off if I were Clarry Withers reading this and finding out that he's just spent more on legal fees to these turkeys chasing an empty barrel and that they have hidden critical facts to protect their income streams (or their behind!) And I tell you what, if Clarry contacts me and asks me to help him sue these legal people for malpractice you can guess my response, can't you?
Now, let me make this clear – this is not about money first. It is all a matter of principle; or ensuring natural justice and due process. Paul may feel pushed around but I didn't ask for anything. I don't ask for diddly squat from these idiots down there in that law firm. I gave them heaps of chances and it is them that try to bully me around.
Paul, get your act together brother. You're not a defamation lawyer, and you may have been with the firm a lot longer than many but your expertise is commercial, not even litigation. Look into the issue; at the facts and quiz your colleague before shooting this tripe out to me. Say "sorry" and waive Clarry's bill too while you're at it. He shouldn't be paying you more than an hour's work, if that. I could have sorted this whole thing out for him inside half that time if I was given half a chance. You're looking at inevitable failure and a massive PR failure to boot, AND you are taking your whole law firm South with the whole thing at a rate of knots, if you ask me. And thank you for asking!
Now let's park this idiot older man who is out of his depth and his dopey communication and move into the second stage – yes there is more! Yesterday I received three documents from another law firm, this time in Auckland. Eventually I found out from them that they're insolvency specialists. Apparently (I had to ask these goons six times – yes literally . . . six, well maybe five, or four times) who instructed them. According to Brent James Norling, the guy whose phone and name was on the Address for Service, it was Clarry himself. I checked this and asked him very specifically whether Govett Quilliam instructed them to "sue". No!" he said and again when I pushed the matter and confirmed that GQ did NOT instruct them, "No! It was Clarry himself!" Brent confirmed with his offsider Luisa listening to the whole conversation.
I actually don't believe Brent on this one because it doesn't make sense, but the recording is crystal clear – after ages of argey bargey trying to confirm phone numbers and who was who and why I was now dealing with two lawyers, Brent said twice very clearly that GQ did NOT instruct his company. Now the reason I do not believe this is nothing to do with the fact that he is a lawyer and lawyers are widely known to be professional liars (promise!) it is because the last I heard from GQ was that they were going to go back to their client for instructions. This was on the 9 March 2021 and the documentation issued from Brent and his outfit was dated from the 10 March 2021 onwards so Lauren shafted me by going back to her client then ignoring me thereafter and sending the case without talking further. Good faith? Nah!
So this is the sequence of events – GQ served me with documentation requiring me to respond within 15 days. I did that. GQ entered into discussions and provided me with the missing documentation on 9 March 2021. On 9 March 2021 GQ said that they would seek instructions from Clarry. On Sunday 21 March 2021, p*ssed off that she hadn't contacted me again, I wrote and sent the draft blog post for her perusal. During the day of 22 March 2021 I received the notices from the new Norling outfit dated 10 March 2021 and then they say that GQ did not instruct them!
This doesn't make sense to me. I think what really happened is that GQ got hold of Clarry for instructions, who would have been really short with them. Knowing Clarry, "Just wind the bastards up (or close them down)!" would have been his response, for sure. Lauren from GQ would have then instructed Brent's outfit to proceed to wind the company up, just the same as she would have been doing for as long as Norling had been doing their insolvency work.
Can I prove it? Not yet, but when it hits the court (and it probably will) Discovery will show whether Norling received instructions from Clarry or GQ. The critical thing here is that GQ continued their cover-up, clearly desperate to keep prying eyes away from the big picture, that the barrel is actually empty and that she reinstated the company (not because it would have had anything) but because to admit that she had screwed up way back when would expose GQ. Blogger:1 GQ:0. Did GQ advise Clarry that he was going to be part of a sting operation and that the company he was throwing good money at . . . ? Probably not!
So how do I know this for real? Well because I asked Brent another question, even though he couldn't see the need for answering it at the time he did. I asked him, "Did GQ send you the background documents and the case history, or did they just instruct you to 'wind 'em up'?
I believe him when he answered without hesitation that it was the latter.
So, Clarry, here is even more of your lawyers GQ cover-up at your expense . . . GQ, knowing that the company has gotten a judgment in pretty dodgy circumstances (the company didn't even exist when the judgment was issued; the reason that the SJ even occurred was dodgy as the director had been refused the right to represent his own company; that the company had no assets; AND that there was a sting operation planned) – even knowing all of that, GQ still spent your money initiating a wind-up motion!
OMG! What crooks exist in the legal profession. Folks, if you ever find an honest lawyer who wants to work for their client's best interest which is usually to AVOID the court processes, let me know, please!
So what now? I'm totally ambivalent. As I said before I told my new mate across the fence, "Nobody ever apologises and does the honourable thing. Nobody!" To me (and BTW to him), it is pretty simply really – if you make a mistake, just admit it, say sorry, fix the problem as best as you can and get on with life. Fools just keep on digging.
Paul, you need to go to your underwriter and fess up real fast and be ready to face the music. Your underwriters will either know me or know of me. They won't admit this but they will urge you extreme caution. This is just the way things are. I never give up. I know and understand very well what defamation is and I've never been sued for defamation yet despite the fact that I've published 36 books and way more than 2 million words online. You have no clues. Get legal advice from a defamation lawyer if your underwriters can't help you.
Lauren, the word starts with "s". It's "sh*t" when you read this and it's "sorry" when you approach me next. Remember that I've already told you what the score is, your client is facing a substantial loss in terms of his legal fees and he will get not one cent from the company I purchased last year. If he doesn't do a deal with me over the money that he genuinely owes me, he'll be right back in the Small Claims Court where this all started, and he's yet to win a case there, remember. They all know him very well in there.
Brent if you are reading this, take a deep breath. You would be wise to seek a creative approach to this job. Ask Lauren how much of what I have blogged about is true, and ask for proof if she says something isn't. Ask me for an affidavit to confirm any or all of my claims if you want it. I'll be happy to provide it, promise, no BS! You are trying to wind up a company that ceased trading in 2020 that has no assets and was only reactivated by GQ to protect their reputation so that they could proceed with litigation! Hopefully you can now see why I was more interested in the answers to these (to me) important preliminary questions than to the substantive ones that you are interested in.
UPDATE [0947hrs, 26 March 2021]:
On 23 March 2021 I contacted Norling Law by email and stated that it was my opinion that they were being evasive in refusing to answer who they were receiving instructions from; advising them to establish the full situation summarising to them that they were chasing a disputed debt obtained against a non-existent entity in dodgy circumstances and offering to assist them. They replied, received 25/3/21 from Luisa:
Hi Dennis
We refer to your email below, which you have written and sent following the phone conversation Brent and I had with you on Monday, 22 March 2021.
This conversation was dominated by your enquiries into our role in this matter, however, your email below has inaccurately captured what we have said during that conversation. The purpose of this email is simply to clarify and correct your inaccurate statements below.
At no time doing our phone call did we say that this firm is working as a subcontractor to Govett Quilliam (which you have referred to as "GQ"). We do not work for GQ in this matter or in any other matter. We were clear on the call and we repeat that now.
We take instructions from our client.
We were not evasive in answering your questions in respect of our role and what information we were relying on, nor did we provide you with any false information.
You chose not to discuss the substantive issue with us and subsequently ended the call…

I have responded to Luisa directly accepting that the word "subcontractor" was my analysis not a direct quote but that they were NOT clear in the call and finishing with, "In my business when it looks, walks and quacks like a duck it is a duck." My take is that I got it right. GQ did refer the matter to these goons and that they were not clear and that they did obfuscate and were therefore "evasive". The phone call with Brent and Luisa from Norling Law took place at 16:53 on 22 March 2021 and lasted 13 minutes 39 seconds (09 9730543). I spoke to the telephonist and asked her three times whether I had Brent's phone number correct; She did NOT answer three times. I asked Wendy the same question, as I did with Luisa – again NEITHER of these girls answered, even though they all could have. Eventually after all this palaver Brent himself confirmed that it WAS his phone number and then we spent just shy of 5 minutes trying to answer my actual question, then 28 seconds answering my last question. It doesn't take over four minutes to answer a simple question! I have the evidence. While the word "evasive" is subjective, obfuscation to this extent to me means evasive. Brent Norling from Norling Law was to me definitely evasive. They failed to respond to my offer to assist them other than to invite me to call them.
To the rest of the world I exhort you to do the honourable thing in business and in life. Also hope like h*ll that you never come up against someone like me if you don't. For the record, and just to make it perfectly clear, I stand behind all my blogging, every word of it because I ALWAYS take care to get things right, applying solid logic onto only cold hard fact. If I've got something wrong, tell me, and if you're right, I'll fix it.
Thanks for swinging by again today!
LATEST UPDATE:
It appears as though this legal firm has got some proper legal advice (they've probably 'finally' contacted their underwriters) and have shut up and/or gone away. If I'm right then that's the exact same advice that I would have given them too. Well actually I DID give it to them. It's all an 'oops!' moment in their history and hopefully a learning experience for them. Make sure you too do the honourable thing if you ever find yourself in the same position.