Following a string of some pretty direct posts, with more to come too BTW, I share the law as I understand it in regards to defamation. I discuss censorship, free speech, hate speech and apply the law as I understand it into the recent high energy posts in which I have been and will continue to ping crooks, crims & crazies as I find them. Let's go!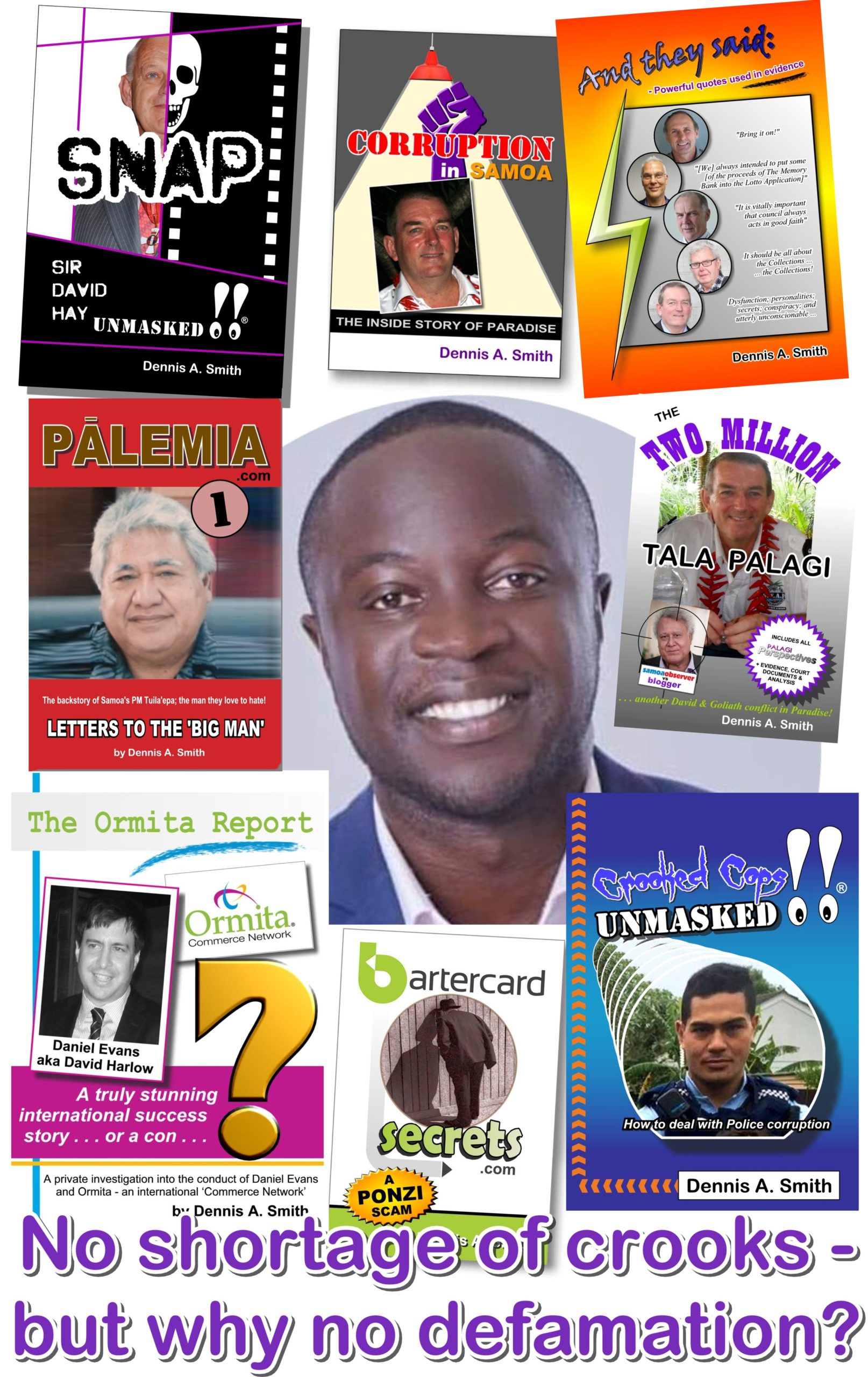 Slander, Libel and Defamation are serious matters. Many people think that with free speech laws in NZ they can say anything they like- not so! On the other hand some people think that you cannot say anything negative about somebody else or you could get done for defamation. Both of these two lines of thinking are not true. Left-leaning ideologies seek to limit our thinking using group-think, political correctness and hate speech laws, but the legal environment in NZ currently deals with the nasties pretty well. Defamation though is still recognised as one of the trickiest of legal disciplines to work in.
The first few points relate to false beliefs.
First, defamation does not require there to be an actual quantifiable loss in order to obtain a judgment. Yes, in terms of getting an award of damages there is a major difference if you defame someone on prime-time national news or if you say the same thing to the boys at the rugby club over a beer in the back blocks of Eketahuna, but defamation can be proven if the slander meets the legal rules. Period. Don't think that you can get away with it just because you're not on TV for example. If you do things wrong then you could be found guilty – big-time or small.
Secondly we cannot just say anything we like in public about somebody else and claim the right of free speech! We must exercise sensible judgment and base our opinion on facts. If we know that it's BS we're repeating, or that reasonably it could be, then we're skating on very thin ice. Don't think that you can say whatever you like because you now have the right to say whatever. You don't.
Thirdly (and this really applies a lot to what I do) we can say the most ghastly things about another person if we genuinely believe that we speak the truth! Note here that it is the belief that we speak the truth that matters here. Of course if we do speak the truth then we're fine but even if we're later found to be wrong then it is still not defamation if we genuinely believe what we say is true and especially so, if we show why we believe it. This is important because while speaking the truth is obviously a natural defence against defamation, getting it wrong does NOT automatically mean that we're guilty of defamation.
Calling someone an egghead really doesn't cut the mustard but when you call somebody a crook, or a liar or a fool (as I tend to do) takes things to another level as you have the potential to destroy somebody's life. I play for keeps, and shoot straight, to kill so-to-speak. It's why I am hated by the crooks so much but it also puts me right in the zone where the oppressed and the 'little guys' connect with me. You really should hear some of the words of encouragement I get from rural Samoa, for example, but unfortunately you will just have to trust me because I have to protect their identities.
For somebody who has lost something valuable (usually money) at the hands of a crook to even just see the fact that some idiot has got pinged online can really make their day! It's not even that something will come of it for them commercially, they know that the money has gone into some pyramid scheme or that they've got conned, but just to see their nemesis getting shown up encourages them so much! Bartercard, BBX, Qoin all hurt when the facts started coming out. Likewise in Samoa the PM (Tuila'epa), Sano Savea Malifa, the owner of the local rag at the time, the PM's now disgraced Mistress Sonja Hunter and a bunch of crooked lawyers all hated it but there was no defamation because it was all true – ALL!
Of course there are ways to mitigate all this risk, which I will show you how I do this but remember that defamation is notoriously hard to prosecute, especially when you are up against a prickly rooster like me who pushes the boundaries.
The first thing is that I only deal with the truth. When I speak things about people I've already done the research. I do the hard yards sufficient that I am pretty sure that I've got it right BEFORE I speak. I can think of only two situations where I have gotten something wrong in 2.5 million words of blogging and 36 books. In one case I said I hadn't seen corruption in Samoa (which at that early stage I hadn't) but I later found out how wrong that was and then wrote an entire book about it! The other was the identity of a high profile alt media celebrity whom I found that his LinkedIn profile didn't contain any genuine contacts, but still thought that his false identity was real. I corrected that post immediately I found the error.
The second thing I do is to [usually] let the crooks know in advance of what is going up and when and then give them opportunity to correct any errors of fact. Most of them don't so it's a little hard for them to then claim defamation after that. This action has both an ethical and a legal component. Especially in Christian circles but really anywhere that natural justice applies, it is proper to go to the person themselves and give them your beef. They can then correct any misunderstandings and keep the peace. Biblical wisdom tells us to try to settle our disputes before we meet in court. Legally when it can be shown that one party is attempting to act in good faith and the other isn't, it may not twist the facts outside of the law, but it sure as eggs strongly indicates where the justice should lie.
Thirdly I always exercise what is called a "right of reply". I just love it when idiots talk to me because it usually validates my original claim. When I called Sano Savea Malifa a fool, this triggered a $2m court case but it all fizzled out and the Samoans laughed their heads off for years over that one. When a poor woman (whose husband was a bankrupt who ripped me off) called me and begged me to have mercy on her by removing a negative post we agreed that I would leave the post there but update it with his ROR. Instead of any apology or confession he lashed out, so I published that and added my own commentary. I never heard from her again. Hopefully she's got a better guy by now. Sometimes, increasingly rarely though, I hold back knowledge, or tweak a word here or there or sometimes not even publish at all because I find another side or more information that changes things for me.
This brings up the fourth point, that when I speak out about my findings, I usually always explain why I have come to my conclusions. This causes consternation in the fools' camp because the conversation between them and their lawyers usually goes like this:
"That b**** has said bad things about me! Can't I sue him for defamation?"

"Well is what he said true? Has he shown how he has got to that conclusion?"

"Oh and he warned you and gave you a copy in advance and you did, what . . . nothing?"
The conversation pretty much ends there. Boom 1! Boom 2! Boom 3!
Next I teach people. I always try to educate my readers in the best way to conduct ourselves. I teach and preach. I exhort and instruct all the while using life experiences and showing the results of my research – Samoa, culture, alternative currencies, and taking on the crooks, crims & crazies of the world. My purpose is not to bring others down, it is to lift us all up and in the process of doing that, yeah sure, the crooks always get exposed!
Lastly I choose my words carefully, very carefully. For example I said that Sano was "Fooled by Gossip" which has the same effect for most of us as calling him a fool, but a judge looks at the words used very carefully. He has to! Recently I showed up a dude Yusufa (Tom) Faye, whom I called "an Auckland-based crook" because I have evidence that as a company director he broke the law. That makes him a crook in my book and with the evidence I can defend myself, but more importantly he knows that I know things that he doesn't want the rest of the world to know about. Anybody can get themselves into debt – this is normal business adversity. Anybody can do stupid things, even say immature things like this fool did, especially when they are young, but only idiots like this goon will put it in writing and bait an adversary who has warned him upfront.
People like David Hay make me spew though. He's a 'silver spooner' from way back and he's got it all. A title, "Sir", social recognition, power within his family and circle of influence, but I know that he's a crook, deep down, and a greedy one at that. Why? Because he lied in court about me and to me, and I knew it and I knew that he knew it too. That's why I wrote the book SNAP. Here is a man with millions who lied to a guy that was only asking him for the $1500 that his company had cost me, and he lied? He's thinking that he'll spend all of eternity because, well I dunno because he goes to the right church or his rich father told him he would but I tell you what, when I get to the Pearly Gates I'll be checking out who's up there and inside to make sure he isn't cause if he is then I'll know I'm in the wrong place! I told you that Christians in business are trouble!
So what about the genius conman Daniel Mensi Evans? Defamation be damned from him! He's in hiding and wouldn't dare poke his head up for fear of getting it whacked again. You see I have an agreement from him that he will send me a recording of our phone conversation and, well he lied, and I know that he knows that I know that he did. Nothing now, of course, from that 'crazy' either!
And Bartercard? The guys that told the world in the middle of their multi-million dollar AU conjob that they had commenced litigation in more than one jurisdiction. Nothing. It was all BS and bravado.
Litigation of defamation requires specialist legal expertise and lawyers are the worst for threatening it but nobody can or will fund it for them. Govett Quilliam found this out the hard way when one of their principals blurted out "defamation" at me. Lawyers really are so predictable. The same thing with some dude up in Te Kuiti who threatened defamation when I gave one of his clients a copy of a book that named her "unfairly". Hmmm.
And the PM of Samoa, "You've got a lot to learn about Samoa!" he said. "Publish that book and you'll be looking at legal action!" My reply? "Well you've got a lot to learn about me. I'm publishing and you are rude! You should NEVER speak to a guest in your country like that!" So eventually he had me evicted, illegally of course, and secretly (cowards are like that) so I lost everything in the process. He's history though and will be forever known as the corrupt Prime Minister. I've been banned but I'll forever be known as the Palagi who stood up to him, speaking the truth!
Censorship is a big issue following the US 2020 Election Fraud. Whether current censorship efforts are a Military setup and temporary or they are a genuine push by one sector to try to control information – censorship by way of control of social media by vested interests is occurring. This idea, that one person or entity can or has the right to influence the thinking of others tracks right back into the pits of hell.
God spoke the truth and gave us all an innate capacity to recognise the truth. Our conscience (guilty or clear) when interacting with our minds that can reason and apply logic give us clarity to know what is right and wrong. Hate speech laws are a crude form of censorship and we all know that censorship of any form is a power-play and that it is wrong.
It seems to me that Christians seem to delight in screwing each other in business too. Don't ask me why, purleez or you'll really get me started! I noticed this one of the first things I learned in my early 20s in my first commercial venture. Sure, I know that there are exceptions but the moment somebody talks about the Lord this, the Lord that unless there are some compelling reasons why not, I bugger off get out of there as fast as I can.
I've also found that this is particularly so for Christian leaders. Ravi Zacharius is a perfect example of this where I have previously blogged about him in my book Evil UNMASKED!! It's not the way it should be in my books but it is the way I've found it.
And can all Christians or any Christian sue me for saying that? No! Defamation is impossible to claim when we talk of a sector of people – like adherents to a creed, religion or even a particular race. It always relates to an individual. Settle down now. Settle down!