In this post I share a communication from an informant reporting that self-proclaimed bottom-end property developer Yusufa (Tom) Faye is 'still' as dodgy as they come. I also include supporting comment from others around town that have suggested less than satisfactory work standards are his style, thus the saying that leopards never change their spots applies. I then give my take on this dude; write directly to Mr Faye giving him a curry-up along with some home truths: You can run and try to hide Tom, but the only real way to sort your life out is to fess up and change your tune, once and for all.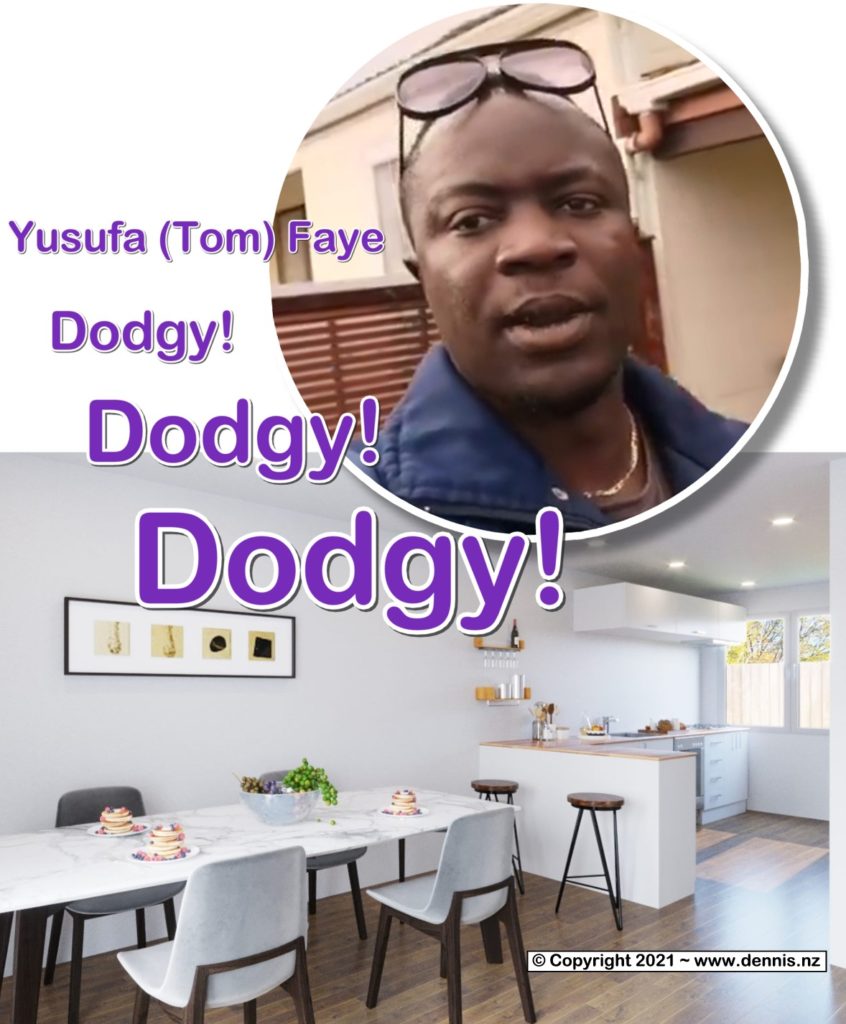 I have today received the following communication and publish it as received (but with bolding added) with the informant's name redacted. The covering up this informant refers to is the hiding of physical evidence – a seeming problem with the premises in question.
It is deja vue (all over again) for those who have ever engaged with this fool!
Hi Dennis,
I just had a very weird dealing with Tom Faye. He is doing the below property development in New Plymouth. We went all the way through signing a sale and purchase agreement with a finance clause requiring a registered valuation.
All was good until the valuer required access to the site, of which Tom flat out refused. This rang massive alarm bells with both the valuer & me and my lawyer canned the agreement.
I am really concerned he is covering things up, hence the refusal as the place was stripped so everything exposed inside. I even went to the local council to see if they could intervene (they were not really interested), I got out though I am truly worried some young couple could be burnt by this man.
https://www.trademe.co.nz/property/residential-property-for-sale/auction-3259846450.htm
Cheers
[Name redacted]
The essence of this problem was that Tom refused access for the valuer to come in and measure up. According to my informant this was a simple normal thing – a registered valuer comes in and measures the place. That's all.
Tom however came up with some cock and bull story of why this was not possible. My informant asked the natural question "Why?", when some BS is fed to him. The logical answer (that there is something Tom didn't want him to see) raised the alarm bells for this dude and his valuer so it is perfectly natural that this dude pulled out as a consequence.
Smart man!
My take on Tom
Now my investigation and blogging has shown that Tom is a weetbix short of a breakfast, so they say, lacking the smarts to match most people in New Zealand. Brains, business or culture it doesn't bother me the reason but his arrogance seems to operate in inverse proportion to lack up-top however. Apparently Tom thinks that he can keep on ripping off those involved in the New Zealand property development market. My informant is not only a smart dude, he cares, thus wants to inform the market, tipping them off that there is some concerns regarding this property and this operator.
My thoughts follow:
I have been informed by more than one person that Tom employs a couple Argentinian boys who take short cuts, covering up to make bad things look good.
Looks appear to be important to Tom – he calls himself Mr Rich but isn't. He drives a car with a large monkey. His business runs TV adverts presenting him as a financial genius. He assesses his greatest success as staying afloat (I kid you not!), then borrows heavily.
Tom is though a 'pretender' at the game of success, struggling with the concept of integrity.
He works at the bottom end of the property market and does not, because he cannot use the regular sales channels when he sells privately 'as is where is' with no professional underwriting.
He burns subcontractors by not paying their bills, either on time or at all and seeks professional advice only when forced into it, thus increases his losses.
My take is that this property will have a hidden surprise for the new owner eventually and it will not be a pleasant one.
Personal Message to Tom FAYE
Tom, you attempted to rip off a mate of mine in business. You lied to him and were rude and arrogant. You effectively told him to F* off and suck it up after he had helped you. Instead my mate took my advice and forced the issue. You were found wanting, had to cough up and you lost out in that deal – twice. Wake up brudda and smell the roses. This is the real world, no longer the kindergarten sandpit.
You are scared of me because you know the power that I have to share with the world what you don't want them knowing. As people research you and your name online they are finding out the truth about you. That you are a great lover, or a father to many, or that you believe that you are God's gift to mankind is totally beside the point when you try to hide. All it takes is one pesky little blogger to speak up and you are toast, so-to-speak.
The way back from this nightmare Tom is to sit down with those who you have variously ripped off, lied to and used. Fess up and then do the honourable thing thereafter. Kiwis are not stupid Tom. We 'get it" and hate people who come here thinking that they are the bee's knee's but they are actually crooks at heart. I know that none of us are perfect, but you sir, are up against it.
Time to grow up, methinks!
To all others watching and laughing, count your lucky stars that it's not you that is getting your beans online. Just do the honourable thing and as the wreckers yard in Auckland said for years when I was growing up . . . "Drive with care, or you'll end up here!"
Tom's Advert:
Like New In A Perfect Location – Moturoa…
38A Breakwater Road, Moturoa, New Plymouth, Taranaki
Price by negotiation
Details
| Attribute | Value |
| --- | --- |
| Property type | Townhouse |
| Parking | None garage, 2 car parks. |
| Agency reference # | Listed.co.nz/p1804 |
| Broadband Availability | Fibre, ADSL, VDSL, Wireless |
Description
A spacious and elevated two-bedroom townhouse with a great sea and sunset views is what awaits those looking for a tidy, low maintenance and modern central city getaway, lock up and leave or permanent home.
Set in a fantastic location only steps away from Ngamotu Beach, the bustling Moturoa Shopping Centre with numerous cafes and shops and a short 5 minute drive to the CBD this property is a great find.
Those looking for a city pad be it lock-up and leave or a permanent residence will appreciate the much talked about New Plymouth sunsets from the upper level bedroom balconies where the afternoon sun bathes through both the ground and top storeys.
Two bedrooms both with a balcony and sea views have spacious, in built wardrobes offer easy access to the separate bathroom and toilet. Natural light into the spacious laundry is a pleasant surprise leading into your very own low maintenance, private backyard.
Four Townhouses with varying elevations and parking spaces are available Key Features:
Two bedrooms and one bathroom
Open-plan living
Brand New Kitchen and Bathroom
Balcony with elevated views of the ocean
A walk-in laundry leading to private, fully fenced backyard
Off street parking for up to two vehicles
Double Glazed
Fibre Fast Internet with connection ports upstairs
CCTV and Alarm Installed with mobile accessibility
The properties are under going extensive renovations and are scheduled for completion soon so get in touch with Tom now for an Information Memorandum as these properties are sure not to last long.
Please note the renders provided are for marketing purposes only and the finished product may vary slightly dependent on building supply constraints.
To book a viewing, contact the owner directly, view documents or find out more copy and paste to the following link in your browser: www.listed.co.nz/P1804