In this update I ask the question from where do we gain our information, then share news from the comment section of one of my sources for Geo-political understanding, Real Raw News. Enjoy.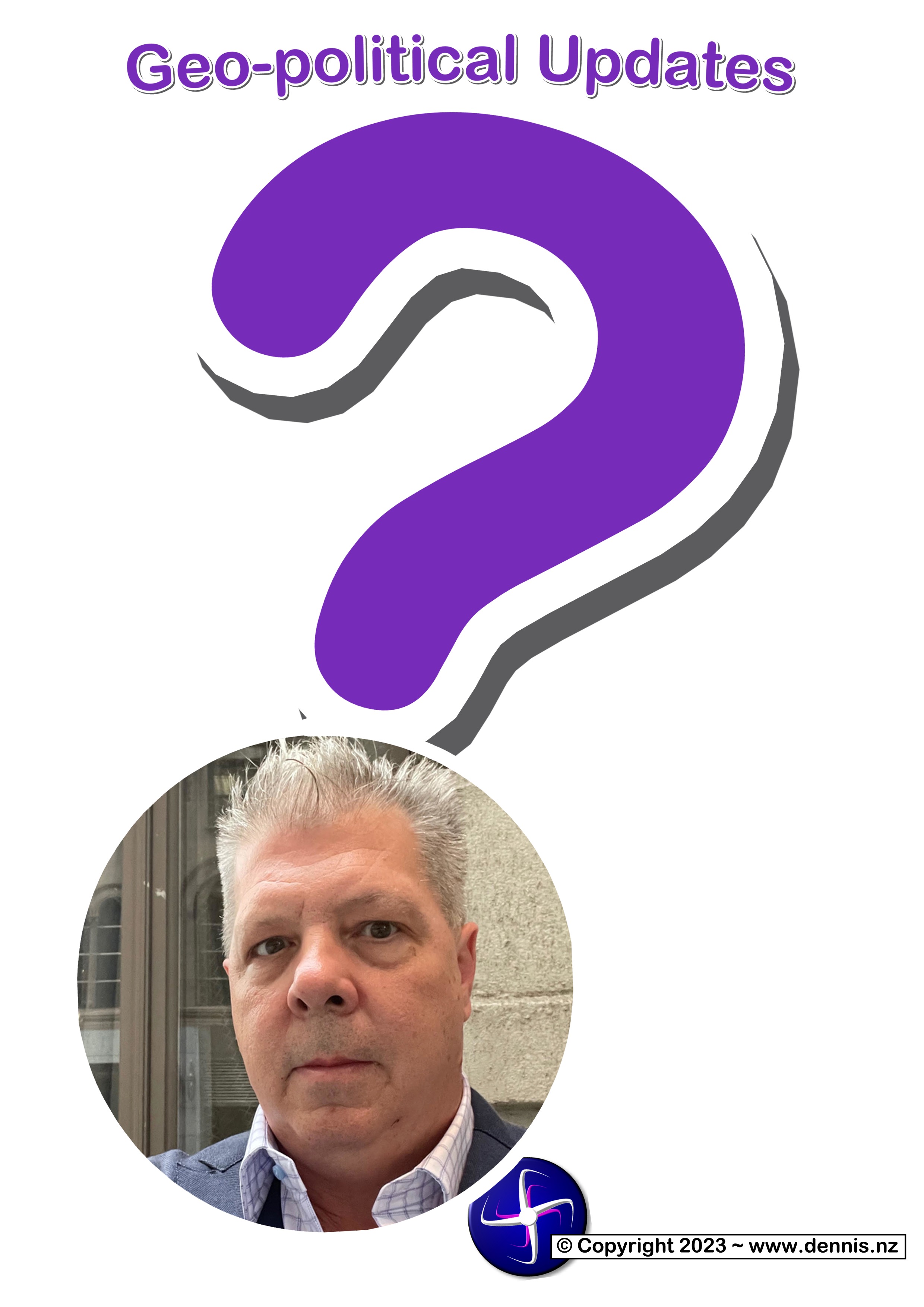 Michael Baxter from Real Raw News (Baxter is not his real name) has been reporting 'White Hat' news from Trump's quarters since shortly after the 2020 election fraud. Is this dude for real? My take is that yes, he is, this time!
The core 'White Hat' message is that there is hope, trusting in in the WWG1WGA, Q, and White Hat plan. "Trust the Plan!" they continually say. I sort of do, but prefer to trust in a more Christian message, the idea that there is a Savior who alone is worthy of my trust. I most certainly do see that the Q movement has been a military sting operation; that conspiracy is very real and alive but that many bad boys are not, well, no longer anyway.
I recently stopped updating my spreadsheet noting the number of deaths of the Deep Staters I believed that had been taken out, so was intrigued to see a commenter list his summaries taken from the same source.
MILITARY EXECUTIONS IN 2023: Jerome Adams (hanged), Antony Blinken (1 head-shot), Liz Cheney (hanged), David Cohen (drown), Brian Deese (hanged), Stephen Hahn (hanged), Ivan Kovalenko (sniper-shot), Eric Lander (1 chest-shot), Lori Lightfoot (hanged), Simu Liu (drown), Brock Long (hanged), Moncef Slaoui (hanged), Richard Tillyer (hanged), Rochelle Walensky (hanged), Gretchen Whitmer (hanged).

MILITARY EXECUTIONS IN 2022. Alec Baldwin (hanged), Stéphane Bancel (hanged), Bridget Brink (hanged), Dick Cheney (homicide), Francis Collins (hanged), Jennifer Brigid O'Malley Dillon (1 chest-shot), Michael Donilon (hanged), Anita Dunn (hanged), Anthony Fauci (hanged), Avril Haines (2 head-shots), Valerie Jarrett (hanged), Loretta Lynch (hanged), Denis McDonough (2 head-shots), Gavin Newsom (hanged), Nancy Pelosi (hanged), Sonia Sotomayor (hanged), Brian Stelter (hanged), Michael Sussman (1 chest-shot), Thomas Vilsack (hanged).

MILITARY EXECUTIONS IN 2021. Huma Abedin (hanged), Bill Barr (hanged), Hunter Biden (hanged), Joe Biden (1 chest-shot), Deborah Birx (1 chest-shot), John Brennan (hanged), George Bush Sr. (euthanized), George Bush Jr. (hanged), Bill Clinton (homicide), Hillary Clinton (hanged), Chelsea Clinton (hanged), James Comey (guillotine), Andrew Cuomo (hanged), Bill Gates (hanged), Tom Hanks (euthanized), John McCain (2 head-shots), Marc Mezvinsky (hanged), John Podesta (1 chest-shot), Colin Powell (suicide), Susan Rice (hanged), Donald Rumsfeld (suicide), Adam Schiff (3 chest-shots), Peter Scolari (hanged).

MILITARY DETENTIONS IN 2021–2023. Carolyn Ainslie, David Axelrod, Bill Ayers (life in prison), James Baker, Amy Coney Barrett, Maria Barret, John Boehner, Warren Buffett, Miguel Cardona (20 years), Patricia Conrad, Jack Dorsey, Amy Eshleman, Craig Fugate, Isabella Guzman, Eric Holder, Ashish Kumar Jha, Carole Johnson, Ron Klain (20 years), Kevin Kline, Harald Kraus, Jack Lew, Paul Pelosi (life in prison), Samantha Power, Mitt Romney, Eli Roth, Chance Saltzman, Tom Shimabukuro, George Soros, Kevin Spacey, Mark Suzman, Rex Tillerson, Rita Wilson, Elijah Wood, Shalanda Young, Jeff Zients, Howard Zucker.

MILITARY REPORT IN March 2023: Senators Dianne Feinstein and John Fetterman died in separate hospitals.

MILITARY REPORTS IN 2022-2023: Alaska and Missouri cloning labs were destroyed.
The challenge we all face is to identify the truth and to differentiate fact from fiction. I wasn't there, so I don't know what happened in Gitmo or Guam, but this is what I do see, with commentary on what I think.
Almost all of Michael Baxter's sources are real. They clearly vet the release of this information and almost all of it is accurate, certainly the execution and trial stuff. I'm not sure of the dates, but the core message (for example that Hillary was killed, with Trump present) is true. I'm not convinced that some of the more outlandish claims are true but I do believe that Michael has reported what he has been told. From this I conclude that the accusation that RRN is parody false. It is simply a legal protection device.
President Trump has indeed entrusted the US to its Military by signing the Insurrection Act. This is presented as an act of trust on his part, but I see it more as him obeying his masters.
The Legacy Media (previously known as the MSM, Mainstream Media) is attempting to prop up a 'Deep State' illusion which means that much of what the world is 'fed' is, as they say, an act, or a pantomime. This has always been the case, where the bulk of the world is consciously kept in the dark while the real decision-makers rule from behind a facade.
I conclude from this that trust in the Legacy Media's message is waning as more and more of the public gain awareness that things are not what they seem.
This is the core Christian message, that Truth is generally to be found in the opposite direction to the noise and it is great that more people are (as they say) awakening. I predict that this will need generations to work out fully. I have yet to see this move into the area of faith. The generations that have been hoodwinked into believing the BS will need to die off first, but in the meantime, I most certainly do approve of the general direction of increased awareness.
J D Rucker puts it like this:
Society has been programmed to dismiss unofficial controversial narratives.
I agree.