In this post I give details of a defamation case that I propose to initiate next week – I intend to sue Karen Ngatai and her employer CLAW. I am happy to continue to present my opinions simultaneously with reporting on progress as it goes through the courts, but hopefully differentiating the two clearly so as not to raise the ire of the judiciary or to interfere by way of contempt of court. Enjoy.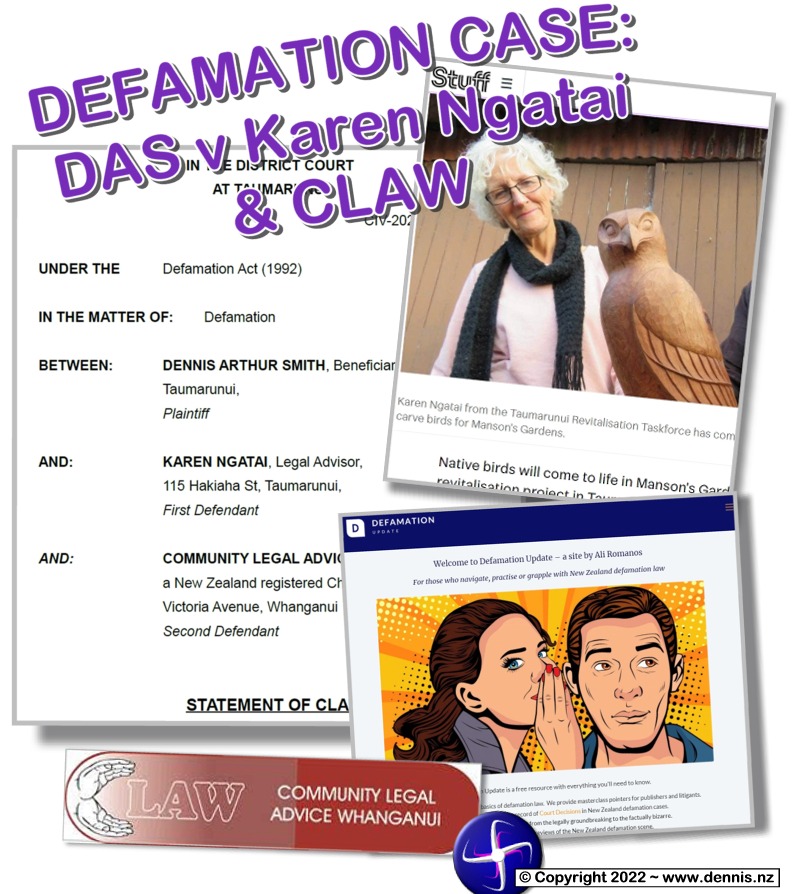 After more than a decade of writing – having published more than 2.5m words online and more than three dozen books I finally appear to be involved in my first defamation case, but surprisingly for some, I'm actually taking it, not defending!
Hi Ho! Hi Ho! It's Off to Court We Go…
Yes, true – again! So there must be some really juicy story behind this all . . . there is. Karen Ngatai is a local Ruapehu District Council councillor and Deputy Mayor, actually on the way out as according to her, she's not standing again. She works part time as a Legal Advisor for CLAW, the local community law outfit. In January 2022 she sent a secret email in her capacity as CLAW legal advisor to Colliers International who manages property for LINZ who owns Railway property. In that communication, she claimed that my blog post about her was "full [of] lies" (she left out the "of" but that's just her usual way of slapping out unchecked emails).
As yours truly doesn't deceive and delights in exposing fools who do, I challenged her and her boss to advise me what was false. I got nothing meaningful in reply thus defamation occurred, and with their failure to engage, let alone undo the reputational and direct damage they caused, I'm off to court for redress.
Now, let's get this straight . . . I don't like her; she's lied previously to me and her efforts to undermine me, or my lease negotiations with LINZ are all opinion and she's welcome to them and to share them, but to call me a liar and to do so while employed as a legal advisor to an outfit that offers legal advice to the community is, well, not the smartest thing I could think of to do!
Defamation is Not Easy
I've previously explained that the prosecution of defamation in New Zealand is exceedingly difficult. I mean that. It will take an hour or more out of your day to read it, but Ali Romanos is IMHO hands down the best source of understanding the ins and outs of defamation in New Zealand. Let's apply the principles of defamation then in regards to my claim and then go through the proposed documents in a bit more detail.
As with anything moral, the act of defamation has two sides – the matter of justice and then the matter of law. Mostly they should be the same but as has been noted many times before the "legal system" is not always a "justice system". It is a happy day when the two collide, however. In my case, I sent the proposed document to these goons before publication inviting their comments and correction. This is a massive act of goodwill and quite unusual in my game. I then published the post. Karen then got her tits in a tangle about it – found it threatening and slipped a 'poor me' email to Colliers. Colliers then spoke to LINZ and LINZ did send her the document that she requested but then the matter of fact vs fiction (therefore defamation) occurred.
As most will know, you can share your opinion far and wide and as long as it is based on common sense and belief this is all fine.
IMHO calling someone a liar, however, goes a little bit too far. Especially when it is found out that you were given opportunity to correct anything beforehand and you didn't brings your credibility down quite a bit! Then refusing to engage when confronted and refusing to fix a problem you created also brings you down a peg or two more! Facing a judge over your words in a defamation case takes it down even further and losing a court case brings you right down to the level of Colin Craig, Cameron Slater and others who have gotten things wrong and have huge credibility problems after losing in court.
So Ali talks about the various defences available for those charged with defamation, truth, honest opinion, privilege, public interest and so on. I'm not sure what these goons will come up with as their defence, but in my eyes it matters not because they are guilty.
Karen Ngatai & CLAW
There are a few points, quickly about this case that I'd like to share – Karen works for a Charitable Trust. In itself this does not mean much in itself except that her email was clearly sent in her capacity as employee. She has thus brought the CT into the case. Furthermore the CT's manager Sandra Terewi has confirmed that Karen is an employee and she has been in the communications loop the whole time and that she has made executive decisions for and on behalf of the trust. The CT also is the registrant of the domain name used, so the claim is therefore legitimately against Karen Ngatai and her employer.
The words used are obviously clear in their meaning and were spoken in writing to an identifiable entity for an identifiable reason (one of malice). Even though she left out the word "of", the meaning is perfectly clear – it was that I lied and that I did it more than once in the mentioned blog post. This is a critical sequence of events – In order to win, I must show to the court that the person or people being sued said what they did and to whom I say they did and that it was defamatory. I surely will and it surely was. Methinks they really should be getting their chequebooks ready.
I also find it interesting that in New Zealand, the law is changing somewhat from not having to prove that damages have actually occurred to having to prove this just a little bit. Ali goes into a lot more detail of this. Damages in my case could be purely reputational through to a gazillion dollars depending on what LINZ decides to do with our lease. If there's loss which can be attributable back to this defamation (and it surely can) then it could be quite substantial – six figures even. Whatever. We'll see eventually.
Role of The Fourth Estate
There is also a challenge to balance the potential for a blogger and author like me to be seen as attempting to influence a judge (or jury) and preserving the right of the Fourth Estate to report on trials and to attempt to maintain some semblance of integrity in the justice system. My approach is to respect all, even when (like with the role that a crooked Crown Law played in the Crewe murder cover-up, Allan Hall's injustice and much more over the years) they may not be so deserving of that respect. I am opinionated and this is what my readers want from me, but this cuts both ways as I respect the rulers' roles to judge a matter before them.
Categorising me, and bloggers like me, is not easy. In some way we are News Media – we do produce news for sure, and some of us operate under a Code of Ethics. Courts only recognise those accountable to the likes of the Media Council so I'm not News Media as of right in a court. In other ways we act akin to columnists or commentators and some of us are private investigators, licensed or not.
The law supposedly balances the protection of privacy and transparency. Good luck on that one. I think this balance is up to the judge on the day and whether you've pissed them off or not but IMHO that's a no-win for them whatever they say. Coming down on the privacy side and booting the Fourth Estate to touch is one way of getting your career tarred, but letting something confidential out isn't good either.
This case I think could take a while to hear. Even though Taumarunui is a smaller court with a smaller workload, I know that the courts generally have a backlog and that these guys girls are supposed to be lawyers, thus they'll be trying to delay and obfuscate and will no doubt attempt every trick in the legal book, so it could even be next year, 2023 before we see any solution but again, whatever – I'll do whatever it takes to get justice.
There is a false belief that all matters before the court cannot be spoken of at all in public. This is not correct as the reporting of court affairs is an important aspect of the dispensation of justice. Secrecy is the playground of evil. I can still blog therefore, and I will still try to present the facts in a neutral or balanced manner, as this is a well-proven legal right for those of us making comment and bringing the news to you.
The Personal
I'm not usually that bothered about people blabbing on about me – their audiences are usually not mine; I've got the patience of Job and I seem to have all the time in the world, but these guys got a little too obvious and have too much political power to ignore. The words were spoken way back in January 2022, in a secret communication with Colliers who (despite obfuscation and 'funniness' from their boss who actually put it in writing something like, "I really don't know why somebody would claim we're wanting you out!" when his own people say and prove otherwise) were out to get my lease revoked down here at Matapuna. What a hornet's nest of BS this Colliers, LINZ, Ngatai, CLAWs thing is eh?
You will note here that the Statement of Claim doesn't specify an exact dollar amount for general Damages, rather a range, whereas the Exemplary Damages does. This is because the actual damages will need to be determined as a result of the actions of a third party, yet to be finalised but the Exemplary Damages have been determined – "Exemplary" as in "example" or "punitive" is how I remember this legal terminology.
Personally I would much prefer for everybody to get along with each other but when some of us want to deal with the truth (the facts), and others (usually those with an agenda and some form of political power) don't, every now and then taking a stand seems the best option. I'll keep you informed as the case progresses, understanding that when the matter is before the courts, I may prefer to keep my opinions quite respectful so as not to be seen as contemptful.
The Statement of Claim
Most court matters are commenced with a Statement of Claim. Here's mine (in PDF), my commentary added in [bold square brackets]
IN THE DISTRICT COURT
AT TAUMARUNUI
CIV-2022-068-[This number is allocated by the receiving court Registrar upon acceptance. CRIminal or CIVil – the year – the court location – the case number]
UNDER THE Defamation Act (1992) [A proceeding is conducted 'under' an act. It is the court's job to determine a matter by applying the facts 'found' at trial using this Act]
IN THE MATTER OF: Defamation
BETWEEN: DENNIS ARTHUR SMITH, Beneficiary, of
Taumarunui,
Plaintiff
AND: KAREN NGATAI, Legal Advisor,
115 Hakiaha St, Taumarunui,
First Defendant
AND:COMMUNITY LEGAL ADVICE WHANGANUI TRUST a New Zealand registered Charitable Trust, 2/236
Victoria Avenue, Whanganui
Second Defendant
STATEMENT OF CLAIM
Dated: 13 June 2022
Filed by: Dennis Arthur Smith, Plaintiff.
Address for Service: dennis@dennis.nz
4/2a Para St, P O Box 2, Taumarunui, 3946 NZ
The Plaintiff Claims:
Background [This first part sets the scene, each paragraph containing one specific claim to which the Defendant has the right to argue. A SOC should be succinct, clear and while the quotes are not normal, I have found that they help clarify matters because I am not a lawyer]
The Second Defendant employs the First Defendant as Legal Advisor.
At all material times the First Defendant represented herself as an agent of the Second Defendant.[This important clause links the two parties actions and needs to be stated]
At 13:26 on 18 January 2022 (time is of the essence) the Plaintiff provided the First Defendant and the Second Defendant with a draft copy of a blog post that he intended to publish, inviting the First Defendant and the Second Defendant to make comments and or corrections. "[I] seek your feedback please prior to publication specifically looking for any errors of fact". [It is my contention that by giving both parties the opportunity to correct any errors of fact BEFORE publication, this negates any realistic defence.]
At 13:30 on 18 January 2022 the Second Defendant responded to this communication by asking a question.
At 13:40 on 18 January 2022 the Second Defendant again responded to this communication by providing legal advice, saying, "I would be very careful of posting this … [as it] will place you in a very precarious position". [I didn't seek this legal advice. I didn't pay for it. In fact I didn't believe it for a minute and as it happened months ago and nobody has taken issue with anything I have said …]
At approximately 16:41 on 18 January 2022 the Plaintiff published the blog post on his website entitled, "Karen Ngatai: Bad Legal Advice, Bad Attitude … Just Bad", materially unchanged from the version proposed and previously provided to the First Defendant and the Second Defendant for comment or correction.
At 18:04 on 18 January 2022 the Plaintiff advised both the First Defendant and the Second Defendant that, "As neither you nor Karen have responded but not raised any concerns over any factual error, I have published it now, as is. I deem all facts contained to be true – at the point of publication anyway." [… obviously I only spoke the truth! That Karen two days later claimed that it was "almost slander" is also proof of this assessment. She may not like what I said. She may not want it to get out but unlike her claim, it isn't actually defamation.]
At 15:33 on 20 January 2022 the First Defendant informed Naomi Bray from Colliers International that the Plaintiff published a blog post about her that was "full lies [sic]". [This is the act of defamation claimed, right here. I will need to prove to the court that they both said this, and that it had a defamatory meaning. I have the evidence of the first point. I believe that the court will find that the second is also made out. I note that in terms of defence, depending on what their defence ends up to be, even one factual error in my post is not enough as Karen has used the plural. Obviously there is none or they would have come back with a request for correction. They didn't.]
On 30 May 2022 the Plaintiff sought clarification from the First Defendant and the Second Defendant of what falsehood was contained in this published post, saying, "Please advise me specifically of what lies exist within this blog (attached, saved as at today's date) and (as I claim to always speak the truth) why Karen's statement is not a false claim, i.e. in itself defamation". [This step is not required but I did this as a courtesy to the girls. Those agin me please note this point – they had plenty of warning and opportunity to 'do the honourable thing' but they didn't.]
On 4 June 2022 the Plaintiff advised the the First Defendant and the Second Defendant that they had defamed him and that they should rectify this defamation by 5.00pm 10 June 2022, saying, "… Defamation therefore has occurred. Unless you engage with me urgently and meaningfully and no later than 5.00pm Friday 10 June 2022, with the express intention to correct the error and damage you have caused as a result of this defamation …". [Again this is not necessary. When defamation occurs litigation can commence immediately. Five days is a length of time where if for example a newspaper apologises and retracts they may have a defence in terms of reducing Damages but my understanding is that the defamation can still be declared to have occurred.]
On 7 June 2022 the Second Defendant replied acknowledging receipt of the Plaintiff's two requests and informing the Plaintiff that there will be no further communications from them relating to this matter, saying, "This is an acknowledgement of your two emails, at this time there will be no further correspondence".
Cause of Action – Defamation
Both the First Defendant and the Second Defendant have defamed the Plaintiff by falsely claiming that a blog post published by the Plaintiff was "full [of] lies" and that therefore the Plaintiff cannot be trusted to speak truthfully. [This makes it perfectly clear what the Claim is all about. It's specifically and only that the words used defamed me by stating that I have lied more than once, i.e. that I am a liar. If the girls can't prove that to the judge then this is clearly defamation to me. If they can prove it – then no defamation.]
This defamation by the First Defendant and the Second Defendant has caused reputational damage to the Plaintiff, within the King Country and Wellington regions.
LINZ's decision not to renew the Plaintiff's lease of Railway land in Matapuna was predicated at least in part upon this defamation. [LINZ was the recipient of the defamation of course. My claim will need to be validated when it comes to measuring loss in order to assess the potential award of Damages, but again it is my understanding that the consequences of the defamation are secondary to whether or not defamation actually occurred.]
This defamation by the First Defendant and the Second Defendants has therefore caused financial losses to the Plaintiff, the quantum yet to be fully determined depending on LINZ's future actions. [Again the quantum is a secondary matter to the first matter for determination.]
Application for Relief
Whereas the plaintiff seeks the following relief: ["Relief" relates to fixing the problem. It is the part where I ask the court to say or do something.]
A. A DECLARATION that the First Defendant and Second Defendant have defamed the Plaintiff; and [New Zealand is unique where we can ask for a determination that defamation has occurred. This is what I have done and is normal practice. The theory is that this will be alone some form of vindication, but reality says that it's mainly a monetary award that determines how bad the defamation was.]
B. DAMAGES from the First Defendant and Second Defendant jointly and severally (the quantum depending on the actions of LINZ) of between $18,000.00 and $250,000.00; and [I've previously referred to this sliding scale which the courts prefer to have quantified. This though is a tricky one in my case because LINZ are currently in discussions over our lease renewal and it may be that the defamation only costs me a little. It may be however that this defamation eventually causes me substantial losses, in which case I will or should claim the higher figure. The timing of my claim is one of many factors for consideration – whether I commence litigation before our lease negotiations are completed or not affects this wording. If the court requires it of me, I will change the wording to meet their criteria.]
C. EXEMPLARY DAMAGES from the First Defendant and Second Defendant jointly and severally of $25,000.00; and [This is sometimes called "Punitive Damages". As far as I can tell, this is an average amount awarded by the courts against people with an agenda and exercising bad faith. I could ask for a gazillion bucks and even if I was vindicated I may get only a little, but there is value in assessing the quantum of exemplary damages reasonably. $100.00 would really not act as a deterrent nor would it be any punishment. Likewise $100k or more would be a pretty serious award, so based on actual awards, this seems to me to be a reasonable ask.]
D. UPLIFTED COSTS.
Date: 13 June 2022
………………………………………..
Signature of Dennis Arthur Smith
Plaintiff
This document is filed by the plaintiff in person. The address for service of the Plaintiff is dennis@dennis.nz, 4/2a Para St, Taumarunui, 3920.
[END QUOTE]
There is a more required, like a Notice of Proceedings, List of Documents, Affidavits in Support and so on but the Statement of Claim starts an action which remains 'afoot' until dealt with fully. The other party has 25 working days from the date of service to respond with their Statement of Defence and then there is a whole bunch of other stuff before the judge takes the matter on.
It is possible that the matter gets bumped up to the High Court or a Jury Trial (either of which would probably take the matters to New Plymouth) and there is a different process if the Defendant doesn't respond but assuming the normal scrap occurs, we'll probably see a Judge alone defended trial in the Taumarunui District Court later this year [2022] or possibly early next year [2023].
So now you know!
My Advice
You are brave to have read this all. Many won't, so for those of you reading, I exhort you to speak only the truth; to deal with only the truth.
Yes, I know that you'll end up in a few fights with fools and lairs and the greedy, but it doesn't matter who you cross on the way as long as you hear the words "Well done good and faithful servant!" when your time is up. The alternative should put you into a fit of fear if you're honest. Karen Ngatai has a reputation that I'd hate to have, as do others around town. Many don't want her around anymore and will love to read up about this case. Don't get yourself caught the same way, please. There are others in the same position as her, some who owe me money, others who have used their position of authority to cover up their failings. Trust me, it will all come out in the open, eventually and as long as I am alive and kicking I will share with you the facts.
I used to work with a guy whom we joked about my style. He would often note the fact that I shot straight and had the balls to do or say what he didn't or couldn't. I told him that he was wrong to stand up for me and that as I called myself a "professional arsehole", he too should do the same.
It is not that I am the centre of the world, or that I'm God's gift to mankind, or that I may think it I may be . . . it is that at the end of the day I never give up. While I am reminded of a sign that a wreckers yard had up the top of Newton Rd, "Drive with care, or you'll end up here!" (and I believe that there are people who should take note of the above litigation), as a fellow truth-speaking private investigator said to another friend recently, "never give up [fighting for truth, because] when you give up you have lost".
Look, I really don't know why these girls thought they could get away with it all. Based on Zac Wood's comment that I speak only "bullying rhetoric", they probably thought that I was all bluff? Maybe I should act harder and faster against BS artists? So who's next then?
I really hate losing. As long as you speak the truth though, you never lose.
Thanks for swinging by again today!