King Countries Deputy Mayor Karen Ngatai 'twotimes' as a legal advisor working for CLAWs. She's clearly got her claws out for me. I expose here the details of how I have come to this conclusion by way of this self-justification post (or a hit-piece, if you're a relative, or a fan of, or believe the RDC Councillor). As always, I only apply logic onto fact and can prove ANYTHING I say here if needed.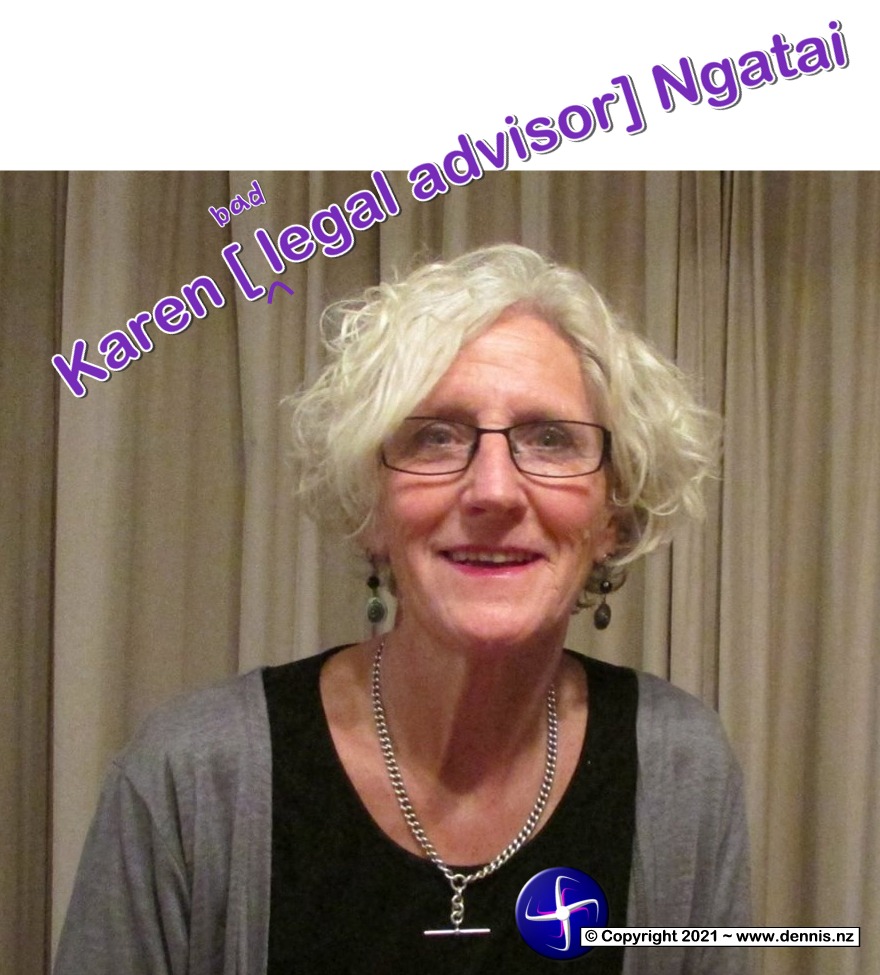 Karen Ngatai is an RDC (Ruapehu District Council) Councillor. She also operates the local Community Law advisory service. She is also (more recently) also the Deputy Mayor, currently sitting behind Don Cameron. She's not widely loved in the community with my anecdotal evidence showing me that a good half of the locals can't stand the "arrogant pushy little b*tch", half of them saying to me that she "seems pretty reasonable", and the other half loving her every move – beautifying the place, arranging statues, planting flowers and doing other great things for the community. I think three halves make a whole don't they?
Whatever. I'm sure that her family all love her and her followers will still follow her regardless of whether she chooses to tackle and successfully bumps off the incumbent Mayor and gets the top job or not in the future – or whether she plays the puppy dog and waits her turn. Local politics – poooof, what a backstabbing game that one is!
She makes her mark well, especially at election time:
Hello everyone. I am excited to be standing again for re-election for the Ruapehu District Council. I have a passion for Taumarunui and are [sic] happy to give my time and energy to help ensure we have a town to be proud of. I believe the best way to be connected with your community is to get out there and "do it". I am proud to have played a big part in the revitilisation of our town centre and the playground. I took a leading role in the upgrade of Cherry Grove, and walk ways, and have lead the Taumarunui Revitilisation Taskforce projects.
True! Karen is good like this and really does work hard for the community!
I have always encouraged people to be involved, not only as volunteers, but also by having your say or writing submissions on important issues. We are a big district with a small ratepayer base, so Council has to be clever about how we fund projects. These projects need to add value to our Communities so your imput [sic] will be all-important. As we move into 2020 I am here for our Community. I take the resposibilty [sic] as an elected member seriously. It will be my honour to continue. Authorised by Karen Ngatai 446 Echolands Road, RD 4 Taumarunui

Source: Facebook
and:
Hello everyone, I am standing for re-election for the Ruapehu District Council. I was born in Taumarunui and it has been my town of choice to raise my family. Although I am standing as a Ruapehu District Councillor, my heart is in Taumarunui. These are exciting times for our Community and the wider Ruapehu District and I would relish the chance to be re-elected back on Council to ensure the momentum to growth continues. There must be continued investment in economic development, not only through tourism, but by giving encouragement and confidence to new enterprise. Council must excel in their quest to be a "business friendly" Council. There must be no barriers to growth.
Umm hello? Has this changed at all for you in 2022 Karen?
We must beautify and revitalise our town. We must be proactive and work together as a Community to make it happen. We must get our hands on the Government subsidies to support growth. I will continue to encourage people to get involved and have their say about the things they are passionate about and the things that matter most in our Community. "Great things happen when like-minded people get together for a common purpose". I am happy for anyone to give me a call 07 [redacted]. If you support me please like and share with your friends.
VOTE KAREN NGATAI – A STRONG VOICE FOR TAUMARUNUI

Source: Facebook
Pushing An Agenda
So I first met Karen at a meeting with Mayor Don Cameron, RDC CEO Clive Manley, Ron Cooke (Cookie), Sue Morris (ex-Mayor, who I understood called the meeting) along with Karen and me. Cookie and I were phoned up and asked if we could pop over to a meeting with these guys to discuss his eviction from The Memory Bank (TMB) and my claims that the RDC was telling a few porkies to Lotto in order to secure a gazillion dollars for their Railway Museum project.
It was what I call a decent meeting that went on for quite a while and I guess you could say that my stance and research really put the cat among the pigeons. My report showed that RDC was right in the midst of an active conspiracy [naughty, naughty!] and that there was (how can I put this politely?) "a few issues" with what they were trying to do. Mayor Don was rude and showed me his true hand with his pooh poohing of standing up for truth & justice when he mockingly said, "Pah! That one will never fly [be popular]!" Popularity Don may get you fame and fortune in this world but it NEVER gets you far in the long-term things that really matter.
The essence of the conspiracy was that The Museum Trust would sell TMB then wind up, gifting the proceeds of the sale to the RDC for their proposed Museum to be established in the old Railway station. Cookie could store all his crap stuff upstairs and everyone would be happy. The proposed receipt of the proceeds would be used as seed capital for a lotto funding application, and those proceeds ($50k) were presented as received, when they weren't.
They also used Cookie's housing needs for his collection as an excuse, omitting to advise Lotto (of course) that they had planned this all the time and that they were the very ones who had booted him out and who had created the very problem that needed their million and a half bucks to sort out. My report called these deceptions fraud which of course it was.
Karen, a strong supporter of the RDC Museum project naturally didn't appreciate my arrival, nor my support of Cookie, nor my support of the KCET establishment, nor my exposure of the conspiracy. It clearly threatened her interests and hugely!
The meeting (actually my very un-PC directness and exposure) ruffled a few feathers, but hey, too bad. Sh*t happens eh? The RDC changed a few things, got their project back on track, got themselves out of a pickle and life will surely carry on . . .
As I say all the time to those who try to deceive to my disadvantage, "You lie! You die!" They say that sunlight is always the best medicine and Karen's BS at the meeting ludicrously trying to claim that the TMT was not established by or for Cookie (thus somehow probably in her mind trying to justify his booting out) was shown to be the politically motivated BS that it was, when with a Freudian slip, she said, "We're not trying to kick you out onto the street!" when they just had, and everybody at the meeting knew it!
Breaching Trust
There is a rule, both moral and legal that when support is garnered for a particular cause, that any benefit gained is returned to the stated cause. For example, if a school fund-raises for a new gymnasium or a swimming pool, they cannot then use those funds obtained for one purpose for another, perhaps to send their First Fifteen to Japan.
In a legal sense we call the result of this garnering process, "trust". Trust is created when an overt action, or a transaction occurs. An agreement is entered into that one person will donate something in order to achieve an agreed purpose. If you give me money I will use it to feed the poor people in Afghanistan is an offer. A donation of say $100.00 is an acceptance of that offer and trust is formed. The donor entrusts his money to the person that made the offer. Case Law and reason says that you could use say $1.00 (or even up to maybe $20.00) to get the funds up there. Taking $99.00 for ourselves and only sending only $1.00 would be immoral and would breach the trust that was established at the point of agreement.
When we step outside of this trust it is called breaching that trust, hence the legal concept of Breach of Trust. This was first established in New Zealand law in the late 1930's when in the Wellington region a legal ruling was handed down against a church organisation that had fund-raised for the building of a church building in a particular suburb. In fact in the end the church organisation built their church building elsewhere and the judge ruled that indeed, the church organisation had "breached trust".
The people who had supported the idea of building the church in their area were (according to the judge at the time) perfectly entitled to cry foul. They won. The correct and ethical thing for the church leaders to do would have been to go back to the original donors, explain their reason for changing the location then offer to return their donations or to try to negotiate through the change somehow. I wasn't there and it was a long time ago, but greed, pride and belief in their cause obviously caused them to cross the line. Those hurt convinced the judge of the day that the church organisation did it wrong. The resultant orders following this ruling are actually less important to me now than the principle involved.
While Breach of Contract (where somebody agrees to do something then doesn't do what they said that they would) is a common court matter, especially in business, Breach of Trust can be a cause of action – litigation can easily follow. I posit too that it SHOULD follow, but this sort of thing can get pretty nasty as individuals proven before a court of law to have breached the trust can be sued personally. Sadly, the crooked, immoral thinking that justifies a breach of trust in the first place is the same sort of thinking that justifies a cover-up, lies and digs the hole deeper until they have no alternative but are forced to cough up. This makes for 'interesting' human dynamics in a small country town like Taumarunui!
Karen and others within the Taumarunui leadership have exposed themselves badly in this regard, in particular the trustees of the Museum Trust who betrayed the trust of the older King Country residents many of whom supported Cookie, established the TMT, then bought a building in order to store all his stuff, then funded him for some three decades. The point here is not that the later trustees could not and did sell up (they could and did), the point is that the trustees elected to sell up then denied Cookie the very thing that the TMT was set up to do – booting him out onto the street was totally contrary to the wishes of the original donors, and the likes of Weston Kirton and his team would get lynched if the word got out of who said what and what actually happened!
We all know that things change – that's fine. The trustees of course could sell the building and they did, but the first breach of trust occurred with the agreement/conspiracy to evict Cookie – not when they agreed to sell, but when they planned to 'boot him out'. RDC was at the meeting when this occurred although the CEO says that he didn't participate in that agreement because RDC was simply a passive observer – the recipient of the planned conspiracy. I actually believe him on this one despite it not looking good for RDC overall.
The second breach of trust though occurred after Cookie's eviction when the crooks told Cookie (and KCET) that they would shuffle all the proceeds sideways into the RDC's Railway Museum project. "F* off! Too bad! Bring it on! Sue us if you want!" TMT effectively said.
There's your breach of trust.
If the trustees had used the proceeds to house Cookie's collection (even partly) they would have avoided any claims of breach of trust. The original donors, many who have now passed on donated and helped for the purpose of housing Cookie's collection. Kicking him out onto the street, especially doing it how they did, breached the original donors' intent. If Cookie had died or if he had donated his 'stuff' to the RDC, that would be fine, but he didn't. He established another Charitable Trust and took all his 'stuff' out of TMB, just as he was told to do. Smart man there, not trusting talkers politicians eh?
Karen claimed that The Memory Bank wasn't established to house or protect Cookie's collection but she is wrong and this claim is badly deceptive. She lied, and still does because it is in her interests to protect the RDC from litigation and she wanted to use TMB funds as seed capital for the dodgy Lotto application.
Karen struggles with this concept of trust and the breaching of trust. Her passion and belief in her cause (her advocacy) caused and still causes her to misrepresent reality. This can be seen more recently in another matter, where it appears that she has repeated this 'dodgy' conduct in regards to a civil matter between me and a couple of neighbours.
In due course, once an investigation into this affair is completed I will surely share more about this, but basically I have a lease on the old tannery. It is an industrial property that has nine neighbours. Six of our neighbours have adequate fencing or have agreed to share the cost of installing adequate fencing. A couple of them are yet to be determined, and two of them have engaged Karen to fight me.
Karen has issued some dodgy legal advice, and seems to have taken it personally, using her political influence to get something that has commercial sensitivity to threaten me (I don't actually know what it is yet) but this appears to be personally motivated.
I can understand the motivation to "get" somebody that she perceives is out to cause her trouble, and that she will use every tool in the book to win a legal matter but there is a line, a line of integrity and truth and honesty, that she seems to be prepared to cross. I'm not prepared to do this and I don't think it is even a fine line – it is a clearly defined line. She MUST, by both moral law and legal law at least declare or preferably actively avoid any conflict of interest.
When she advocates on the one hand seeking public support by saying that she considers the local council to be more "business friendly" and wanting it to have few "barriers to growth" then when she attempts to attack a businessman for personal reasons using her political power for personal and/or business reasons, then IMHO she has crossed that line.
Confusing her role as advocate "representing" a client on behalf of her commercial employer (CLAWs) and her personal opinions is the name of her game most recently, which I promise you will all come out in the wash because I know things about her words and activities that she doesn't want me to know. Having established that much of my personal political troubles stem back to my exposure of corruption within the King Country and Karen, will no doubt come out of the woodwork as I push buttons within the RDC to sort out the BS once and for all. Believe me, RDC does NOT want to get into a legal fight with me over matters of ethics and especially not historically!
Karen, my strongest advice to you is to STFU, quick smart. You're a politician. Smile. Make those around you feel good and just keep saying, "Yes! Yes! Yes!" and things may, they may, just calm down. An "Oops! Sorry!" may also help too, but I would never expect someone like you to ever say that, especially to the likes of someone like me.
As always, I will keep you informed of developments.
In the meantime, please, please, please . . . if somebody trusts you with something, money, goodwill, anything of value, do the honourable thing will you? I know that sometimes this will cost you more than you want it to, but the alternative is a spiral that will pull you, and often many of your colleagues, relatives and friends down, if you're not careful. It is NEVER worth it when you go down a dodgy path of deception – it's a dangerous path that will cause you to lose, sometimes all, sometimes your health and sometimes your life.
All it takes is some "[professional] arsehole" like me to stand up for the truth and you're toast. I never give up and until my last dying days intend to continue to speak it like it is. The little people ask me to never give up doing this.
My father is 93 years old. While I have AF, I'm actually a healthy 63, not vaccinated and I don't intend to upset all the little people that I know by giving up in a hurry.
Defamation?
Karen is used to the rough and tumble of politics and the public office. She gives as good as she gets and knows the score but this is probably her biggest threat thus far – I've got the balls to take on politicians BS artists and you will see this in my last reply to her. Hopefully she will learn her lesson, STFU and or go away. She probably won't though unless the RDC lawyers and/or her boss tells her to.
In December 2021 she screwed up big time and as she cannot blame others, she tries to change the subject so as to protect her arse. As I did this here and they both responded, in many cases I share the post I publish prior to publication. I got replies from Sandra (Karen's boss) then Karen herself. You can see the email and the various responses here:
To Sandra, Taumarunui 13:26
Hi Sandra (cc Karen)
I told you last week that I will send you all relevant communications. I will do this but I have a few urgent things to dispose of first today and tomorrow.
In the meantime I have done a post providing commentary on Karen's performance and my history with her, attached. I have programmed it to publish tomorrow morning and seek your feedback please prior to publication specifically looking for any errors of fact.
Feel free to exercise any right of reply but unless there is any factual error it may be best to do anything formally by way of rebuttal or opinion either after its publication or perhaps when your investigation is done. My current intention is to do another post relating to the claimed Conflict of Interest/Karen's personalisation once the investigations are all done or that one or more of them has progressed to a point that someone has some findings worthy of note.
In 2021 I lodged a formal complaint with RDC over bad attitudes within the council towards me (not specifically related to Karen but which will likely track back to her, and others); I have sought information under the OIA from RDC in relation to Karen's research activities in December 2021; I have spoken with you about my concerns (I will get you the core documents once I have done my current time-sensitive stuff) and I have also commenced my own analysis (call this an investigation if you will).
In this post I have tried to minimise references to CLAWs and have kept specific references of the recent issue out of the post as much as is possible. I have also tried to keep what I consider a 'respect' but I haven't pulled any punches. It will be in draft until published, meaning that I can pull it in total or change it in any agreed manner without reference to any contributor but after publication it is normal to correct or alter only minor things but to UPDATE a post only and to offer a ROR that is all public and published.
In terms of strategy and personal approach, I consider this all to be a small matter but an important and possibly an ugly one. Pragmatically if we all do it well, the matter can dissolve. Should it blow up then I see it as escalating to a potentially serious situation. My advice to Karen is included in the post. I do not feel comfortable advising you more than I have here.
It is my clear opinion that Karen's conduct and legal advice was wrong and unprofessional. If I am correct, then this will have exposed CLAWs. Her conduct is also in perfect keeping with my analysis in the post that Karen has blurred the ethical lines resulting in a personalisation of business matters and that she has thus caused difficulties for both RDC and CLAWs. I may modify the post to include more detail of Karen's 'personalisation', what I have previously called a "bad attitude" – I'm not sure yet.
Karen's conflict of interest can be best seen by asking Karen to explain whether she is trying to stop or encourage businessmen wishing to improve fencing between industrial and residential zoning. My understanding is that RDC prefers the latter position, and CLAW's clients the former. This will be seen to be clearer when you have the specifics.
Lastly, please understand that it is my wish to resolve, to help and to build, not to cause others problems unnecessarily but this will always come in the context that I will honour, stand up for and speak only the truth – and firmly if necessary.
If I was the boss I would call the writer immediately and get more, much more but Sandra didn't understand technology speak and then in her second email went all legal.
From: Sandra Terewi 13:30
Hi Dennis
I do not understand where you are going to post it.
Sandra
My reply:
Ok. Sorry. 
I am a blogger (2.5m words) and author (36 books). I blog at www.dennis.nz. Posting in the modern parlance is the equivalent of "publishing online". This is not "social media" which is the likes of Facebook and Twitter which tends to come and go. This is private publishing to my personal website. It lasts forever.
In terms of the content and its defamatory potential I am an experienced professional and I have listened to your warning [her second email below] and thank you for it.
IMHO the entire post is designed to share my experiences with the RDC Deputy Mayor and your employee Karen Ngatai. She is a public figure and she shared the photo I used on her public Facebook page. It has also been used in other places. I am also in receipt of Karen's replies to some of my various questions and have replied to them all.
She believes that the advice she gave was sound. I don't but I am not a lawyer, so this is for others to determine, either individually person by person as they read what I have written or if they/you/she choose to do this by way of a court. I welcome exposure as you will see by reading back on my website. I would actively invite you to raise the matters in a public forum if you have concerns over my use of the words, "bad advice". This though is an assessment of opinion and therefore arguable. I provided you with the draft and sought your correction of any FACT. 
In her reply Karen has used deception again, utilising a technique called 'bait and switch', in which I claim that her advice (that the Fencing Act says something that it didn't) and that therefore her legal advice was incorrect (i.e. dodgy), but she has twisted this to claim now that the dispute is really that the fences in question are "adequate". No! My concerns were and always have been that you, CLAWs, through Karen Ngatai gave false/bad legal advice.
Again, I find your employee to be deceptive, to have issued bad advice and is, as I say, "just bad". 
As neither you nor Karen have responded but not raised any concerns over any factual error, I have published it now, as is. I deem all facts contained to be true – at the point of publication anyway.
Thank you.
and
From: Sandra, 18 January 2022 at13:40
Hi again
I would be very careful of posting this in relationship to the assumption that you were given wrong advice.  To post a photo of my Employee  with the wording above(bad legal advice) has not been proved and it will place you in a very precarious position.
Sandra
My reply interwoven with Karen's response:
Thank you Karen
I note that you have included your clients' email addresses in the CC field. Perhaps it is better practice to keep confidential information about your clients confidential?
Normally in this situation we would use the BCC field Karen. BCC stands for "Blind Carbon Copy" which is used for any situation (like this) where you want to copy someone into an email but for whatever reason (legal, privacy, personal, secrecy or whatever) it is not appropriate to share 'confidential' information with others.
My replies to your notes are below:
Regards
Dennis A. Smith
On Tue, 18 Jan 2022 at 13:36, Taumarunui Taumarunui@claw.co.nz wrote:
Hello Dennis, I am in receipt of both your letters re B and Mr and Mrs Bull. I have also had a conversation with my Employer Sandra Terewi and have listened to your recording.
I do not intend to cover all of the issues you have raised in this email but will cover those that are relevant at this time.
B
I spoke with Mrs B this morning and she remains adamant that she does not want to fund a new fence as the one she has is adequate for her needs.
Umm, so? I know this already. She can present her case to the DT on 4 March 2022. Why are you even wasting your employer's time on this all now? Perhaps it would be good for Pam to speak to you daily from now until the hearing. It's only si[x] weeks away?
She does not give consent for you to start pulling down her fence or removing her gate
"Her fence" and "her gate" are both factually incorrect. It is "our fence" and "our gate" and the bulk of the gate is on my side of the boundary line. I have already advised you of this and told you clearly what I intend to do which is to place a post on my side of the boundary. I have given you written notice of this with a date 7 days which is now past.
If you or your client do not permit me to do work on my side of the boundary then I reserve the right to take action sufficient to enable this to occur and this may cost your client.
as she has real concerns this will allow her dog to walk off her fenced section. She also does not want you trespassing on her land as this is inevitable when pulling down her gate and building a fence as you have stated in your letter.
She wants to remind you that she has a trespass notice against you which is not negated by a fencing notice.
Mrs B agrees that no work should be undertaken until there is a ruling from the Dispute Tribunal.
As stated above, I do not agree with your assessment that the fence or gate is either hers or that they are on her property. She has different options available to her . . . a) allow me to do the needful and cooperate with me so that I can do the needful with normal healthy neighbourly relations OR b) she can fight me all the way, trying to have me arrested for coming onto her property blah, blah, blah OR c) she can get the thing properly surveyed at her own expense, establish what is where on or over the boundary and then reassess the situation.
I'm ambivalent to whatever she chooses to do.
She has told me more than once that she does NOT want to fight but I think this a deception. I think that secretly she LOVES a good scrap, which is why she always chooses to escalate matters all the while trying to convince others that she is a victim when she is clearly not.
I'm not a shrink but I think you have gotten yourself caught up in a sad case of truncated grief whereby your client (my neighbour Pam) shows me strong evidence of a victim complex/mentality where she believes that she is always the victim of the harmful actions of others, even when evidence to the contrary is obvious. Others may write her off as a fruitloop for this and ignore her. They do. I however always try to do the honourable thing. She's lucky that I don't return fire with fire because she has a history of causing trouble for others and I have the evidence.
Note also that there is nothing in law or in practise that stops me getting a contractor in to do this proposed work. I warn you and your client that if your client has been warned in writing and then chooses to take an aggressive stance then it may backfire for her when it all comes out in court. What will the cops do when she calls the cops on a contractor doing his lawful work on my side of the boundary and he removes "our gate" as per the written notice and as per the law? What will the cops do also when she calls them shortly after the contractor and I have both advised the cops of what we are about to do beforehand and they arrive to find a gate missing and one post installed on my side of the boundary?
Mr and Mrs Bull
I also spoke to the Bulls this morning. Mr and Mrs Bull have received notice about your application to the Disputes Tribunal and will be at Court on the 4th February.
They reiterate that their existing fence was adequate for their needs before you, without their consent, pulled it down. They insist that their old fence is reinstated and will be putting a counter claim into the Disputes Tribunal in relation to this request.
Great news – glad that somebody finally listens to me and takes my advice, not yours! That was easy eh? So what now? Court? You going to be there supporting them? Great! You represent them do you? I can't wait Karen . . . or. Look, why don't you just tell your client to get all his evidence together, turn up to court on the allocated date and we can thrash it all out?
Fencing Act
Clearly there is a difference between your interpretation of "adequate" and mine. I believe the advice I gave my clients is sound.
Great, Karen. This is now more than once that you have listened to me and changed your position as a result.
Please stop doing this or I will get a big fat head! My ego is big enough thank you.
In human relations terms your reply here is the application of what we in the industry call a logical fallacy, we can call it many things but one of them is called a "bait and switch". Essentially you ignore the real stated concern (which is for me and has always been your bad advice) and start talking about something else. The truth Karen is that you gave bum advice, in writing to a guy who showed you up and then simply asked you to explain yourself!
There is more but what you are doing here is attempting to address a secondary issue, which is whether the existing fence was adequate or not. Laurie & Carolyn have gone off on tangents clutching at straws, personalising things, bringing in distractions, lying about their financial status, misers just desperate to avoid having to cough up the moolah. I actually know how much they have in the bank and I can assure you that they can afford WAY more than they claim they can but even if they win I still get the new fence it's just all on my side of the boundary. I just gotta pay for it. If they lose then they gotta cough up $1200.00 or whatever the adjudicator orders. So what? It's only money, but the fence is still there.
The DT can and will deal with all that. Your clients can and will I am sure address that question on the 4th.
My issue Karen, and one that you have to address is that your first email to me was factually incorrect. It gave dodgy legal advice stating that the law said something that it didn't. It was me who advised you to focus instead on the issue of adequacy. Remember?
So thank you for finally learning something and finally changing your advice and for listening. Hopefully you have now advised your clients that there is only one thing up for determination after failing to reach agreement when facing a Fencing Notice – is a certain fence subject to the Fencing Notice currently adequate? Period!
Cool! So finally we are all on the same page.
So, is the existing fence adequate or not?
Both of my clients feel their existing fences were adequate for their needs. The fencing Act does not give one neighbour more authority over another, therefore, if your needs are greater than theirs you are entitled to build your fence on your side of the boundary. If this is disputed then the Disputes Tribunal is the right place to go but no work should be undertaken prior to a ruling.
Ah some sense at last from CLAWs. The only problem Karen is that you STILL don't get it. Again you misrepresent the true situation when you say that because of [something to do with needs, I can then build something on my land] then you casually say, "but no work should be undertaken prior to a ruling".
If you are going to offer legal advice and put yourself out there representing others in the legal field, you really should start to think more like a lawyer Karen. Seriously. You are really lucky that your clients haven't got a clue and that I have no interest in taking you down but this is utterly incorrect and again is total bunkum. The law does NOT prevent me from doing any work I want on my own property and neither is this conditional. Speak more accurately PLEASE!
"Should" is only suggestive. "Must" implies an authority and from a "Legal advisor" in a legal context invites you to specify the law. Try this again please Karen. Perhaps you should have said, "The law says … ", and then actually quoted it?
You know, like how I cannot do something of my own on my property? You and the law have already made this clear perhaps? But why can't you just let things be Karen and let the DT resolve a puny little dispute between neighbours about who pays for a new fence?
RDC Information
I did not use my position as the Deputy Mayor to gain any information from the Ruapehu District Council.
Then either you or my OIA request will eventually prove it! Cool! Next . . .
I often speak to Council in my role at the Community Law Centre.
So?
I always ensure there is no conflict of interest prior to helping my clients. Council staff do provide me with personal information about my clients when I have the Authority to Act on their behalf. They can also provide me with information that any public member can receive.
So?
The information I have about the lease at 2A Para Street was given to me by Colliers.
OK So how did you get it? Did you tell them why you, CLAWs can simply request the details of a commercial transaction entered into by two independent parties? Did you get the normal response to any request like that which is, "No! Sorry the Privacy Act …" or did you …. ?
Oops!
I advised my clients that, according to Colliers, you have no legal rights on that property as you do not lease or sub lease it, therefore, you have no authority to enforce a fencing order.
Read the Fencing Act 1978 again properly Karen then look at the quality of this legal advice. Engage brain and whatever you do ensure that the advice that you have given to your clients remains confidential (it's called privileged information BTW) never ever gets acted upon and never ever gets out. If any of the parties who act on your advice (Laurie, Carolyn and/or Pamela) lose and have to cough up, all they would have to do is ask the question, why do we have to pay when you said, "[whatever your advice was about who said what to you and why your advice is correct]" and you and CLAWs [could be in deep] sh*t. Oh and who signed my lease and who was it with and why have I not been evicted as a squatter these last three years and who did you speak to and what was their beef and their hidden story told to you in secret all sufficient to give me the evidence to . . . oh sh*t!
Karen, always, always, always work out who you are dealing with (we call this doing basic due diligence) and especially watch out for traps. Keep your mouth shut. You see what you have just done here is put Sandra and the CLAWs on notice that you have triggered a trap by walking straight into it!
Colliers has provided you with commercially sensitive information 'out of school' and you have now proven a conspiracy between CLAWs and Colliers and the only way that Colliers can get out of this trap is by fessing up that you, Karen Ngatai used your position as RDC Councillor as leverage to get it.
If I have been given the wrong information I encourage you to clarify this by providing a copy of the lease agreement.
Nup!
Not interested. I've told you this before.
You, Karen are nothing more than a noise from the past, an arrogant fool offering BS to try to protect your sorry butt. You claimed in your first communication that the law said something it didn't. You have failed to prove that you represent Laurie & Carolyn. You have poor grammar and spellink. You used your position on the RDC to secure supposedly secret supposedly hidden information; threaten others and then get your facts all wrong when you try to go after some businessman who simply issued one neighbour who doesn't want to contribute to his neighbour's desired fencing upgrade with a legitimate and fair Fencing Notice!
Stupid, STUPID, STOOPID.
If you require any further information please email me as I believe written communication is best.
Scared of something Karen? Funny how it is always me that does things in writing and now you want it all documented eh?
So now Karen, please provide me with the MP3 of your phone call to Colliers if there was one, your written request to Colliers if there was one and explain the way you dealt with any potential conflict of interest between your role within RDC, which aims (as I understand both you and Clive) to encourage business and development within the RDC region and your two client's resistance to development.
Now, in the interests of openness and honesty here, I warn you that if you got any information from Colliers, either directly or indirectly with their knowledge or belief that you had some authority to secure this sensitive commercial information (no matter how accurate or false it is) then you should immediately (and I mean immediately) inform RDC that under the terms of their legal liability underwriting that they will be facing a very large claim and that all dealings or matters relating to me, Dennis A. Smith should immediately go to and be dealt with by their lawyers. They are currently facing something in the order of six figures and that is BEFORE I get the proof.
I've already warned you that if there is any loss, or even a sniff of potential commercial loss from, by or associated with my lease renewal with Colliers on 1 June 2022 as a result of your or RDC misconduct then I will be holding you and the RDC liable. This could be very substantially more, and with my blogging and other adverse exposure cause the region millions in losses over the coming decades.
I suggest that you speak to Clive immediately and ask him if you may have walked into the centre of a potential major issue revolving around RDC staff (and now RDC councilors).
I suggest that you ask Laurie too (quietly and off the record) if he knows of any case where somebody, and I'll quote them accurately said in front of a witness that a meeting to resolve a matter of defamation, "I might have said something!" in other words admitting that they did indeed say something false and bad about me.
Karen, this is how I see it . . . feel free to contribute to my understanding how or if it suits you.
I told Sandra last week that I have two issues of concern over you and your conduct:
a) Your dodgy unprofessional conduct at the outset – bum advice and more (there are other things too about the way that CLAWs TMN presents itself but I haven't yet dealt with these things; and
b) Your personalisation of business matters, which includes the potential to have crossed the line, using your RDC status to advise your commercial clients of [whatever].
At this point, I see foolishness from little people all out to protect their own little patch, a sh*tstirrer sitting back and baiting all you fools to do more of the same, because every time one of you moves, or speaks, you make it worse for your selves.
You may not like me my dear, and you can call me whatever you want and think whatever you want but the minute you, or Colliers, or RDC or anyone gives me the evidence that you have tried to mess with me using deception, you're going down. I don't care how many years or dollars it takes . . . Sandra's responded. You've responded, so now the first post is up there:
Much more to come. I bite 'honey'.
[Link to this page]
Yeow! That one hurt!