This post shares some of my experiences dealing with a neighbour about fencing upgrade, triggered by a decision I received yesterday, after nigh on a year of delays. I was ordered to pay $560.00 to my neighbour to restore a disputed 'old', and substandard fence on our boundary. You can look at this different ways . . . either I 'lost' in court; or I gained a Pyrrhic victory or I finally sorted the matter out. All are true. Enjoy!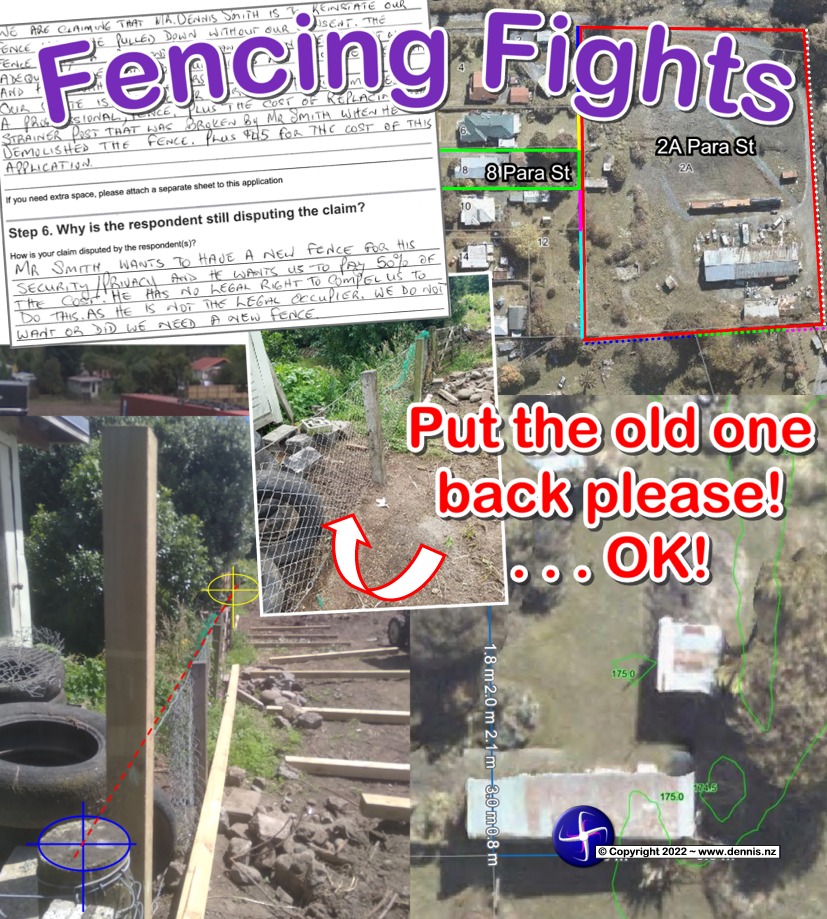 Background
In mid 2019 I rolled on up to Matapuna, did a bunch of deals and took on a lease down here at Matapuna, 2a Para St to be precise, and over the next three years proceeded to 'set-up shop', tidy up the land and buildings. I've gradually knocked what was a pretty dirty, wild and beaten up abandoned commercial property into something that is now quite usable. It still needs a lot of work to make it properly presentable but I've done the majority of the donkey work, land clearing & shaping, closing the building in and doing some basic kitting out – putting in power and gas and so on.
The lease situation is currently up in the air with a dispute between LINZ and myself in its early stages but about a year ago I informed my neighbours that I was getting close to wanting to tidy up the area of my property close to them. This required a bit of land shaping, fencing and for one of these people to move their sheds and stuff back onto their own land.
Out of the five neighbours down that Western side of my property, one neighbour had an existing fence that did its job – security and privacy no worries. Another chose to stick up their own fence on their own property rather than to survey and get all buddy/buddy with us and another agreed to go halves in a new fence – we would share the labour and go halves on the materials. That just left a couple of neighbours to negotiate with – one agreed to chip in her half of a fence and then changed her mind . . . yeah, I know, I know – she called it "a woman's prerogative", but whatever! The court can sort that all out further down the track sometime. Then there was Laurie, and his wife Caroline (as Laurie is quick to point out, note that it is LIN not LINE).
Laurie Bull's Fencing Dispute
When I first came into town, one of my neighbours had encroached quite a bit onto my land. I approached Laurie and discussed his then use of my land and I told him that it was all OK for the moment. We didn't need him to move it at that stage, so he was fine to leave it there but there would come a time that he would need to put it back onto his land and we'd let him know when that time would come. I later asked him to close the land up so as to keep my dogs from running through his open gates and eventually this was all tidied up. I asked him to move his gear onto his place and he did, eventually. He mostly kept the gates closed – they were not lockable but it was good enough for keeping the animals inside at the time.
Then came the fence.
Now the Fencing Act 1974 allocates an equal responsibility to neighbours. Basically the thinking of the legislation framers was to tidy up the law (at the time case law ruled and it was a mess) and that (IMHO quite reasonably) they thought that if neighbours share a fenceline and if the fenceline is on the boundary, they should share the costs – 50/50 would be normal. The Fencing Act therefore established a baseline method for dealing with fencing matters, essentially one party would advise the other of their intentions in writing in detail and the responding party had a opportunity to respond. If the parties could not agree then the FA required us to involve the Disputes Tribunal.
In our situation we all did this correctly and everything was fine. We didn't have agreement so I invoked the DT to look at the matter.
All cool so far? Well almost! Two things interfered with this plain sailing – Laurie got himself a lawyer (Karen Ngatai) and that lawyer spoke to LINZ and a) found out that LINZ wanted me gone and then b) she later found out that the Fencing Act doesn't apply to my land because it is Railway land.
The Issue of Standing
The first challenge to my claim came by way of challenge by Laurie & Caroline to what is called "standing". Only people who have 'legal standing' can bring a case before the courts. Standing is a legal concept that gives you the right to take a case to court. You can, if the matter relates to you or you've been given rights by someone who had those rights legitimately in the first place. You can't, if it's none of your business. Karen Ngatai thought that she could secure proof that I didn't have standing from LINZ, then got them to issue a letter stating that I did not have a valid lease (among other less than savoury things) therefore she advised her clients to challenge my standing.
It took some time but eventually the arbiter from the Disputes Tribunal reversed his position from "You cannot bring this case because you do not have standing" to "OK let's hear it all!" Basically, the letter LINZ provided Ngatai was rejected because I provided an Affidavit that showed the court that indeed I did have standing. I think it's important for people in a contested situation like this to stand up for truth and justice. It would have been very easy for me to fold, just bugger off and let the DT have their way, but in the end by various means I did show the court that I had the standing required to bring the case, despite the massive efforts from others to deny me this hearing.
An important point here is that I actually approved the other parties right to challenge my standing. I think it is important that whatever law exists be honoured if at all possible, and having legal standing is important to me. This doesn't mean that for example I suddenly think that homosexuality or prostitution is suddenly OK just because somebody made it legal, or that we should all bow down to "the Bar" just because the lawyers and judges all have submitted. I consider this doubly important in the area of spiritual sovereignty for those who have given their lives to a Higher Authority because His standards are what we will be judged by at the end of time – not the law that men write.
It took some time for the adjudicator to get there, one reason because I submitted an affidavit with redactions and he asked for things that I couldn't give him but it was all eventually sorted.
So we moved on from this matter.
The Issue of the Fencing Act
The Fencing Act does not apply to my property because it is Railway land. I didn't know this and at the time all of us, me, the Bulls, their lawyer Karen Ngatai and the adjudicator all thought it did. It was only when LINZ informed Karen at the end of January 2022 that this could be a defence for them that this actually came out. Karen never discussed this new advice with her client until quite a bit later; they never raised the defence until quite a bit later and I never knew this until I got a copy of LINZ's advice to Karen even later still that the FA does not apply to Railway land.
To give him his due the adjudicator did eventually 'come around' from his earlier position which I saw as quite hardline (and wrong) to a more reasoned position. Basically we all got it wrong at the start but we all got there in the end.
So the details of the fencing dispute are quite simple, as Gordon Meyer pointed out in his judgment I received yesterday. a) The Fencing Act does not apply to my land, thus the DT cannot hear the matter, and b) because I removed a section of Laurie's fence, I must replace it or in this case pay to have it replaced. Laurie's claim was for $560.00 to have it reinstalled and I didn't contest the quantum I've got to pay Laurie this amount and the matter is 'done'!
The End Result…
I find Gordon's assessment of the situation actually quite reasonable, mainly because he applies the law. Nobody likes getting it wrong, least of all me, but I didn't connect the dots that I had Railway Land thus the FA didn't apply. I also understand the limitations he felt he was under to order the less-pragmatic solution, which means that we're going to end up with a twin fence solution.
I love the fact that the matter is now finally set to rest. I think that it sucks having to pay someone when they had every chance to do the honourable thing way back when, but whatever, at least it is now all sorted!
I also think that there is enough in there from the adjudicator that says, "Yeah, if it wasn't for the Fencing Act exclusion of Railway land, I would have required the Bulls to have paid their share!" for me to know that the law has been honoured. Do I think it's fair or reasonable? No, definitely not, but hey thems the breaks eh?
Facts, Perjury & Reputations
The last thing I'd note in passing here is that Laurie (and to a lesser extent his wife Caroline by way of simply being present and co-signing everything) committed perjury more than once. Perjury is the act of knowingly stating a fact to a court or tribunal that you know to be false. It is a crime detailed in s.108 of the Crimes Act 1961, and most people do not realise the significance of what they do when they distort reality – usually done for their perceived benefit.
Laurie and Caroline stated in their two written replies that they could not afford a new fence. They can and could. They prefaced their comments with a dead giveaway for anyone who has lived within the Christian community and their leadership for any length of time (as I have) with the concept of or words, "honestly". The joke is that you know when the devil is lying don't you? Well it's when his lips move! Many will agree with me that the same thing applies with a Pastor, and especially when they preface their distortion with an, "Honestly Den …"
It makes me want to puke actually!
This reminds me of the old joke about the newspaper man, the politician and the Priest all getting their rooms allocated in Heaven. The newspaperman and politician are duly shown to their barracks and then St Pete showed the Priest his luxurious mansion and a gazillion servants up there in the sky. Puzzled, the Priest turned to Pete and asked why he was getting all the special attention when the others had just gotten plain old barracks. St Peter replied, "Well Sir, you are getting the red carpet treatment because we've never had one of you up here before!"
So how can I say that this "Poor me" stuff is BS, despite his preaching the 'prosperity gospel' for years? Because for more than forty years I have observed the leadership of God's Squad down here on earth and I've only ever seen one couple that ran a church who genuinely could not afford something that they needed or in Brian's case, wanted. Oh, and I also know what these neighbours of mine actually had in their bank account last year and what their combined income is on the Super and was when Laurie worked at New World!
Rest assured that it's Jehovah Jireh for them indeed!
The second porky was also one that can easily be proven false and one that was actually partially rejected by the adjudicator when he said that he could believe that the fence was owned half and half. As part of the presentation before the DT, Laurie & Caroline presented their case as a matter of their evil neighbour who took down "their" property and therefore they needed money to reinstate it. They stated that the fence was theirs, i.e. not mine; that it had always been there; that it only had one gate and that it was adequate.
The facts are however that "adequate" is an interpretative word, it requires a judgment, hence the role of the DT. The rest however is just BS, and I told the court that using that exact phrase. I'll just pick up a few of the key phrases Gordon used in this recent judgment:
Mr Smith [claims] that the existing fence is not adequate… If [the FA applied] I would have agreed with him.

It may well be that the fence is half-owned by each neighbour…

An obvious solution to the removal of the existing fence is for Mr Smith to continue with the erection of the new fence…
Yup! So in the photo above you can see both the old fence (on my side of the boundary line) and the new fence under construction – again on my side.
Now, in the aerial photograph (insert) you can see the previous location of Laurie's shed which he then moved onto his property. His removal of his shed left a gap which he hurriedly filled in with a new/old fence and removed a second gate knowing that I was intending to put up a replacement fence. He didn't want to be hit up for the cost of half a new fence so installed a new fence and tried to tell the court that it had always been there. His claim that he owned the fence 100% is BS. It was a 30+ year scungy old low chain-link & concrete post contraption, half falling down thing that never provided any security nor privacy – the posts were located on my side and the wire was on the boundary. I have a receipt for the purchase of all the improvements which includes half of every fence on the property boundary. He doesn't!
This here has been two actual claims of perjury that I've made which are actionable in a court of law under defamation if I have got this wrong and said something to hurt him. If Laurie and Karen believe that I have defamed them then I invite them to sue me for defamation if they want but he will lose if he does.
Just so it is REALLY clear, Laurie, you and your wife lied – once about your inability to pay for half of a new fence (twice) when you could and you also lied when you claimed before Gordon that the fence had always been there when a large part of it wasn't and this includes lying that there wasn't a second gate when there was and that you owned it (and therefore that I didn't).
Laurie Bull has also proved to me more than once that he is a manipulator; that he 'plays fast and loose with the truth' to achieve his objectives of control over others. As I have said before, I do not like him. I do not trust him and I do not want him on my land. I'll smile at him and say, "Gidday" or "Good morning" but I do not want to sit down and have a cuppa tea with him if I can avoid it. His reputation around town ranges from "An outright crook to a 'funny man' to a saint" usually depending upon whether or to how much one accepts his spiritual, moral and religious leadership. Obviously I am at an extreme end of this scale.
In a future post I will share my earlier experiences dealing with Laurie and will show how this 'different' man's manipulation techniques relate back to spirituality. Hint: think down, not up!
Lessons to Learn
The art of telling a good story is to capture the readers' attention and provides endorsement for their actions and conclusions, thereby giving the story hearer those warm fuzzies. This is akin to the gotcha of seeing the bad guy get his beans on a TV movie or a YouTube video watching a Karen get her just desserts as she tries to run from her crime but falls down and breaks her leg.
Laurie and Caroline personalise everything. He this, she that, tutt tutt, God is on our side so there! This though is not a personal matter for me. It is a legal matter and a fencing matter in which Laurie, his wife and his lawyer have lied and taken the matters personal and I believe too far and across the line. I have shared previously how I am suing Karen Ngatai for defamation and I have yet to share the details of how Laurie has previously grossly distorted reality for personal gain. Standby.
So the first lesson from this judgment is that according to the man that the State engaged to adjudicate this matter I did something wrong by the law – I took down a fence that was probably in shared ownership contrary to the express wishes of the joint owner. I must (and will) pay Laurie that award.
The second lesson for me is that while there is a whole bunch of "what-ifs" and "buts" in there the law is the law. The adjudicator made it quite clear what he decided and why. While there is a right of appeal it is a legally marginal appeal and the award is quite small. If I cough up then this ends the matter. I have always said that it is not a money thing. The Pastor will get his money.
The third lesson here is that we really should be careful what we ask for in case we get it! Laurie wanted to present his case (whatever it is or was) and fought to get it. He could have owned half of a nice new wooden fence and never have gone to court and never have been exposed for the miser he is. He will now end up with two fences on his boundary – one huckery one on his side (assuming that he cannot afford or will not improve it in the process) and another whatever I put up on mine. He will have the money he sought to replace his 'marvelous contraption' but forever his legacy will be known as the Pastor who fought like buggery to avoid getting locked in to his land but still was; the dude who even went as far as to secure the services of the local lawyer to try to get LINZ to prove that I did not have standing but was unsuccessful then avoided having to contribute to a fence on his boundary.
As someone said to me who was very happy to leave this man's influence, "Dennis if I ever turn to God it will be to your one not his!"
Touche!
Thanks for swinging by again today.