In this post I share what I consider to be the true Christian worldview, one that secures us personal spiritual sovereignty; my assessment here gives some constructive criticism of the work of Christopher James [real surname redacted]. In essence the Christian Personal Sovereignty theme is correct and biblical (you can't expect anyone to be judged personally but to simultaneously expect them to submit to corporate rule) but the outworking of this philosophy in anti-tax/anti-government activism & militias/vigilantism is ungodly.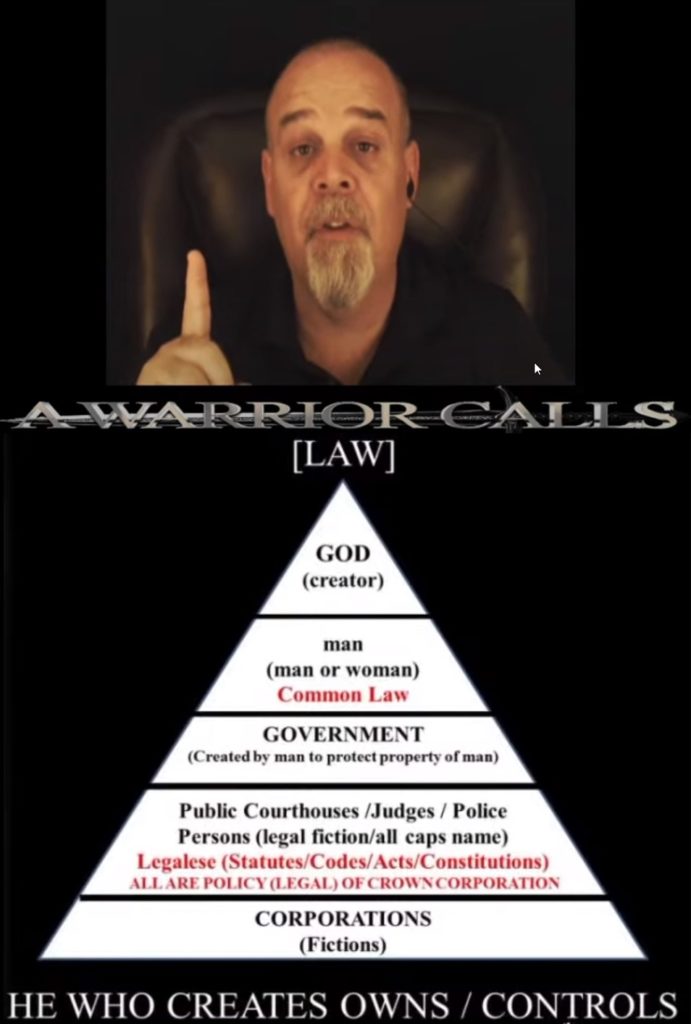 The increasing strength of the State has seen (and will continue to see) the rise of resistance, especially with increased economic distress. The fire of independence movements can catch many of those who jump out of the frying pan attempting to escape that heat.

As awareness of the Matrix spreads, citizens' government or anti-government movements, vigilantism, Christian Patriots, The Posse Comitatus (Latin for "power of the county"), Christian Identity, anti-tax movements, militias, common-law courts and the county supremacy movement are currently growing – mainly seen online in the United States.
To my mind this is good because independent thought is always healthy. Like a ship gains in its capacity to steer as it start to moves through the water, right or wrong can be tweaked as the people are awakened from their slumber.
A rising star of one of these independence offshoots is a guy called Chris James in Canada. He has developed a website A Warrior Calls and shares his philosophy openly and with passion.

Chris shares his values with the teaching of Judge Anna and Bibi Bacchus frequently referring to the truth (note, lower-case T) of his teaching. He shares with deep passion and discusses future positive change at length. His style is to mix his rich past personal experiences with a Nirvana moment of revelation – that he has a lawful right to exist and conduct his business with the State only relegated to dealing with legal matters in their [corrupted & nepotistic] legal system.
This belief system explains that the creation of a legal entity at birth by the State substitutes the individual with another illegitimate legal entity (which can then be possessed, traded, taxed, legislated etc). The fact that this is done without our knowledge or explicit approval is the essence of the crime/deception against us all.
His differentiation of LEGALITIES relating to Corporate activity and LAW relating to human identity is the core of this personal revelation. Of course the State (along with the central banking cartel, business community, politicians and complicit law enforcement personnel) is fraudulent and illegitimate, most hoodwinked like us, but only their leaders knowing the true score.
Chris explains that as an agent of the State, any Officer of the Court (and that means any Judge) has a duty & obligation rather than power. They are employees of "we the people". His challenge is to the legal system to identify who and how he became [their] property and therefore on what basis they can administer this property. His claim and advice is that nobody can do this.
Confrontation according to Chris, is not only needed, but it is inevitable. He and his thousands of supporters though, will be triumphant as they grow into millions, sticking it to the bad guys globally. Cool! If it happens.
Paraphrasing him, "Unity is coming as various groups are now sharing a common purpose, be it 5G, Vaccinations, Chemtrails, the Monetary system or over the Court system. We have a sea of evil corruption to fight and mankind must awake. It won't be easy. No one knows the future, but we need millions of people to awake."
"It's time to restore peace & love to the world. We have to come together. We have to do it now and to do it with love."
Analysis
I have a lot of time for Chris' passion, personality and commitment. It takes b*lls to do what he has done standing up for what he believes to be right and sharing from his heart as he has.
He's 100% right on many subjects and has a deep understanding of how corrupt the world is. He understands some of the contentious issues more than many thus has clearly dug deep. He has also paid a high price for that learning, thus kudos to him for having pushed through to be able to share it. I'm sure that this rich experience fuels his passion.
He says that he believes in Jesus, although so too does the Devil, and includes frequent references back to God (as Creator) which will distance his message from many and he presents the Christian worldview differently to me. But good on him. Sadly (for me) he seems to stop short of referring to Jesus' own claim to BE the Truth. The Master paid a high price for this fact. IMHO Chris depowers his message by referring to the truth in his message, rather than to the Truth Himself, but that's his call.
His expectations are unrealistic and to my mind fall into the delusional category. He currently talks about things that he has no idea of such as biblical strategy. The Lord has already won the battle, 2,000 years ago – on the Cross. The words that Christ uttered, "It is finished!" were not spoken for nothing. His resurrection three days later made it clear for us all if we haven't had that revelation, personally. For the record God rarely 'fights' evil – His style, His modus operandii is to let it implode and He restrains it until it is the right time – His time!
Chris, you state specifically that this is not all about you, but your vlogging is clearly all about you and your vision and your work. We should look to the Master and do what He says. He's already won the war for us. He just wants us to now do what He asks.
Obedience does not mean following the ways of the world seeking unity of various disparate groups and millions of followers. Nobody can count to a million, let alone develop a relationship with that many people. You can't even cope with the number of people who need your help today!
The Master dealt with only one person at a time. He discipled only twelve men, day by day, teaching and showing them all how to live – with nothing but faith. He left it to the Holy Spirit to do the work with the millions. Best do the same, methinks.
For the record, I agree with you that we all have personal spiritual sovereignty and as I alluded to in the introduction, it is the height of lunacy to believe that we are accountable to our Creator personally for our choices and personal conduct yet we be simultaneously required to bow to Caesar. I agree with you, and your identification of the methodology that the elite have used to ensnare us at birth is fantastic . . .
Your identification of the banking cartel's creation and control of money is too excellent, but you omit the concept of usury as the tool of enslavement. Why then do you participate in the monetary system by taking Paypal? Sorry mate . . . integrity if you aim to be standing above us in this matter, requires something different to my way of thinking.
The essence of Personal Spiritual Sovereignty is born of the Christian world-view – that there is a Creator and that the creator owns his creation. God set the rules for living and mankind was given dominion of that all. We conspired, voting to go our own way, the first and fatal, disastrous instance of Democracy. Since the Fall, corruption and conspiracy have existed in all facets of life. Expecting otherwise is foolish.
The solution to this is to Hear and Obey. Nothing more. Hearing requires a personal relationship. Millions on Youtube, Bitchute or wherever simply doesn't cut the mustard for me. Humility, Listening and then Doing, one by one, does.