This post, part of a series and a chapter in the book "Crooked Cops UNMASKED!!" highlights the Latin phrase, "mens rea", meaning "a guilty mind". Enjoy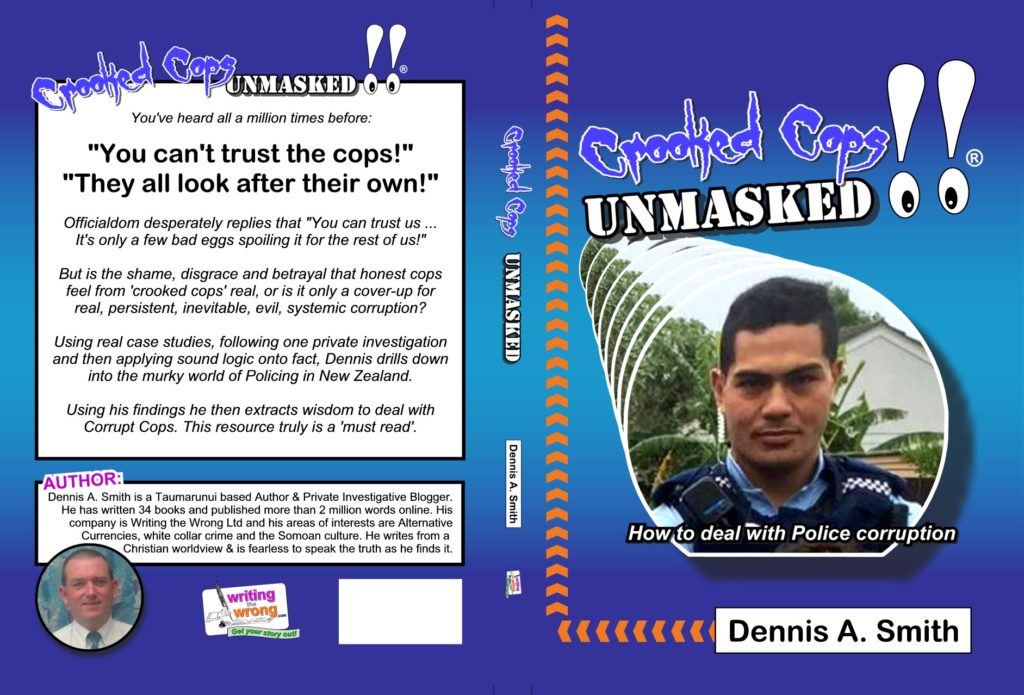 Crooks, crims and Crazies are out there alright! And it's not only in the widely talked-about immoral and corrupt Samoa either, (even though the Crooked Cop on the cover after being caught having sold the entire NZ firearms database to the gangs is a Samoan!) . . . It's not only the crooked cops found to have set-up Arthur Allan Thomas in the 1970's Crewe murder investigation [kudos to the late Pat Booth for his work in that regard] . . . It's not only the gangs, or the darkies, or sh*t-stirrers like me . . . it can be any where, any time and any one who sooner or later comes face to face with authority out to enforce its way into your life.
What to do?
In other posts I give details and description of what I call, crooks, crims & crazies. Good people can do bad things. Crooks can do good things. Life is not always a binary, good and bad thing no matter how hard we try to twist it. Crookedness too, is a judgment call. Some use the laws of the land to adjudicate – great, except for when the lawmakers change it to suit themselves or develop 'bad' law! Others use it to peddle a belief system – be it Communism, Socialism or the Christian value-system. Others use religious beliefs to measure crookedness – think of Gaea worship or Bible worship or worship of Allah, Krishna, Buddha or whatever.
I choose to identify truth as measured from the Christian world-view. Values based on truth established from the application of sound logic onto fact is my 'game'. This approach rejects the thinking that the end justifies the means, a common failing within the systems of authority – particularly the law enforcement, and for nefarious personal, cultural or social purposes.
I most noticeably experienced this in Samoa, a small South Pacific Island nation that I lived in for the best part of a decade. Saving face and protecting the family, village, Samoan culture from perceived reputational damage trumped abstracts like truth and integrity every time. EVERY time! Thus when a Palagi caused a scene and claimed that a crime such as a theft had occurred by a local, the authorities first attempted to cover-up through negotiation then got heavier with physical violence or worse if/when cornered.
The 'little people' up there loved my balls in taking on the system and begged me to never give up as it gave them hope, but I eventually did get booted out when I revealed Tuila'epa's mistress in the book Corruption in Samoa.
Recent events in Taumarunui too show to me that the same forces are at work in the Western society (as if I didn't already know that!), it's just that we tend to cover it up in a more mature manner in the West. While it is the same thing it is essentially corruption – people in power using that power for a distorted purpose.
Western law requires that its subjects submit to Police authority, while other jurisdictions might use their Military or Royal 'rights'. We are raised to respect the law both as an abstract and in person – i.e. be good and don't argue with them when the cops show up.
Neither of these two things however are a hard and fast rule that an independent thinker need always apply. I choose to obey the law, because I know the consequences if I don't. I choose to drive within the speed limit because I do not want to receive a speeding ticket. I choose not to steal too, because I do not want to go to jail or be arrested and charged with theft. I also choose to show respect to Cops. One of the reasons I do this is because I have been taught to respect authority and I see the consequences of not doing so. I try not to wind them up (more on this subject shortly) but often fail because I never give up and stand for truth and justice.
But IMHO the higher laws, those of our Creator, transcend the civil or criminal law. Just because prostitution or homosexuality is legal does not mean that suddenly something that has been adjudicated to be morally wrong for eons and is suddenly made legal does not make it right. Likewise something that is wrong for eons doesn't become right just because it is normal. Examples of the latter scenarios is the God-awful worship of the concept of Democracy, essentially where the 51% seem to gain the right by might to lord it over the 49%, and the widespread acceptance of and (submission to) use of the horrendous, evil and enslaving interest-bearing monetary systems.
Corruption comes in the enforcement of law when mankind usurps its God-given authority and/or breaches the natural laws of justice. In a biblical sense this latter concept (of natural justice and proper social order) has increasingly become a relic in practice. Societies conduct has moved further from the biblical standards that our parents and grandparents remembered. It then becomes easier for those with power to abuse that power.
In other posts I have and will share details of how this corruption is outworked – false accusations; power games employed; failed logic and outright dishonesty, but in this post I discuss the concept of a guilty mind. When good law is analysed correctly, it can always be traced back to biblical values, and scriptural teaching because this all comes from natural law. We all know that sex outside of marriage is wrong. That's why Adam and Eve covered up their privates when caught out. We all know that stealing is wrong. That's why we lie about it when confronted – because we don't want to get caught. We all know instinctively that telling a porky is wrong too. That's why a child covers their mouth with their hand in shame.
This guilty mind is called "a conscience" in philosophical circles. In legal circles it is called "mens rea", a Latin phrase of the same meaning. Good law, i.e. law based on natural law, requires that in order for there to be a crime, there has to be "mens rea". If we take the NZ statutes relating to crime and skim down to the crime of theft (s219) we can see that it does indeed require an element of dishonesty:
219 Theft or stealing
(1) Theft or stealing is the act of,—
(a) dishonestly and without claim of right, taking any property with intent to deprive any owner permanently of that property or of any interest in that property; or
(b) dishonestly and without claim of right, using or dealing with any property with intent to deprive any owner permanently of that property or of any interest in that property after obtaining possession of, or control over, the property in whatever manner.
(2) An intent to deprive any owner permanently of property includes an intent to deal with property in such a manner that—
(a) the property cannot be returned to any owner in the same condition; or
(b) any owner is likely to be permanently deprived of the property or of any interest in the property.
(3) In this section, taking does not include obtaining ownership or possession of, or control over, any property with the consent of the person from whom it is obtained, whether or not consent is obtained by deception.
(4) For tangible property, theft is committed by a taking when the offender moves the property or causes it to be moved.

https://www.legislation.govt.nz/act/public/1961/0043/latest/whole.html#DLM329897
The embolded text (1a & 1b) highlights two specific conditions that need to be present in order for a judge to sentence somebody to the crime of theft:
a) dishonesty; and
b) no claim of right.
Look also at the third concept highlighted, "intent". Not only does there have to be dishonesty involved but the intent to deprive has to be there for the crime of theft to have occurred.
Of note too is that in the matter of the claim of right (What we say in the Commonwealth the "colour of right"), Clause (3) specifically makes it clear that this guilty mind thing is highly conditional. Even if I trick you into giving me permission I still gain colour of right to the goods if they have been genuinely given.
So the application of this is critical to those defending themselves from overzealous (or crooked) cops out to 'get' you. If you have a guilty conscience and then if the judge believes any charge that indeed you do have mens rea, then you could easily go down for theft. On the other hand if you don't have this thing called a mens rea, and if the judge believes you that you don't, then you should by rights be found NOT guilty, if you have been charged.
In the next post I will share the specifics of a recent case that I am involved with and show you how I have defended claims that I have a mens rea for burglary or theft, or of receiving or of anything else that involves impropriety. You gotta have balls to take on crooked cops like this but hey, this is my life; I'm totally clean and the year is 2021, so let's at it!