This case study reveals many teaching points relating to harassment by Corrupt Taumarunui Cops with a political agenda, overzealous, forceful, overbearing – that kind of thing. I also show how to deal with this unwelcome pressure along with analysis of the law, and advisable Christian conduct. This is the important core post that describes the events from which subsequent more detailed analysis will be made. While I have been wronged in different ways, I keep the names of those involved suppressed for the moment so as to keep the doors to private resolution peacefully open. Most people don't like their sins to be made known but while they almost always NEVER actually do the honourable thing, they might do so.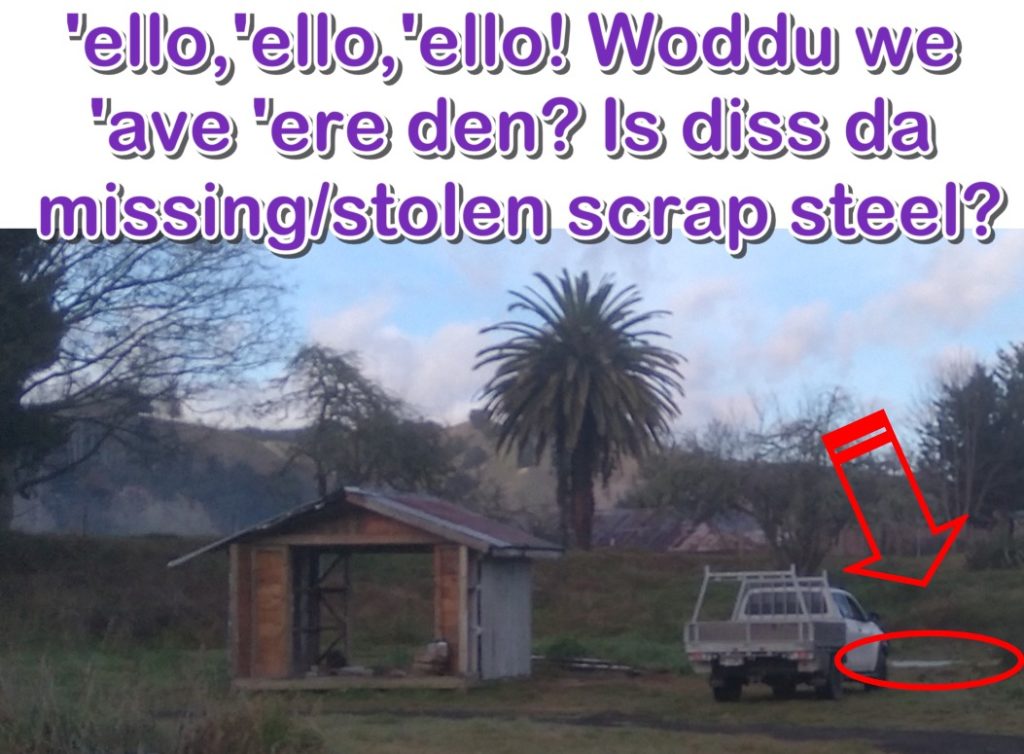 On 16 July 2021 I noticed a local builder drive in and past the Club Wairua offices & clubrooms. I knew him, so while I thought it was a little cheeky it wasn't a real problem to me though. I also didn't feel threatened. He too knew me so I think this was also why he took that liberty.
I approached him and he said, essentially "I want my steel" pointing to some scrap steel that he had left on the neighbour's property some 20 months previously. "Where's the rest?" he demanded to know. I showed him another pile of old bent beams and left-over stuff from a demolition job we did back in 2019.
"That's mine!" he claimed, "And I've sold it. I've got a forklift coming this morning to pick it up!"
"No sir! That's mine and it's not going anywhere!" was the essence of my reply. "I don't want to pick a fight with you so if you come back later when you've calmed down then we can talk about it man-to-man."
"I'm not angry. I'm not escalating the matter. You are!" he said.
Hmmmm! Yeah, like give me what I want or you're the one escalating matters.
My insistence that the goods were mine and would remain where they were gave this dude the idea to force the issue, even though he blamed me for inflating the situation and being uptight he called the Emergency line. So, standing on my property, right in front of me he called 111 on his speakerphone, asked for Police and entered into a conversation with them about getting "his" scrap steel.
I wasn't interested in getting involved in any arguments so I left him and just walked away. Eventually he left the property without any reference to me, went out to the front gate, parking his vehicle off my land but in a way that I couldn't close the gate and waited for the cops to show up. I suspect that he thought I would make things difficult for him to retrieve his steel if I locked the gate. Seeing as he was the one who had opened it in the first place . . .
Whatever!
The Police of course came and I refused to engage. I supplied my full name, address, DOB and phone number then advised the Police that I owned the disputed goods as I had been given them legitimately. I told the first dude (CC1) that the whole thing was a civil matter and that I did not want to engage with them. CC1 tried and tried again to bully me into providing a statement, which I refused to provide giving him a very specific reason why I would not, specifically so as to diffuse the situation. You see I p*ss people off – really, I do, and badly too. They only have to look into my eyes and then they get all aggro!
CC1 has some listening problems and does not comprehend what he hears, so he knew better and tried to take me to one side so as to speak privately away from the other party, but I refused. I told him that I was not going anywhere. So now he got p*ssed off with me – duh! He tried to tell me that I "had to" answer his questions or justify myself or my conduct to him but I denied this claim and refused to provide any further statement. So like a preprogrammed goose he then threatened me, telling me that he "would have no hesitation to charge me with theft", and suggested that this may even be "burglary" as I had gone across to the neighbouring property to get the gear. I asked him if he really believed that I was a burglar, to which incredibly he replied, "Yes, based on what I have seen and heard, [he] did!"
Cor Blimey! My neighbour got a good chuckle out of that one and I'm sure if my name was William he would call me "Burglar Bill" till my dying days!
CC1 struggled to realise that I meant what I said and said what I meant about not wanting to talk to him, so he asked me for the name and number of the neighbour who had given me the scrap steel. Of course like a good cop he scoffed at my inability to recall my neighbour's name or details off memory, clearly thinking that I was making his life difficult on purpose when he just wanted me to talk to him. I resisted this rudeness and told him that he was being unreasonable to expect me to spit that all out to him while standing on the street. Don't you just hate it when that sort of thing happens?
Eventually we agreed that I would supply him with the name and phone number of my neighbour when I got back to my office. I did. Funny how burglary is no longer talked about eh? No apology or correction though, mind you! As far as anyone would know, I could still have a burglary charge over my head, well probably a dozen or so or even more depending on what it was they finally decide I have burglarised!
Matters got more heated and a little more complicated when I phoned CC1 back later in the day. He insisted that I call in to talk with him in person, because he did not want to talk by phone. I eventually accepted his request and did exactly that and CC1 told me that he had spoken to "Prosecutions" and that they had recommended that I be arrested for theft. I repeated my claim that the matter was a civil matter and that no crime had been committed. On Saturday 17/7/2021 I repeated this position again by email and told CC1 that I thought that he was being a Dick and I would no longer be involved with him without his supervisor being involved.
CC1 and his supervisor CC2 visited Club Wairua on Sunday 18/7/2021 in person shortly after I sent CC1 a copy of a receipt lodging the case with civil disputes. My first question was whether or not CC2 had received the COVID-19 vaccination. He said that he had and so I explained that he could not come in to Club Wairua because we were a vaccination free zone. CC2 commenced his speaking at my doorstep then with a lecture on legal ownership (title) explaining that if he had given me a Police car it would not entitle me to keep it – because obviously he didn't own the Police car in the first place. He then repeated his belief that I had stolen the property. No inquiry. No questions. It was clear to me that I was guilty without his direct inquiry! So I defended my actions and informed him that because I had lodged a civil case it was now IMHO a civil matter and before the Disputes Tribunal. He seemed to get a surprise at that and either pretended the surprise or CC1 hadn't told his boss everything. Probably the latter because their conduct wasn't very smart overall and I think SS1 got CC2 involved with a few porkies.
CC2 told me that they would come to pick up the scrap steel later, after speaking to the complainant, and he clarified that he would only do this if the complainant wanted them to. I turned to CC1 and challenged him over this claim because he had previously said that it was the Police who determined whether a crime had occurred or not – not a member of the public with a vested interest. Both CC1 and CC2 then agreed that it was the Police who determined criminality or not. Wallies! Get your story straight guys before you try to muscle me around, why don't you?
So I informed CC2 that as the matter was now before the civil courts and that if the adjudicator determined that the other party was the legitimate owner (not me) that they would be welcome to collect their gear with my full cooperation.
I also asked CC2 why he thought that I would want to steal something from next door, to which he replied, "To get some cheap beams?" FFS! This guy has done no due diligence into who he is investigating has he?
We talked about the value of the scrap steel and agreed that it had very little commercial value especially down here in Taumarunui. You could probably get a decent value for it up in Hamilton, possibly a grand at the outside but only a tenth of that down here. CC2 said that they would be charging the replacement value around $5k if they charged me for theft. Umm, say that again CC2? Did I actually hear you threatening me, that you would charge me for stealing something worth $5k new, $1k in Hamilton and today here and now maybe $100.00? Brudda, who do you think I am? You can just see the judge rolling his eyes at this all can't you? "Sir, we charge this man with stealing some scrap steel from his neighbour's property. It's worth $5k, well it would be if it was new, and it's only really worth $100 down here, and yes, your honour it is true that the new tenant did give it to him because the original owner left it for a little while, well actually a few (um actually 20 months to be precise your honour, well yes I know that it's years actually your honour but . . ."
OMG!
I asked CC2 whether he was going to arrest the neighbour for participating in the crime (of theft) and he said, "No!" to which I asked why not?
I asked CC2 when he thought the crime was committed – at the time I moved them onto my property or when I refused to release them to the other party who claimed colour of right. CC2 replied, the latter, "When you refused to release them!" So again there was an embarrassed silence as CC1 and his supervisor CC2 realised that their attitude to get me no matter what was visible and outed, once and for all.
In departing CC2 asked if they could see the disputed ownership goods but I suggested that "another day!" may be more appropriate. The cops even to this day could not identify the stolen steel even if they spent a week going back and forth between the complainant and my property. First nothing was ever stolen and secondly umm, what was supposedly stolen?
There was more to this story . . . the complaining party is the son of a rich and prominent Christian businessman in town. I had previously helped him dispose of a lot of his demolition stuff – basically I worked for a week or two without pay in return for a 'truckload' of firewood and other gear, some of it really useful and already used. A lot of it still in storage. The neighbour's story didn't fully match mine, which caused the Police grounds to doubt what I had said to them. None of these matters though is material, for the moment.
The Lessons
Attitude is everything. Most people hate conflict. I know that I do and most of the people I have ever met in life are the same. God however seems to have a wicked sense of humour and throws the weak ones of us into the fire to toughen them up. It takes balls to stand up to authority but that's the mark of a man of God. Wimps will get what they deserve and get pushed around by bullies. Building integrity in a community takes time and it costs. Hopefully this builder will learn and grow from this experience as will the CC's. Whether or not the political leaders in town keep hating me and talking BS about me is up to them. The last time I looked, things weren't looking too good for the cowardly ex-PM of Samoa, Tuila'epa that I took on and showed up to be a crook, and blow me down Weston Kirton doesn't seem to be the Chairman of The Taumarunui Museum Trust any more! Me, though, well I sleep easy at night! A young man can think that he can use the cops to enforce his will but he may instead find that having a rich Dad doesn't mean diddly squat when the people read this, work out who it is/was and call him out as the spoiled brat Daddy's boy stomping his feet that I've been told around town that he is. I sure hope that his wife pulls him up and sorts him out. It must be horrible having a wally wimp as a husband. Same thing with those Crooked Cops. CC1 can try to bully me, arrest me and put me before a judge as often as he likes, but until he can prove dishonesty on my part – he's just another crooked cop in my eyes. Ten to one I'll never get an apology even if he does finally back off and go and chase real criminals. No wonder nobody trusts authority any more! CC2 should also learn the law a lot better than he does and he should realise that not all constituents are crims, or wrong simply because one of his staff tells him so. These guys all got major resistance from me, not because I'm an arsehole per se but because of their combined bad attitude. Attitude is everything.
Know the law. There are two laws one needs to know and understand – the first is the law of the land – both civil and criminal. Learn it and know it so that you do not end up messing your life up. Did you know that the law has to prove dishonesty when charging the crime of theft? Do you know and understand what mens rea is? Did you know that even dishonestly obtaining permission to take something is a valid defence of theft? Did or do you know your rights under law when engaging with Crooked, pushy or overbearing Cops? Much more importantly though is the second set of laws – the natural law. Natural justice is easy and comes naturally when you care, and love and want to help and deal only with truth. Breaching the law of the land brings judgment that costs us money, time or effort, sometimes our freedom. Breaching the natural laws however is rather more long-term in its impact. Quite out of this world, really.
Understand why everybody lies – corruption is the norm, not an exception. Please, please, please do not let this one go past your eyes. It is so easy to get all huffy, and indignatious … umm … how do you say it? … indignant when you are wronged! It's why women wear lipstick; why little boys buy big cars and why men wear ties and look away pretending that they're not interested in the girl's butt or boobs when all they want to do is . . . well you get the picture. Expect it and you will be pleasantly surprised when somebody shoots straight, and get over it as quickly as you can when it happens.
Expect matters to escalate, and quickly. Most people are idiots and double-down especially when they have a poor hand. It's even worse when they know that they dealt it! Even CC2, who had years of experience and should have known a lot better, screwed up by not asking basic questions rather than starting off with a lecture. And WTF was that idiot doing calling the 111 emergency Police line when he was standing in my property? Why couldn't he just back off for ten minutes and then come back as I asked him to do and politely asked for what he wanted? I spent weeks and weeks helping that fool out and had nothing against him. Don't you think I meant it when I said I didn't want to pick a fight with him? Why did CC1 insist that I had to do things his way and in his time rather than to do things a better way – maybe a bit like, say, my way? I warned him and told him why I didn't want to get involved. You gotta expect resistance though when you stand for truth, especially when another party feels slighted or that they might lose something, and it can come hard and fast too, just like a Samoan fist.
Get your ducks all in a row and have your evidence ready. Not everybody has as much preparation and experience as I do but you really, really need to get good help early in the piece if you are up against it. These guys came on really hard, but I did it all right, and from the beginning. I only took anything I was given (remember I stopped stealing 33 years ago) and I had the proof of that gifting at hand. I said many times and in writing that the dispute was a civil matter not a criminal matter and despite being confronted out of the blue many months after I had been given the steel I was firm, fair and put it all in writing – from the outset. In some ways it would be fun to go to court and defend myself against these crooks! If they do take it further, rest assured that I will update this post!
Never give up when it comes to the truth or matters of integrity – never. While this is put into the positive, along the lines of something that I recommend, think of the alternative . . . for just one moment. Scared? Thief? Becoming known as a wimp? Laughing stock around town? Nah! Go for it people and defend that which is right. Earlier today I was giving advice to a mate of mine who was in a pickle business-wise – some goon who was getting titchy with him and wouldn't pay his bill on time. My mate said that he told the fool that he'd charge him interest if he didn't cough it all up as agreed. The other guy put it in writing that he was deliberately screwing him because … well just because. "Nah mate!" I said. "Tell him to pay up in full by Friday or I'll make sure that he'll never find business again in your region!" My mate laughed and said that was a far better idea than his idea. The guy is from Nigeria, employs a couple of goons from Argentina that know nothing about building renovation and he covers up problems rather than fixes them. I reckon that the local council would be VERY interested in any house he had worked on. Look, my word is my bond. I never give up when I'm on a case. This guy will get his money on or before Friday I'm sure of it, especially if he gives me the nod to get on this case. I can't wait to get started if he doesn't find the cash quick smart!
Everybody makes mistakes. Almost NOBODY does the honourable thing though and fesses up. Nobody. Everyone lies, usually to cover up their mistake but this simply makes matters worse. The builder can never say sorry, because he's now accused me of stealing. He knew that I've only ever helped him; that I told him I didn't want to pick a fight with him. I told him to back off and come back another time. He blames me for escalating the matter but all I did was say, "No!" my legal and moral right. If the Crooked Cops press the matter and charge me for ANYTHING I will defend and I don't care the results. Good Judge – Bad Judge – who cares. The truth though is the truth and these turkeys all know that I speak it.
In future posts in this series I get into the other teaching points – dealing with the conflict thing; the evidence thing and the Christian thing. Thanks for putting up with all this BS!