This post describes sovereignty, sharing my understanding of the Sovereignty Movement and applying it to the Maori Sovereignty concepts popularised with the Treaty settlements process in NZ and in the last decade or so, Jacinda's active political support of the Maori agenda. It is essentially a major change in the power structure and is mirrored in global geopolitics. My take is that the message is true but misguided as the focus is on a changing culture rather then an absolute and something unchanging or in a Christian context Someone who is unchangeable.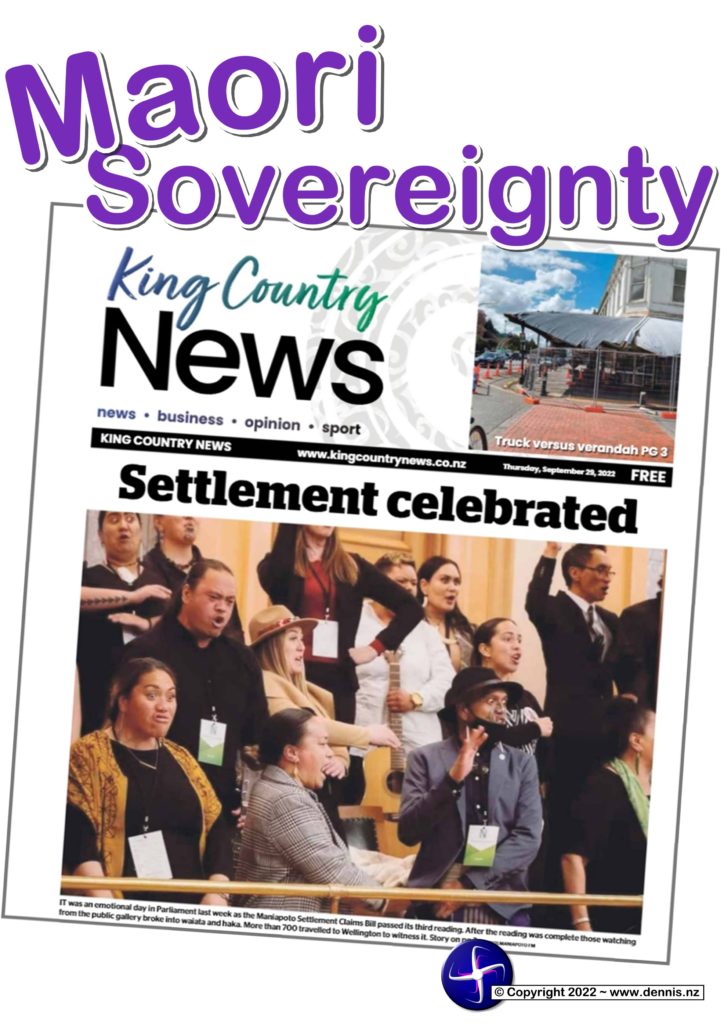 I've spent the majority of my life in and around both the Christian and Polynesian communities. I claim to have spiritual sovereignty, meaning that I only submit to a Higher Spiritual power. I gave my life to Christ in February of 1979, married into the Maori community by marrying one of Hone Heke's lot from up in the Hokianga and I joined with a Samoan family just prior to my eviction from Paradise in 2015 most of the next decade after emigrating there in the late 'naughties'.
I taught at Bader Intermediate in my first year as a teacher in New Zealand and while it just about killed me, the kids there in South Auckland seemed to know more about life than I did, and I was only a decade older than them! But even back then I did understand things, important things. My passing of Maori at Epsom Teacher's Training College was compulsory in order to be a teacher and was surprising to me. Having Aphasia, I struggled to speak another language, with a 35% result in French and a whopping 6% in Latin at school. I think I must have spelled my name right and got a few multi-choice questions right by accident in that Latin class! My Maori lecturer explained to me at the time, "I rounded you up!" to give me 50% at 'training college'. His explanation was more enlightening however because his words, "You't speak it for sh*t, but you do understand the culture, which is more important to us" describes this well. He refused to address the question "From what?" tactfully suggesting that, "We won't go there!"
Power, Relationships and Truth
Both Maori and Spiritual interests touch on politics, the gaining and use of power. In the Maori culture the spirit of things means a lot, and the spiritual values of the Western culture clash head on with many 'ethnic' values. I have seen this conflict throughout my life as a teacher in South Auckland dealing with mainly Polynesian students; as a father raising half-caste children but it was most clearly demonstrated most obviously to me in Samoa, as I only married into the culture in my last few months up there but went quite 'deep' quite quickly. I was friends with Tuila'epa the Prime Minister from shortly after my arrival and established the S.W.A.P. Foundation that showed and taught visitors the Samoan ways to foreigners. My core teaching was that the Samoan culture treasured relationships over abstracts. Truth for example was relative to the Samoan. Hard facts were modified according to the social setting, thus with the greed and foibles of human nature the Samoan culture became an excuse for license to exercise power.
The hardness of the Western culture where the same human failings were observed in the context of law and legalities is difficult for the foreigner to see. The local Samoans found it exceedingly difficult to understand how the comparatively rich visitors would get upset when the locals tricked, lied and stole from them, when their guests' excesses grated. An example I would use in teaching would be when the locals could never understand how a Palagi visitor could buy 100x products from say China at a buck each and sell them for $100.00 each (or on special at $50.00 each) when they would buy 100x to give away 99x and make 99 friends happy!
Of course there is another side, but IMHO this cultural difference is best understood by boiling things down to RELATIONSHIP vs ABSTRACTS. The 'ethnic' cultures tend towards more treasuring relationship over the Western respect of values based on abstract concepts such as truth and law. I find it interesting that the underlying human nature is exactly the same cross-culturally, but that the cultures differ in their approach. Culture however changes and this changing beast is used by both cultures for personal gain.
A Changing Culture
In Samoa, there is a saying that "Samoa is founded upon God".
You can ask which one (the answer is the Christian one) but don't ask whether this is the Catholic or Protestant one. You can NOT go any deeper as this is culturally insensitive. You can also not pick apart the details of church control, nor discuss which is the correct day for the Sabbath, nor discuss the role of priestly or Ministerial control! Again this is taboo, especially for a foreigner to do this.
Then as one engages with the culture, either in business or marriage the same flexibility continues. An agreement is entered into. Then the 'culture' requires that the the goalposts are changed, once, twice, three times and on and on and on, until the lowest common denominator is reached. When there is no more, then the game changes. The Palagi sees this as a rip-off and that the 'Samoan culture' is at fault, but this changing culture is simply the mechanism for the outworking of greed, the core human nature.
I had a conversation with a friend with Maori Sovereignty values recently in which she expressed her indignation at a couple of cultural offences. She had every right to object to the conduct of the state in how they did something. Good on her for standing up for what is important, I say. Equally her extended family will likely sign a treaty settlement deal shortly and good on her people for getting a cool $19million in return for historical grievances. But will that all go to the leaders and line their pockets, or will it go to the poor, and the old and the ones that need it?
I asked her for her predictions on when it would be all gone and she predicted two years. It will be all gone in two years and then the hand would come out – again! The problem is not that the Maori values are wrong. The problem is not that the Maori culture is wrong. The problem is not even that the Pakeha or politician borrows money from crooked bankers that will be leaning on our kids for years into the future in order to pay these people. The problem is not the culture. The problem is the human nature that hides behind the culture.
Invert for the Solution
There's only one way that I know of to successfully address a problem and that is to correctly identify it, then invert it.
If we have correctly identified the [Maori] sovereignty problem as one of greed (a spiritual one, not a cultural issue) and if we accept that the root cause of a problem is spiritual in nature then inverting greed into a spiritual solution is generosity – to give.
The Application
Understanding power, that is the capacity to have influence in society from time to time, requires us to have opportunity, vision and the integrity to make things happen as spoken about and agreed. These are not just words, they are much more than talk. Spiritual Sovereignty requires an absence of ego and an obedience to the One that called us in the first place. This allegiance is important, not commonly spoken about nor admitted by most. Maori Sovereignty has not been very successful as a whole in the Western court system as has the Sovereign Citizen movement, but the allegiance to a Higher Spiritual power while distinctly lagging will likely come of age in the future. Maori Sovereignty has been very successful in the political realm of late, starting some fifty years ago and kicking in with Cindy's support in the last decade.
My friend recently said that she had been told to do something by her "wairua" and she is committed and true to her word. Likewise, I with my obedience to the "Wairua" gain the power to influence society and hopefully for the good. In time I hope to be able to share developments with the world down at Club Wairua here in Matapuna. Perhaps our plans for Club Samoa can be outworked in little old Taumarunui despite LINZ' efforts to kibosh the whole thing.
In my experience the things of God can seemingly take a very long time with a lot of adversity and then they just happen, bang – like a miracle, when the time is right. My feeling is that the time is coming right, now. I do not know when or how but I reckon that we should all standby for good news, nonetheless.