A recent Supreme Court ruling in New Zealand discusses the cultural significance of a Chinese concept – guānxi or relationship. Essentially it supported the Court of Appeal in their reversal of a High Court ruling that they found quite judgmental due to cultural insensitivities. It was a full Supreme Court panel of five judges who looked at it and I like the way these guys tackled the subject. Enjoy!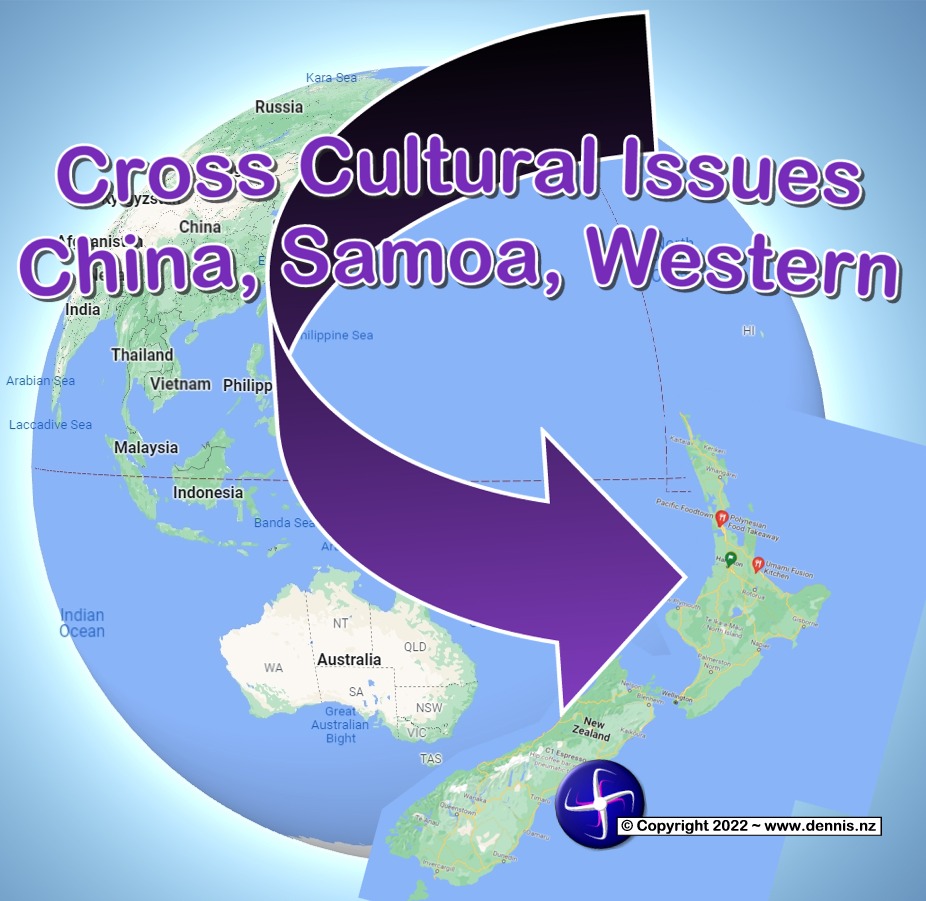 If you distill my rich learning from a decade in Samoa into a few simple concepts, it could be said that I learned that:
Indeed there is a Creator, who is perfectly alive and well – thank you very much, quite capable of doing His business as He so chooses;
Obedience to Him costs us (it can actually be quite costly) but that He is ultimately true to His word i.e. it is far better for us to 'obey & pay' rather than to opt for any alternative; and that
Mankind the world over is afflicted with the same issue – that of pride – and that this core challenge is essentially the same despite cultural differences.
The Chinese and Samoan cultures are quite similar in the way that they value relationships over the Western world's preference for abstracts and ideas. Absolutes such as truth and deception, right and wrong tend to be treasured in the Western world, whereas the Chinese concept of relationship (关系) matters more to them. Putting a complex subject into simple language this means that in the West a document that summarises our agreement is relied upon more than in the Asian countries where our "word is our bond" and the context of this relationship rules and a document simply records what was agreed.
The matter in question was decided by a High Court judge who made a few mistakes which led to his denouncing one party quite badly. The Court of Appeal addressed the errors and over-turned the less culturally sensitive ruling. This Court of Appeal ruling which was then examined by the Supreme Court in quite a bit of detail, mainly because of the cultural nuances, and they upheld the Court of Appeal's more culturally attuned finding. We have then the HC = A, CA=B and the SC = B. B won but that's not really important as the SC's comments, which I repeat here and comment on FYI. The entire SC ruling in PDF.
Cultural considerations
[75] The Court of Appeal judgment referred to two issues which are related to the background of Messrs Zheng and Deng.

The first arises out of their use of Mandarin in their interactions and business documents and most particularly whether the
meaning to be ascribed to 公司 goes beyond "company" and can extend to "firm" or "enterprise"; the second is the significance of 关系 (guānxi). The first of these issues is of little moment … The second, however, is of more potential relevance.

[76] Guānxi is a complex term with multi-faceted meanings. Guānxi may be understood as "interpersonal connections", "social capital", or the "set of personal connections which an individual may draw upon to secure resources or advantage when doing business or in the course of social life".
This concept, quite foreign to those of us with a Western upbringing, will naturally become more challenging as far as I can see for two reasons – a) the global squeeze through cross-cultural integration (this cultural challenge is inevitable) and b) the end-times phenomena [although I don't see the literal end-of the world as being anytime soon] which will necessitate those with common values working closer together to survive.
Important bases of guānxi for an individual include kinship and co-working. As will be apparent from our reasons, the relationship between Messrs Zheng and Deng (and those they worked with) is consistent with these concepts: in particular, the apparent significance to them of family relationships and pre-existing friendships in terms of whom they did business with and the relative dearth of formal agreements. For this reason, an understanding of guānxi provides some support for Mr Zheng's case.
[77] At trial there was very little, if any, evidence about guānxi and it was not referred to by the High Court Judge in his judgment. In terms of what we must determine, this is not of critical importance as we consider that the nature of the relationship between Messrs Zheng and Deng emerges with sufficient clarity from the contemporaneous documents. In other cases, however, the social and cultural framework within which one or more of the protagonists operated may be of greater significance. For this reason, we offer brief comments as to how the relevant information can be brought to the attention of the court. These comments are influenced and in part derived from the very helpful submissions made to us by the Law Society. Our comments do not address tikanga which we see as raising special legal and historical issues.
OK So we have here a simple Supreme Court matter which they have picked out this cultural matter from the Court of Appeal analysis. Basically the cultural aspects were ignored by the High Court judge, addressed by the Court of Appeal and then addressed in more detail by this court and judgment. Remember this, that culture was ignored totally in the first trial.
[78] First, some general observations:
(a) Cases in which one or more of the parties have a cultural background which differs from that of the judge are common in New Zealand courts and are likely to become more common in the future.
Yes, agreed, and not only because of the globalisation efforts too – the pressures on niche groups to conform to social norms will also increase. Whereas 50 years ago homosexuals had to hide their differences due to societal norms, now it is those who ascribe to the social norms dictated to by the 'elite' gay rights activists of today.
It is bad AND will get worse for those who dare to stand for biblical (or religious values).
(b) Judges should approach such cases with caution. This has been well explained by Emilios Kyrou, writing extra-judicially, in his advice to judges to develop … a mental red-flag cultural alert system which gives them a sense of when a cultural dimension may be present so that they may actively consider what, if anything, is to be done about it.
(c) A key to dealing with such cases successfully is for the judge to recognise that some of the usual rules of thumb they use for assessing credibility may have no or limited utility. For instance, assessing credibility and plausibility on the basis of judicial assumptions as to normal practice will be unsafe, if that practice is specific to a culture that is not shared by the parties.
(d) Most of the usual ways that judges assess credibility remain available:
consistency of a narrative over time and with other evidence (particularly contemporaneous documents) and general plausibility; or, as the Court of Appeal put it, by focusing "on the substance of the parties' arrangements as revealed by their conduct over time".

It is critical that judges and counsel maintain a sense of proportionality and recognise that many, perhaps most, cases, in which the parties operate within a social and cultural framework that differs from that of the judge, can be dealt with in the in the manner just outlined. As Emilios Kyrou has put it: "[i]n many cases, managing a cultural dimension in evidence may require no more than the most basic of all tools in a judge's toolkit, namely, context and common sense."
Ahh! Don't you just love those words? I do! Credibility, plausibility, a sense of proportionality all based on context and common sense? Lofty ideals indeed.
[79] In cases where it is appropriate that the judge receive information as to social and cultural framework:
(a) It is open to witnesses to explain their own conduct by reference to their own social and cultural background. It would thus have been open to either of Messrs Zheng or Deng to have referred to guānxi by way of explanation for their own actions.
Viewing a witness in their own cultural context makes sense to me!
(b) Where parties have been in a relationship (business or otherwise), they may explain the way in which the relationship played out by reference to the social and cultural framework in which they operated. By way of example, and coming back to this case, Mr Zheng could have referred to guānxi by way of explanation for the way in which his relationship with Mr Deng operated.
I think they have extracted this cultural thing way above and beyond what they parties or their lawyers even thought here.
(c) In the circumstances just mentioned, there can be no objection to such evidence being supported by expert evidence or by resort to ss 128 and 129 of the Evidence Act. These sections allow judges to have regard to sources of information of unquestionable accuracy and admit reliable published documents in relation to matters of public history, literature, science or art.
A natural human trait, especially as people age is to attempt to gain relevance. When we are ignored, especially when we think well or ourselves or our motives, it winds us up, no matter our area of expertise. In this case it appears to me that these judges are now trying to stamp their mark on the legal scene, selecting (as they do) cases that will give them some opportunity for being quoted.
(d) Rather more difficulty may arise where a litigant wishes to introduce social and cultural framework information to explain not their own or joint conduct but rather that of another party. In this situation, the information as to cultural background is likely to be best provided by an expert or under ss 128 and/or 129.
[80] In all of this, judges need to take care to employ general evidence about social and cultural framework to assist in, rather than replace, a careful assessment of the case specific evidence. Assuming, without case-specific evidence, that the parties have behaved in ways said to be characteristic of that ethnicity or culture is as inappropriate as assuming that they will behave according to Western norms of behaviour.
A lot of words here! Beats me what they're saying that I haven't or couldn't have . . . actually I have, for years!
[81] When a witness explains their own or joint conduct by reference to their cultural background, there will be little risk of stereotyping; this because the evidence is necessarily specific to that witness. Where, however, the evidence comes from an expert or there is reliance on s 129, some care is required. There are two aspects to this:
(a) First, people who share a particular ethnic or cultural background should not be treated as a homogeneous group. By way of example, that guānxi is important for some people of Chinese ethnicity does not mean that it important for everyone of Chinese ethnicity and, still less, that it was necessarily of controlling significance to the conduct of the parties in relation to the issue in dispute. The more generalised the evidence or information, and the less it is tied to the details of what happened, the greater the risk of stereotyping.
Yes. Now these guys are onto it, stereotyping. So easy to do and usually so natural that it's usually so right too! Holey schmoley when I married 'dark' I never realised that racism existed so much! Honkies, Hories, Darkies, Bungas and a whole bunch more new words I had to learn! You know what "Maori Days of Our Lives" is short-code for, don't you? I didn't but do now!
(b) Secondly, and with particular reference to guānxi, it will not be safe to conclude that its importance to litigants means that a relationship between them was necessarily one of partnership or a joint venture or had fiduciary elements. For instance, guānxi may have been in a factor in two people engaging together in a business, but if they have chosen to do so through a company, guānxi is not in itself a reason for concluding that they were in fact partners. Still less should guānxi be treated as imposing a fiduciary or similar overlay in relation to arms-length transactions such as contracts for the supply of goods and services.
[82] As we have foreshadowed, we consider that it may be open to courts to rely on ss 128 and 129 of the Evidence Act. It is well-known that guānxi often governs the way Chinese people do business and that there is an associated tendency for Chinese people to rely on personal relationships, mutual trust and honour more than on written contracts. There is for example much literature as to Chinese communication in negotiations, almost all of which refer to guānxi. We have no doubt that the Court of Appeal was entitled to refer to guānxi in the way in which it did. But, to reiterate a point we have already made, while guānxi influences the behaviour of some Chinese people, it should not be assumed that this is so with all Chinese people. As well, it is important to recognise that this is not a particularly complex case. While the materiality of guānxi to an assessment of what happened here is relatively straightforward, this may not be so in other cases. In such cases, the necessarily generalised information which can be taken into account under s 129 may be of little assistance.
INHO not the most revealing of commentary here, but …

[83] We note the ability of courts to appoint an expert under r 9.36 of the High Court Rules 2016 and r 9.27 of the District Court Rules 2014, a mechanism which may, in some circumstances, be helpful in relation to cultural context.
[84] Finally, we observe that judges can usually leave it to the parties to put relevant information before the court. Judges can, of course, inquire of the parties if they consider that they would be assisted by additional information as to social and cultural context. In many instances, such information will be able to be supplied by submission, relying, if necessary, on s 129.
I think the issue has been opened up quite a bit now and that over the next few years there will be an increased discussion of cross cultural issues in court rulings, probably more now as these dudes have basically tried to encourage this. Claiming that one has spiritual sovereignty, or that violence is a cultural norm won't wash but good on 'em anyway for getting their teeth into this one.
In a future post I will give some guidance and advice for those of a religious and/or pacifist bent. The world is ever-a-changing yet remains the same! Thanks for swinging by today!