This post attempts to explain how to deal with those in authority when they are rude and get things wrong. Legitimacy and logic however are not liked by liars and deceivers and pride causes extreme hatred of the truth. Note the crucifixion anyone? Enjoy!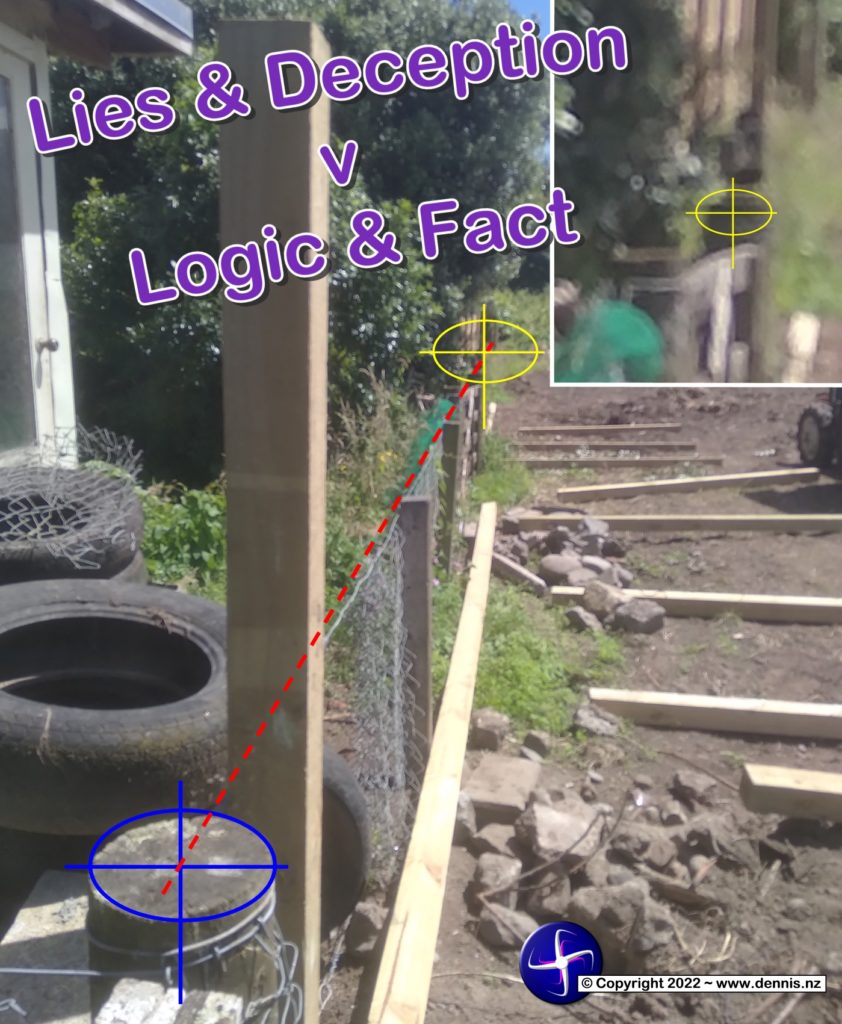 Matters before the Disputes Tribunal are confidential thus I can't be too specific here until the ruling (which will itself be anonymised) comes out, but basically I've entered into a dispute situation with a couple of neighbours who don't want to contribute to a planned fence upgrade. It's a pretty simple situation really but made messy by the involvement of a local "Legal Advisor" Karen Ngatai, who I am suing for defamation (by the way, neither she or her employer CLAW, is a lawyer) who claims to "represent" my neighbours.
As an aside, how they can pass themselves off as this and claim to represent somebody else when I thought the phrases "legal" and "represent a client" are reserved for actual lawyers beats me, but that's another issue for another day!
Basically, basing her opinions on wishful thinking and getting only half the story she has advised her clients that I don't have legal rights to argue the toss, and they have contested my claim to be able to bring a claim like I have in court. On the other hand, I believe that I do, hence my litigation. For the record, I most definitely agree that they can and even should ask the question. It's a legitimate issue, one that we call "standing". If I have legal standing to bring a case, then as long as I've paid the fees and done the needful, I have the right for the matter to be heard (proceed). If I don't then the court will and should boot it out.
So, despite me asking what she has against me, she won't give me the reasons why she has advised her clients this. I believe she's wrong, but it is a matter that is currently being established in court.
So the first thing here is that the issue of right and wrong will be determined in court. I'm just one party. I'm opinionated, shoot straight and share my views openly. The other dudes aren't or don't – that's their style and both ways are fine by me. God permits evil to occur but he also gives me the means and balls to speak about it. I choose to do this even though, as I keep saying, it would be great if we all dealt with each other honestly and did the honourable thing.
Now when you take a matter to court, in this case the Disputes Tribunal, you have to let a third party get involved, and that can be a tricky thing when that third party is either rude or wrong. In a recent exchange I found the referee to be both of these things, and I wish to share how I dealt with these two challenges – I think with aplomb and maturity. The first is that this dude, I'll call him "Gee" for the moment, to be quite rude, bordering on aggressive. I've dealt with him before and found him to snap back quite quickly and was very willing to talk over the speaker. To me this is rude, but rudeness can be a cultural thing or a personal thing. The best way is to ignore the dude's style and deal with the issues.
So I did that – well I tried to anyway – but what I found interesting was that when I questioned his verbal take on a matter of which he told me that he would be ruling a certain way, he told me that what really mattered was his written order. Hmmm, so that means that everything he says means nothing? What should I listen to when you speak then Gee? My take – Gee got it wrong and realised this and rather than admit an error pushed this out using BS. Referees or judges are paid to get things right, not to change or to say one thing then write something else.
In my case I had provided an affidavit from the lessee which was signed, dated and witnessed by a solicitor, thus was a legitimate piece of evidence. Short of the other party providing evidence to the contrary (in which case there would be a dispute over the legitimacy of something stated in the affidavit) this should be enough for the matter to proceed. "No!" Gee said. "I want to see the actual lease agreement and if I don't then I'll kick your case out!"
Blimey, methinks that's rather dogmatic!
Principle over Pragmatism
In the Disputes Tribunal matters discussed are supposed to be kept confidential – not like matters heard in Open Court. Seeing as I'm suing the other parties lawyer for defamation and I don't trust this neighbour as far as I can kick him (why do you think I want to replace an unlocked gate with a decent fence?) and seeing that it is public knowledge that half of Taumarunui wants to see my lease agreement (thanks to Karen Ngatai's dissemination of confidential and commercially sensitive information), and that a party to the agreement doesn't want the details gotten out, this is therefore an unreasonable request from the referee.
So after explaining the consequences of having to turn over a confidential document into the public domain, I asked Gee, "So is there any other way to prove my standing?" Gee said that he had taken steps to validate the signatory of the solicitor on the Affidavit but hadn't gotten an answer back from the court yet. Umm, I can do that inside two minutes – you just go to the law society website and type their name in – pretty simple I would have thought, especially for a referee?
And if this dude or the other party still wants to argue the toss and somehow claim that fraud has occurred – go for it. Have at it, the affidavit is legitimate. So no matter what Gee says or does in regards to opening up sensitive commercial agreements into his domain (which then means the other party, and then to the other parties [non] lawyer and then to the world), it simply won't be happening.
Another bone of contention appears to be the influence of the Fencing Act. The referee said that my claim was "brought under the Fencing Act" and that if it be found that the Fencing Act didn't apply, then he would, or could boot it out of court. He's wrong. First, you don't bring a Disputes Tribunal action "under" any act. You can't. The forms do not prompt you to enter any claim "under" any act and the reason for this is that it is not expected that Applicants have legal experience. In the DT it is the job of the referee to identify the appropriate law that applies. This differs in the District Court and above where a Statement of Claim must by law detail the act that applies.
Secondly even if it did, one can always change one's claim, by consent or order of the referee or by force by going back to the registrar.
The point here is that I have and am continuing to stand up for what I believe are my rights, respectfully but firmly, regardless of costs in terms of delays or otherwise. If an adjudicator gets something wrong, then it is our duty to correct him.
Likewise other questionable rulings, that I believe are wrong. For example I asked 'Gee' if the other parties claim that the whole thing was a waste of time (literally that there was "no point in going on with the claim") and would not go anywhere because my lease had expired meant that the whole claim should be refused, to which he said, "Yes". I think Gee is wrong and that just because a claim was brought at a certain date and then delays meant that circumstances may have changed, doesn't negate the claim brought at a certain point in time on a certain date.
Again this caused me consternation because as I tried to explain, any party wishing to cause difficulty for another could delay proceedings as long as they could, then claim that it was all a waste of time because …
If one had a fixed lease for example for ten years and sought a neighbour's contribution to a fence, would a defence be that they claim had no legs because the lease was "about to expire"? What about three years? What about six months or two months? This argument is nonsense and is surely predicated upon faulty legal advice received from 'madam'.
In my case I did business with the lessee way back in 2019. I let this neighbour keep his pigeon shed on our property rent free for a couple of years then commenced tidying that area of the property up a year ago. I planned the fence upgrade for years then undertook to do the work in 2021. Who cares when or what the current status of the lease currently is?
My neighbour says that he can't work out how come I am still here and wants to know this and that. It's none of his business as far as I can see. The facts have to be used along with sound logic in order to adjudicate a good solution.
Justification of Evil
So let's dive in then to how the mind of greed, self-interest and evil works, comparing it to that which tries to apply truth and logic.
The pure mind assumes good faith. It deals with truth and applies logic. In a legal sense it attempts to apply the law fully and fairly.
Pride though, says that we have rights greater than we do. It justifies immorality in order to obtain something more than is ours by right or by law. This was the essence of Adam and Eve's downfall. He created then gifted dominion of His creation to them and this gift was unconditional but their life was gifted to them WITH CONDITIONS. They assumed the role of the Lord when they broke His rules – breaching the conditions.
Since then though, apart from the Solution, the Jesus thing, nothing fundamental has changed, so we continue to do the same thing whenever we deceive. When we want something that it not ours, we lie and deceive to get it – land (aka war), sex or gratification of any kind, power or money (greed) – it's all the same. In my neighbour's case he has said that he can't afford it. I know that's a lie because I know what his bank balance was and I can assure you that he can afford it! He doesn't WANT to pay it but it's a lie that he can't afford it.
I've joked previously that you know when a Pastor is lying when he prefaces something with, "Honestly …" or "Truly …" Jesus tells us not to swear on something – just "Let your 'yes' be 'yes' and your 'no' be 'no'! You'll never find me swearing on the bible, or claiming some special verification of my words. I speak it as I see it. People inherently recognise truth when they hear it and it's only BS artists who live in the land of gossip and BS who believe others more when they say, "Honestly . . . " or similar.
So in a situation where it would be normal for the costs of a fence to be shared 50/50 it is a form of theft to deny your neighbour what should rightfully be his. For the last 50 years or so New Zealand presents this principle of basic fairness in the Fencing Act which sets out that the costs be shared it there is benefit shared. My neighbour may be a Pastor who tries to present himself as a goodie-goodie two shoes and make me out to be some sort of a crook, but if he is a miser unwilling to spend anything on a fence when morally and probably legally too he should, then in his own mind he can then justify his conduct.
This is all pure pride. He thinks he is better than me, thus he can mentally justify lying to try to put himself above me. His attempts to have a pastoral superiority fail when I resist them, which just drives manipulators nuts in a deep seething hatred!
Those who believe him about me eventually find out that I do shoot straight. Someone else found this out from him when they started chatting to me. "You're actually great fun to talk to!" contrasted to the story they had heard from this BS artist. I later got a confession of sorts from this gossiping neighbour as well as finding out his true nature when I pressed through with resolution. He really didn't want to speak about what he had said, admitting that "I might have said something!" as he scurried out the door as quickly as he could!
You see this dude has changed his tune over the time we've argued the toss. His refusal to even offer $10.00 per week and unwillingness to even engage – just a straight refusal to pay anything means that his true nature is revealed, and it's not good.
The Lessons
My recent encounter with authority challenged me in two ways – respect and logic. I have found that while it grates to have to deal with somebody who will talk over you, the best way to deal with perceived rudeness is to be patient and to ignore this communication style. I'd naturally want to stand up to this kind of thing, but it's actually a minor thing at the end of the day. Most judges too, ignore this frustration with disrespect, so it usually goes away, and is not really relevant.
The logic though is what we take a matter to court for – the truth is always found by the application of sound logic onto fact. If at the end of the day this adjudicator applies logic onto fact, deals with truth then I'll be stoked. If Gee doesn't do this then District Court here we come! Appeals from the Disputes Tribunal can only be successful in quite limited situations – you can't just appeal because you don't like the result – but if there is a clear error of law or fact that cause a miscarriage of justice then, sure, it is possible to take the matter further.
Hopefully reason prevails and the matter is adjudicated fairly. Helpful to you? Hope so!