I give advice here for those who have gotten the COVID-19 vaccines but for various reasons now regret it. In essence the range of mRNA vaccines pushed by the medical industry through compliant government mandates affect the human blood systems resulting in a myriad of blood issues. A healthy immune system will resist invasion by foreign substances but anecdotal evidence around me supports the conclusion that increased blood issues (such as clotting, nutrient imbalances, strokes and death) have resulted from the vaccines. Enjoy.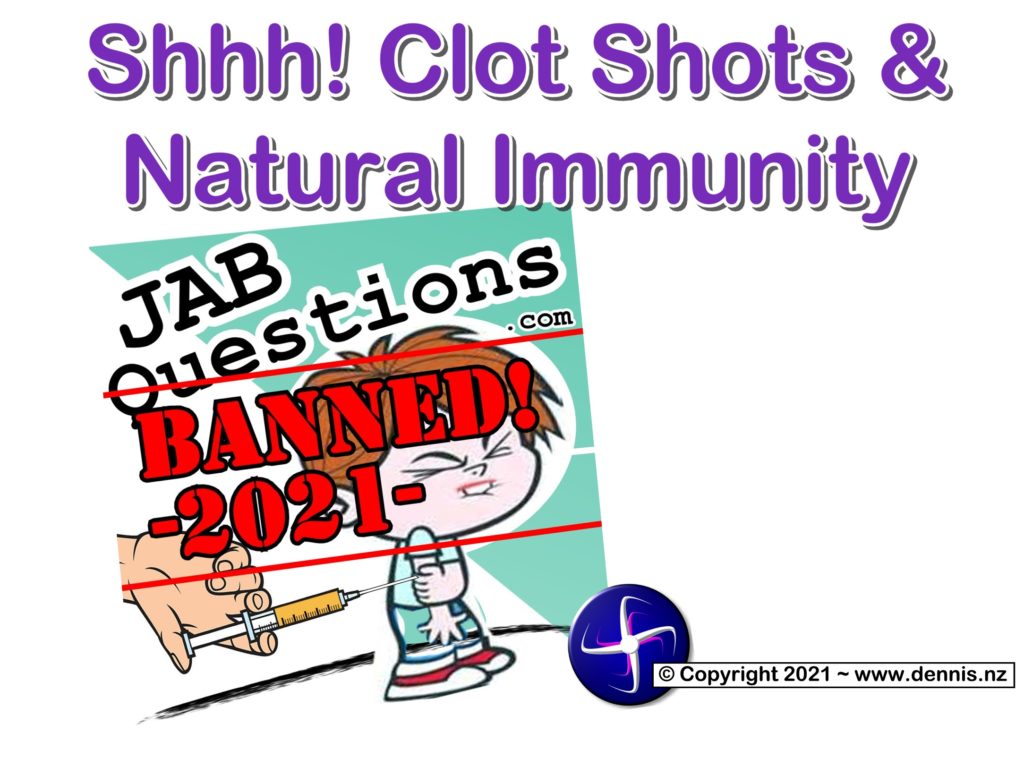 My Jab Questions website has developed quite nicely over the last couple of months with a truckload of good material that challenges various aspects of this COVID-19 hoax now available to the populace. Vaccine hesitancy appears to have reached (or is in the process of reaching) critical mass, depending on the geographical location on the planet we looking at and where the pockets of Cabal influence remain effective.
Many people who have had the vaccines now regret their past decisions (as I see it many privately or secretly) and those that don't are ignorant of their plight. Willingness to comply can often equate to an abdication of personal responsibility for our decision-making. The government knows best; we trust the authorities, sort of thing.
Legion now are the "awake" who are accused of polarising society into the "good ones" on the one hand the "wise ones" and on the other, the "die-hard idiots" who peddle their corporate narrative, and even when their suffering is perpetuated by more stupid decisions! Psychologically this is called transference and is common when a guilty party accuses an innocent one – sexually, socially or whatever. It is mark of the dishonest to falsely accuse another attacking the person (ad hominem) for something that they themselves struggle with (transference).
A couple of examples here . . . I always knew when I had an unfaithful wife because during the times that she was mucking around, she would be desperate to accuse me of that same immorality – falsely I hasten to add! More recently the smells people who are hanging around Karen Ngatai have accused me of bullying them. Ummm hang on a minute . . . thinking and then telling the world what you think may piss people off who want to push their own narrative, but it's the other way around in my book. People who misrepresent the truth are the bullies in my book. Transference occurs when the real bullies try to push their way upon others, and all hell breaks loose when one simply resists that often subtle pressure. In due course I will be explaining this more deeply in the context of a proper spiritual understanding.
Natural Immunity is Vital
My extensive research from the earliest stages of the COVID-19 thing has shown me many deceptions and that natural immunity is a hugely powerful thing.
This is in perfect keeping of course with the Christian world-view that God designed defense mechanisms into His creation and that it is evil that wants to replace His best with something manmade.
Transhumanism is the name ascribed to this ungodly desire, even desperation, to merge man with machine, something that Carl Teicrib has warned about for many years.
This last week Mike Adams from Natural News quotes a LifeSiteNews article that reports and gives a detailed rundown on the ways that those who have already gotten the jab can a) Understand WTF is happening inside of their bodies, and b) How keeping healthy blood is more important than ever. I like Mike's phrase, "sludge blood" and while I had a major heart failure with AF a few years ago, I do appear to have very healthy blood.
Doctors and researchers are now confirming that nearly all the negative side effects and deaths stemming from covid vaccines are the result of blood clots. Many of those clots are very small and unable to be easily detected with standard medical imaging equipment. These clots, called "micro blood clots," can cut off the blood supply to small regions of the brain, organs and tissues throughout the body.
The resulting die-off of local cells can be expressed in the body as a tingling sensation, numbness, loss of sensory acuity, organ failure, loss of cognitive function and even notable personality changes as people lose higher brain function.
"Micro blood clots seem to be the likely cause of millions of health impacts and deaths from COVID infection as well as from COVID vaccines, and even millions of long COVID victims suffering diverse health problems with no apparent medical solution," reports LifeSiteNews. That story quotes Dr. Peter McCollough …

https://www.naturalnews.com/2022-02-04-how-to-defeat-micro-blood-clots-and-block-the-spike-protein.html
… the key to preventing spike protein damage to the blood is found in protecting the quality of your blood. And that's determined largely by what you eat.
Partially-hydrogenated vegetable oils — used to make vegetable shortening, coffee creamer and thousands of other common grocery products — are especially toxic to the blood, promoting inflammation and clotting.
Canola oil is another questionable oil that should be avoided at all costs. Replace it with authentic olive oil or avocado oil, but understand that the vast majority of those oils sold in grocery stores are counterfeit, so you have to really do your homework on the source of your dietary oils.
Consuming fried foods also contributes to "sludge blood" — blood clotting of the red blood cells. The acrylamides in fried carbohydrates cause severe damage to vascular cell lining.
Consuming homogenized, pasteurized milk is also harmful to vascular health. The homogenization process artificially alters milk fats to make them stay in suspension. This also causes them to promote inflammation, stagnation and even constipation in some people. If you enjoy drinking milk from cows, get raw, fresh milk that hasn't been subjected to homogenization.
The quoted articles are good reads, especially if you are new to this kind of research, though I find Mike's Situation updates a little too chatty; a little sensational and not quite so authoritative as I expect.
I think we are wise to trust that we all have an inherent natural capacity to resist illness, and in a Christian context that we should 'trust the Lord' that He has done it right in the first instance.
Yes, I know that there are social pressures on us to comply with certain medical or political views but the alternative is worse in the long run. I saw a note in the local rag that Mahoe Restaurant was opening with a new chef at the reigns. Happy to help a local business, especially one that says there's a decent feed on offer, I sought to book me a table but then read down . . . vax cert required. No dice for me then!
Just imagine the situation when 'getting to the pearly gates' and hearing the words, "What are you doing up here so soon? I had all this other stuff for you lined up down there. Have you done it all? You didn't really take the Clot Shot did you? I told you to trust in Me didn't I?"
I'm paying everything I own down here in order to get a decent scorecard at the end of my time here. I think that's wise . . .