This is an update on progress to my New Zealand's Commerce Commission complaint against the crooked BBX trade organisation. Progress is being made and while legal matters take a lot longer than most of the rest of the world to resolve, resolving they are indeed. Enjoy!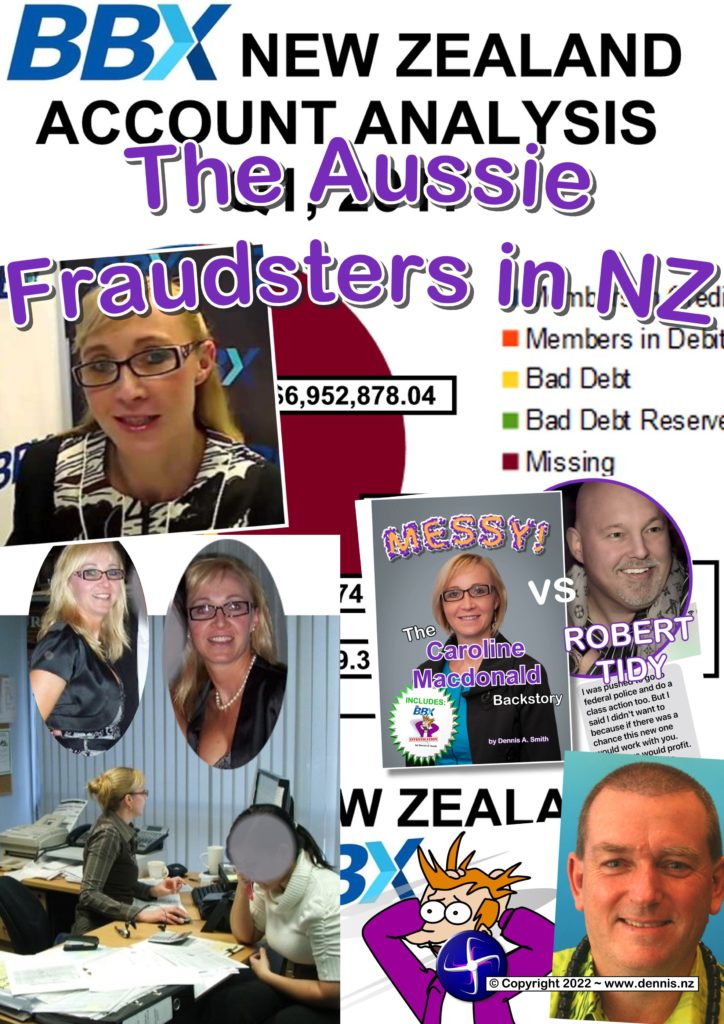 BBX is an Australian operation established a long time ago (as a copycat business behind Bartercard) by "good-guy" (according to the Touma family of course) 'Australian' [actually an Australian immigrant] Michael Touma and his [French] wife and now run by well-taught fraudsters Caroline Macdonald and her recently announced "successor" Jarred Parke. Word on the street is that there has been a little more going on there than is kosher, and that Chris would not like it if or when he ever found out but hey, that's all gossip until I get the images and affidavits from those engaged to snoop!
Caroline is Michael's daughter, who transferred the company from her dying father illegally and eventually muscled her way into the driver's seat sidelining sister Magali in the process. I have previously blogged about how deception is a family trait.
My BBX Investigation and report proved hugely damaging five years ago and this time around it appears as though finally the authorities will be onto these crooks!
New Zealand's Commerce Commission (affectionately known here as ComCom) is enforced with the task of ensuring that crooks are held to account. I'm sure that they just LOVE Aussie crooks that pop across the ditch and prey on us more gullible from downunder even Downunder!
Our Complaint
There are two strands to the complaint we are working on:
a) The BBX Trade Dollar is devalued; and
b) Deception is employed.
While deception can be proven by anyone inside ten minutes with a phone, the former holds a lot more interest, or it should do globally, because the issue of a devalued currency is massive and AFAIK it has never been addressed before, certainly not in court. This needs a better description which I will attempt to detail simply, then give a more detailed explanation, then I will show you how this outworks in real life with an actual example.
THE THEORY
Money is only ever measurement of debt. It measures a half-completed transaction. It also stores value and is used to enable trade but that is what it DOES, not what it IS! The unit of value is fixed (a USD, inch or litre) but the value is only ever based on trust. Inflation (while caused by interest, greed or whatever) erodes that trust.
THE EXPLANATION
Inflation occurs when trust is eroded – real or perceived.
Fraud within commercial barter organisations is most commonly simple theft. When traders place an apple; a banana and an orange onto a plate this provides capital for others to copy or borrow from and is called "Mutual Credit". No worries when everyone can see what is happening but the instant that this is controlled by an third party entity, the temptation is to steal becomes massive. When the plate is inverted and all the fruit is hidden, who is to know that there has been no shrinkage?
Decreased trust in say the USD devalues the currency as the country incurs ridiculous amounts of debt. Bartercard, BBX, Venezuela here we come . . . "Trust me!" they all say. Hmmmm! Trust in the BBX Trade dollar evaporates as the currency is pilfered from, used and abused, and eventualy becomes worthless as the last ones holding onto the parcel lose their chairs!
THE EXAMPLE
Felix's command to "show me the evidence!" means I've spent the last little while digging back into the old members and making contact with the older contacts . . . one dude today epitomised the discussion. Here is a precis of his analysis.
I haven't traded for years . . . there's nothing to buy . . . I've held on in the hopes that something may eventuate . . . I pay them their fees each month because [well because I don't want to write it off] and . . .
The money, and we're only talking $100k here so it's not something that will break this guy, has gone. Where did it go? Stolen. Who by? The proprietors and controllers of the currency, or course. The people that inverted the plate to hide the fruit movement and said to the traders, "Trust us!"
My advice to this dude was to stop paying them his fees each month and to walk away from the money they owe him. Hopefully they will try to sue him and the matter will go to a court, for which he can then use the evidence I have collected to show the court that they owe him, not the other way around, but I doubt it. All he has to do is tell them that "Dennis said!"
Crooks, crims and crazies love to bluff but only the really stupid ones try it on!
My Advice
If you are paying BBX then you are actively supporting a fraud. STOP doing so immediately otherwise you will be liable and cannot say that you didn't know. ALL members of BBX NZ know or should have known and since 2017!
If you get an email or phone call from me or anyone associated with the current ComCom complaint DO NOT cooperate with me or my team unless you are squeaky clean and know what you are doing. Yes, I mean this. You see everyone has dodginess in their business – everyone. Tell me that you are clean and that IRD have seen your non-cash transactions and I will leave you alone. Tell me or say what you want, but DO NOT expect me to show you any sympathy. BBX is a crooked operation established, run and maintained by crooks and if you pay them a cent then you deserve what is coming to you!
Do it straight. Back off, shut up and get away from everything and everyone in the commercial barter industry. If 97% of the industry in 1997 was crooked and had devalued currency and the 3% wasn't located in New Zealand then as sure as Bob's my uncle then there isn't an honest commercial trade exchange Downunder!
Buy an ounce of gold or a ton of silver and bury it if you want but paying known liars and crooks is far worse!
Let Me Know
When you have pulled out and fixed your past errors, let me know. It's easy, name, email, what happened and what you did. Enter a number from ZERO to HERO and click Send. It's that simple:
Error: Contact form not found.