I share here an update to a post I did a year ago exposing the nature of Taumarunui's legal representative, ex-Deputy Mayor, Karen Ngatai, a woman I called "bad, just bad". Since then many have warned me about her – violence, backstabbing and so on, all par-for-the-course for a seasoned dirt-fighter. I share and discuss what I call a "dopey" formal communication from this lawyer, wanna-be from Taumarunui. Enjoy.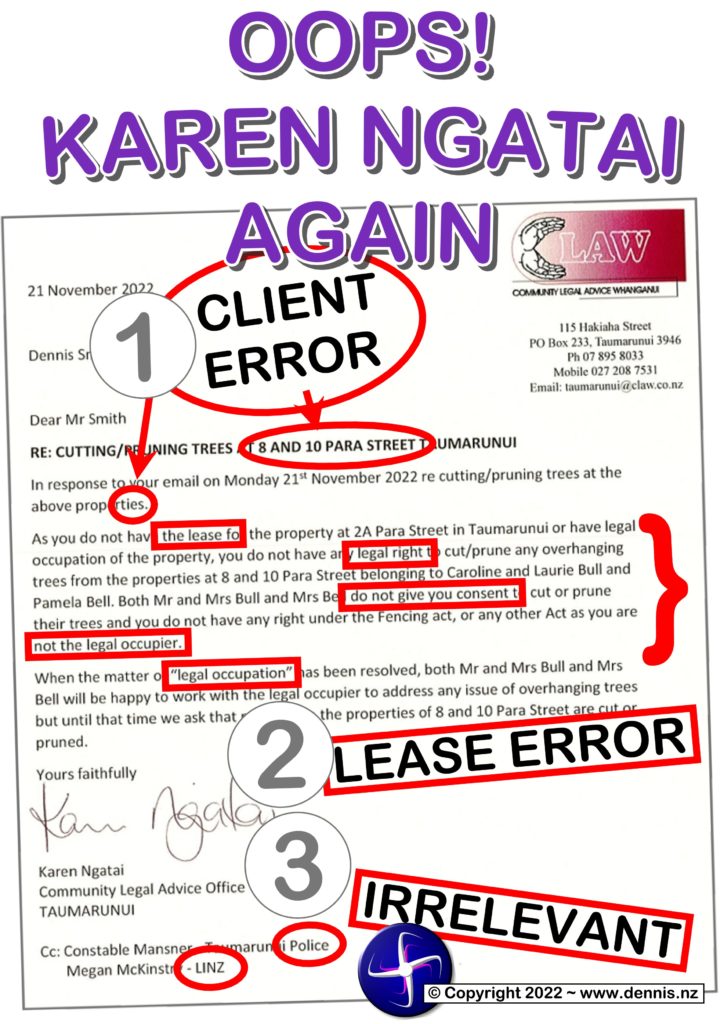 I first met Karen when I was called into a meeting in RDC's CEO's office along with Ron Cooke. It was arranged by Sue Morris, ex-mayor (who incidentally booted out the incumbent and current mayor Weston Kirton) and we also had a few other officials present. Sue failed in her mission to get justice for the old man Cookie, no thanks to Karen for her attitude and contribution but it was nice of Sue to try nonetheless.
At this meeting I heard Karen, the woman who was destined to get the second to top job here say two things that I knew to be false, one in which she started off saying something like, "Cookie it is not our intention to kick you out onto the street" (when they just had!) and secondly that the King Country community had not donated The Memory Bank to the Taumarunui Museum Trust for the purposes of housing Cookie's photograph collection. Ummm, so why did they do it then Karen, so that 30 years later TMB could be sold off in your time at the helm, and donated to the RDC to secure a dodgy $1.5m Lotto grant for your pet RDC project the Railway Museum?
No, no, naughty Karen! Fortunately some blogger got hold of RDC's tricks and stopped that dodgy one quickly!
So back to stuff of more recent times, Karen showed her face to me again when a neighbour got Karen involved in a fencing dispute down here at Matapuna. Because the matters have gone to the Dispute Tribunal which is a hidden court, all matters must remain secret and I can't talk about this too much, but I can say that one neighbour did a few deals and then changed her mind, and the other is a retired Pastor and the town 'gossip'. People like that are best left alone in my experience.
I received the above letter in response to a simple email I sent to Karen this morning. One of my neighbours wants me to forward communications through Karen, so I did. I asked her to tell him that in the next week or so I'd be trimming back his overgrown trees. Thassall!
So here's the sequence of messages and a bit of the background, FYI.
Dennis to Karen Ngatai – 09:39 am – 21 Nov 2022
Subject: Overhanging trees
Re Bull
Morning Karen
Can you please advise your clients that due to the rise of my garden seeds above-ground, in about a week or so that I will be trimming overhanging trees from their property back to our boundary-line. I already had to do this with an overgrown Feijoa that was preventing my tractor access and like previously I will be using a tolerance of about a foot or so, so that new growth has opportunity to grow on their side.
Alternatively if they seek to do this work themselves they are welcome to do so.
This was a simple email informing the neighbours, in the form that they asked for and giving them the opportunity to do the needful if they preferred.
Of course the possibility always existed that Madam may want to get involved and try to stir things up, and of course . . .
The background to this response is that I considered the lease of seven railway land properties in Ohura in 2018. Six of them were contiguous but LINZ couldn't offer acceptable terms for our investors so we pulled out and then leased Railway land down at Matapuna. There's been a real hornet's nest of intrigue over this lease, especially as I've cleaned up the land quite a bit and RDC's done what they can to muddy the waters, secretly doing what they could to undermine my lease.
LINZ wants me out of here, as do some others who want it for themselves and their mates . . . they can do what they want to, the courts can sort it all out. I just hope they deal with the evidence and that justice prevails. To the naysayers and gossipers, be very careful that you work with facts, as I not only have but will protect my reputation. Some people are a little more careful now (or they should be) as a result of being sued for defamation.
Karen Ngatai to Dennis – 10:15 am – 21 Nov 2022
Subject: FWD: Overhanging trees
Dennis, you have no legal authority to cut these trees and both Mr and Mrs Bull and Mrs Bell do not give you any authority to do so. I will send your email to Colliers and discuss with them.
Karen Ngatai
Community Legal Advice
TAUMARUNUI
I generally try to ignore trolls and fools, so I just replied saying something anaemic like "Received, thanks". In this case I didn't talk about Bell in my communication, only Bull so I ignored that foolish remark as well. I didn't ask for any authority because the law already gives me the right to prune a tree's roots and limbs back to the property-line. Karen's intentions to forward my email on to Colliers and to discuss something with them also didn't require any response from me so I left it all.
Then mid-afternoon Karen sends me her companies official response – as if I asked for it, needed or wanted it!
FW: Overhanging Trees at 8 and 10 Para Street Taumarunuiu [sic]
Karen to Dennis – 14:48
Dennis, attached is my reply to your email

Regards

Karen Ngatai
Community Legal Advice
TAUMARUNUI
So let's start at the tail and work backwards here . . . My lease is with LINZ who manages it on behalf of the Government – it is Railways land. The property down here at Matapuna is leased out on a bare land basis – I bought and own the improvements which includes the fences, buildings and so on. Karen doesn't know this officially and basically it's none of her business either. Managers Colliers in Wellington have shared a little more than they should have, so she has gleamed a little bit but nobody knows the full story, except of course me.
RDC has given me mixed messages over the years as to their intentions and advice. To my face they say what I am doing here with Club Wairua and so on is great, good for the community etc, but behind the scenes Karen Ngatai and Peggy Veen, along with others in the community like Laurie Bull, Zac Wood, Pamela Bell and others have worked to undermine my lease. Putting Megan's name on the cc of this email and the local cop probably means that Karen has called up Colliers, been told to refer the matter to LINZ directly, and the Police is there for completeness or to try to muscle me.
Rest assured that there is VERY good reason that I have invested and continue to do so into this land and building. For those agin me, can I please ask you to consider why the cops have not acted, and why LINZ still hasn't even served me with the court papers to even take me to court? Could it be that it may be a problem to evict somebody who has rights to live here? Surely somebody is not telling everything eh wot?
So Karen's advice here (highlighted in red rectangles) is given in the light of partial and probably incorrect information. I've called it a "lease error" because of this. I've previously pinged Karen for giving dodgy and unwanted advice. She's wrong about the lease – 1. I do indeed have a legitimate lease and 2. I never asked her for her advice. I simply asked her to tell her client what I was going to do, thus giving them the chance to do it first if they wanted to!
So now we get to the biggie, for me, which is the second time that this professional legal 'expert' has made this most fundamental and most serious of all mistakes you can make as a lawyer. Karen represents two clients. When I engage with her on one of them, then she cannot, she MUST NOT inform the other. She has. I wrote to her informing her of my intentions and dealings with ONE of them. She replied with instructions from them both and made this duality abundantly and explicitly clear!
Karen this is a fundamental breach of trust and if you were a lawyer, you would have very serious ramifications if I pressed the matter and I hereby give you (and all reading this) notice that I do indeed reserve my rights to do this. You must separate them both, please. I have an agreement already with one of them. I did not refer to her, nor her property nor would I ever. It is YOU, Karen who involved her today in the matter of trimming trees, not me.
What I will do is to give Karen credit for facing up to her error previously when this exact same thing happened. I wrote to Karen about one client. She didn't read the email correctly, replied for the other one incorrectly but readily and immediately acknowledged her error when corrected. No big deal but one day Karen this will come back to bite you. You've done it again and this is sloppy work, especially in the legal field. Resign now or get your act together Karen while you still can!
So now, to my response to Karen's formal company response:
I wrote about 8 Para St and asked you to inform your client what I will be doing within a week, weather dependant. I invited him to do it first if he wanted to.
Please do that.
I did not ask you for advice, thus anything that I consider advice I will ignore. You do not know what you are talking about and you get a lot wrong. I do and don't.
I did not refer to 10 Para St, thus anything to do with that property I will also ignore.
If you have problems with my lease, or my authority to act, you have tools at your fingertips to activate – if you believe that it is a criminal matter you may contact the Police and ask them to act. They will investigate and if they believe that a crime has occurred they can charge me and produce the evidence for the court to rule against me or for you. If you believe that it is a civil matter you can place an application (urgent or otherwise) before the court and if you can convince the court that an injunction is warranted then you can have your way. I will likely oblige any court order, which is one of the reasons BTW that I gave your client the written notice that I have, and also why I have not acted until the garden actually required the sunlight.
Karen Ngatai has a reputation around town almost as bad as mine. The first difference however is that I do not approve of violence and will only use it as a last resort; the second difference is that I do things in the open, up-front and I shoot straight. My bad name is based on gossip, falsehoods and has no basis – zero. Karen's however is clearly based on her emotional responses to real situations.
Get a grip Karen. What did you really think I would do with this dopey letter? Fear LINZ or the Police or you or your clients? Life (and death) is a balancing act between dealing with people you should fear with people you should have no fear of. For the record Karen, I fear only the words, "Get away from Me because I do not know him!"
For the rest of us, chin up . . . keep your nose out of others' business, unless you're a social blogger!