This post goes through the events from the outset giving a brief summary of my take, who did & said what and why. Each aspect has been dealt with in greater detail in this book as well as the book, I Fed the Baby. In Hunting Pam I share the engagements tracking down Pamela Anne. I assume a basic foreknowledge of the core events. Enjoy.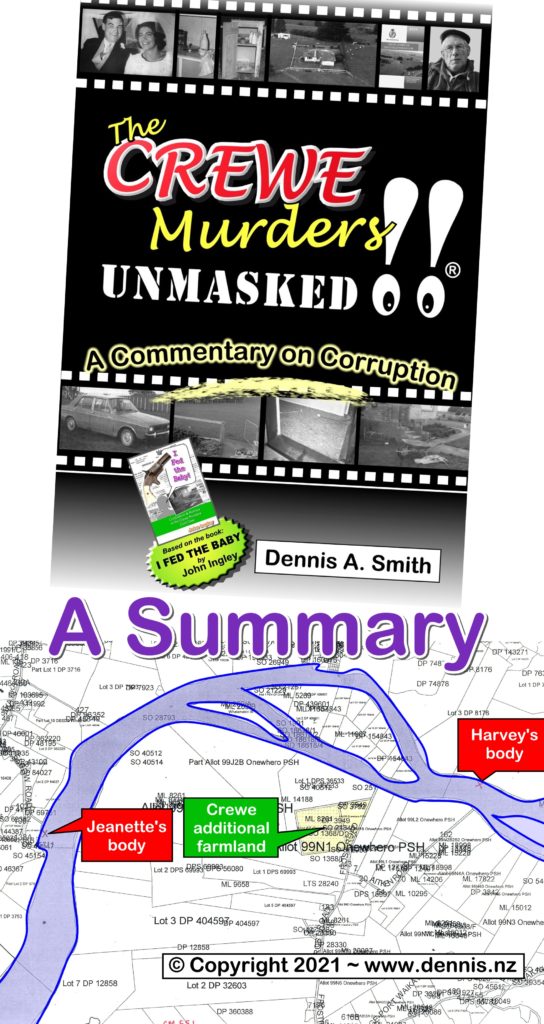 For more than 50 years the Crewe murders have been continually presented to the public as a mystery, i.e. as a cold case but they are not. Key elements of the NZ Police were (and are still) crooked. They knew (and know) who did it and why they did it . . . and this can be proven from the first days, if not hours too. The Arthur Allan Thomas saga and planting of evidence was indeed "an unspeakable outrage" but this AAT thing was all just a side story, as the Police have done everything in their powers to suppress critical information – essentially protecting their own. This can be proven right up until 2010 too!
A Precis of Events
The following precis is derived from a large body of research conducted by solid thinkers and workers and stitched together into a coherent picture by yours truly. My objective is to explain everything in the light of all known evidence, not to provide proof to a legal standard of proof. I wasn't there. I have interviewed only those who have bothered enough to contact me and I have relied on those that I trust, and have left many others (that I do not trust) to their own devices.
Len Demler initiated the murders but wasn't there to pull the trigger. He had Autism and felt it was his right to obtain his deceased wife's wealth. He used his lawyers to transfer the extreme wealth from one side of the family to the other post death and thus gained control of it while Rochelle was growing up under her Aunties care. Nothing that Len Demler did nor said makes sense unless seen in the context of a man with ASD. Everything makes perfect sense when ASD is properly understood and applied correctly to Len.
The murder weapon was a .22 pistol, not a rifle, a Ladies Companion owned by Alf Hodgson, Len's late [at the time] best friend and there was more than one person present at the event. They were known to Jeannette and Harvey being family. Harvey was shot outside at the East gate when going to get firewood. He fell to the left and onto a tendrill bush then rolled into the bottom rail of the fence which was rotten and broke. Inside, Jeannette would have known immediately what the score was and she was suppressed with a fight until she was executed by the same shooter who would have run back inside through the kitchen.
I do not know the shooter's identity but I do know that he was family and trusted if not liked. If pressed I would lean heavily on Heather's partner Bob Souter (the man whom Maisie despised) or perhaps as John Ingley fingered in his book, the Gurney brothers or indeed them all together involved in some way. There is a very high likelihood that two women were present (at least for the cleaning up) and John's reporting that this was his 1977 girlfriend at the time Leslee Sinton who in Q1, 1980 confessed to being Pamela Anne (later seen in Te Kuiti) appears very sound to me.
It is probable that Karl Lobb and a Thomas boy, either Richard Thomas or perhaps a cousin assisted with disposal. Karl was a driver well known to Len Demler. He has indicated enough to others that he either disposed of the bodies in the Waikato or perhaps that he knew who did it. He did not pull the trigger but he has the capacity to kill being a little bit different and I know that I am not alone thinking that this was not the only time he took anothers' life or was at least involved in murder. He was protected by crooked elements of the Police and worked behind the scenes for a "crooked" judiciary. And yes to those of you who do not believe this, I do have this evidence. Harvey and Jeannette's bodies were moved up to Section 67 & 68 close to where they were eventually found on the Thursday morning using the International truck. I suspect, based on John Ingley's research that they were either hidden or buried up there for a while then 'relocated' at some later stage into the river. I do not yet know the timing of these events although I have a good idea of the people involved.
Following the murders, from June to October pressure increased on Hutton to get an arrest, and his efforts to ping Demler failed – first there was a complicated personal relationship; secondly Len didn't pull the trigger and actually wasn't there, and thirdly and most importantly Hutton did not know or understand Autism. Nobody did way back then.
The Thomases involvement post-murder in some way (perhaps assisting in body disposal) appears to be confirmed by my high opinion of John Ingley's observations that one of the brothers (most likely Richard, now deceased) maintained an unusually high interest in who knew what. Especially the case following John's devastating realisation that he was being secretly recorded. Putting this alongside my strong gut feel that Andy Lovelock seemed to believe that the Thomas family were not totally innocent of all involvement, I conclude that, as I have always said, just because one of their family was framed and found to be falsely arrested doesn't mean that all Thomases are all innocent of all crimes. The unity of the Thomas family (a so-called "demonisation of the Thomas name") is unrealistic knowing what I know about the dysfunction and deception inherent within any large family. You ALWAYS get the good ones and the greedy ones scrapping and fighting, kissing and making up between the same blood.
Failures of Assumptions
Assumptions that Rochelle was in her cot for five days; that the murderer didn't want to be seen and a hundred and one other Police generated and propagated theories are all invalid. For example Heather and Bob stayed with Len Demler. The only evidence that Bob was not in the country came from the Police and has not been disclosed. Hello? These are the direct beneficiaries of the crimes! Neither Bob nor Heather spoke at any court hearing. Hello? There were ample signs that the perpetrators wanted to delay discovery or at least pretend that the events occurred later than they did. Was this or is this even discussed? What say for example Len and his people wanted a strong alibi for a person who would naturally be the prime suspect? Is being out of the country sufficient an alibi?
Then if you look to the sudden change of direction in the investigation. To a man, the people involved back then were shocked and surprised at the sudden change from focusing on Len Demler to Arthur Allan Thomas. Reporters, journalists, Police and the public alike were all caught out by the sudden and dramatic change in direction. Was the assumption that "new evidence was found" and that "the Police can be trusted" based on reality? Proof has later emerged that indeed, our assumptions failed us. Was there a deal done in October or 1970? Well of course there was! It is less important to me what that deal was than that there was a deal. Getting away from all the BS then, if it looks like a duck, walks like a duck and quacks like a duck, then guess what . . . to me, it IS a duck.
Much of the BS surrounding these events makes perfect sense if it be known that specific people and groups of people wanted to derail investigation and public knowledge. Can we honestly conclude that after 50 years the Police simply don't know who did it, or why? Do we assume correctly that they even want the truth out there? I think not!
As John Ingley repeatedly said, "Many people gained to benefit from this. Many!"
Maisie was a wealthy and astute business person acting as a banker for the local farming region. Her husband Len and her daughter Jeannette knew of her affairs and Len's actions following the deaths enabled him to maintain a large swathe of influence in the community, either directly through bribery, blackmail, brain-washing or bullying. Many shut up as a result of these events.
Corruption Appears to be the Norm
Upon first Police involvement the crime scene was secured and photographed correctly. Hutton's arrival at 5:10pm on the Monday though commenced a period of weirdness as the scene was then tampered with, Len investigated for quite some weeks without joy. Finally after some months political pressure came from above to get an arrest. Arthur Allan Thomas was then targeted, setup, tried and then eventually pardoned. It took a decade for this to happen but while Hutton and his offsider Johnston were fingered for the crimes, they were never charged. It is widely talked about that these boys and their lackeys had done similar things previously, thus their Modus Operandii is now exposed for the observant.
It has been said that Rochelle Crewe initiated the 2014 Police Review however it is my understanding that it was actually Rox's daughter Danielle who wanted answers. Did you know that? Why is Rochelle's lawyer a top prosecution lawyer in South Auckland and how has her business grown so spectacularly? Do we assume correctly that Rochelle knows nothing and that her lawyer always speaks fact without fear or favour and that the QC is happy to have his work assessed?
IMHO the detractors who called this review a whitewash are on the money. I share here only some of the signs that I have identified that show the old boys network at work:
Their early actions in disposing of incriminating evidence about the Mangere pub that Len, Hutton and the others frequented is smoking gun proof of early intent to cover up;
Their insistence upon focusing on only what was in "the little black box" as Ian Wishart called it, and to only work with proven evidence to a standard of legal proof is typical of politics – exercising what we call, "plausible denial";
Some utterly ludicrous conclusions clearly designed to protect the Police's reputation – that six of Jeannette's teeth just fell out because they were in the water for a few weeks, and wrapped up too mind you; that Rochelle wasn't fed yet supposedly was alone in a cot for five days – nonsense, she was looked after at Len's house by two women, one that went with John Ingley from 1977 to 1980!
David Jones QC's dopey comments that. "Well, we know the cow cover went missing but we don't know the significance of this failure in security back in 1970!"
All of this a major case of, "Yeah right!"
So Who Got it Right?
Some people got it right, but not all got it all right. Pat Booth's initial approach to investigate the planted bullet was superb but his murder suicide theory and the theory of a Demler cover-up is nonsense. The shooters dragged Harvey's body inside while the blood on his trouser legs was still moist. You can see that from the drag marks in, not out! Jeanette was executed while she was held down after a major scrap. Leslee's two front top teeth were knocked out in the process. Karl Lobb (the 'fruitloop' that knew Len Demler well and who likely drove the bodies up to Section 67 & 68 on the Thursday morning and who probably later helped toss the bodies into the river) took the bodies away, not Len. Len kept right away for very good reason! Sadly Pat took his pet theory to the grave with him, I know this because my sister nursed him to his end up in Kumeu.
Ian Wishart too, for all his flip-flopping on other cases got some things right and yet missed the boat totally. From his many years fighting corruption in the halls of Police power, Ian knows much more than he lets on. He full well knows the extent that Johnston and Hutton played the field, but his hypothesis that "Johnston did it" is just wrong. It was Ian however who first noted the the UK Home Office found that the vast majority of early ballistic tests showed that it was a .22 pistol, not a .22 rifle that did the deed. Fluke, logic, or inside knowledge only Ian knows.
Ross Meurant also got much right with his damning insider's explanation of the culture of Police at the time but not even he, a young officer called in to search the grass area knew much of what I have stitched together. Ross is dead right though to highlight the arrogance of some Police officers, even today, who think, "We are a cut above the rest – because we are the law!" When the heat comes on from above to get results, he's right, this pushes men to break the law that paradoxically they are sworn to uphold.
It is too much to expect that you have actually enjoyed this commentary (great if you have) but I trust that you have learned something in the UNMASKING of the Crewe Murders.