This post shares progress with the writing of my book The Crewe Murders UNMASKED!! which shows the significance of events not yet talked about in public, i.e. suppressed, or held back, or to put it in the vernacular (the cover-up). I detail the core findings, broad subject matters and share a document that is very difficult to get ones hands on – the Appendix 1 of the 2014 Police Review.
I write here for people who wish to understand the Crewe murders assuming that the reader knows at least the basics – that Harvey & Jeannette Crewe were murdered in June of 1970 at Pukekawa and that Arthur Allan Thomas was hunted down and framed for the murders, found guilty more than once but then found to be an innocent victim of Police corruption.
The corruption from Police surrounding these murders had a profound effect on the New Zealand population at the time:
The fallout of the alleged police corruption had a lasting effect on the people of Pukekawa and greater NZ. A distrust of the police, as a friend of the Thomas family Brian Murray told the NZ Weekly News in August 1971; Murray explained the realisation that the police cheat and cooperating only gave them opportunity to frame you – sadden him the most. Furthermore, Murray explains; from now on he tells his own children, "… the minute a police officer questions you, say nothing and get a lawyer."

https://truecrimenz.com/2019/10/05/case-11-harvey-and-jeannette-crewe-epilogue/
and from a Policeman who was involved reflecting back after more than 50 years:
Hutton did more harm to the credibility of the NZ Police than anyone before or since.
My book is based in a large part on the work of an investigator John Ingley who in the late 1970s was the partner of a woman who confessed to feeding the Crewe Baby (Rochelle) and who also identified the motives and the murder weapon. It should be seen as a big-picture overview of the Police corruption both in 1970 and for the 50 years since. It is NOT a pro- or anti- Arthur Allan Thomas book. Nor is a pro- or anti-Police book. It describes the way that corruption and cover-ups occur and how vested interests gain power over others by way of bribery, brain-washing, blackmail and so on.
Many have researched this matter at length, most leaning on evidence that can be shown to have come from the perpetrators of evil. For example, did you know that Ian Wishart's wild guess that "Johnston did it", was hugely logical and based on known information (albeit ultimately a theory proved wrong)? Are you aware that it was Ian's book that first mentioned the high probability that the murder weapon was a .22 pistol, and not a rifle? Did you know that it was not Rochelle that sought real answers, but that she did this for another person who had not been through the entire affair? Are you aware that corruption can be proven to within 26 hours of the Police first getting notified of a crime and that it probably happened within 4 hours? Perhaps you didn't know how covering up has continued until at least 2015 that I can see or that the Police have failed to respond to new information supplied to them in 2020, thus they simply do not want to 'go there'?
Let's dive in then . . .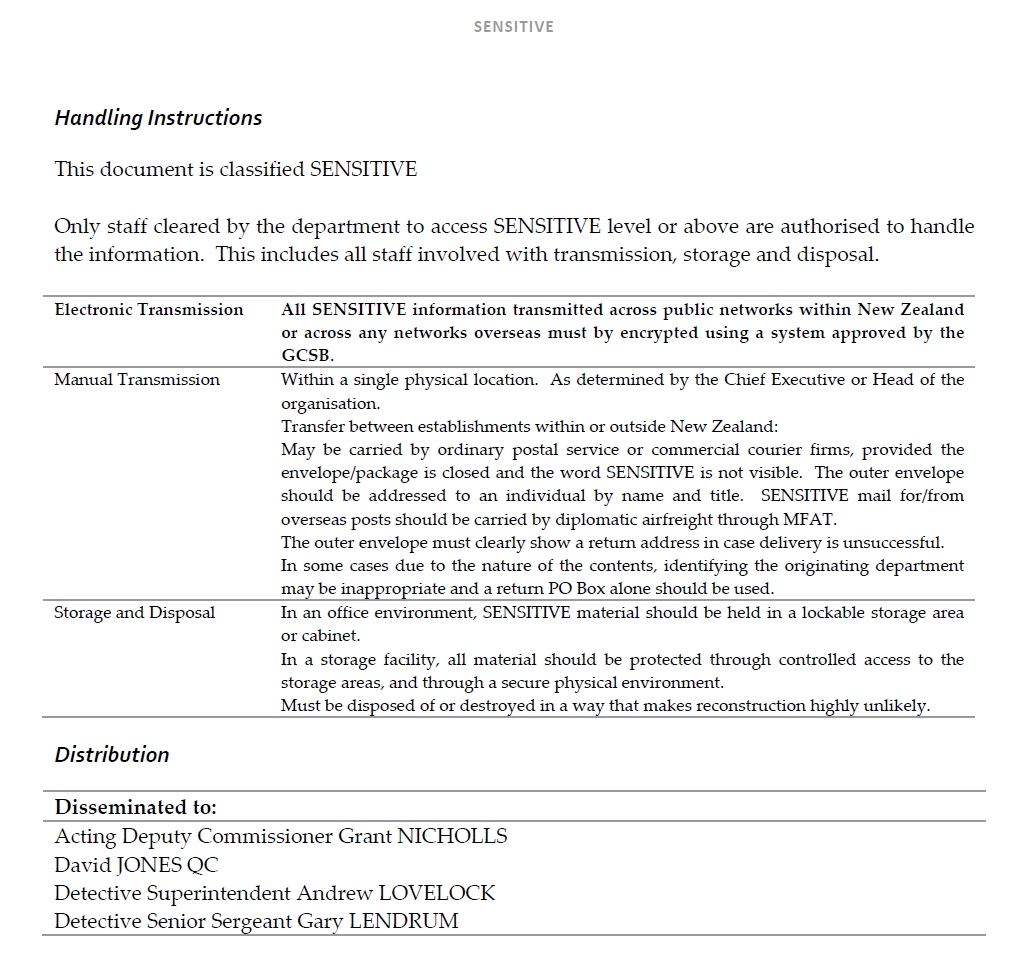 Information and documents that 'they' do not want you to see are numerous but they are available to the informed. In 2018 I digested the Police review of the Crewe murders, dated 2014 which included a bunch of Appendixes, but the big one (600+Mb PDF) was not and still is not available except under an OIA request. So I did this, and followed up and followed up and well . . . finally, after a VERY long time and many emails I received this document. Not only was it redacted (heavily in places) it was clearly marked not available for public use. So I checked:
I note that the page footers contain a warning that this document can only legally be in the possession of Police, and that it is marked "Sensitive"I shall assume that this redacted version you have supplied is no longer "Sensitive" and that it is a public document for which I am entitled to hold, use and disseminate.
. Sound professional and reasonable to you? It did to me, but just so you know, Robyn Samu finally confirmed my permission to release it to you:
SAMU, Robyn <[redacted]@police.govt.nz> Tue, 20 Aug 2019, 10:37
Hi Dennis,
I do apologise for the time it has taken for me to reply to your question.
I have checked with a couple of people here and can now confirmation [sic] that your assumption is correct, the redacted version of this document is no longer classified as Sensitive.
Kind regards
Robyn
Investigation Support Unit Officer
NZ Police National Headquarters, 180 Molesworth Street, Thorndon 6011, Wellington
It's still not available on the Police website (above) so here it is: https://www.dennis.nz/wp-content/uploads/2021/09/PUBLIC-RELEASE-APPROVED-Crewe-Review-Report-Appendix-1_Redacted.pdf
Police Corruption
The essential fact that most seem not to know is that Police Corruption can be proven from very early on in the investigation, literally hours after the balloon went up. In John Ingley's book I show the photograph of the cow cover sitting beside the wheelbarrow circa early/mid afternoon on the Monday following the murders. It is missing in the aerial photograph taken the next day Tuesday. The Police helicopter departed (I assume from Ardmore if not Auckland) at 1.30pm and 4.30pm with an assumed flight time of 10-20 minutes before photos were taken. Being the middle of winter, it is likely that the good, clear photos were taken on the first flight not at sundown, thus we have the first provable missing evidence whittled down to within 26 hours of notice of the crime and if the crook removed the cover (and other things) on the Monday night, most likely at or after dark then we have corruption much earlier than previously thought. MUCH EARLIER! Hutton BTW arrived onsite at 5:10pm.
This changes everything, because if evidence can go missing on the first day, within hours, then EVERYTHING supplied by the Police (other than perhaps the initial Police reporting and initial crime scene photographs) has to be suspect. I will repeat this because it is critical to understanding the cover-up that has continued for 50+ years. If it can be proven that an element within the Police did something from the outset of an investigation to pervert the course of justice, then everything that comes from the Police must be suspect. It's not that everything given is false; nor that everyone was crooked . . . it is that certain things were removed and altered – probably to conceal something.
A QC engaged to report on the review has said that the significance of the missing parka or cow cover as evidence is not known. True, but who cares whether the stolen cookies were Peanut Brownies or Chocolate Chippies! The significance of the missing cookies is that there is a cookie thief in the house! In my book I will be showing how this impacts upon our assessment of many claims and assumptions which may not, well let's be more realistic, ARE not realistic.
Take for example our belief that the yellow Parka was burned up one lunchtime by a cigarette butt. Utter BS. First the item looks like a cow cover to me. It has a strap clearly visible on the bottom right of the photo. Nobody would naturally look at that photo and say that it was a Parka! Nobody unless the idea was put into your head first. It looks to me like a piece of canvas or cloth looped around and with a strap showing at one corner. It's way too big for a raincoat. There is no evidence of a fire and I'll buy you 100x cigarettes if you can show me how to set alight a thick yellow parka on the grass with a cigarette butt. The point is not that this is patent nonsense, the point is that the man who said this was giving evidence under oath in court. Who was he? A policeman? Yup! Nuff said!
And assumptions seem to rule the day, assumptions not necessarily correct like:
The Police don't or didn't know who committed the crime and that it is still 'unsolved' and that they actually want to solve it; or
People always tell the truth under oath and that judges are all 'honest'; or
That 'the cops' want justice, or that they are all 'straight' or that they are all 'crooked', or
That the baby Rochelle was in the cot the whole time', or
That the murderer(s) wanted to keep out of the limelight', or
That just because one brother was set up then found to be innocent that all members of that family are suddenly 'above reproach', or
That 'somebody' was in the USA during the crime timeline, because, well because, umm the Police said? . . . and on and on . . .
These are huge assumptions not always correct too, I might add! This gets VERY interesting doesn't it?
So what happened? Was the baby fed? Who did it? Why has the crime never been solved? Somebody knows – surely?
I've spoken to various people who all have their theories. One man impresses me with his independent thinking and the way that he plodded along for years actually, digging, asking simple, important, meaningful questions and working it all out. He didn't get there all the way, but his take is sound and along with his book, I Fed the Baby, my big-picture analysis will help you to see the truth. John Ingley, like I do now, says that Hutton, Johnston, Demler were right in the midst of it. The murders were initiated by Len. His Autism meant that he didn't pull the trigger but he organised it, like many others have said. The murders were undertaken by others, Harvey was shot first, outside and dragged inside then Jeannette was beaten up, held and executed but inside and second.
How much Hutton knew and when he knew it and how much he shared with Johnston I can't be sure but you don't exchange a man's guilt for a property at the expense of an innocent man going to jail when you're an honest cop – of that I am sure! Hutton learned more as he dug deeper. Unfortunately Len's money and warped mind had a greater pull on him than any loyalty he had to integrity.
The bodies were taken to the Crewe's other property (Section 67 & 68) up by the river then dumped later with assistance of people who sadly, to this day are falling for deception. You know all about that other land don't you, you know the land that looks out and down directly over the river where the bodies were found? Yes? No? So why not pray tell?
In a Scott-penned poem Marmion (https://www.nosweatshakespeare.com/quotes/famous/oh-what-a-tangled-web-we-weave/) he talks about the massive consequences of dishonesty.
Oh what a tangled web we weave;
When first we practice to deceive,
Some think that it is troublemakers like me who name names, speak the truth and get an unwelcome story out there who cause the trouble. No! We are the shining light that causes the cockroaches to flee. It is the crooked arrogant cops like (Bruce Hutton & Len Johnston) who are manipulated by fruitloops (the likes of Len Demler who clearly had a form of Autism) and their lackeys (who all ply their various trades of the media, law and politics for example) who cause trouble for the little people, who mostly, from what I know, hate the dishonesty, hypocrisy and BS from those in authority and mostly try to play it straight..
It is my opinion that the lawyers and Police who in 2021 are now going after Arthur Allan Thomas are doing so at the behest of wild women with an agenda. Girls, be warned . . . you've had it your way for a long long time and you think you can get away with it forever. Nope! Not when truth hits town.
I have found, like everyone has who has ever explored the horrible events of Pukekawa in 1970 that a lot of people have a lot of knowledge and understanding of these murders. They might not know everything and they might not know the identity of the three Americans who stayed at the Tuakau pub at the critical times, but they know things the Police do not want gotten out there. They might know of Hutton's little score out at East Tamaki or his past aggression and perhaps of Johnston's playing of the field but they have been fearful of speaking out.
If they are really up with the play they might suspect that the top judge who was found looking at girlie pics on his court computer and who was nudged sideways by Helen Clark at the time might have been a little – umm, economical with the truth (shall we say) in supposedly confidential hearings. But can they prove it, or do they fear reprisals? It goes on and on . . . lies, bullying, deception, mistrust, fear of the authorities and retribution. BS will ALWAYS, I repeat, ALWAYS come out when people like me speak the truth, without fear of favour.
Hopefully with three generations now coming through the time for speaking up has arrived and more will come out in the open. Hopefully the ones still getting paid to present things to the public the way the crooks want them to get cold feet and realise that their dodgy association with the dopey Emperor is counter-productive.
"Look! The Emperor has no clothes!"
John Ingley did a stunning job with I Fed the Baby.
Deception step aside . . .
The Crewe Murders UNMASKED!! is on its way.