This post continues a series explaining the how, what, why & who of the Crewe Murders in 1970. In previous posts I have cautioned readers interested in understanding the sordid events to question all their assumptions, and I have stated that it is essential to understand psychiatric conditions such as Autism as to how they apply to Len Demler, the perpetrator (although not the guy who actually pulled the trigger). I now dive into the ethical subjects and share how everyone has an agenda – everyone – and how the Crewe murders and their multi-decades-long cover-up demonstrate the very worst of human nature. As always it is pride at the root of any deception. Truth only comes by way of the application of sound logic onto fact, something that requires humility, and the balls to speak it like it is. Get yourself ready!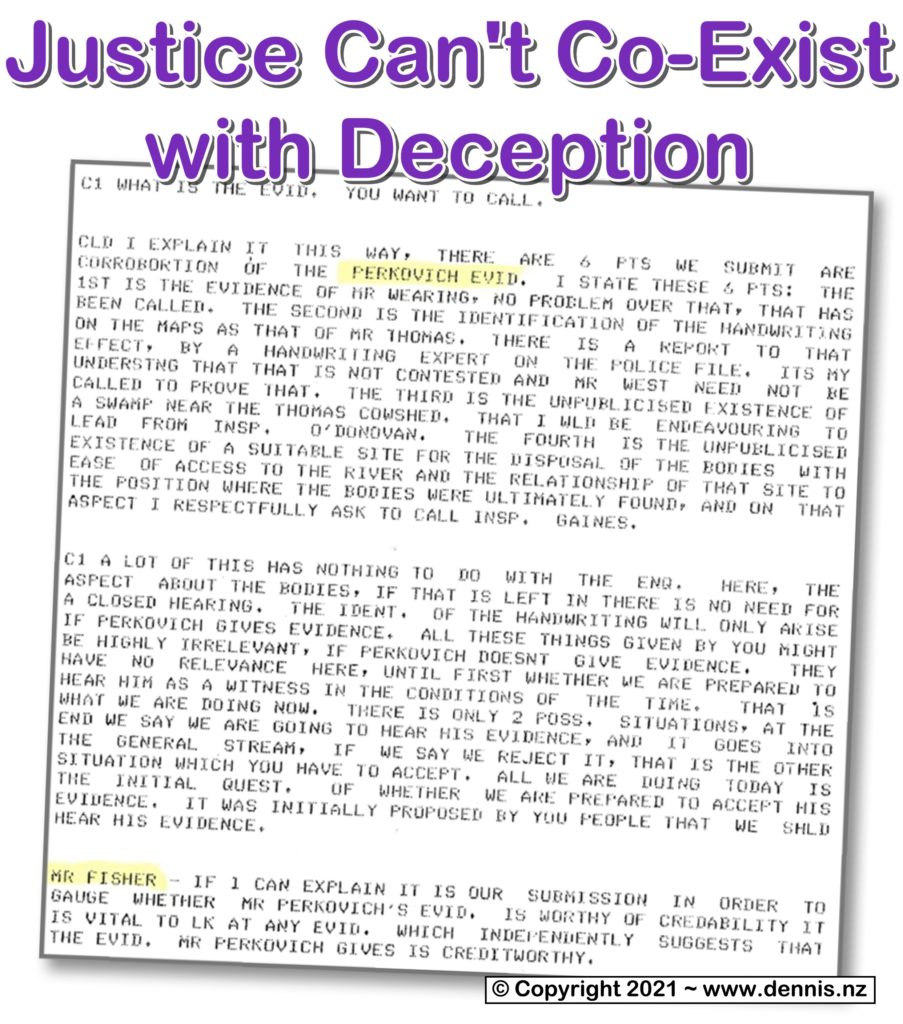 I've said many times that it is a happy day when Justice and the Law collide. They don't always do this, and it is always secrecy that gets in the way as lawyers, judges (yes, I actually said that!) and witnesses all lie and deceive. 'All' of them, and 'all' the time! We all deceive. That is why we dress up and get the latest vehicle and live in the best neighbourhoods (or aspire to). It's why women wear make-up and men puff out their chests when a bit of skirt is 'on the scene'. It's why we cover-up, to protect our reputation when we do something wrong. This something is perceived to be of value.
The reason that I do what I do, teaching and preaching that there is black and white, right and wrong, good and bad is my belief that there is a Creator to whom I (and all of us) will be eventually accountable. Sure, I may not know who is going up' or who is going down' at the end of their time. I might have a pretty good idea but that is not my business. It's theirs! I can though, and do share my take on things as I see them. I've spent a lot of time investigating the Crewe murders and if there is one thing, just one thing that has become abundantly clear to me, it is that there is a truckload of secrets within the New Zealand community about these events. It is a huge hornet's nest; a veritable rabbit warren of intrigue as every man and his dog appears to have their pet theory about whodunnit.
John Ingley, a private individual from Te Kuiti who wrote the book I Fed the Baby, came to the same conclusion and identified many things that gave me an early indication that there were many people with vested interests. "You can't trust anybody!" he said one day. "It's like everybody wants to pump you for how much you know, without giving you any help with what they know! It's almost like everybody has got something to hide!"
It took him more than 30 years of his life to get there, but eventually John worked it out. We all do have something to hide. We all do have an agenda. It's understanding what that agenda and what it looks like that brings us freedom, peace and . . . justice.
If you don't already know it, my agenda is to hear the words, "Well done good and faithful servant!" Two and a half million words of investigative blogging and three dozen books down the track I think I can tell when somebody is lying to me, or has an agenda. If I find that key personnel in the Police for example were known to have been drinking partners with the prime suspect at a Mangere pub before the Crewes were killed, I think this brings exposure that some do not want to happen.
Likewise when critical documents are 'accidentally' released that show that deception occurred behind closed doors, I think this is important. Who cares whether I found the lawyer involved to later be a bully and unethical when he came to Samoa as a Supreme Court Judge up there? Or that he was caught watching porn on court computers and 'encouraged' by the Prime Minister at the time Helen Clark to step down (which he did). Does that gossip really matter or does the mere fact that deception occurred not strike you as an important clue?
Arthur Allan Thomas is currently facing another roasting in court. How many times does it have to happen before somebody stands up and says, will you please let this guy go for God's sake? Anybody with half a brain can see that the women all behind this BS have an agenda – and that includes the Crown prosecutor, who incidentally has a vested interest in covering up the Crewe murders. Check out her many and varied clients over the years and what she has said and done for them if you want to know more about this one!
But just because I can ping crooked cops galore, and just because I stand up for innocent men when I find them under attack doesn't mean that I'm stupid enough to believe that all's well in say, the Thomas 'camp'. I know for a fact that three Thomas brothers met with John Ingley and that they secretly recorded John and were decidedly cagey with him at the time. Why? What were their secrets? Did they have something to cover up? And will it ever come up in public who it was or is who is claiming that Arthur did something naughty? I tend to doubt it. The point here is not that all within the Thomas family are suddenly innocent because one of their family was setup and then found innocent, the point is that we all have secrets.
Personally, I suspect that it was Richard Thomas who had something to hide and wanted to record John Ingley. I very strongly suspect that it was as the youngest of the nine siblings that Des has been led up the garden path over the years, probably mostly by his sisters, but by others also. I don't know this for sure yet, but it seems most likely that one of the boys helped get rid of the bodies into the Waikato river, as John suggests in his book. Sections 67 & 68 were really close to the river and the Thomas' farm at the time was a lot closer to this than the Crewe property was.
Then for a moment let's turn our attention to the crooked cops and what they wanted to keep a secret. Many times it is not what is said, or talked about that gives us the clues that really matter. Are you aware that a lot of things have gone missing? I mean a lot of things? Over years? Like real evidence, documents, reports, photos as well as the stuff that the Cops admitted to having destroyed?

Take the nuggets from this story and ask yourself whether Len Demler, Johnston and Hutton all drank at the same watering hole in Mangere.
https://www.stuff.co.nz/waikato-times/editors-picks/8616540/Woman-claims-police-joked-about-framing-Thomas-for-the-Crewe-murders
Queenie Edmonds told OneNews that she had worked at the Mangere Hotel around the time of the investigation into the murders of Harvey and Jeannette Crewe. She said police officers, including Bruce Hutton who led the investigation, came into the establishment and were saying that Thomas was a "half-wit". Edmonds said police bragged that they could do anything and get away with it … I thought it was idiocy that they could do that to another human being," Edmonds said.
Ask me it you don't get it! They did.
Now ask whether there are no photos relating to the Mangere pub in normal and relevant locations. There are none but there were previously. Why is that? Where have they gone and who took them and why? Is it possible that somebody doesn't want it known that Hutton, Johnston and Demler all knew each other . . . that they were all part of a farming, horse racing and a part of a community of wealth? Did Maisie help out any of these people financially and was Johnston involved with anything untoward before these murders? Insurance fraud? Fires? Cover-ups?
You see, assuming that Len Demler and Bruce Hutton engaged in only a professional 'Police interviews suspect' relationship without prior knowledge is common but not necessarily wise. I do not see this assumption as realistic, especially when you consider that Hutton's arrival at the Crewe farm occurred at 5:10pm and that a piece of evidence went missing shortly thereafter. It is inconceivable to me that Hutton didn't know exactly whose disappearance he was going to and therefore what that would likely mean in regards to Len Demler.
Ian Wishart knew very well of a 'relationship' between Johnston & a Crewe girl, that's why he fingered Johnston as a prime suspect in his theory. Len and Hutton clearly did some sort of a deal in October 1970 to take the acid off Len with a sudden and 'unexplainable' shift in focus. I can 'explain' that shift to you and share exactly why this shift in focus happened if you really want me to but it's not favourable to Hutton's integrity I assure you!
In a fallen world secrecy is fine in some situations (especially commercial situations), for sure, but eventually the truth will out. It could be that we retain knowledge of another's spouse betrayal in order not to hurt someone but the truth will always out. You can never keep a secret forever! OK, sure, a Police officer cannot simply roll on up to a suspect and ask them to confess. That's totally unrealistic, but if the Police are corrupt in the first place, then secrecy and deception will occur, and in this matter they have continued and rippled outwards for decades since. Eventually though, the truth will most certainly out.So how do we derive any form of truth in the midst of so much secrecy surrounding these murders? This is my take as best as I can establish based on John Ingley's research, private discussions and (knowing human nature) the application of sound logic. The story thus far . . .
Maisie was a shrewd and smart woman who was a private banker using inherited wealth gained from gifting and old English aristocratic lands to assist those in and around her in the South Auckland region. Her marriage to Len Demler was problematic in that he had a form of Autism and she did not trust, nor did she like her son-in-law Bob Souter.
Bob was discharged from the US Military with a dishonourable discharge (you knew that of course didn't you? – [sarcasm]) and was a divorcee. You knew that he was a divorcee didn't you, because that what was told to you – the 'only' reason that Maisie didn't like him? But did you know that not only was he a bankrupt to his dying days, and a divorcee more than once eventually, but that he was a trained killer, a crook, had "scary, evil eyes", a motive to kill and that he had undocumented access to New Zealand? This is all still a secret, but why still? Why have the Police never explored this or mentioned this?
That deception has occurred is easy to establish, especially if we can break through a priori assumptions and if we understand the false logic of how 'an authority' is used to stifle independent thought. I have no 'authority' to challenge the Police or to speak to you like this other than the logic I present here. None! But the fact that secrets are retained speaks volumes to me about those who do not want you to know things! I gain that authority by having the balls to speak it! So let's continue . .
Len arranged Jeannette's murder on the Tuesday night or on the morning of the fateful Wednesday. Depending on whether you lean towards John's book's conclusions or my more recent thinking, either Jeannette's brother-in-law (Bob Souter) and his mates or Rose Amy's (Alf Hodgson's step sons) shot Harvey outside by the East gate with a small Ladies Companion .22 pistol.
Please don't write off Bob as a suspect because he was "overseas at the time". I don't believe that claim for a minute, for multiple reasons which we will be addressing in the future. Did you ever consider that this information has come to you from the same people that brought you cartridge "350" and the "yellow Parka" that just disappeared up in smoke without even burning the grass? Oh, and in the middle of the night too, umm . . . while the boys were having a cuppa, and all because of a discarded cigarette butt? Oh, and don't forget in the middle of a crime scene undergoing an intensive grid search?
Following the murders, (John Ingley details the actual murders quite authoritatively in his book), there appears to be an effort to deceive the neighbours and community that things were going along as normal for a few days. Friday and Saturday in particular it appears as though somebody wanted Rochelle to be seen.
The assumption that Rochelle was in her cot untouched for five days seems to me to lack credibility. The cot, actually the entire crime scene, seems to have been untouched since probably Thursday morning. The milk bottles and letterbox excepted which appears to be an oversight (but which is a logical conclusion if it is assumed that the front entrance was never used by those wanting to present 'situation normal' for a while).
What actually happened following the murders that night and the next morning was that two bodies were taken by wheelbarrow to the woolshed and then taken the next morning by truck to the Crewe's run-off farm up by the river. Somebody, not Len, took the International truck with a couple of bodies on it away and up to the river section. Somebody, probably people, later put them in the river.
My supposition is that one of these people was Karl Lobb. Karl knew Len well and was a driver. People who are different, connect. Both Len and Karl were indeed that – different. I don't know this for sure 100%, but it does make perfect sense, because one of the unusual aspects of his false evidence was a mention of seeing the bodies on a trailer covered with a cow cover. Now the way that a wicked mind works is to use existing knowledge and twist it, or to embellish it. It's the way that people who report UFOs or Alien encounters tend to draw pictures of the little green men all the same. This assumes that ET claims are false of course. It's the way that the best liars and deceivers twist things or tell the truth but omit little things that causes the deception.
If Karl had driven the International truck with the bodies that were covered by a cow cover from the Crewe farm to their Waikato river runoff land, even if he had taken this off and put another form of covering over them, then this mental picture would remain in his mind and could form the basis of what I see as his later perjury. Likewise Karl Lobb's casual comment while working at the Fletchers owned Henry Sands Depot that, "That's where all the bodies go!" and following up with inappropriate laughter is a strong indicator of guilt, as well as having a 'difference up top'.
The appearance of Len stumbling into a surprise situation is important to those wanting to deceive. Len knew full well what the Police would find in the Crewe's house. Len's conduct, and Hutton's dogged determination to nail him for the crimes, appears in stark contrast to his pre-existing drinking relationship and later "sweatheart" deal to switch the focus to another 'person of interest'.
Now the identity of the woman who fed the baby is another "secret". I can tell you the full name of the person, her actual literal address in Orakei, her phone number and even her email address that can reveal this secret. I can prove to you, and to anybody who has her attention (yes she is still alive) that she either is or is not that person by one very simple question. I can prove this to a criminal level of confidence. She knows but keeps the secret!
Not only that, I like many others who fear for their safety if they dare to speak up, can also prove that the Police have no interest in what I have to say, or information that I have.
Keeping secrets? You bet!
I note that the 2014 Crewe Review Team state that they:
… record that former Detective Lenrick JOHNSTON died in 1978 and that former Detective Inspector Bruce HUTTON died in 2013. Detective JOHNSTON obviously could not have given evidence at the RCOI to defend himself. Former Detective Inspector
HUTTON did give evidence and was disbelieved on a number of issues by the Commissioners.
Fortunately investigative bloggers and authors like me have the space to pass comment openly and it is not my job nor intent to operate within the confines of "legal proof". Missing evidence, through the passing of time, ignorance or malfeasance allows secrets to remain, and this permits deception by manipulators and those with vested interests. I have accountability to my Creator, not to crooked cops who have passed on, despite the wishes of vested interests who claim "public interest".
I'm also acutely aware of many before me who have toiled away unceasingly to find, speak and to deal with truth. To these people I say, Go For It!! and thank you. In the early days it was Pat Booth and the Thomas retrial committee that dared to ask the hard questions … Des Thomas has done this for years that I know of too. More recently I've picked the brains of Lynette Stevens, but her sister too has boxed on and on trying to get justice. It eventually cost John Ingley his life and many others too have asked the questions that reveal the secrets that the crooks really don't want gotten out there.
Not all of these people have talked to me yet but some have and the picture has emerged of a cesspit of corruption reaching back in time and up and out to many levels in New Zealand society. In upcoming posts I will dive into the whodunnit of pulling the trigger as well as more 'juicy' stuff. Standby.