This post gives my take on the man that both John Ingley and I believe arranged for the murder of his daughter and son in law, Jeannette & Harvey Crewe. The premise of this understanding is that Len had the motive, the stomach and means to do the needful, and did. Nothing of John's conclusions conflict with known facts and they make perfect sense, to me too.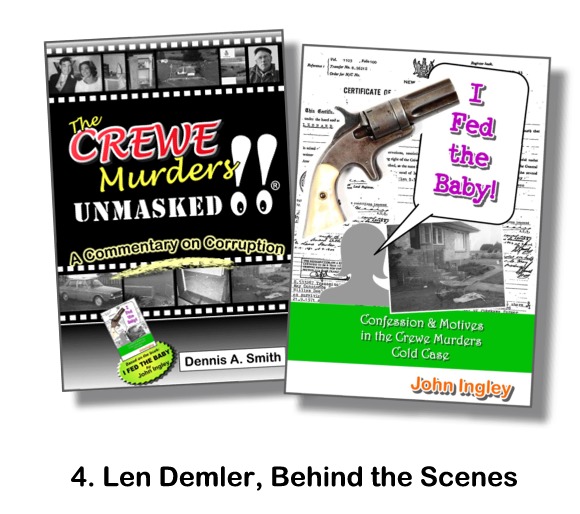 A couple of things first . . .
John spent a lifetime seeking to understand things – be it the animals he was hunting; the bush he was cutting down (and up) into timber or the Crewe murders that his ex had gotten herself all caught up in. He was very good at this, however he was an uneducated man in the traditional literal sense of the word. He was also very guarded. As an author and a publisher it took a lot to get into his mind and to extract his understanding of certain things. One has to spend a lot of time listening to him; reading his notes and drafts and getting into his mind before you can understand what he is saying whereas with others, they will just spit it all out, logically, lineally.
There is a human penchant to categorise things into neat little boxes which plays tricks on the public's mind when it comes to things outside of the box. Len Demler is one of those people that do not easily fit into our norms. His personality, conduct & role in the murder of his own daughter is most definitely abnormal.
The media dumb down complex issues. We as a generally unthinking people want others to do the thinking for us. We want to find and name the murderer and are not really interested in the deeper issues of "why he did it". We're not really interested in the family dynamics that caused a person, or in this case a group of people to do something horrendous. More importantly when there is systemic corruption that covers a matter up like there has been in the AAT or Crewe case, we'll ignore it, or suppress it as too difficult to deal with. The cops too, attempt to "get their man!" and move on.
Len Demler was hated by many and not liked by those close to him. His wife May knew him well and distanced herself and more importantly her substantial wealth from him. He was though in common parlance "a crook" that totally turned many people away from liking him.
Except for the distance of time and my status as a very cautious lay person when it comes to psychiatric illness, I'd say that he had serious psychiatric issues on the Asperger's Autism scale. All signs I see are of a self-focussed individual – smart in IQ but without the EQ. Back in those days they never diagnosed people like Len. If they were high functioning (Len was) they'd leave them alone, but if they weren't and caused problems they'd be locked up and just plonked in a 'mental home'.
Jeannette didn't like him. Many in the Pukekawa farming community found him to be odd, and many found him obnoxious. Liked? Nah! Could he kill his own flesh and blood? Well, yes he could, if he could justify it to himself.
At the very least he knew who did it and where the bodies were, but John (and I) can clearly see how he was in it up to his eyeballs.
So, did he? No. Not literally, but he was intimately involved with it and could easily have, (and probably did) instruct it.
Let's go through the facts, then address his role in it all with commentary.
Len's crippling tax default has been well documented elsewhere. I would note though that this was not just one error or event in which he got caught. It was a very serious series of fraudulent activity. It was also wider than just a tax matter.
Maisies bailout too has been well covered. Basically she bought half of his farm to 'save his arse'.
At the end of her life, May suffered under serious pressure from Len as he begged and cajoled her to get her to change her will, gifting the farm back to him. She didn't. This conduct was so bad that observers came to hate him for it, a common occurrence with psychiatric conditions not properly understood.
Much has been made of his conduct post-revelation of the murders – he was cold, callous, unnatural, acted strangely and suspiciously. He used to dine daily with the Crewes – not weekly as the Police reported. He failed to show on the Wednesday leaving the flounder meal untouched and for the next five days until the Monday. This is smoking gun behavioural pattern change for investigators which was responded to professionally by the Police at the time who attempted unsuccessfully to engender a confession. They never got one though and never would have because he was innocent of pulling the trigger.
It is crucial to understanding Len's evasiveness and honest responses, exemplified as others have pointed out by his answer that he had money available to pay his fines. Technically this was a falsehood as the questions were intended but the answers were factual when seen by an ASD mind. Deception to people without ASD looks totally different to those who 'think differently'.
Len was also smart enough to avoid any major confession of active involvement. Again this was not deception in his eyes because he wasn't directly involved. We see this twisted reality as deviousness and guilt. Sufferers of ASD though can see it as a game, and are oblivious to the intricacies of normal human dynamics.
Again, I cannot diagnose fully, but Len was different and what I see fits in with some form of ASD.
Commentary & Application
A hundred times more important than a diagnosis per se is understanding how this affected his conduct and relationships. People with no experience of dealing with ASD may have to just trust me as I attempt to explain weird stuff, please do this if you can.
Despite Len's crookedness, lying, stealing, tax dodging and so on, Len will have seen himself as a "good guy" doing the best thing at all times. Even when (or if) caught he could have and obviously did carry a cognitive dissonance with him. Normally this can be seen as arrogance, but when genuine (such as when someone has psychiatric issues) this cognitive dissonance will set him up for stress and tension. If he was a hard worker (he was) and if he feels that he deserves to own "the farm" (he did before he got caught) and if the taxman caught him out (it eventually did) and if he felt (despite normal logic) that this was not fair (I think that he did) and if his wife bailed him out because she could (which she did), then it would only be natural to him that she should by rights give it back to him – which he made a big scene about. Solving the problem whatever it took then gives the context in which we believe he arranged for the extended family to act definitively.
This scenario could be repeated with every recorded event relating to Len Demler – his upbringing (most ASD I have seen is genetic passed down through the same gender as the parent – in this case Len's father too would have been 'different', which he was); his marriage; his dealings with animals, neighbours, children, business; even to matters of life and death. As a farmer, if an animal is sick and won't recover properly, you just shoot it. You get rid of dogs that don't do what you tell them to. If you don't have that all essential EQ or affinity to normal emotions, it is perfectly conceivable that Len looked at these murders differently – quite pragmatically.
This is the context and the issues that Len Demler brought to the table in relation to May's will & probate the 24 hours before his daughter's murder. He had done something sneaky (again) in relation to money things – Jeannette stood up to him, caught him out and didn't trust him (she really didn't like him). She argued with him over the probate and he would have called or visited the boys that night to get the job done once and for all.
Remember that as Rose Amy went gradually downhill, it was just Len and the boys who called the shots.
It is our belief that sometime on the Tuesday afternoon or evening Len put a call in to the boys to come over and do the needful. I know that Len had a phone and I assume that Rose Amy did too. My hunch is that the deed (to take Jeannette and her husband out once and for all) had been discussed previously in a general sense but that it became an actual plan on the Tuesday (the preceding day). As I say in the book, the sort of thing he would have said is, "Jeanette's not playing ball. Bring the pistol tomorrow night and let's get it over an done with once and for all!"
We now know that the next night, it all happened. Len stayed away for the next 5 days and the cousins did the clean-up as per Pam's 1979 confession to John. A plan here may not contain lots of detail, nor be totally specific, but it was enough to bring about an extraordinarily efficient double execution.
I am solid on my analysis of Len Demler and the significance of his reduced capacity to interact with human emotional dynamics in the normal manner, but the above paragraph that contains Len's words is supposition and conjecture based on likelihood. I wasn't there. Neither has anyone informed me of him directly and John's notes and words only conclude this by way of assumption too. Len has died and it is unlikely that this can be validated but it certainly makes sense. It's certainly very credible.
There are are some things that I don't know about Len's conduct after the murders. I know that he worked in cahoots with the local lawyers. They were in on it all too, but I do not know how the financial fraud occurred. According to John, Len delayed May's probate until the English one came and he processed Jeannette's probate first, tricking the court in the process. This was an important part of John's research which I never really got to understand despite seeking legal advice from more than one lawyer.
How the fraud occurred though is a secondary matter to the fact that it did occur. As I show in John's book the wealth transfer from one side of the family to the other occurred with Jeannette & Harvey's deaths. Houston, we have TWO bodies and the money has gone – I think . . . we have a problem!
Len became a very wealthy man and a large swathe of farm country south of Pukekawa down to Te Kuiti was called "Demler Country" post the murders. Within a couple of years following the Crewe murders numerous land transactions occurred using various companies and trusts – the Phoenix Charitable Trust; Honetana Farms Ltd, and many more.
These all have links back to Maisies substantial wealth and we'll go into the research John undertook in relation to this in a future post, explaining in a big picture manner how this affected her two daughters and how her handling family dispute signed her eldest daughter's death warrant.
Remember though that we always look for a simple solution to complex issues. We all want to see the good guy win and the bad guy lose. Sometimes life doesn't work that way, and the good guys show a bit of bad, and the bad guys do something good!
Whatever the case when it comes to Len Demler, and the murder of Jeannette and Harvey Crewe he was "as guilty as sin" – even if he didn't actually pull the trigger.
In my next post I get ready for the book I Fed the Baby and will continue with commentary after it's all out there for you to read. Standby . . .