In this post I dig into the challenge of establishing the facts behind the "Old English Wealth" that led to Maisie Demler's extreme (and largely hidden) wealth at the centre of an extended families bitter divide – one that ended in Jeannette & Harvey Crewe's death by way of execution. My conclusions follow John Ingley's findings as presented in his book, I Fed the Baby.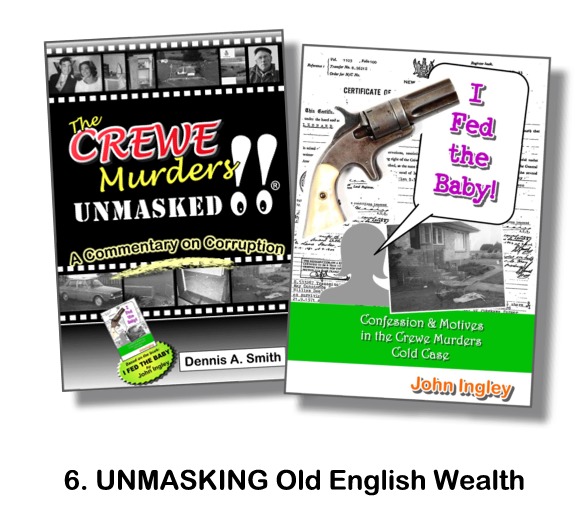 Again I caution the reader to consider the reality of life – while we might seek simple solutions (like to solve a murder mystery), in reality things can be a lot more complex than we wish.
The three questions the Police report as unanswered are: a) The murder weapon, b) The identity of the woman who fed the baby, and c) The motive.
The first two are relatively simple to answer and John does his best to answer them in his book:
a) Jeannette and Harvey Crewe were killed execution style c. 8:30pm on the night of 16 June 1970 by at least three (probaby four) of her cousins with a 'Ladies Companion' Pepperbox .22 pistol, manufactured by the Bacon Company in the late 1800's in the USA. It has been estimated that no more than 1,000 of this weapon were produced. The actual murder weapon had a white ivory (or probably bone) handle and author John Ingley handled the actual weapon given to him for repair by the woman who fed the baby. None of us know where it now is, but in 1976 Pamela & John retrieved it from Alf Hodgson's old cottage and it went with and was last seen with Pam.
b) Pamela Ann Howard/Needham/Boroevich (b. Whangarei, 1949) and her cousin Leslee Sinton (nee Howard – b. 6 October 1947, Whangarei) were the two women who fed the baby. There were two women present at the murders, two who fed the baby, and two who helped clean up and dispose of the bodies. They used each others' identity frequently with ID changes (wigs, voice changes and frequent deception techniques) to conceal their identities but were both cousins to Jeannette Crewe with a shared grandfather, (Needham=Harris). They holidayed together as children for example and while not 'close' to Jeannette, they entered the Crewe farmhouse on the night in question as family without raising suspicion. Assumptions that the baby was in the cot unattended for five days are based on selected Police 'experts' and are [how can I put this without spewing?] . . . they are opinions 'worthy of revision'. The Police 2014 Review on this matter is a nonsensical whitewash. It's actually utter BS when you know the facts, and that's putting it politely.
c) The motive was control of large family wealth – the topic of this post. We, (that is John, his editor and I), have established that upon her death Maisie managed just short of a million NZD of assets in 1970, and that is only what we know of. She was a very wealthy lady having inherited much wealth over the preceding years. We need to understand her financial position and role in the local Pukekawa society in order to properly understand the context that the murders fit into.
A repeating story for John Ingley, author of I Fed the Baby, is the incredible frustration to the point of agony of searching, often for many years for little pieces of information seemingly down a rabbit hole, only to find it cross-referenced later elsewhere. His natural curiosity combined with his hunting instincts enabled him to trace Maisies wealth back to England, and to track property transactions through blind trusts in both countries.
John was not well versed in legal matters, I find it incredible that over the decades that he was working on this project, he did indeed grapple with some pretty complex issues. Others can dig into his work should they feel it necessary, but the essence of this research is that Maisie gained her wealth from English inheritance. Old money.
Property in England can be held by family trusts and interests for generations without the government securing interests for taxation purposes. Her lifetime of experience managing family wealth in England and her acute business mind ensured that wealth was retained well over her lifetime. She also inherited wealth sideways from a close relative who bequeathed to her.
Cash in the bank and property in her own name is one thing, but land in the name of her trusts was another story as often debts too can be from private loans. In this regard, John's research work stands proud albeit solitarily.
I've shared the negative aspects relating to her husband Len Demler, but there were shining lights as well. The couple had two children, Jeannette first, followed by Heather, but a divide occurred and worsened over time. Heather and her father sided against Jeannette and her mother. It has been well documented that Maisie changed her will and transferred control of all her wealth to Jeannette. This is true but longtime stalwart & family friend Alf Hodgson was trustee too of a portion of this wealth. Those wishing to know more about the ones responsible for pulling the trigger need to research the Hodgsons & Howards – in particular establishing what the Police did (or didn't do) in this regard back in 1970. Equally what is not mentioned or addressed (and what is glossed over) in the 2014 Police review is also telling!
Remember that very high levels of leadership in six different areas knew of the Pukekawa events. It is the absence of actions that one expects as well as what they did that an astute investigator notes as definitive in many cases. I touch more on this later in this post.
Alf's passing following May's created a huge void and triggered greater tension within the family. Rose Amy had two boys Steve & Donald, when she married Alfred. According to informants, Alf was a strong, straight dude and Rose Amy was much weaker and eventually "lost her mind". The boys did not have the same character as their step father Alf, and came to influence matters much more after Alf died. Specifically they influenced their mother, as well as their taking of human lives.
As anyone who has been involved in family conflict knows, things can get heated, tense and difficult over money, wealth and suchlike. Add in a little bit of the "Demler touch" and you've got an absolute recipe for trouble. From a distance it is utterly impossible to know fully the wealth that Maisie passed on to Jeannette but John's calculations estimate a little shy of 1 million NZD – a huge amount in 1970. Then there are unanswered questions over that English wealth – was it ever cashed up? And if it wasn't, is there still income coming in from it? And to whom did (perhaps even does) it come to?
Most importantly & totally unable to be established by John in his position as a private person years after the events was the total of Maisie's private lending. If John could establish almost a million dollars of value from his research, perhaps Maisie's unofficial lending was to the same extent? It was most certainly for a very good reason that an entire community remained quiet by way of social pressure for so long, don't you think?
May knew all about trusts and protecting family wealth. Jeannette was her choice to continue the family dynasty. This is NOT your normal farmers wife who got bopped off over a love affair gone wrong that we are talking about.
The Significance of Old Money
It is commonly perceived that a millionaire has an account with a lot of money in it. This may be so, but a millionaire's prime asset is their mindset. The saying that the first generation earns it; the second retains it and the third spends it (or loses it) comes to mind here. Maisie retained it and had an astute business mind.
Her wealth remained in tact while married to Len Demler. That says a lot about her state of mind. She was tough. She knew who burned down the hayshed and who broke in, but she kept it from getting out deliberately. She knew what her husband was up to and protected her interests by putting control in Jeannette's hands, unfortunately a death sentence.
Most of all though, it was her business activities that eventually created the situation whereby a conspiracy of silence fell upon the Pukekawa region post the murders. The reason for this is that Maisie was the private banker of the community. She loaned her wealth out to many people – farmers, business people and many others over the years.
This is the significance of fifty years of silence in regards to these murders. It's nothing to do with finding the murder weapon, or identifying a killer, or a motive. The high leadership in the Police knew back in 1970 what was happening and who did it. Sure, not the bobby in the street, but the top dogs knew!
This is the reason that Hutton's superior(s) at the time instructed him to "sort it out" even if it meant framing an innocent man.
This is the reason that AAT went through hell on earth, and why twice he was sent down at the hands of people who held back evidence and eventually framed him.
This is the reason that why even decades later the Police cannot dare allow this 'cold case' to be solved, for it will lead to the calamity that the public finds out that for 50 years, the Police knew it all way back when!
Please let me tell you what often happens when a creditor dies. You know? Nothing! If you owe money to somebody, and they die and nobody comes chasing you to cough up the debt . . . what are you going to do about it? Run into the street shouting, "Please, somebody, take my money! My creditor has died and I owe somebody all this money!"
Yeah right!
Much has been said in the years following the murders of the stark appearance of the Crewe's house, and the average condition of their farm. But what was Harvey doing on the day of the murders? Buying stock – a bull in fact!
Money. Harvey now had money. And what was he doing cancelling his wife's curtain order? And why did the people of Pukekawa as a unit [pretty much] all close down and turn into monkeys that saw nothing, heard nothing and spoke nothing?
You see, Harvey Crewe was in the process of cashing up, selling his farm and heading down country when he and his wife were "taken out". They had considered staying put but she wanted away. They considered going north but Harvey wanted to return to his roots. Two bullets stopped those plans and they also stopped any cash collections in their tracks.
That is the significance people, of having large amounts of money; loaning it out to your friends, neighbours and the general farming community. Eventually, when it comes time for a banker to cash in, a bullet, or two does the trick.
In 1976 John Ingley met a woman going by the name of Leslee Sinton; a 'secret' cousin of deceased Pukekawa farmer Jeannette Crewe; who had horrendous nightmares; who had lost two front teeth in secret circumstances; who was skilled in deception; and who then in April of 1980 crumpled on the floor of 1/1152 New North Rd, Mt Albert and confessed to her partner that she was Pam, the 'woman who fed the baby' and more.
For the next 36 years John simply asked questions; thought about it; then asked more questions.
He's gone now; done his dash. Some say that "it just about killed him!" In this case sadly, the stress and strain of his research did exacerbate his medical issues so in reality it did kill him.
John Ingley, your work is now out . . . it's not complete but it's our best efforts at getting your life's work out there where it belongs.
RIP.
Following the publication of John's book here, I continue with more commentary (as promised) on a range of topics, some minor, some I think important and also some questions – questions for the Police; questions for Rochelle; questions for the Thomas family; questions for politicians; questions for the judiciary, the legal professions & the media; and questions those who know more about these matters than I do.
And hopefully I can give answers to yours too, ones that have a healthy dollop of fact and logic contained. Thanks for swinging by today. I trust that you enjoyed the book.
In the next post I dive into what I call "endemic corruption" trying to show how this manifests in the Crewe murders investigation through multiple sectors of society. Often corruption is not an actual act, it can simply be remaining quiet, what the Christian theologians call the "sin of omission" as opposed to an overt act, called the "sin of commission". Self-interest of course is the norm in this world.