This is a partial discussion of the NZ Police Review, released in 2014 into the investigation of the Crewe murders in and following 1970. The Police investigated their own at the request of a surviving offspring and examined their processes and findings. They concluded that things went wrong way back when; they came to a lot of sound but some faulty conclusions; claim that it was thorough and that the public should be well pleased. My analysis gives it a 10/10 in some regards and a TOTAL FAIL in others.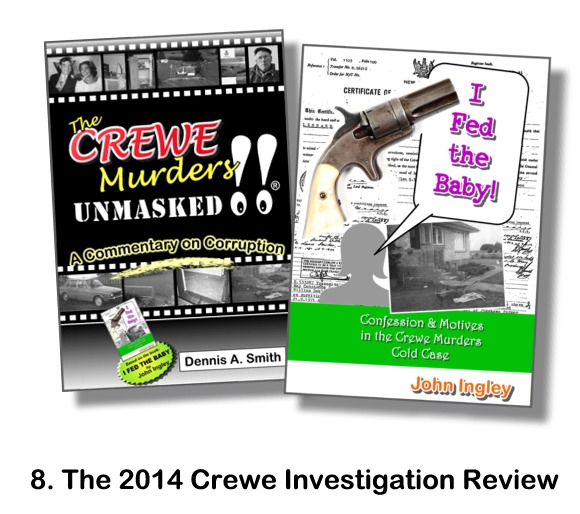 Author John Ingley in his book, I Fed the Baby, recently released online here, answered the three key questions that the Police allegedly could not answer.
John received the 2014 Police Review, digested it to some extent but by then he had pretty much wound down his investigative work by then due to his health/age issues. He died in 2017.
At the beginning of 2019 I headed into this unholy mess, fresh. An experienced (and my company Licensed) New Zealand-based Private Investigative Blogger, I could and did tackle thousands of pages of information from the Police AND thousands of pages from John Ingley's research AND multiple books and articles written by others and faithfully and professionally gathered together over the years by his editor.
Along with John's [now also aging] editor, I completed the book I Fed the Baby to publication stage. This required me to have a sound understanding of the Police's initial investigation; an excellent understanding of John, his work, his personality, thinking and approach to most related matters; a strong relationship with his long-term editor and eventually (it took a while to get critical information from the Police utilising the Official Information Act) the Police Review of 2014 and its associated Appendices.
This review was undertaken between 2010-2014, and written by now retired Detective Superintendent Andy Lovelock. At its launch it was billed as a thorough, warts-and-all look at the entire investigation. It was also claimed that the public should be well pleased with it. It did however raise the ire of the Thomas family, and for good reason too I might add! They called it a white-wash.
My summary in a few words is slightly less critical depending on which day of the week it is and whether or not my dogs are being obedient or not. It clearly was thorough – to a point – and yes, it was obviously written by a "company man" but on the surface it did address most of the issues well, certainly enough for those on the outside to be happy that justice had been done.
Unfortunately the bias towards covering up and explaining away the Police conduct was perfectly obvious to those in the know. I can perfectly understand the Thomases ire, and their subsequent description of a cover-up.
My analysis comes from a [hopefully] relatively neutral perspective. I made no money from publishing John's book. I am not selling it in paper form [at least yet It is now available on Trademe] and it is available free for download thus unlike other authors I have no commercial interest in pinging the Police (for example). I am not a Thomas and was not involved in the crime in any way and while I was paid to complete the book to publishing stage, I simply did the work, then got paid. I did contract to publish John's work according to an agreement with the vendor when I purchased his company, Abundant Past Ltd.
The most critical aspect of understanding this review is the strong belief I have, that key people within the Police knew VERY early on in the investigation who did it and why.
I'll repeat that in another slightly more direct manner – everything changes about the way that we look at the Police conduct in this investigation when we consider that the crooked cops Johnston & Hutton were not only either instructed to, or encouraged to cover certain things up but that this happened VERY early on in the investigation. Almost right from the beginning of it.
When one looks at the evidence, it is clear that somebody probably within 12-36 hours of the Police getting involved, understood perfectly well the significance of what happened and undertook actions to cover-up. That this corruption has continued to 2015 that I can track, should change our perception of Police actions – things like apologies, explanations, evidence planting, withholding of evidence, removal and destruction of evidence, legal shenanigans, official inquiries, witness treatment and so on.
Add this to an unusual long-term silence from within the Pukekawa community and the whole thing stinks. If you've had the chance to read his book, you'll know how John's life was messed up when he paid the price for messing with something so deep and serious as the Crewe murders and the consequences.
In future posts I hope to share more of how I've come to this conclusion, but I've covered a little to date – the cloth (or a yellow parka) for example supposedly jumped three metres from where it was first photographed then caught fire with a cigarette butt and at the same time the fence's bottom rail was reinstated. And all right in the middle of a murder investigation. Accident? Poor site security in the 1970's? Yeah right! Somebody knew something just after those photos were taken and didn't want it getting out.
There's much more about all of this but this key understanding is central to any sound analysis of the 2014 Review.
When investigating a story we need to look at what is missing as well as what is there. When the writer admits to a fault or a failing, we need to assess how they handle the problems raised. It is plainly evident that the Police did NOT want to "go there". As I have mentioned previously it is a nonsense to claim that an evidence-based enquiry has completeness when key evidence is missing, umm taken out by those who are tasked with investigating the evidence! Think about it.
Key phrases over key events that belie logic appear at critical points in the Review.
Just consider this one [paraphrased] . . . "The oilskin is missing however we do not know the significance of this missing evidence!"
Ummm . . . well hello?
Did anybody think to ask who or why this thing was moved and removed? Where is that examination? There was no attempt to analyse what the misappropriation or theft means – it is the significance of the item stolen that is addressed. This is a fundamental failure in logic. Logical Fallacies 101. The cookies are missing from the cookie jar, sir!
Who cares whether they were chocolate chip cookies, Afghans or Peanut Brownies. That the cookies were stolen means . . . what? That we have a cookie thief in the house! I wonder why they stole the cookie. I wonder who they might be. Perhaps? But no! "We don't know the significance of the [whatever]!"
I could go on and on, but I now draw our attention back to the basis upon which the Review was established, and this means the "Terms of Reference".
In political circles it is the authority that issues the instructions that establishes the reporting activity, and that eventually determines the outcome. Keeping a report's terms of reference narrow but presenting it as thorough and achieving the covering up objectives is the name of the game. It's a typical approach by those in power to protect their power bases.
This report would never, because it COULD never, answer the key questions. The reason for this was explained very clearly by the writer(s) right at the outset of the report team's report – they wanted to look at all the evidence and only take into account EVIDENCE.
Umm, hang on . . . the key evidence of course was not present!
Did you even know that Pamela was proven to be under Police protection in 1980? Was she perhaps never investigated back in 1970 and that this was avoided deliberately? What about the many pieces of evidence that went missing – not just the ones that have been identified by the organisation that had the responsibility to gather and hold it? And what about the deliberately suppressed information from witnessed scared to come forward.
Umm . . . got it? No evidence, means in an evidence-based analysis that . . .
Can you see the way it's done to cover-up, officially?
Another little trick that the Police played on the gullible journalists present was to state that the Review was undertaken with the oversight of senior officialdom – an independent QC actually. Wow! Cool bananas!
And of course there is unity? Agreement of course?
Nope!
Not only did the QC overseeing the whole thing (paid to do this BTW), not only did he find differently to the Police, he stated that more than once – in writing and to the media!
Spare me days what an own goal that is!
If truth and logic were the goal to restore confidence in the proven corrupted Police one would have thought that this little fundamental difference in finding would have been explored, even behind closed doors and discussed but no . . . it's left to hang out there, in public. Police self-interest again vs their own official oversight!
So let's leave issues of self-interest, self-justification or self-reviewing to one side for a moment and look at the findings of this Review.
First off, the Thomas family have written their own response to this Review and called the whole thing a white-wash in strong words. OK they've got a vested interest I know but was their emotion because of the results or because of the way the Police conducted their review? Did they consider the Police had preconceived view of their guilt or was it because they came up with the Thomas farm again being involved as a major finding, somehow?
Actually don't laugh, it was both!
The Thomas family claim that the Police not only treated their people as guilty before they were found so, they claimed that the Police weren't even interested in what they had to offer!
OMG!
This is a very, very serious matter and quite damning towards the CURRENT (as of the 2014 Review) Police. One would have thought that the current Police would not only do everything in their power to assess the evidence provided by the Thomas family but to present it VERY obviously and be VERY sure if there was ANYTHING they disputed that it would be addressed openly, and accurately.
Not so!
So this speaks volumes, does it not?
Now to their factual conclusions. We're moving quickly here, I know, but we've got a lot to cover.
Leaving aside the Review teams conclusion that Leslee didn't do what we now all know she did (rather hilarious to us all, actually) let's move to Jeannette's injuries.
After spending four years and $400,000, the Review's finding is that Jeannette Crewe lost her six front teeth because she was found in the Waikato river. We have to ignore the context of serious bone damage (doesn't matter if it is a skull fully cracked right around or 'just' a broken jaw, there were signs of violence leading to murder) and they establish that her teeth "fell out" because she was found wrapped up in a blanket in a river a few months after she went missing.
Does anybody smell something rotten here? Sorry Jeannette, not you – the Police Review team's findings.
As investigators, when we analyse documents, we seek to understand the writer and the context in which they were written. We look at writing implements such as pens, handwriting, edits, rewording, spelling and grammar errors, usage of technology and so on. It all helps to create a picture in our mind of who the person was; what they were trying to achieve and how they planned to do this.
A part of this process is to take into account the style, the emotion, the passion or the expressions used in the writing – swearing, use of acronyms, the formality of wording, and so on. It creates a picture for us, and the art of a professional in investigation is to take the subconscious, that which is not noticed by the many and bring it out. You can't 'unsee' a hidden shape in a deliberately ambiguous design once shown it. You can't unlearn something once it has been learned.
As I read this report, I could see a cold, clinical, typical Police approach, totally professional in all regards, page after page after page . . . until one phrase jumped out of the page to me, loaded with emotion. Can you guess what it was?
When I saw these words by Andy Lovelock I knew instantly that he was "a company man", because his target had hit him where it hurt – his professional pride and he responded with emotion – the first and only time in the whole report. He referred to Ian Wishart's claim that "Johnston did it!" as a "[ludicrous theory]". Easy to overlook or explain away, but for me, that was it. I knew then that the writer of this report would have done (and probably did) anything he could do to protect the reputation of the Police.
End of story for me. All the rest was just more proof of this reality.
To me, the Police review of 2014 lacks credibility in both its findings and thoroughness because, just to name a few little things even without going into the issues raised by the Thomases:
The Review team lacked the independence to explore the possibilities of Police self-interest or corruption let alone to admit or advise that it had clearly occurred;
Explore anything that was not provable to a legal standard of proof due to a restricted approach to assessing evidence;
Address the differences between their own supervising legal counsel AND the Thomas family meaningfully; and
It came to utterly ludicrous and indeed false findings, notably that; nobody fed the baby, when Pam confessed; Jeannette's teeth "just fell out and disappeared somehow because she was found in a river" but there was evidence of extreme violence; the murder weapon was probably a rifle when it was actually a pistol and they were advised of that by the British Home Office*; that there was Police procedural failure (but not high level Police corruption) and that nothing further could be done without somebody with credible information coming forward when many over the years have done that but have all learned not to trust the cops to do the honourable thing on this matter.
On Friday 12 July 2020 at 10.00am I walked into the Taumarunui Police station with John Ingley's long time editor and spoke at a pre-arranged meeting with the officer in charge, Paul Dowie.
I informed him in writing prior to the meeting and in writing at that meeting the exact purpose of the meeting and after a good preliminary small-town kind of discussion, I allowed John's (now retired) editor to advise me whether it would have been John's wishes for me to spill the beans to the Police then and there.
I asked him very clearly and directly if it would have been John's wishes to give the NZ Police a heads-up that I Fed the Baby would be published online the following Wednesday 17 June 2020, yesterday on the 50th anniversary of the Crewe murders, and to do it then and there.
His reply and my actions informing the Police follow in the next post in this series.
It is worth perusing, so click through now to enjoy!
* It's worthy noting that forensic tests by the British Home Office on the Crewe bullets found a very high likelihood that the bullets were in fact fired by a pistol, not a rifle. Of 15 matches they achieved in their own weapons tests, 11 of the matching weapons were .22 handguns, only four were rifles. Auckland Star, 13 November 1978
Source: The Inside Story – Ian Wishart, P66