A book by the late Te Kuiti resident, John Ingley that claims to have solved the Crewe murders, will be available free, online this Wednesday, 17 June 2020, exactly 50 years to the day from that brutal night in Pukekawa.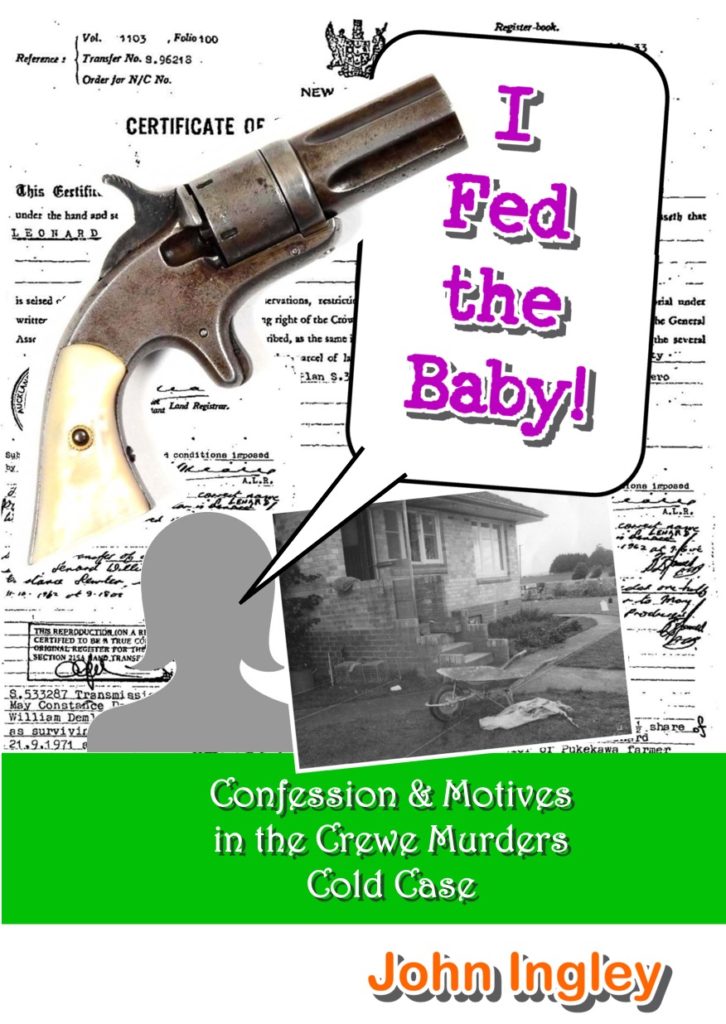 Entitled, I Fed the Baby it identifies the two women who fed baby Rochelle then cleaned up, following the execution style murders of Harvey & Jeannette Crewe in 1970.
It also answers other key questions supposedly unanswered by investigations thus far, by detailing who the perpetrators were; how the mastermind benefited financially from the crimes; where the four people involved and the two victims were physically located at the times of the murders and identifying the actual murder weapon – an antique American-made .22 Ladies Companion, 'pepperbox' pistol.
Private Investigative Blogger, Dennis A. Smith, says that he is honoured to get John's completed work online for full & free access. "The truth of these events will finally be getting out," he says "and this is exactly what John wanted."
"Like many, John Ingley desperately wanted to see justice served and our commitment to him on his deathbed to publish his research posthumously, will finally be honoured on the 50th anniversary of this tragedy. Those who supported him in his tough times over the years should be proud to see his life's work finally out there."
According to the book, John Ingley suffered badly at the hands of what the author calls "the system".
In his supporting blogging and analysis, Dennis also points out evidence of Police corruption much earlier than is currently acknowledged.
"The book will cause ripples of concern to the highest levels of power in New Zealand as the finger is pointed at those who have remained silent; at those who have actively covered-up what happened; and as the motives of the people who benefited are laid bare. "This was an inter-family financial matter – a crime of greed, pure and simple, with many in the local community benefiting financially," he says. "These executions were undertaken with the clinical mind of a farmer shooting a sick animal and many, including the Police definitely knew a lot more than they have ever let on!"
"Those familiar with this 'cold case' will recognise the truth to many of John's conclusions. They will be able to validate their hunches based on both John's factual revelations and his sound bushman's logic. This is the breakthrough that many have been seeking and to my mind these ugly crimes from 50 years ago are now totally solved," he concludes.
The book I Fed the Baby is available in PDF format for review by accredited news organisations from 5.00pm today, Monday 15 June 2020 and will be available freely at www.dennis.nz in HTML and PDF format from Wednesday 17 June 2020.
MEDIA ENQUIRIES ARE WELCOME:
Dennis A. Smith
Applications for access to advance preview PDF copies of IFTB can be made by email – please simply supply your media organisation's credentials and your appropriate contact details.

Please note that any quotations from the book IFTB and my website dennis.nz are welcome however they are subject to my Terms and Conditions that require attribution to the original source and a working link to this website if published digitally.