On Friday 12 June 2020, I met with the Police officer in charge of the local Taumarunui Police Station, Paul Dowie, and this post contains a copy of my introductory letter to him; a summary of the meeting and a short commentary for the record. It was a big thing for John's Editor and a big call to put a man's entire lifetime of work in the hands of the very organisation whom we know to have contained (at least until 2015 that I know of) 'vested interests' on this matter, yet who simultaneously claim to uphold the law.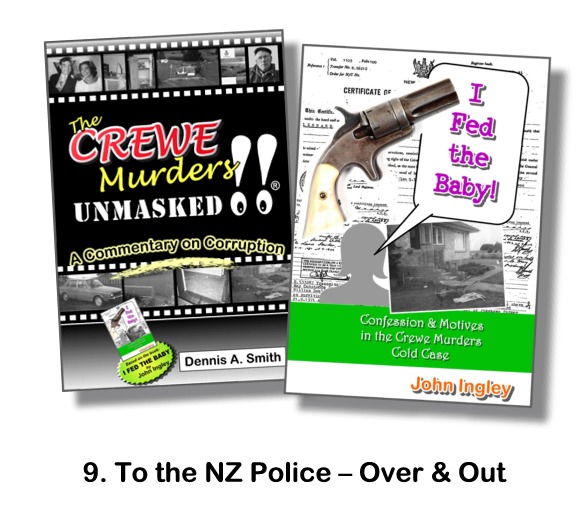 After we had spoken for a good little while, I turned to the now retired and aging Editor that had made the personal commitment to author, John Ingley to publish. I asked him for the final time whether he was certain that John would have wanted to proceed at that time and place with what we were about to do. It was a mark of respect for a man who had given his professional services to another man who had devoted his life to unravelling truth.
Ron replied very firmly that yes, now was the time and place that we should proceed to 'spill the beans to the authorities' and that yes, John would have wanted it done this way and at that time and place.
I concurred. It was of course a risk.
It was the Friday morning before the planned publication date on the following Wednesday 17 June 2020. This gave time for the Police to inform Rochelle, should that be their wish. It gave time for them to secure a High Court injunction to stop publication in NZ should that also be their wish (my Dead Man Switch would publish offshore of course no matter what). It gave them time to engage with me personally should that be their wish and it gave me time to prepare for any media enquiries in response to a media release planned for the Monday afternoon.
I thanked Ron and I assumed the batton of responsibility to John to get his work out there.
I summarised the rest of my meeting with the Police, thus:
Hi Paul (cc Ron)

A summary of our meeting for the record as promised.

Preliminary
This morning I sent you an introductory letter by way of email to Angela which you received, and I gave you a signed version of it in person.

Ron Cooke and I came to see you this morning to discuss the possibility of sharing with you the key findings of a book by the late Te Kuiti author and researcher, John Ingley entitled, I Fed the Baby, which I intended to release on the 50th anniversary of the murder of Jeannette & Harvey Crewe – 8.30pm next Wednesday.

Ron Cooke
After preliminary discussions you alleviated my initial concerns over my personal safety, I asked Ron whether he believed that John Ingley would want us to continue with our current course of action, publishing online and informing you of the key findings in advance.

He advised us very firmly that, yes, he believed that John would have wanted us to proceed as planned.

He did not answer the reasons why he said this at the meeting but I am sure that he will in due course.

I believe that I knew why he said yes, and thus I proceeded in confidence…

Critical Information
I excused him from the meeting and stated that his role in the matters relating to his commitment to John Ingley was "done".

I then proceeded to explain in essence the two books being published . . . mine by way of blogging that built towards the collation of a book and John's which was formatted more as a traditional book.

I informed you of the critical information as summarised in the document, mostly coming from my analysis of the book and its research.

1. The identities of the two women who fed the baby are Pamela-Ann Howard (b. 6 October 1947 in Whangarei) and her younger sister [sic] Leslee Sinton (nee Howard b. 1949) both who attempted many times to deceive others over their true identities. They were frequently together and both were present at the murder scene. They participated in violence sufficient that Pam lost two of her front teeth. [I actually got the names of the two girls mixed up in this email but hey, they are right in the book with one of the cousin's actual birth certificate shown. Pam has used a different maiden name, but it is the same person.]

2. The two males present were the Gurney brothers, sons of Rose Amy Hodgson, and steps sons of Alf Hodgson.

3. Maisie had control of considerably more wealth than has been reported and was a local 'farmer's banker' – her wealth gained from English land holdings and concealed in blind and half-blind trusts. The murders were financially motivated and occurred due to a family division with the instigator Len Demler, who indicates many symptoms of ASD, an area of my expertise.

4. The murder weapon was a .22 Ladies Companion 'Pepperbox' pistol manufactured in the late 1800's by the Bacon Company in the USA of which approx only 1000 were ever produced. It was last seen in Pam's possession. The British Home Office incidentally reported that 11 out of 15 test shots that matched came from pistols. All reference to rifles and in deed the AAT factor in whole, I discounted as a distraction.

5. We discussed quite a bit about the human dynamics of power, vested interests, and so on but this all became moot when you assured me that matters would remain above board if you were involved and we moved on. I did state however, more than once that while Grant Nichols may have believed what he said at the time, it is my belief that many in the Pukekawa Community knew who did it and why and that senior vested interests above Johnston & Hutton sought the immoral conduct – essentially a cover-up. I also assess the primary author of the 2014 Review Andy Lovelock to be a "company man" and that there is evidence of distortion in some regards. I of course am not bound by standards of legal evidential proof.

I mentioned that there were questions over Rochelle Crewe's parentage. John's interests in protecting her was one of the reasons I approached you – to give you opportunity to advise her prior to publication if this is your wish. On page 141 of Kevin Ryan's book he deliberately calls her "Rochelle Thomas" and Pamela had stretch marks but no baby. It is within the realm of possibility that Rochelle is an adopted child, or at least not Harvey's offspring.

I noted that there are two striking factors in this entire affair – i) the presence of powerful women matriarchs and ii) the distinct feeling that many know more than they let on.

Responding
Without telling you what to do with my approach to you and the provision of this information, we considered it wise to ensure that senior Police were involved in receiving the "information file" ASAP and that perhaps Andy Lovelock should be given the opportunity to digest and/or respond, perhaps even updating Rochelle in advance of publication. I will hold off publication of any matter relating until Monday afternoon as a courtesy due to time constraints/the weekend.

One thing I didn't do was to discuss the possibility of providing you with an advance copy of the book or blogging. If you or your superiors do want an advance copy of anything, please contact me. Email is my preferred method but by any means is fine.

You are welcome to visit me at any time however I seek to minimise obvious Police presence here on this property for many different reasons. I would prefer unmarked cars and notice of visitation.

[While I have had to prepare for it, I really don't want them to do a "Nicky Hager" on me, nor to be upsetting the neighbours with their presence. Dope, lower socio-economic realities and all that!]

Assurances
I assured you that I would always shoot straight with you no matter what.

Neither of us recorded the meeting and you are hereby invited to add or correct any of the above summary.

I would appreciate confirmation of receipt of this email and also your acceptance that this is an accurate summary of our meeting.
Paul did both of these requests and I consider the matter now in the hands of the Police to do what they deem appropriate.
I will make myself available to assist their inquiries in any way I deem appropriate.
John's core research materials were digitised prior to our meeting on Friday and are safe and secure in multiple foreign jurisdictions as well as published online here.
So this has been a real mission to tidy up; get out there and into the hands of those tasked to follow up. Personally I'm ambivalent to the results. I'm not an activist – I'm an Investigative Blogger. I get my teeth into curly subjects; go where others fear to tread; speak it like I see it, fearlessly and hopefully accurately. Whether others call me a fruitloop or keep the spin going is their call. I'll help anybody get their message out there if that's what they want and they're prepared to play the game. Some do, but most don't – even if they think they do!
I would note here that in publishing more than 2 million words online, and putting out some 33 books now, many that have named and shamed some pretty nasty crooks, crims and crazies, I've yet to be proved wrong and I've yet to be sued. I did once say years ago that I hadn't seen corruption in Samoa, which I later came to regret saying, but it was true at the time because I hadn't seen it then – I was just a little naive in retrospect. But I'm a proud man who hates getting things wrong, so I try not to.
I think this all speaks volumes for the quality of my work and my long-term fastidious approach to integrity. It may be that I'm a PIA to live with but in my book black is black and white is white, boy is boy and girl is girl [oops, where did that come from?], right is right and BS is wrong and if you sit in the middle trying to BS me with fuzziness and . . . well, I guess you've been warned!
John got my attention and showed me that he treasured the truth. I do too.
There will be more, much more to come on this but this is a wrap for now – the dogs are hungry and have been missing my attention for the last couple of weeks with all this IFTB stuff so I've gotta go. Thank you so much for swinging by.
UPDATE 3 July 2020: Following advice received from my Tipline, I corrected the above with a follow-up to the local Police:
Hi Paul
Just an update for you please, for the record.
In my previous email I said:
QUOTE
1. The identities of the two women who fed the baby are Pamela-Ann Howard (b. 6 October 1947 in Whangarei) and her younger sister [sic] Leslee Sinton (nee Howard b. 1949) 
END QUOTE
I have been informed by my Tipline that John Ingley assumed Pamela Ann to be a Howard and therefore sisters with Leslee Sinton due to their similarity in looks. This assumption though is incorrect. The woman who confessed to feeding the baby appears to be Pamela Ann with a maiden name of NEEDHAM (not HOWARD). I can also confirm that it is Leslee SINTON (nee Howard) that was born 6 October 1947.
Validation of this and current contact details can be provided if/when you ever want it.
My research confirming identities and blogging is continuing.
Cheers