Having warned of the danger of assumptions; having explained how Len Demler's Autism explains his otherwise weird and hitherto un-explainable behaviour and having discussed issues relating to secrets, I now dive into the specifics of who killed the Crewes in 1970. I share my take on who actually pulled the trigger, and who did it twice. After 50 years, both suspects mentioned here are now of course dead, and both streams of thought are slightly outside of the mainstream thinking, but both theories IMHO have logical grounds which have not been undermined by evidence or logic.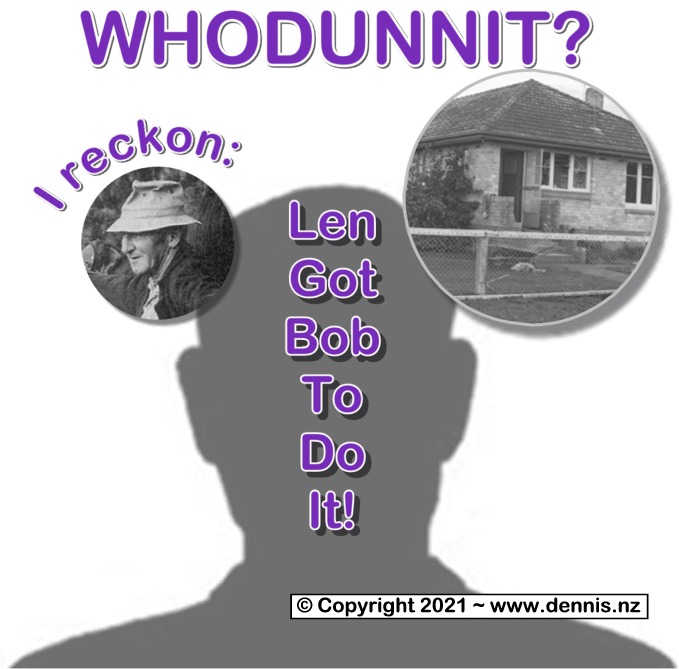 Assuming that we can accept that Len Demler was the source of this weirdness (Rochelle's nonsensical relief that he wasn't involved put aside) but didn't actually pull the trigger, we are looking for a mercenary that knew Len and could, would and indeed, did do his bidding. A vested personal interest would help clinch the deal too.
The first option is the one that we put into John Ingley's book I Fed the Baby, that it was John's take that the older of Rose Amy's sons (who was known as a hothead) and who lived across and just down the road. This option has quite a bit of validation because of a truckload of evidence that ties back to the 3C4 property, but while it is a belief based on John's logic, I admit that it is mostly circumstantial. He was perhaps there but another may have been there to pull the trigger. John and the woman who fed the baby later retrieved the murder weapon from this property and Alf, the boys' step father had been a long-term co-trustee and friend of Len's going back decades. Alf was "straight" but Rose Amy wasn't a strong personality – the boys ran the roost. This claim makes sense indeed and is hard to combat, but while the second option has always been a little more 'out there' it has always held an intrigue for me. Bob Souter.
Call it gut feel, logical, conspiratorial or whatever, I've always been a little uneasy when it came to Heather's eventual husband for a time, at the time, Bob Souter. If pressed to name the guy, then he's my pick, and I'll tell you why . . . I've never been totally convinced at the evidence that he wasn't in the country at the time. Let me rephrase that – I've never seen ANY evidence that he wasn't in the country (other than a statement from crooked cops that they had investigated him and found that "he wasn't in the country at the time!") I think that he was, and if he was staying with Len or visiting him on occasion or even just hanging around drinking and doing what mates do with their de-facto father-in-law, then it would be natural for Len to lean on him to do the deed. It's the exact kind of thing that could easily happen, especially if there is something in it for the younger man. I'll come back to this issue of being in the country or not later in this post.
Len was most definitely a schemer, and even though he lacked a proper understanding of social matters, he wasn't a fool, so opportunism combined with 'different' ethical viewpoints could easily have triggered the sequence of events that did occur. I am currently thinking that Len organised things so that Bob Souter and probably 'his mates' pulled the trigger and Len attempted to keep things 'on track' until Bob was back in the USA with Police involvement after the weekend when it was confirmed that he had a good alibi established.
There's more to validate this option though, so please bear with me as I work my way through this.
I know that Maisie had wealth and used it to good effect. She strikes me as a smart cookie. She knew the score, including all about Bob. That's why she "didn't approve" of Heather's choice in male company. Bob was a crook, no, he was way more than a crook. I'm told that he was "a nasty piece of work", and that he was a bankrupt until the day he died. He was a trained professional killer and he had what was called an "evil eye". He was also discharged with dishonour from the US military. Whew! That takes some doing. I wonder why he was booted out. He really must have been some dude!
Maisie knew who this "dude" really was I am sure, and her disowning of Heather was not some little scrap over a bit of wealth by some proud old religious lady. This was a firm decision by a strong, street-wise matriarch who full well knew the guy whom her daughter had teamed up with. I know that Maisie also knew who the troublemaker(s) on the farm were and it makes sense to me that the reason that she instructed her family that the events were to be kept quiet was that the troublemakers were family! You can't tell me that a mother doesn't know or understand the details of any division in the family, especially one between her only two daughters! If she knew that Bob was big trouble she would likely wanted to have kept this to herself (possibly confiding something to Jeannette, especially towards the end) in order to protect the family name sure, but also because she knew what she knew.
Now the tipping point for me was gaining knowledge that word on the street was that three Americans who were staying at the Tuakau Pub at the time of the murders were guilty of the crimes. Now as I have said, "word on the street" should be taken with caution and it certainly isn't legal proof of anything. I want to know who said what to whom, and why they said it and who told them and why they said it – what is/was the proof? I also want to know how many others heard the same thing and to be able to assess the validity of what the "word on the street" says. I'll put it this way on this one, like with claims that Johnston was 'involved' with 'a girl from down Jeann
ette's way' before she married Harvey [hint, hint], it could very well be true that there were three Americans staying at the Waiuku or the Tuakau pub who obviously could be 'persons of interest'.
But it's all in keeping with my gut feel.
If Harvey was shot behind his left ear and he was killed outside, most likely shot from behind while going out of the East gate to collect firewood, it is very likely that the killer was left-handed. Should I ever find confirmation that Bob Souter was left handed, then I think the balance of probabilities would push me into concluding that Bob Souter was most definitely the executioner, no matter what the Police said or did to prove otherwise. Their vested interest and corruption is well proven in these matters! I would note also, that there is no negative constraint in this matter, i.e. left-handedness is not needed to be the killer but it would be a compelling pointer if John's research and applied logic is correct.
Now if we invert the assumptions that the Police are honest and that they didn't (and still don't) know who committed the crimes then you get the conclusion that they, (or at least some) did know the real score, covered up, lied, framed an innocent dude, attempted to twist reality to protect their combined reputation(s) and were, or are 'crooked'. If this is correct, and if Heather's Bob was involved then you would see the very things that we do:
Len Demler (and those who knew him and helped him) would attempt to get the bodies as far away as possible, out of sight;
He (or they) would attempt to move the time of the events to a later time when Bob had an alibi (that he was in America);
That the corrupt one (or ones) in the Police would pass up detailed examination of Bob's whereabouts at the time of the murders, hopefully a statement along the lines that, "We've investigated and conclude . . . " would be sufficient.
And that's exactly what I see.
The logical conclusion I come to is that Bob Souter had a very strong motive to take out the Crewes if it could be engineered that control of Maisie's wealth transferred from Jeannette's side to Heather's side. Bob had not only the motive, he had the wherewithall to kill. Given the weapon and an assurance that he would be given cover, why would he not 'do the needful'?
Until I see a better alternative, or evidence to the contrary, I think he did.
Let me recap then, because I think that this is important, Bob had the personal capacity to kill. He was a trained killer, operating in the US Military at the time. He had an ultra strong motive and clearly had local support from his step-father-in-law who had Autism who seemed to know others in the community, some who had power and were (how do I say this politely) a little less than honest, and who would have had a very strong motive . . . if the murders were seemed to have been committed while he was out of the country.
It has been said, "Dennis, you will never get any immigration records to prove it! The US Military will never give it to you, even if they still exist!"
This thinking is fine if you want to advocate or to gain justice or to achieve a specific end. In this sense the 'bad guys' have already won. They have done their dash, and have already met their Maker.
What is left 50 years down the track however is the residue. I do not seek justice in the sense of a conviction nor proof beyond a reasonable doubt. So much information has been hidden and destroyed by those with a vested interest over the years. Formal evidence has gone missing by the barrel-load in the Crewe murder inquiry, and John's frequent reports that his research "got lost" or that critical evidence that was there, now "is not available" or "doesn't exist" is common within administrations out to hide information.
I can't confirm that Bob Souter was the man who pulled the trigger of the gun that killed the Crewes. I don't know that but I can confirm that he had a strong reason to assist Len Demler to dispose of a 'problem', Jeannette. I can confirm that if the events had been thought to have occurred in the weekend then he would have had a very strong alibi, having got back to America in the meantime. Is it an assumption or fact that Bob's movements can be derived from Heather's? Were they both together and all the time? Perhaps not! But there's more if you're still not with me on this one . . .
I can't tell you how Bob got the weapon that killed the Crewes. I wasn't there, but I do know that John Ingley and his partner/girlfriend at the time who called herself Leslee Sinton but later confessed to actually being "Pamela Anne" retrieved a .22 pistol that they both believed was the murder weapon from Alf Hodgson's property opposite and down the road a bit from the Crewe farm. I can tell you that Alf Hodgson and Rose Amy and their boys did have a close and long-term relationship with Len Demler. I can tell you that the British Home Office concluded that more than 50% of their tests concluded that the bullets that killed the Crewes came from a .22 pistol (not a .22 rifle). Are you suggesting to me that Bob did not know Amy Rose (his wife's father's best friend's widow), or her two boys, that they had a .22 Ladies Companion pistol? He was a military man so surely he would have known this?
And it keeps going . . . if the men involved took the bodies down to the woolshed after 'doing their business', would it not make perfect sense that in 1970 the girls stayed behind to clean up? When Leslee Sinton (actually Pamela Anne) said that she was "cleaning up" but that she gave up, that she and the other woman abandoned it because "it [the cleaning up task] was too hard" I can believe it. Two pots with two different blood types, one in each pot? Two women whom the Crewes were related to makes perfect sense to me!
Then I tell you that Pam said in 1976 that she lost two front teeth "in an accident" but then wouldn't talk about it any more!
And Jeannette's six front teeth from the bottom jaw fell out because, ummm, because they were in a river? The top teeth though remained! Really? FFS guys – get something realistic will you! And how long were they in the river? Decades? Years? Months? No, only weeks? Really? And the body was wrapped up wasn't it?
Nah! Jeannette and her cousin had a humdinger of a scrap when she heard her husband get shot outside. They restrained her, smacking her with something so hard her nose was smashed up and she lost six teeth, holding her down until somebody, probably Bob ran back in from outside and executed her. I'd bet you my bottom dollar that's how Pam lost her two front teeth.
I'm sorry, I don't know it all. I wasn't there. I can't tell you exactly how or why the Police actually stopped investigating Bob Souter. I can tell you though that he was ruled out of contention as a suspect at an early stage on the basis of evidence that I have never seen detailed, nor that I would even believe; as this evidence came from the very same source that knowingly put an innocent man in jail for a decade – evidence like exhibit 350! The same source that was "preserving" the crime scene when a cow cover went missing "burned up because of a discarded cigarette butt while the boys were at lunch". Yeah right!
There are a lot of details that would need to be worked through to understand the events properly, even if Bob is fingered as the culprit by others in support.
Think of the role of Bob and Heather parenting Rochelle. Tell me please that Bob suddenly turned into a loving step-father that fathered Rochelle wonderfully in America and back in New Zealand. Do you really think that she doesn't know, or at least suspects something? How much of Maisie's wealth did she inherit, or even know about with her grandfather's involvement with the Pukekohe lawyers (the Sturrock outfit) doing the trusts, wills & probates while she grew up?
One of the first rules of investigation is to follow the money. Do this, as John Ingley did and it doesn't matter if a lawyer is straight, tricky or crooked, if it's not just a basic boy/girl thing, you'll always get to the bottom of crime. My current take is that this crime was all about the control of money, a huge family scrap that was initiated by Len Demler but turned into murder, covered up by crooked cops in it for themselves, covering up for a mate, with a large, actually a very large circle of people who over the years variously got involved, who know more, much more than they will ever dare let on.
Lastly, can someone please tell me why Heather and Bob Souter never appeared in court, under oath? Ever? Sometimes it is what is NOT said that tells us more than what is!
Tell me I am wrong, please. Show me, please, but until then, the above analysis stands.
In future posts I will be sharing my take on the 2014 Police Review – or cover-up (if you lean on the "Arthur is innocent therefore all the Thomases are innocent" camp's take). I will then summarise John Ingley's take on the events of the murders, for the record (I think he's really nailed it), before turning my attention to the identity of the woman who fed the baby, Leslee Sinton's [willing] impostor, a woman who called herself Pamela Ann whom I appear to have tracked down in Te Kuiti.