I describe here how Corruption works to the highest levels in more than one sector then apply this understanding in the case of the Crewe Murders cover-up. It's easy to say, "Yeah! I knew it all the time. Crooked cops!" but how corruption manifests in each discipline is not always easy, nor simple. It's important to understand though. This message is vital if one values truth and wants clarity.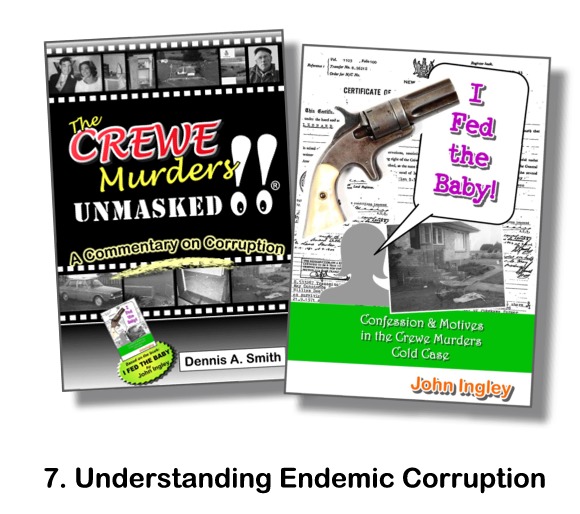 I've said previously that I've established from John's work that corruption has reached the highest levels within New Zealand's authorities regarding the Crewe murders. I've named them to be:
i) The Police – "but of course!" I hear you say.
ii) The judiciary – tell me that the judges are all straight and didn't have doubts about their findings and . . . well. Judges apply the law onto facts. The law has been called "an ass" and these guys usually know from the outset whether or not they are being told porkies. Hell, that's their very game – sussing things out. There's a very good reason BTW why they know when somebody is stretching things before them, but we won't go into that one yet! I'll give you a clue if you haven't got it yet by asking the question, "How do you catch a crook?"
iii) The legal profession – ouch! That claim's a risky business if you want to remain 'in business' – about as popular as saying that the evidence of the Holocaust is all dodgy, or fabricated. Let me just ask you these questions though – is it realistic that every lawyer in NZ is straight? Every one? And would they ever protect their own?
iv The politicians – Hah! Now you laugh because you know that's the truth; and lastly
v) The [mainly] farmers of the Pukekawa region – Cor blimey that's a big call!
So let's dive into this murk then and try to get some clarity.
Now at the outset I wish to state the following rider – I do NOT claim that ALL people within these organisations or places are crooks. Nor do I claim that any one individual shows corruption all the time over every matter or that it has always come from that one person. Indeed John found that some people changed over time; sometimes denying him information that he knew existed and at other times releasing critical things correctly and helping him on the side – nudge, nudge, wink, wink sort of thing.
This is how things work in power systems . . . the people entrust management of aspects of their lives to third parties whom they trust to do the honourable thing. Foolish IMHO but I'm in the minority there. In the Western world they vote people into power by way of democracy, voluntarily giving up their god-given right to govern themselves in the process. While I consider a vote a prayer, and democracy to be an abhorrent system of naked self-worship where the 51% rule over the 49%, it is how things are for the moment. So I'll get over that chip on my shoulder and carry on with my analysis.
"The system" (as John called it) only exists because it has a strong defence mechanism. Try suing the government for example and you'll find yourself fighting a multi-headed monster that seemingly has no end of resources. People protect their positions of power within the system therefore the system retains its power (and usually bloats). By remaining anonymous behind their position of power, individuals "play the game" but the corruption continues, no matter the justice or lack of it.
Individuals who buck the system find themselves marginalised for good reason, thus it is only the ones who 'play the game' who rise to positions of power. That is why the religious leaders within the Catholic church got (and get) away with 'blue murder' in their kiddy fiddling activities; and why sexual misconduct within the political and media fields is not reported or discussed. It's also why women who are happy to 'spread their legs' gain promotions in a business context before those more worthy of the leg-up, if you get my drift.
Ugh! What an ugly world we live in, but that's just the way things are. Dreamers, fools and children trust those in power. That's also why Santa and the Tooth Fairy still exist. It's also why the War on Terror, Men in Caves, Reds under the Beds, Nips, Huns & the Holocaust, Carbon and Corona all capture the attention of the multitudes of unthinking, sheep [oops, I mean] religious believers across the globe.
Let's apply this understanding then, of how things work in the real world, to the Crewe murders specifically now, using John's findings and his experiences as reported in his book, I Fed the Baby.
Essentially I concur with virtually all of his conclusions BTW. I am not sure about his questioning of Rochelle's identity – he gives two valid factors as hints that this could be an issue – Kevin Ryan's quote of "Rochelle Thomas" could be an error except that John says that Kevin (a top lawyer who was directly involved BTW) insisted that it remain as written. Leslee's stretch marks without a child around her could be explained otherwise but it may actually be another clue that supports his questioning. That's easy to prove one way or another with modern genetics testing. Certainly there is something people don't want talked about, that's obvious!
I'm not fully up with the play on John's understanding of the switched order of probate with Jeannette's being done before Maisie's. It is clear that some kind of fraud occurred there, but the mechanics I have yet to fully understand.
I totally accept John's claim to have retrieved, seen and been asked to repair the Ladies Companion .22 pistol from the old Pukekawa house and Leslee's sort-of-confession. That's fact for sure. Whether it was the murder weapon is though as yet unproven, as with much of his other analysis I grant this all, but his experiences in dealing with corruption are absolutely fact.
John got hammered badly – by those involved and close to the investigation as well as by "the system"! The Thomas family most definitely recorded his meeting with them contrary to their promise not to. His unpleasant experiences with Chris Birt and partial information most definitely happened as reported in his private notes. Rochelle Crewe certainly didn't want to talk to him, if Chris Birt did actually ask her way back when. His experiences being targeted and being told to "back off – leave it alone" more than once definitely happened.
Something was definitely up and I feed on this all now, to analyse how I think the corruption has outworked.
Maisie was a powerful, wealthy & smart business woman. She knew her husband Len well. Because she knew the past conflicts and divisions within the family she knew exactly who was hassling who and why, but more importantly than knowing who they were, she knew their nature; their personality; and what they were capable of. That's the real reason she never gave in to Len's demands to get his hands back on 'his' farm.
Sadly this set Jeannette up for her death at the instigation of Len Demler when Jeannette failed to cooperate with her father's wishes, but that's just the reality.
The corruption though, wasn't an internal matter – IMHO it started with somebody with power wanting things hushed up. If Ian Wishart was right that Johnston "did it" for any reason then Hutton covered for him. I don't buy that for a minute. Loyalty within the force, sure, but this went above Hutton who was above Johnson who joined the team later.
There was either a political environment created that gave Hutton & Johnston the motivation to go for it and to get AAT for political reasons (this is Ross Meurant's take) and/or there was some interest from above to have the investigation (i.e. the facts) distorted somehow.
I would note here that this is not necessarily a binary situation and I just said, "and/or". It is perfectly possible that BOTH scenarios were true – there was a political pressure with the Police needing to resolve more than one homicide at the time AND there was personal interest at stake.
All it would have taken was for one person in power who was up with the play to have visited the Crewe property and recognised the significance of that yellow parka, the broken branches of the tendrill bush and the broken bottom fence rail. One command, such as "get rid of that, that and sort that" would have been all that was required to set this sorry story into play.
If this is the case then the Crewe murders would never (they COULD never) be solved by genuine means, unless or until the restricting forces to truth were removed. Once set up like this, nobody needs actually DO anything and the cover-up remains. It would need somebody to stand up and actively claim that the facts show a deliberate cover-up from the outset.
The Emperor had no clothes, but the story (once established) remained and self-perpetuated naturally. The liar didn't have to actively lie once it was set up and like a wave, once started, it just continued over time and into all the other disciplines as they too covered their butts and feared speaking the obvious.
I note that the falsehood was smashed apart with just one boy who shouted out the truth. Fearless in John Ingley's and my case – in the ignorance of youth in the Emperor's story.
To my way of thinking, from where I sit, and from what I can conclude, it more than likely happened this way. That evidence was important. Somebody instructed Hutton and therefore Johnston from above, and this is corruption. Self-interest to a tee. That's the spark that set the tinderbox of corruption alight.
Somebody had probably borrowed money from Maisie and her trusts. They didn't want this known or they couldn't pay it back or who knows what, but Jeannette's murder was about to bust into their lives. They used their power to keep it quiet. The rest followed along with the game and rode the wave.
This wave crashed down though on a shore a long way from its genesis – 50 years in time and distance – to Te Kuiti, Taumarunui and a guy with the balls to put John's work out there. You have it from me, again, way back when, the Emperor had no clothes and key people in the NZ Police knew "who did it" and "why they did it" from a VERY early stage in their inquiries.
So this may be all very well in theory, but what else points in the direction of systemic corruption?
The framing and false convictions of AAT. The AAT aspects of the Crewe murders are a total distraction. Arthur was not present and not involved. The Thomas family did the needful to clear him and good on them for that, but the real perpetrators (while they may have been known to the Thomases indeed someone in the Thomas family may have even assisted the crooks afterwards) have been identified. What is it that the Thomas family don't want to get out there? My take is that there is something.
The legal profession. I've asked tongue in cheek whether people truly believe that all lawyers in New Zealand are above board (except for the very few marginalised who get caught and then disbarred). But it's a serious question here. The reason is that the legal profession is EVEN MORE susceptible to the whims of self interest, for the very reason that they ARE trusted with so much by the very nature of their profession. In Samoa, for example people would ask me who they could trust. I actually could not find an honest lawyer – not one! I laughed when one lawyer that I had caught out with a stink racist, condescending attitude lied in court, then became a judge! I'd love to sit in her court and look her in the eye. Hopefully she exports herself to New Zealand and that happens one day. Len did things following the murders that needed active involvement of crooked lawyers. These lawyers still practice today. Will that be a popular thought, especially in a profession even more concerned at their reputation than the Police? Can you see what I see?
The locals knew. The thought that (knowing how Maisie was a farming banker) somebody gained benefit from the creditor getting taken out, especially when one doesn't have to DO anything to gain benefit is just that – a thought. But are you going to tell me that nobody knew what these murders were all about at the time, and that nobody knew anything except what the Police at the time fed to the media? Nah! What happens in a close-knit farming community when the cops threaten witnesses that they'll end up in the river too if they speak up any more? Anecdotally there is more out there that people shut up, and went their own ways over self-interest than there is in the Police files, and that's saying something! People moved out of the region because of the division that resulted.
Prime Minister at the time of the pardon, Robert Muldoon (later given the title "Sir") was quoted in parliament as having declared AAT innocent. He objected with a point of order clarifying that he actually only "recommended a pardon". Was this him simply being pedantic, or him protecting himself, or was there something more to this? Despite his political successes and failures, Rob was a smart dude who I believe knew that there was more. No politician worth their salt gets their hands dirty with this sort of thing. When the injustice with AAT occurred Rob got involved but the corruption remained and has done so to this day. Politicians often deceive through inaction. This is the primary form of corruption I see here.
It's not a pretty thing, this corruption thing. I could go on and on about it. Human nature is what it is. Corruption, self-interest, pride based greed exists. That's just the way things are.
There is hope however, I Fed the Baby reveals enough to see reality when it comes to the people involved in this historical crime. I'm totally stoked that John's work is out there for the world to do what it likes with it – carry on the good fight, use it as they so wish or to ignore it.
In the next post I get close to wrapping up by discussing aspects of the 2014 Police Review.