In this post I get into the nitty gritty of the Crewe murders crime scene. I assume that readers have a basic understanding of the case, suggesting things that have been misrepresented and misconstrued in Police investigations. Understand that those within the NZ Police do not all have the same ethical or professional standards – either in time between 1970 and now, space (city or country) or position of rank within the force.
Photos
It is my belief that all photos taken at the crime scene on the initial visits can be relied upon. There is no obvious sign of doctoring, nor suppression of evidence that I am aware of, thus it is likely that the early dissemination of these photographs helped record reality for posterity. Despite Police desires, more photos are not needed – simple logic and integrity however is.
Two photos stand out for me – 1. The one with the [later moved] cloth/rag/parka oilskin, and 2. The closeup of the front door with the bloodstain dragmark on the sill.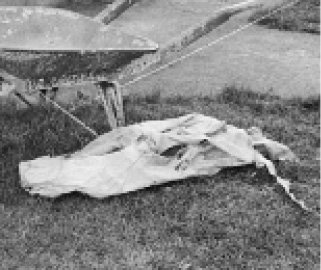 Something about that rag (or parka or probably a cow cover) upset somebody sufficiently that it was moved three metres to the East, towards the fence and 'supposedly' burned. That it was burned on the tendrill bush that Harvey fell over or on to indicates that there was also something about the bush that they also wanted dealt to and despite later Police testimony in court, both of these things prove that it was a deliberate act. My guess is that there was still visible congealed blood, but it was winter, wet and raining for at least some of the preceding five days so it may be that a branch or two looked out of place, perhaps broken as well as the blood, or perhaps instead of.
Information that this item was a parka or oilskin that caught alight from a cigarette butt came by way of Police evidence when exposed at trial. Remember this is the very same people that lied to the public, lied under oath, planted evidence, and withheld evidence and manipulated events to secure a conviction of an innocent man!
It may have been a parka but this understanding (as with any unverified information coming from the police back then), is unreliable because of the context of the information – given by a vested interest lying in court and unverified by any independent evidence. It looks like a piece of cloth or an old cow cover to me with a hole in it and a loop looking LIKE a hood. Either way it meant something – perhaps it sported a bullet hole or two like John suggests. One thing it was NOT is that it was an accident caused by a discarded smoke at lunch!
The key point critical from all of this is that this is the first (& compelling) evidence of foul play, lies and deception. As I have said previously this was VERY early on in the investigation – long before the Thomases became involved and even before they tried to get Len Demler. Critical to any impartial look at this case is the handling of this matter. It jumped three metres and then caught alight on a critical bush by a cigarette butt – in the middle of the day, while the boys were all at lunch at the scene of a murder investigation! Pull the other one will you boys?
It doesn't matter whether the cookie jar contained gingernuts, Afghans or chocolate chip cookies – if the cookies are missing then somebody stole them. The Police claimed in 2014 that they "don't know the significance of it" or not, but it was consciously moved then burned at an early stage of the investigation and then later lied about in court. This is totally irrelevant and a distraction. SOMEBODY STOLE THE COOKIE!
This alone should scream "But of course! Corruption!" to anyone wanting to understand why the case has never been solved. Some person (probably people) never wanted the truth to come out. It is my belief that it was never their intention to be 'solved' and even till 2015 I believe that this has been the same.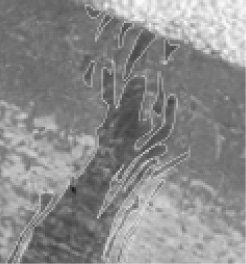 The second photo of interest we enlarged and traced around in John's book to show that the drag marks are of a bloody item being dragged IN [left to right in the photo] not OUT of the house [right to left in the photo]. If it was Harvey's blood soaked trousers/legs then the larger volume of blood at the edge of the door still going in [from the left] makes perfect sense, tapering off as the blood was spread thinner and pressure came off the substrate as it was moving into the house [towards the right].
Just test the photo on someone without any a priori assumptions by asking them, "Does this strike you as something bloody being dragged in or out of the doorway?" You'll only ever get one answer. Easy!
Now the timing of information relating to Harvey's death is not so definitive as it is with the cloth destruction because his body was not found for quite a while and the investigation took a while to get around to a set-up against Arthur Allan Thomas but no jury given that photo would convict on the basis that it showed a man being dragged OUT of the house!
So What Happened?
We've done our best in the book to explain the what's and how's and why's of the murder scene but this is, briefly, how it went down.
All four (Jeannette's cousins) arrived after dinner (which was usually c. 7.00pm) and at any point before the time of the murders (c. 8.30pm). They were welcome visitors despite Harvey and Jeannette being on edge with events of the previous years. This was because they grew up together. John proposed that they came knowingly to discuss matters relating to the will/probate and the argument with Len the day before. This is perfectly possible.
Harvey and [logically] one of the boys went to get firewood. Harvey stopped at the gate (John suggests he was perhaps was returning to the gate but I'd wager Harvey had yet to get the firewood and was on his way out the gate) and would have had his hands tied up with the wheelbarrow. Remember that he was a big man and quite capable of defending himself.
A close range shot (or two) to the head from the left and up to the right killed him instantly or very quickly and he fell to his left onto or near the tendrill bush, then possibly rolled onto the bottom fence rail. A bullet to the head causes instant death which causes a body to drop instantly. Forget Hollywood. It's just, bang, you're dead and you drop onto the ground inside of one second.
Remember also it was wet that night. If Harvey used the cloth as a head covering (or if it was a parka with a hood) then there could easily have been a bullet hole in it. I do not know why there were three shots reported, perhaps the first shot missed. Perhaps and more likely, the neighbour only heard two shots and the story has become three shots over time. Only one person could know – the shooter.
Whatever the point, the killer would have instantly run back inside the house, taking only seconds to do so in order to sort out Jeannette. The back porch to the kitchen area was only a few metres away and she would have known exactly what had happened outside. Remember that she was already on edge with the events of the last few years; her mother Maisie knew who the perpetrators of the fires and burglaries were (extended family members) and Jeannette could have been clued up and suspicious; Jeannette had just had a massive disagreement with her father whom she had little time for the day before over Maisies will/probate; her father had not appeared for dinner as per usual which we know because the third flounder wasn't eaten. I would note here that Len Demler was across for dinner EVERY night, not just once a week, a fact actually missed by John in his book.
When the pistol went off outside, she would have jumped up (if she was sitting) or have turned instantly and would have been instantly adrenalim pumped and ready to do whatever it took to defend herself. In John's book, he reveals that his girlfriend had two front teeth missing and that she refused to talk about how she lost them. It is clear to all of us that this happened in a short violent struggle that occurred between the time it took for the older boy to return inside the house. If he ran it would have been only seconds. It could have been up to a half a minute maximum. That's a lot of time for physical injuries to occur in a life or death situation.
That Jeannette didn't receive any body wound indicates that the shooter returned to an already suppressed victim. The fight was 3:1 at that stage and she would have been on the floor as or when the shooter returned to pull the trigger again and put the bullet into her brain.
Yuck. What animals!
All four of the cousins knew what they were there for and the others would have been waiting ready to suppress Jeannette on cue. Jeannette's skull was fractured right around and she lost half a dozen front teeth. Pam lost two. I don't know about her cousin or the boys. Talk about a rifle butt is just BS – nonsense. There was no rifle. They used a pistol! Who knows what was used on Jeannette – it could have been a piece of firewood or anything really (except this 'fetish' about a rifle!) It is not important to me. The point is that her extended family came under orders to sort her out and they did.
The boys would have gone outside to retrieve Harvey's body right away because even though the conditions were not conducive to congealing blood (moist & cold) there was a large bloodmark on the door sill and he bled into the lounge chair. Interestingly there was no urine reported on the chair and no bullet found inside. They would have been both left outside of course and mostly washed away in the following days. It was also common knowledge within the Pukekawa community that Harvey was killed outside and then brought in, despite the Police's public message otherwise.
In 1970, men didn't clean-up. The girls would have done what they could to clean up – with the two pots and I am not sure whether it was the next morning or later that night that they moved the two bodies down to the woolshed, Jeannette's first resting place and Harvey's second. The woolshed light was seen on that night 9.00pm and the brown International (or perhaps a Dodge) truck was seen there the next morning. They were taken to the Crewe's land (Section 67 & 68) up north right by the river, buried or hidden, then eventually given their watery grave at a later date.
Again, whatever. The deed was done pretty much as I've explained.
In the next post in this series, I discuss Len Demler's role in the murders, giving a little recap on the background to his interest, then showing how and why he did what he did.