Assumptions can be dangerous, and many have made assumptions that may be invalid in regards to the Crewe Murders. Do you think that all within the Police actually wanted the murders solved and that it is still a "cold case"? Are these assumptions really valid? Have you considered the possibility that just because Arthur Allan Thomas was found to have been set-up that others in his family weren't involved in the events in another way? Or have you assumed that baby Rochelle was in that cot unattended for all of the five days? Or that just because the Police couldn't find anything to pin on or 'catch' Len Demler that he didn't have something to do with it?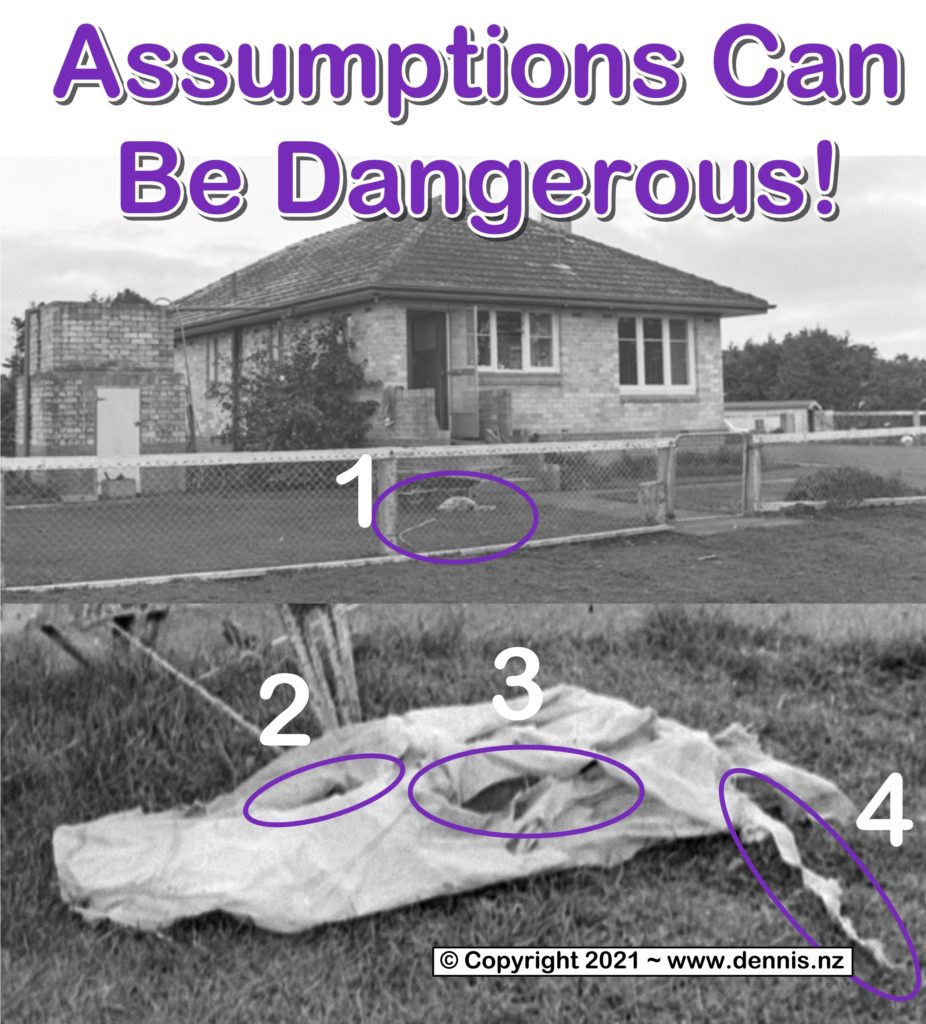 Human beings must assume things in order to survive in this world. We assume that when we hop into our car and turn the ignition key that the car will start. If we're a Mafia target, then this assumption may be foolish and we may check out our vehicle for bombs under the hood first but when things don't make sense, it is wise to go back to the beginning and check out our assumptions.
Did you know that Police corruption can be proven back to within hours of the Otahuhu Police getting the first call and sending their first squad car? It can! The Police had already preserved the crime scene and the Police photographer had already taken scene photos when the OC Bruce Hutton arrived on scene at 5:10pm on Monday the 22 June 1970. New Zealand was then in the middle of winter and it was getting dark. A Police helicopter departed at 1.30pm and 4.30pm the next day on Tuesday and the aerial photos were taken c. 2.00pm. The first crime scene photos taken on Monday show a cow cover on the grass beside the wheelbarrow. The aerial photos taken the next day show it gone. Between those first 26 hours then, we have documentary proof of somebody (either from within the Police, or while the crime scene was under Police supervision) removing an item. Ten to one it was Hutton!
Knowing this causes most of us to stop and think. Why has the focus not been on this clearly visible evidence of VERY early Police corruption? What did Hutton know and why did he remove or change anything? The significance of this information is that almost everything that has come into the public arena has come from the same source as the man who stood in court and tried to explain how a "yellow Parka" disappeared by way of a discarded Police cigarette butt that set it alight. Something so ridiculous that the judge scoffed at this dopey explanation!
Are you seeing yet how the assumption that the Police wanted to solve the crime may not be so wise?
Let's go through some more examples . . .
The 2014 Police Review was only permitted to examine evidence, decades after it had been destroyed and people had died. It's findings are a clear cover-up of Police Corruption over the years. Hutton and Johnston were found to have planted evidence. One would assume that this would be cause of shame to the Police, perhaps? Nope! How about we blame Policing standards back in 1970 instead?
The QC tasked with oversight reported that the Review doesn't know the significance of missing evidence. Did you find yourself assuming that David Jones the QC tasked with this oversight actually cared about his role as public protector? Or did perhaps his comments that, "We do not know the significance of the missing evidence!" doesn't mean that there has been no inquiry into when, where, why or who got rid of it? Hutton arrived on the scene after hours and knocking dark. He was later found to have be a crooked cop. Hello?
Is it your assumption (as it appeared to be to many in the Police) that the killer did not want to be seen in and around the property post the murders? This may seem logical but what say the murders were an inside job and the perpetrators wanted the farm to be seen as continuing in a normal manner for as long as possible, while they . . . umm? Is that assumption valid now? To my way of thinking it makes perfect sense to me that I would actually want to have baby Rochelle seen outside if I wanted to create the impression that her parents were still alive at the time. I may even wait until Saturday or Sunday until somebody had gotten far away and had an alibi, perhaps?
Assuming that Police are all straight, or that they are all crooked, or that everything spoken to us from one source is accurate and everything from another is false is another error. Life is not always a black and white affair, and for journalists to attempt to present their pet theories and to then attempt to find validation is not the mark of a genuine truthseeker. We research, ask questions, think, apply logic and come up with a conclusion. When new information comes to us, we adjust our opinions and gradually, sometimes slowly but inexorably, we can come closer and closer to the truth.
I Fed the Baby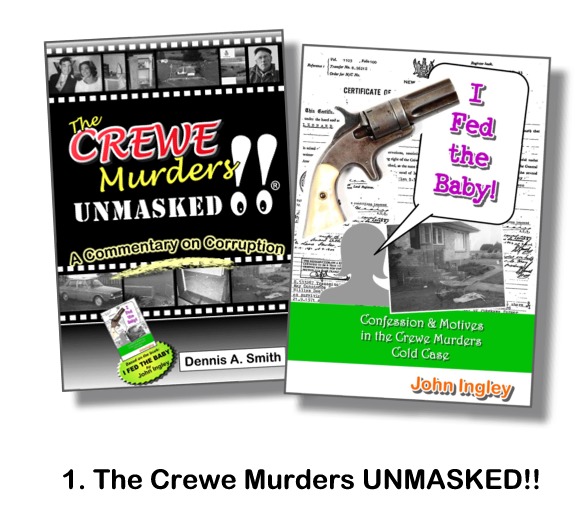 John Ingley did this for more than thirty years and his book is a great start to resolving this topic.
1. The Weapon
He identified the murder weapon as a small Ladies Companion pistol, manufactured in the USA, one that he retrieved with his girlfriend at the time from Alf Hodgson's old home six years after the murders.
2. The Motive
He identified the extreme wealth that Maisie had accumulated as coming from English aristocratic land ownership, a lot of it held in blind and semi-blind trusts, and explained how Len distributed this out to his mates and crooks as well as transferring the family wealth from Jeannette's side to Heather's side. He explained how Maisie's banker role in society gave her matriarchal power through wealth and he explained in amazing detail how the events of June 1970 actually played out, before, during and after the fateful night.
3. The Woman Who Fed the Baby
Lastly John shared his experiences partnering with Leslee Sinton (actually Pamela Anne) the woman who broke down before him and confessed.
The purity of John's work comes from his low assumption approach to all matters. He came at the whole thing not trying to solve a "cold case" which it never has been, but rather simply because he wanted to know and understand who this girl was who lied to him and deceived him for three years. He found himself dragged into the Crewe Murder mystery' and with his hunting and bushman skills, he learned, the hard way, that you cannot trust anyone; that everybody lies (or deceives) and he wanted those who followed him to keep on keeping on telling it like it is.
This I do.
Police Corruption – What it is and How it works
In the 1970 investigation Ross Meurant, (later to become a senior Police Officer, successful Politician, Businessman and Author) was just a coppa a good keen man who was called in to help grid search the Crewe property. Sure he had a bit of an attitude and pushed his weight around a bit but his commentary on Police attitudes explains really well and quite honestly what it is and how it works. From the Christian perspective it is the same old, same old – going our own way when we really should be doing it God's way, all pride-based.
Ross though doesn't speak in religious terms but the message is essentially the same. Let's look into this then using his 8,000 word When Good Cops Go Bad document. Of it he says that it is brutal but [too bad!] the truth hurts. While he was trashed by the Police the times, dates, places, events he says are factual and this can be seen because NO ONE SUED him!
Likening the Police culture to entering a forest, he says:
The problem with the police is it's like being in a forest, and the further you get into the forest, the more paranoid you become.

Source
When we seek power, we normally do so to use it.
The Police culture of arrogance and elitism is very real. Read Ross' work to get a better appreciation of this by all means. The point though is that with that power, people with a strong focus on getting results forget that the ends do NOT always justify the means.
This is most definitely the case with the central character in the dodgy Police conduct in the Crewe murders. From my research it is clear that despite his families protestation that he was "just a good keen man" Bruce Hutton was the central bad-egg in the Crewe investigation. It seems to me quite clear that while his corruption developed over some months from his initial crime removing the cow cover, it actually caught him and his cronies out as it snowballed, and snowballed and got totally out of control. Nobody, and I mean no sane individual would ever plan on facing the humiliation of being found to have engineered a set-up of an innocent man just in order to secure a conviction.
This then is the foolishness of ignoring the possibility of exposure. How many cockroaches get caught because they never expected the light to come on?
Assumptions can be fatal. In a personal communication with Ross, he has warned me that he only seeks the truth. He also tells me to "tread softly" in my exposure of the crooks, crims & crazies. In some ways I wonder which one he prefers, and am tempted to tell him to "make up his mind". I know exactly how I will be sharing my findings over the time ahead …
Taking all the advice given to heart; assuming nothing (except that people in power will try to exercise their power to protect that power); treading as softly as I can, speaking the truth in as respectful a way as it is possible but directly naming the crooks, crims and crazies as I find them – calling them out to their faces. I trust that will meet Ross' criteria?
In upcoming posts, I will be sharing my understanding of the pressure that occurs from the Police Commissioner down to his subordinates when he seeks results for political purposes. I will detail how I see this outworked in Hutton's case relating to the Crewe murder investigation and then I will share how I see the whole thing shaped up.
As a spoiler, the original crime was engineered by Len Demler who had a form of Autism from early childhood (most likely genetic from birth through his paternal gene) and Hutton attempted to cover for his 'mate' (yes I mean that) Len, removing critical evidence over the first few months of investigation. The sudden and surprising change to focus the investigation onto Arthur Allan Thomas occurred as a result of Len Demler 'arranging' a property transfer to Hutton (and I think Johnston too) either in East Tamaki and/or Port Waikato in October 1970.
I have already shared the details of the actual crime in John's book although the possibility that American's were involved is a very real one for me. Bob Souter had the means and motive to execute this double murder. There is ample anecdotal evidence to point the finger at him and evidence to the contrary only comes from the same people that brought you shell case exhibit 350; cigarette butts, yellow Parkas and perjury in court; heaps of 'missing evidence' and more!
Stand by for more exposure of pure logic applied onto fact!