I share here the details of a commercial contract I've just completed to get funds out of am Auckland based crook – a shonky ultra low-level property developer from Kenya who calls himself Tom Faye, who came across to NZ in 2008, did a couple of years down at Otago, now lives in Auckland, jetsets around NZ playing right at the bottom end of the residential property development market. He thinks that he is Mr Rich (and calls himself that), but he certainly isn't because he can't pay his bills. I think he's just a loser. A few others don't think too highly of him either, so enjoy.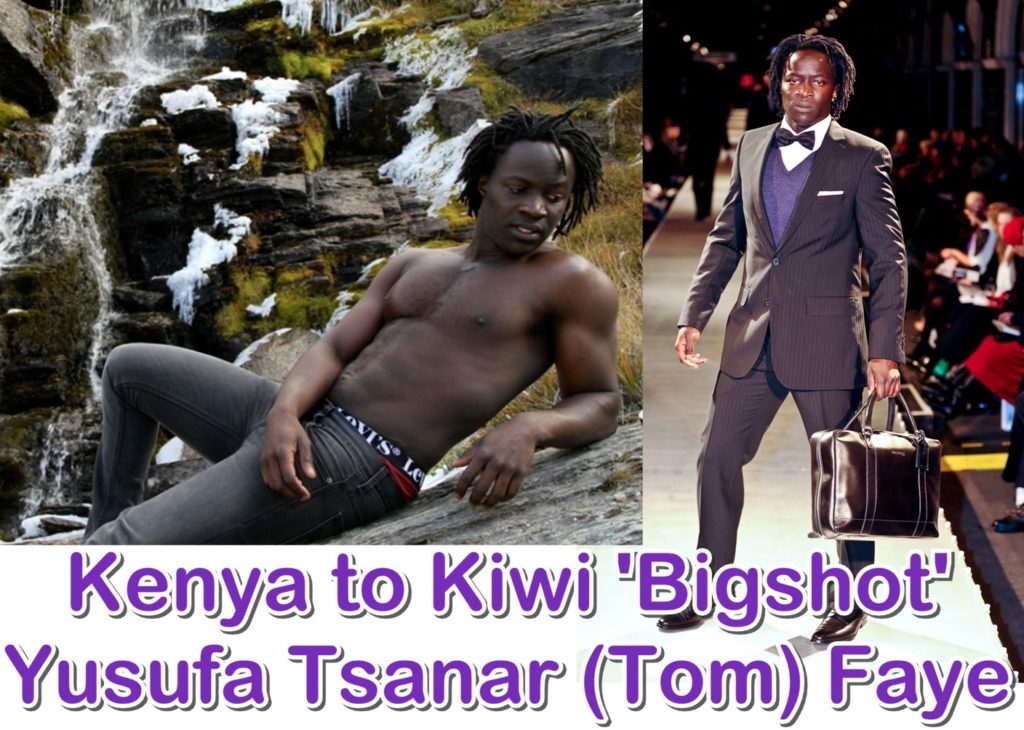 Yusufa Tsanar (Tom) Faye was born in 1988 and played rugby in Kenya. He came to New Zealand in 2008 (early 20s), spent a couple of years studying at Uni then played around with many different things before finally ending up in residential property development. I guess with NZ recognised as the easiest place (yes, literally) on the planet for doing business, we gotta expect people like Tom to be here eh? Most of his work has been at the bottom end, out of Auckland which is just all dream stuff out of his reach (going for the Bay of Plenty, Manawatu & Otago) and at the bottom of the bottom too. For example one of his projects was to purchase a 1/4 acre section with a bunch of crap old stuff/rubbish on it, clean it up and supposedly put in four units.
Hmmm, not exactly a high flyer but "Good on 'im for at least trying," I say, except that . . . he doesn't pay his bills and he'll turn on you when you ask for payment!
Yesterday we served him with a S289 notice and he will likely go under within a month or so. This will be a major "Oh sh*t!" moment to this guy because he clearly has no idea in business. Like all fools and crooks, he believed his own BS. Tom, no matter how many ideas he has of grandeur, is not a man of ethics, nor is he an achiever. According to my informants, in a sales job he had in Auckland for example, he made a sale once a year! Yes, that's right, per year! He has a few hangers-on via Facebook – all two or three of them and his online marketing efforts fizzled out years ago – he never finished his book; he stopped uploading his marketing videos 5 years ago and now he is building a strong internet presence, for all the wrong reasons – just search for his name and you'll see this kind of thing:

So I'll give a quick rundown on what I did for a mate recently before I move onto talking more about Yusufa himself.
Company Debt
When a guy like Tom sets up a company, he creates an entity that exists in its own right. Shareholders own the company and engage a Board of Directors to run that company in their best interests. The Directors direct the management in a way that achieves the shareholders' objectives. Most of the time this is to trade, buying and selling for a profit, so that the shareholders are happy to have invested and remain shareholders by keeping an interest, getting dividends (a return).
In small companies this may be the same person thus the term a Managing Director – but the various roles are important to understand. It can be a lot more complex than this in many cases but not so in Yusufa's case as he is the only company Director and Shareholder. He established his company Victory Group Holdings in 2017 and has filed annual returns so I know he is still trading. In March 2021 he signed a couple of contracts as Director of his company too thus I know that this is his primary mechanism for trading. He also purchased a new Hilux company car in mid 2020 and recently secured funding for his company from Fifo Capital NZ Ltd.
My mate quoted him for a roof replacement in 2020 which was finally acted upon in the new year. My mate did the work and billed him, then asked for the final payment. Umm then trouble struck – this dude was found totally MIA – Missing in Action. He became very hard to get hold of, didn't return calls, couldn't or wouldn't pay other subbies, got nasty and . . . well you know the story! It's quite interesting to me how amateurs in business think they can get away with this sort of BS but they do, so let's get into it.
When a company has a debt it can't pay, the Directors commit a crime if they carry on trading knowing that the company isn't solvent. Solvent means much more than being able to pay its bills on time, and it is not a simple binary situation up front. Sometimes a Director can see the way out of a bad situation and while technically insolvent they can have a reasonable probability of pulling the rabbit out of the hat – no worries if that's the case then. They got out of the poo – Good on em! Other times though some dude may be a loser, and find that he's gone or going under when he thought all was well. Adjudication looks at the totality of the situation before locking Directors up or throwing the book at 'em.
What is common though is that most businessmen avoid conflict, leave it too late, let the crooks get away with it and miss out. Not my mate, as you will see here. He's got very simple terms that essentially say, "If you don't pay, then you will pay!" So yesterday afternoon we delivered what is called a Section 289 Notice, aka a Statutory Demand on his company. We could have done this a week ago the day the account became due but we gave him some time and an opportunity to sort things out. Then he p*ssed in our pocket. So we watched and saw that he had refinanced yesterday, gave him another 24 hours to cough up or contact us, then we hit him hard and fast when it was obvious to us that he wasn't going to play ball. Put simply, he's got 15 working days (that's three weeks) to cough up or he'll go down. It's that simple.
If he does the honourable thing then sure, I'll update this post accordingly but in decades of taking on crooks, crims & crazies like Tom Faye, it's never happened. He's toast now, permanently because "Google is forever". One post like this and he'll never get credit again and his property development days are over. Anyone who searches his name(s) for future employment reasons or business reasons will find out the story and they'll choose to deal with someone else, assuming that he doesn't do the honourable thing, here, now.
How Bad Is It?
So, "How bad is this idiot?" I hear you ask!
Check this out, remembering all the time that this mate of mine, the roofer, worked his arse off for him AND during the winter rains too. He did additional work at no charge; is a nice guy (that actually means that he is a big softie); that his wife hurts because she knows her man only has a heart to help others and how unfair this idiot was on her husband and how the other dude has lied and twisted things around so that he doesn't have to pay up when he should . . . did I already say, "He's a Dickhead?"
What's even worse though is that this big-shot businessman signed an agreement that my mate could put a caveat on a property that he doesn't even own, and without the owners' permission at that! This is not just a civil debt collection matter – it's fraud, a crime! He can try to go back to the owners and get their permission retrospectively but my mate went to the same church as the owners and knows them well! OMG! This guy is in deep doo-doo and he has no idea how deep the doo-doo is – yet!
So here's a few quotes, from this 'nice guy' who claims that he helps gazillions of people out there and that "butter wouldn't melt in his mouth":
… some patience please I'm wrangling the bank there's light at the end of the tunnel.
A BS story for sure even though this fool did get a loan, as will be obvious moving forward. My mate replied and asked for more. Try poking the bear eh?
You have said that you are wrangling with the bank.
(1) please provide evidence from the bank that they are stalling payment.
(2) what will the total amount of payment be.
Nice one! Prove your case then brudda and tell me when and how much? This fool didn't know when to stop though, did the bear just poke the stick or visa versa?
you took close to 90 days to complete the job you will paid sit and wait the bill is not even 30 days over due and you've been paid 50%.
If you had completed the job earlier you would have been paid earlier I'm under no obligation to supply you with anything regarding my finances. Sit and wait just as I did and stop your empty threats you are wasting my time.
Woah, woah, woah! That is NOT the sort of thing that anybody should be saying to any of my mates, I can tell ya! And it gets a lot worse too! The contract was completed and this idiot has acknowledged so implicitly. My mate simply demanded payment as per the contract and Tom didn't dispute anything materially in regards to the contract to date. He will likely try this as a counterclaim but it will be a retrospective action that has little chance of taking meaningful effect on our account collection or the legal process that we took to secure our rightful payment. What's worse is that this fool begged my mate to do extra work and it was him that held up the work!
> If you had completed the job earlier you would have been paid earlier
Oh no, no, no, Tom you BS artist. Even if he had fixed all your problems inside a day or two he would never have gotten a cent from you because you simply do not have the money. You have engaged subcontractors all over the country while undercapitalised and making less then you spend. This statement indicates malicious conduct on your part and is a blatant, knowing breach of contract that (for the second or third time) gives my mate the full moral authority to act by way of enforcement of the contract. The original contract gives him the legal authority to act – lien or repo or whatever. This blatant bad faith conduct put in writing shows any court what the real story is!
> I'm under no obligation to supply you with anything regarding my finances.
Tom is 100% correct on this but he has apparently made claims – relating to banks and payment. My mate asked him for proof of his claims and he wanted to know what Tom's offer was likely to be. Anybody can choose to provide a Creditor with proof of their true financial situation and/or otherwise. In the absence of proof, we are perfectly entitled morally and legally to believe that he is lying and that he simply does not have the money.
> Sit and wait just as I did and stop your empty threats you are wasting my time.
Whatever. My mate told him to cough up or get specific by a time and date or he'd be dealing with a debt collector. This goon told him to F-off. So now he's dealing with me. The first thing I did was do a Web Search. This took me from 5.00pm to midnight give or take a bit. I concluded that they guy was a wannabe, a loser trying to pretend that he has something when he doesn't.
This morning I did a Company Search, a Property ownership Search then a PPSR Search. This afternoon I served him with a 289. That's 24 hours from wo to go, and a night doing this post will rock the socks off this idiot I am sure.
Seeing as Mr Rich (yes he actually calls himself this!) has had the finance companies money since the day before yesterday afternoon and he has obviously made no effort to pay my mate, let alone contact him with the good news, my guess is that Tom (who I hear is partial to a beer, or two) probably has a hangover, and most likely doesn't even know that he's been served yet!
> You made your problems my problems I am now making my problems your problems.
Again an outright confession of malice and in writing. Neither wise nor the exercising of sound management decisions methinks.
> So when i tell you I'm doing everything I can to get rid of your vile presence from my life trust me it's the truth i can think of nothing worse than your constant bombardment, I delete people like you from memory never to be seen again because I just don't need the bullshit.
These are words that indicate to an independent observer that a very serious conflict occurred. It would be an extraordinarily mature man of ethics who would cough up and pay this account on time but he has to. Sadly, this is not Tom. Oh, and it's all BS BTW. The guy couldn't pay and now won't pay.
> So sit and wait for the payment and once it's done I never want to hear from you again.
Sit and wait, until:
1) He sells another property and chooses at his whim to pay up, or
2) We enforce the contract and retrieve our goods, or
3) Put a lien on the property only released subject to payment of his account in full, or
4) Close him down, with or without exposure [to die for].
The last option is really a no-brainer, so he's toast now.
Web Findings
I mentioned that I did a few hours research into this dude. Here is some of it, all of which of course I've copied for posterity, knowing that crooks try to wipe it all away so that they can carry on their cons:
In one of his videos he says he is going to the South Island and his diary shows interesting comments about the painters: "Dickheads" https://www.instagram.com/tomfaye_/ Ouch! I hope they don't see this detail and that they get paid! Oops! Ummm . . . Double Oops!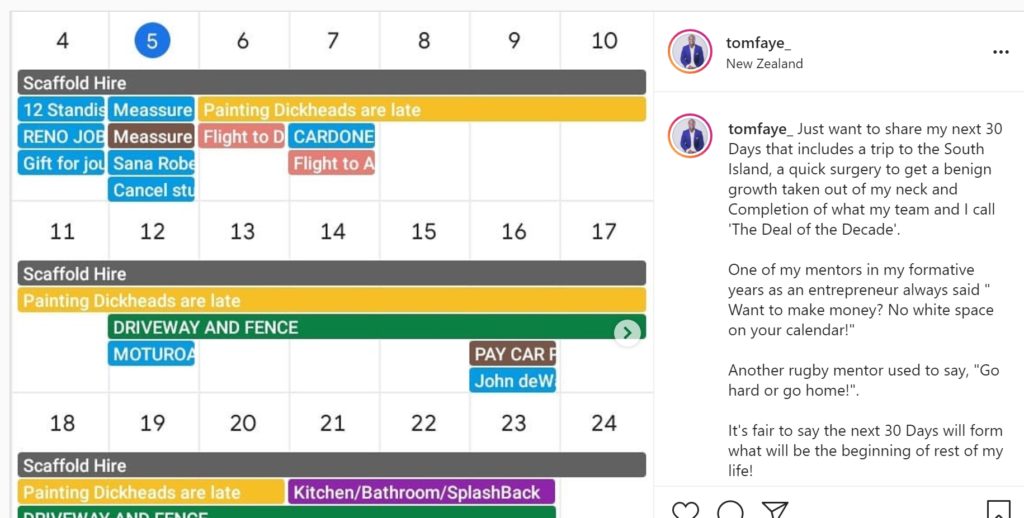 In a Facebook video https://www.facebook.com/watch/live/?v=325526232300291 from about 8 weeks ago he starts off saying that one of his life's greatest achievements is that he has found out how to stay afloat. Hmmm, not for long methinks! [2:02]
He describes himself as a "Property sort of guy" house flipping etc. and mentions his "Auckland base" [3:00]. His company is registered to the Spencer on Byron (in Takapuna) with his home address as suite 914, a privately owned unit. I know this place well because I researched buying a unit next door in the Sentinel. I chose not to because the body corporate fees and structure concerned me but hey, if he's still there and paying his rent, good on 'im. It's a far cry from life in Africa!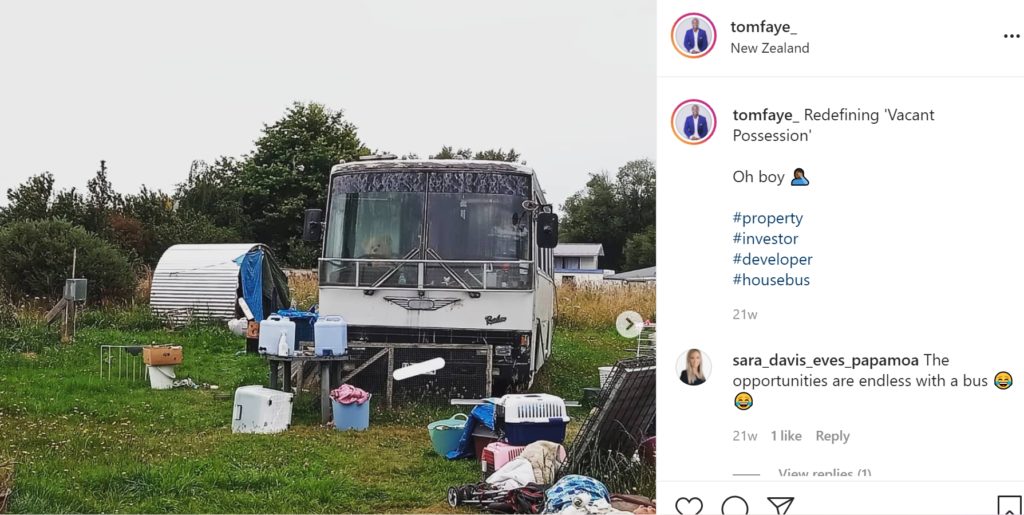 He mentions multiple properties (but I cannot find any reference in Tumonz to FAYE or his company as owning any property in NZ) although he does refer to buying a 1/4 acre lot somewhere here: https://www.linkedin.com/posts/tomfayepublic_late-last-year-i-bought-this-vacant-14-acre-activity-6792909406653833216-cq3v last year and 3 months ago submitting a council plan.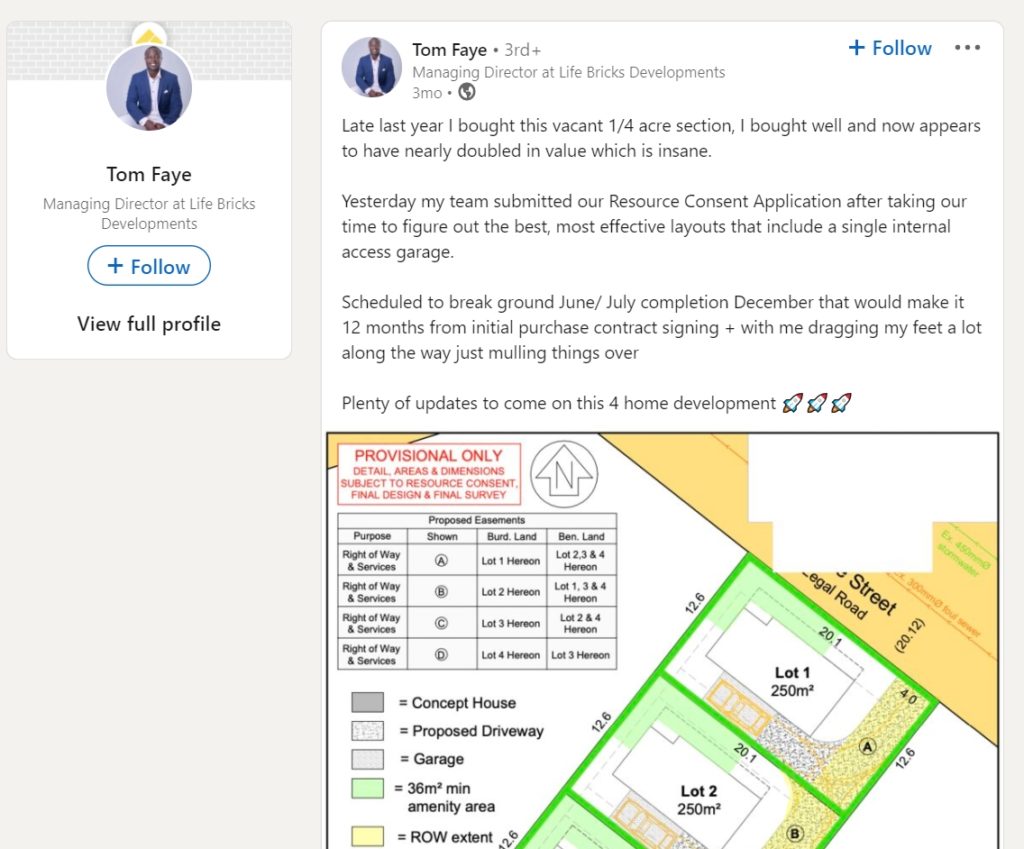 He references his intentions to keep something in Taranaki at [11:11, 11:42] which is all BS I am sure with obvious lies and mutual scratch-my-back-and-I'll-scratch-yours-brudda sort of "Strong young man" thing. Oooohugh!
He talks (later on) about his involvement with Dunedin property [22:40] which I assume was originally his first company in Howe St, and mentioning Kenya [18:20] and [23:09].
He talks about being a garbologist and working at Macca but he may be wearing an orange jumpsuit shortly unless he comes down a little and starts undoing the damage he's doing to the NZ business community. Yusufa Faye came here in 2008 [24:45] and opened his first company in 2011 which closed 2 years later, 50/50 (no problem with that) but it was a non-starter. Just speak to his ex-partner over a beer if you want more of the story!
His book [7:20] is written – just waiting for graphics – Yeah right it is. This is all just BS if you ask me. I reckon he will have started it but it got too hard for him. You see, writing something of value requires us to have something first – experience, originality, brainpower. BS just doesn't cut the mustard, and it requires work, something this fool clearly has an aversion to! When I worked in sales in Auckland I had up to seven appointments a day and worried if I didn't have two or three – demos, collections, presentations, closing calls, whatever. Sure the roads were less busy back then but I was the top salesman because I worked. Kenya – work? Listen . . . it's a different world up there.
I find it interesting that he still has his old employer's info online: https://www.slideshare.net/TomFaye/tom-faye-real-estate-broker-with-james-law-realty. His performance as a sales person was hugely sub-standard in the 2-3 years that he worked for these guys – James Law in Epsom. Call James up if you want confirmation of this, but as I understand it basically he came to work each day but sold only one thing per year. Cheh-wah? Oops James, really, you gotta be more onto it than that surely? You're obviously way too nice a guy! I think now that I'd give James a call if I ever wanted to deal with property in Auckland, certainly not Tom!
Tom left though when they put the screws on him to produce more. Funny that eh? His employer didn't know about Tom's own company at the time he worked there. Nothing suspicious there, but really Tom! Really? To me it looks like just another loser going in to get his paycheck/retainer.
https://www.linkedin.com/in/tomfayepublic/ lists the years he worked under the Experiences tab. His version of course is a little glossy and stretched: https://www.influencive.com/tom-faye-shares-his-secrets-to-success/ and https://www.scoop.co.nz/stories/BU2008/S00361/questions-to-ask-yourself-before-you-start-flipping-houses.htm
His web marketing stuff has very little impact/interest both then and now: https://90dayhouseflip.kartra.com/page/YQQ3https://www.tomfaye.com/?r_done=1https://www.youtube.com/c/YusufaFaye/videos (5 years ago) and more recently with property development. https://www.youtube.com/channel/UCJ1ldTRw47AAxsxKK6gafaw/about
He has ten photos from his Otago Uni days still online: https://www.modelmayhem.com/yusufafaye and more quite recently from Rotary https://aucklandrotary.org.nz/stories/ttt-%E2%80%93-21-july-from-5-30-%E2%80%93-7pm meeting last week. I guess Rotary wants anybody and they don't do due diligence at all or at least as well as they should, maybe?
He has some aged product sales https://medium.com/@MrRichOnline/what-is-arbonne-969c483f9f84 stuff still floating around, with his expired Real Estate license showing evidence of a failed sales career: https://portal.rea.govt.nz/public/register-search/individual/?licenceid=aeadbccd-13cd-e911-80fc-005056011465&org=&ind=yusufa&loc=&lic=&emp=&sort=licenceename&pp=25&pageno=0&sres=True.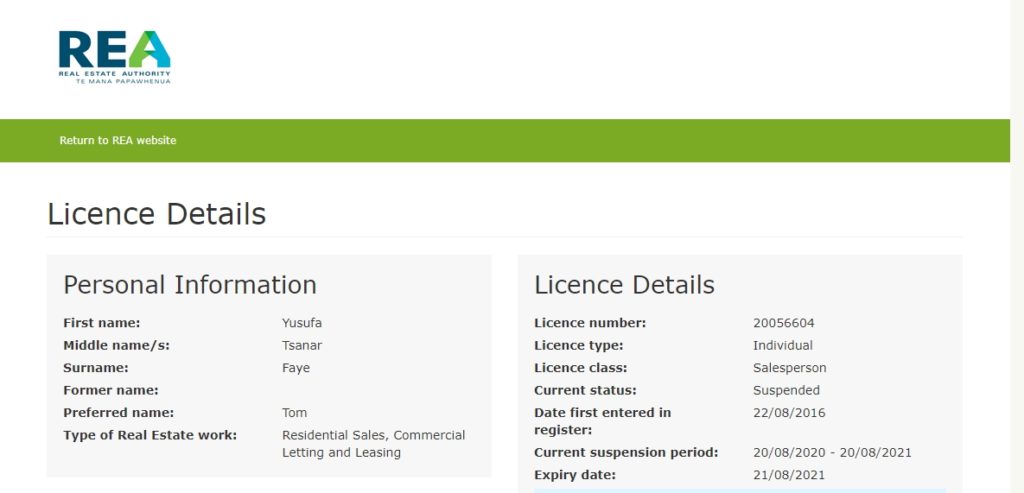 My Take
All in all I'd give this crook and F for Fail in the ethics, sales and business success departments. An E for Effort; A B for BS, but an A for being totally Absent from reality. Hopefully this young man will wake up soon. Don't count on it though. Leopards (even Kenyan ones) don't change their spots easily.
UPDATE: 28 August 2021.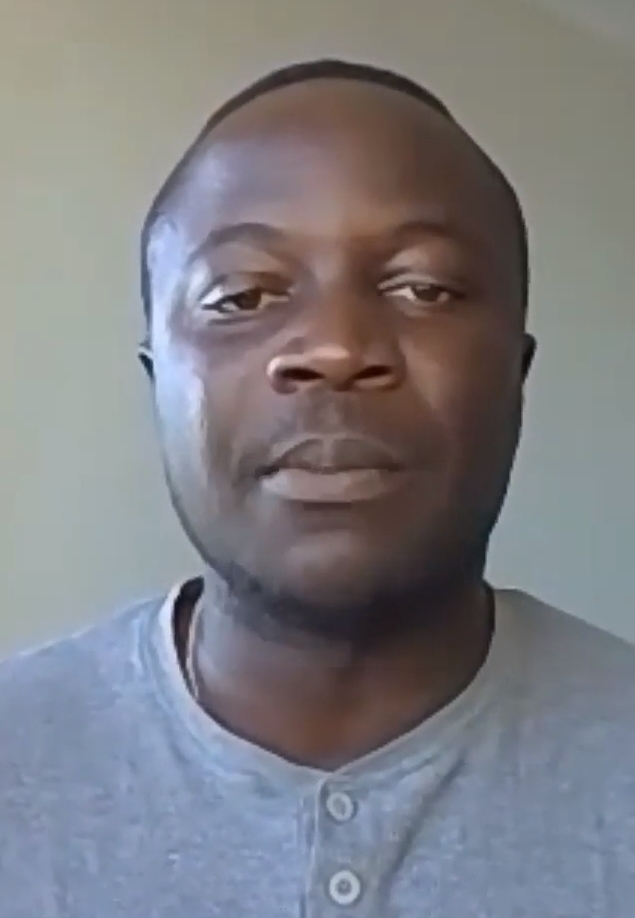 After being served with his 289 and then taken to court for a liquidation Tom coughed up part of the account this morning. Like all fools he thinks that if he pays only the portion he has and lets his matter go to court that he will not be up for collection costs and legal expenses. OMG!! What a fool!
With most people I would probably guess what they were thinking when they did cough up. With this guy however, I don't really think he could think things through. He's going to get a big shock now however when in due course the court liquidates his company despite having paid a good portion of the account.
People like him make me sick, and to be quite honest, seeing him have to cough up or lose it all will be "sweet music" to my ears! Everyone who has an up on business has a down sooner or later – I get that more than many, but people of integrity face up and communicate in a mature manner with those they owe money to. Tom's not one of those.
Tom, my mate is after you and I'm telling you, you messed with the WRONG dude! Prepare to get your a*se kicked in court and get your checkbook ready for it!