Top Taranaki Lawyers Govett Quilliam have now been caught out in court . . . and this post summarises and explains the core circumstances surrounding their legal chicanery and utterly immoral covering up. Enjoy.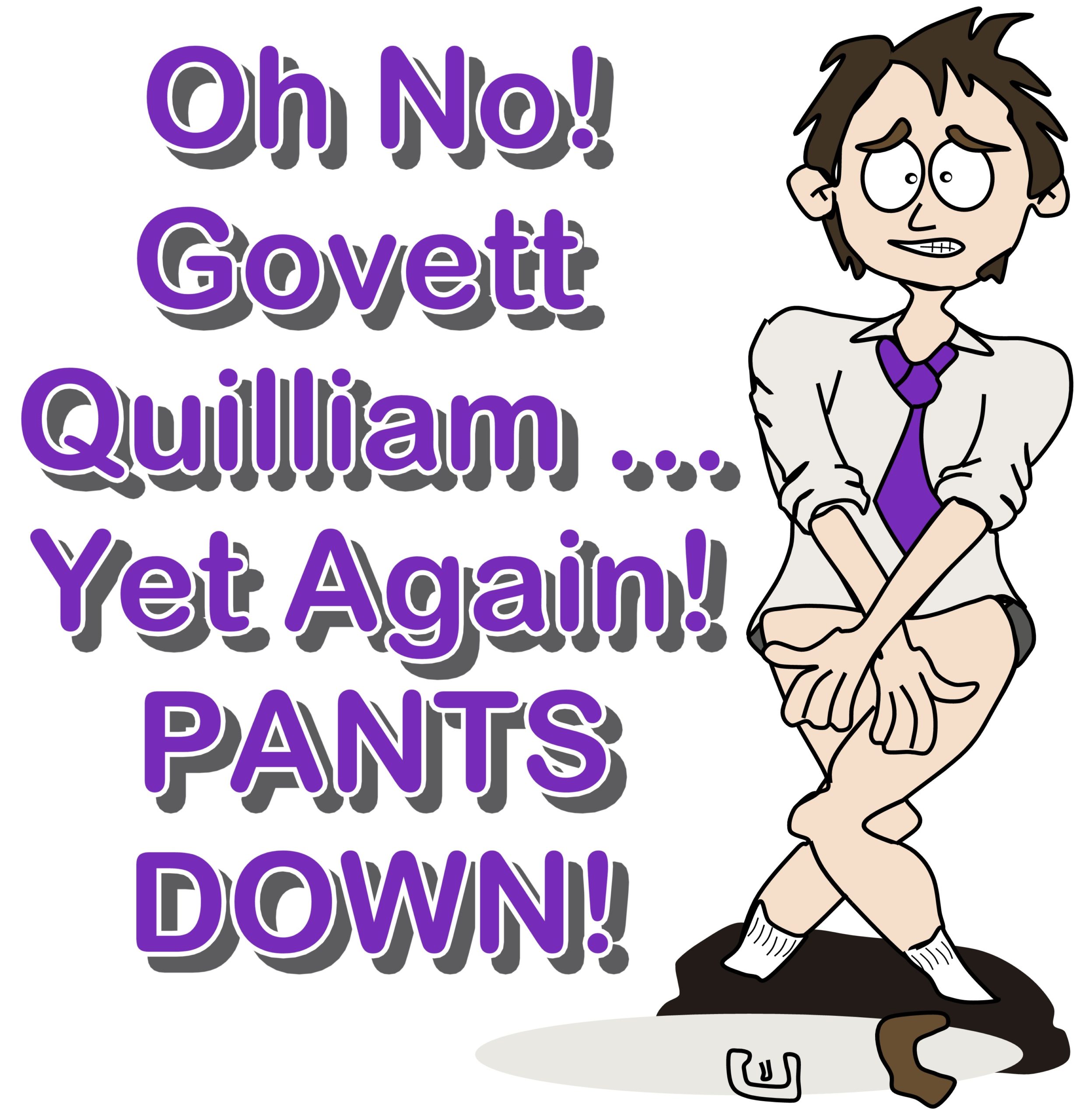 In July 2020 I purchased the company King Country Roofing Ltd (1481177), renamed it to 2004 Holdings Ltd, traded it to a nil balance sheet and informed the New Plymouth DC Deputy Registrar of a change of representation and change of address for service – both a legal requirement in a litigation matter and the direct result of a private agreement.
I then let its registration lapse. It was later struck off the companies register on 28 October 2020 – a common and legitimate process, also ethical IMHO if the company had no assets or liabilities at the time, which it didn't.
Govett Quilliam represented a Plaintiff Clarence William Withers which had a hearing scheduled for 17 November 2020 but they only found out that the company they were suing no longer existed on or about 13 November 2020. I know this because:
They had attended a call-over conference following my advice of change of representation in which I was prevented from representing the company. At that stage they did not know that I had purchased the company, but could have and should have;
Lauren Wallace of GQ confessed this to me (although not to the actual date) by phone;
The printout of the company details they supplied to the court is dated 13 November 2020 thus we know that they knew at least by then; and
They admitted in a 'secret' memorandum addressed to the court only dated and filed on 16 November 2020 that they had only "recently" found that the company they were suing no longer existed.
The New Plymouth District Court issued a judgment on 17 November 2020 of nigh on $300k but did so against the original name of the company, not its new name, in error.
At the time, GQ knew:
that the company had been sold;
that the Director (me) had been previously denied the right to defend the company;
that the company had been struck off; and [wait for it . . .]
that the court was acting in error either knowingly (which is essentially a claim of either error or corruption on the part of a DC Judge) or as a result of their actions and/or inaction (which is a major case of 'Oh Dearie me! Naughty, naughty lawyers').
Oops! Now who on earth would ever think that a legal firm would make a mistake? And then cover up? And then get caught out? And then get thousands of words of blogging about them . . . and then . . . OMG!
Govett Quilliam applied to restore the company on 3 December 2020, and this restoration occurred in January 2021. They (through an Auckland-based firm of specialist litigation lawyers) attempted to wind-up the restored company, so that they can get a liquidator to get to the bottom of the companies affairs [and of course try to get the perceived millions of dollars of assets of the previous owner].
I know this for two reasons:
Clarry Withers told me himself, personally that this was exactly why he 'supposedly' spent $30k winding the restored company up; and
Clarry's own lawyer admitted this in court, yesterday.
They intend to 'get back' to the original company owner personally and other entities that he owns. They think that fraud must have occurred, and when they wind the company up the liquidator will find that the company assets (such as tools of trade and so on, according to Clarry) were hidden from them in some kind of illegal or immoral act. This is the real reason why they restored the company and have attempted to liquidate it as otherwise it just makes no sense to restore a company that they know has nothing. Even the judge yesterday worked that one out!
I keep telling them that all they have to do is get pragmatic and talk to me and work with me, and that there is no fraud and that everything is legit and that it is Clarry who owes me $16k but they are very cleva dudes lawyers so pragmatism comes low on their list of priorities. They'll keep making money off their client who seems to want to keep them rolling in cash for their 'bum' advice, so it seems to be all good for GQ to date.
Recently though, the wheels fell off because of this outfit's conduct, and their skulduggery is now under judicial examination. Yesterday the presiding Judge in the New Plymouth High Court case CIV2018-0443-11 asked an interesting question relating to the judgment upon which their dodgy application to wind up my restored company was based. "How can a judgment be issued against a non-existent entity?"
The answer of course is normally it can't be and neither should it be. So Govett Quilliam's claim in court was that "the judge knew this all at the time" is either dumping the judge into it and calling him a crook, or it is an outright lie; a fabrication – BS to put it simply. While I can't yet prove this is an outright lie, it probably is. If their claim that the judge always knew that the company was struck off is actually false (which I tend to agree with) either the HC judge will find them out, or I will find out.
In my experience I have seen a truckload of BS stuff from DC level adjudication in NZ, but this would be a first for me and may I suggest somewhat irregular for a judge to be in on a cover-up assisting these crooked lawyers to cover for their sorry a*ses butts. Rather stupid for a judge to not enter material knowledge into a judgment against a non-existent entity, methinks if he did. You'd normally expect a judge to boot it all out as an abuse of process or perhaps adjourn the matter pending the company reinstatement or at the very least cover his own butt by stating at a minimum that he knew that the company didn't even exist when he passed judgment against it. Surely no judge would be that stupid to expose themselves in that way, would they?
I think what really happened was that Lauren Wallace screwed up and failed to keep track of the change of ownership of the company and she genuinely didn't know of the companies true status until mid November 2021. I think that on or about 13 November 2021, she actually completed due diligence on the companies status a week out from trial and would have needed a nappy change as she realised that GQ had just screwed up big time for her client. First she had failed to put the company on the free weekly companies watchlist; so she missed the ownership and company name change; then she was present in court when my notice of representation was rejected unreasonably as a result of her screw-up; and she would have known full-well that the goose was cooked when the company no longer existed.
Being ethical creatures these lawyers, they would have immediately confessed their errors to the court and advised their client that they'd screwed up and wasted all their money. Yeah Right! Anyone got a Tui?
I'm sure that things would have been talked about with the other Partners all involved. Such serious issues are always are Partner type discussions and with a dozen people at the top at GQ and her partnership being a recent and a junior one, I reckon there would have been a bit of sweat in there.
So my take is that even though they knew of their error on Friday the 13th when she printed off the companies details, she would have deliberately sent the Memo to the court last thing on Monday, in the hope, or perhaps even with the assistance of friendly counter staff that they could get the [dodgy] judgment and then retrospectively reinstate the company. Even though this is a little naughty, it's what small town dynamics allow. People know others and sort things out by burying a critical document in a pile sort of thing. And it's obviously necessary to lie in the HC when the judge asks how a company can get pinged in court when they don't even exist! "Let's worry about how that puts the judiciary on the spot further down the track, cause we just have to get ourselves out of this mess!"
Now, if it was found out that the judgment was dodgy by nature of it being entered into against a company that failed to exist, it may be rather difficult to enforce I would have thought? But hey, I'm not smart enough to be a lawyer, or a judge and all this stuff is way above my pay-grade. I'll just keep on telling the world the facts as I find them:
Govett Quilliam screwed up right royally way back in 2020 and let a company they were suing get struck off the company register.
They did more bad things as well but when confronted and advised to inform their underwriter that they had a pending PR problem, they ignored that warning, doubled down, denied the claims then threatened the whistleblower with defamation!
Rather than admit their multiple errors to the courts they tried to sneak through a 'secret' memorandum so that they could get their judgment (no matter how dodgy it may be).
The High Court Judge asked a very smart question, the answer to which I posit will be rather embarrassing to QC as it reveals who they really are (hence the title of this post, "Pants Down") or it will show that the New Plymouth DCJ is also in on the scam and should be removed from the bench forthwith.
Have I already said, "OMG!" or was I just thinking it?
There are more questions worthy of note in this sea of legal chicanery initiated by these crooks Govett Quilliam . . .
Why did they wait from 13 November till 16 November to inform the court that the defendant company no longer existed? Is it perhaps that they sought assistance from the court staff to 'pull the wool over the judge's eyes' and to sneak their judgment through and get the company restored retrospectively? I can't be sure about this yet but methinks the HC judge is onto it and hopefully truth and justice will prevail.
Why did both the court and GQ fail to provide documentation to the defendant company as they are required to by law and according to normal practice? I would note that not even now have I received the full set of documents related to it! How can you even attempt to wind a company up if you don't allow them to defend and don't supply them with what you have to by law?
Why did the litigation lawyers attempt to deny that they worked on contract for GQ, when they clearly acted with and for GQ? Norling are based in Auckland. GQ are local to Withers. What's the problem? Is somebody trying to hide something?
Why was my company attempted to be wound up under the correct name but the court never advised of the name change to 2004 Holdings Ltd and then to Clarence WIlliam Withers (Professional Swindler) Sting Operation Ltd and then to Govett Quilliam Cover-Up Ltd? Is somebody trying to hide something here? I mean after all it is not that they do not know these facts, is it? Somebody trying to hide something? Surely not?
Govett Quilliam will likely have no public liability underwriting on this matter because I'm sure that they will not have informed their underwriters as I warned them to do at the outset of all this BS. I think that the best way that they can get out of this self-imposed mess is to fess-up and come clean but this would require a huge dollop of humility and integrity on the principal's part. Thus far the example set by these goons is most definitely not a good look; it is a pattern of deception and stupidity set by people entrusted to act otherwise; and the ad hominems I heard in court yesterday logically seem to be an acknowledgement of their exposure and lack of a case. I will be seeking a detailed explanation of their concerns expressed in court yesterday but do not expect a meaningful response
If I were in Govett Quilliam's shoes I would be sh*tting myself, hoping like hell that either I stop blogging about it, that I give up and go away, or that … well anything other than the ongoing exposure of their secret naughtiness to be honest! I would also hope like hell that there has been no commercial loss attributable to their skullduggery, because that could get rather messy, or expensive.
Oops!
There was also an interesting exchange between the judge and myself in which he asked me why I would be bothered defending a company that has nothing. "Simple," I said. "I am a … Private Investigator and my word is my bond. I would do this for $1.00 let alone $300k". From his non-reply and subsequent silence in court I think the judge realised that he was then dealing with one of those 'nut-cases' that live by principle. I'm sure he's seen a few of them in his time.
The judge has reserved his judgment. He says that he has a lot to think about. Maybe. It may be that he wants to get to the bottom of it, perhaps he too needs to find ways to backpedal or cover up judicial indiscretions too? We await the outcome with baited breath. On the one hand GQ and the court system can prevail and wind up an entity that ceased trading a year ago, has nothing and has always done everything right. He may accept my right as Director to defend and proceed to trial. He may boot the whole thing out of court and tell GQ to take a hike. He may ask the DC to relook at their dodgy judgment. I dunno.
If the judge does ask questions over the water cooler from the other DCJ as to WTF he was doing entering a $300k judgment against a non-existent entity, then he may want to get his wet bus ticket ready to slap GQ's wrists. Either way as I have always said, it might be rather difficult to enforce such a dodgy judgment.
In court yesterday I noted serious concerns from the Plaintiff's lawyer over my conduct in registering my old company in their client's name. In fact he detailed the company name in full TWICE in court – "Clarence WIlliam Withers (Professional Swindler) Sting Operation Ltd"! This mirrors Clarry's own concerns shown to me when he visited in person. The implication appeared to be that I was a bad man out to cause him or his client trouble and/or that I had ulterior motives. Not so at all. Pot calling the kettle black. In fact the company was reinstated and has no assets yet it is required to defend itself. I renamed my company to Clarence WIlliam Withers (Professional Swindler) Sting Operation Ltd in 2021 only after GQ's nonsense and then to Govett Quilliam Cover-Up Ltd after yesterday's nonsense as well!
Get over it Govet Quilliam. You're crooks in what you've done. A HC judge is in the process of examining what you have done and I fully expect your cover-up to come out in court in due course. Standby for the fireworks as the little guys show that they have absorbed, waited, paid and gathered the evidence. Be very careful when they 'go in for the kill' – and that's figuratively speaking in case you think you can invoke s306.
Oh, and Clarry, may I respectfully please advise you to hope like hell that the HCJ doesn't send it all back to the DC because that'll mean that based on your own claims, you're up for another $60k or more and a second [this time defended] hearing before you lose even bigger! Pay up brudda . . . it's only $16k.