This post is a warning to the Taranaki business community in regards to what the locals call a "Professional Swindler", a guy called Clarence ("Clarry") William Withers from New Plymouth. Professionals and tradespeople of the region pretty much know of his ways, indeed one top official said, "That bastard has been doing it [ripping people off] for years!" but the root cause of his games is not well known or understood. It's Autism (ASD), so to assist those struggling to deal with the aftermath of trauma with this guy (and to hopefully prevent further trauma) I explain it here.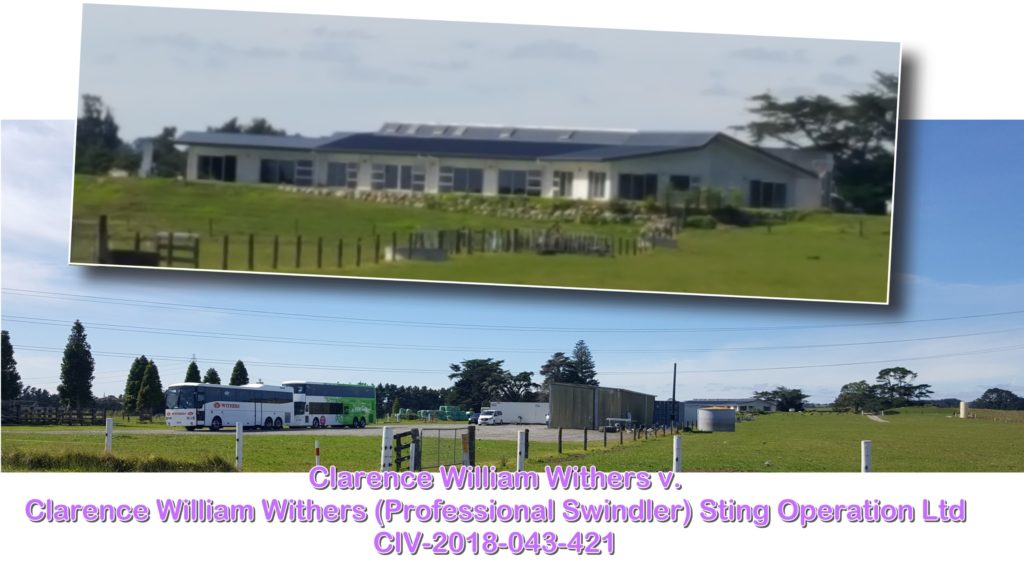 Over the years, Clarence (Clarry) has caused a tremendous amount of ill-will in the Taranaki region. Sadly the extent of this trauma is unknown to the perpetrator himself because he simply doesn't 'get it'. He never will either, because from my perspective, he might be the nicest guy in the world, but he simply can't … 'cause he's 'got' Autism.
Now I hasten to add that I am not a shrink, but I have had many years dealing with people who are different in this regard . . . people with psychiatric issues are unique – they are different. They are wired differently and think differently. Yes, I know that vaccinations can cause this, and indeed there has been a huge growth in ASD conditions commensurate with increased understanding of these issues, but if we put the details aside and summarise the mean effect of these ASD things, it is that people with ASD simply do not understand normal human dynamics.
They may be wonderful people in their own right – kind, giving, loving but deep down they simply do not, because they cannot, understand the finer details of life. I'll start with a humourous example – Samoans. Outsiders laugh at these easy-going island people and how they will rise to physical violence in a heart-beat, then settle down into deep friendship the next moment. It is the Palagi way to engage brain before brawn and to hold grudges thereafter – once bitten twice shy sort of thing. Not so Samoans. Give a lubricated Samoan lad an insult and you'll end up with a fist in your face inside a millisecond. But then when the fist returns, the Samoan is totally stunned, and cannot work out why the fight is all on. "Well because you decked him!" is the logic that totally eludes the Samoan brain.
While it is true that most Samoans suffer from this social ill that manifests itself in a myriad of ways throughout the community, it is a stronger, deeper and more sinister condition that Clarry demonstrates in our Western world. ASD can have massive consequences, and I assess that the Taranaki business community has probably lost around a cool quarter of a million dollars over the years at the hands of this dude. I personally know of $100k of legitimate debt simply written off by people dopey enough to get into hock with this dude but smart enough to choose not to fight him. There are several I know who have paid a high price for dealing with him. When they brave up and choose to take him on they'll always win in court because the judges all know Clarry and judges usually all work off evidence and assess the credibility of those before them pretty quickly but the emotional cost of fighting a chameleon like Clarry is often a killer for most.
His modus operandii is to incur debt to tradespeople; generate a dispute somehow; threaten litigation and then to do anything he can to weasel out of paying his debts, even if it costs him more to avoid coughing up what he'd previously agreed to! Personal honour and common sense mean nothing to Clarence in what appears to be a game that he plays with others.
Don't just listen to me – check out what this High Court judge says. Here's the assessment of the HC Judge Heath:
[40] Having identified the basis on which the parties contracted with each other, the Arbitrator considered the value of the work undertaken. Although the Arbitrator referred to Mr Kay's evidence as supporting that of Mr Stewart, it is clear that the Arbitrator had earlier rejected Mr Withers' version of events. I do not regard the fact that Mr Kay's evidence was consistent with Mr Stewart as being something that required the Arbitrator to provide Mr Withers with an opportunity to respond to …

Source
. . . i.e Clarry is a liar
[59] the solicitors for Mr Withers shall pay to the solicitors for BSC the moneys held in their trust account in satisfaction of the award. Only if any further moneys are payable can enforcement action be taken to recover …

[60] BSC has been successful on the present applications.

Source
. . . i.e. you lose Clarry, now pay up!
In 2004 I met a family at a Taumarunui church and befriended them. The guy asked for help setting up his business, which I duly gave. I liked him because he listened and showed me respect (that's the key to getting my heart open!) and in the middle of last year in 2020 he again asked me for help. He told me that he was mulling over a difficult situation in regards to this Withers dude; that he went to bed with a prayer for help and awoke the next morning with me on his mind. That God-thing really gets my attention – of course!
Push came to shove and I ended up buying his company after I had done some basic due diligence. I renamed the company 2004 Holdings Ltd and over the next month or so I eventually whittled the company down to nothing. I paid off all debts or arranged for them to be sorted, sold its assets and then let the company lapse and be struck off the companies register. In the process I personally ended up with the debt from Clarence William Withers of some $16k, with a Small Claims Court hearing previously accepting a disputed debt of $15k.
So began a venture into the legal domain, and developed a sting operation where I planned to expose Mr Withers as the fool, crook and nasty person (bastard) that the locals called him, and that he really was. The sting was that Clarence William Withers would sue my company which would eventually be called "Clarence William Withers (Professional Swindler) Sting Operation Ltd", and then forever and a day the description of this dude as a professional swindler, would be engraved into digital memory. Anyone searching for "Clarence William Withers" or "Clarry Withers" would end up seeing this page or the text "Professional Swindler" especially if they included the word Taranaki in their search. Exposure via Social Media and the local media could or would then occur as the people determined it valid from time to time. I lived out of town but was happy to visit or answer any questions as it suited those with any agenda to get their message out.
The sting therefore was exposure, showing how one crooked dude with an intent to profit unfairly from others had already spent more than his original amount due on legal expenses and causing him massive embarrassment as well as costs. Making this dude look like the fool that he was also appealed to those who had previously lost out to him and his nefarious agenda.
When the company matters were resolved to my satisfaction I entered into an agreement with the lawyer who represented the company to inform the court of two things – the new company representative in court matters and the new address for service. I did this the next day:
To the Registrar of the District Court at New Plymouth
And
To the Plaintiff
This document notifies you that:

1. The defendant now acts in person in place of Kevin Bond of Braun Bond & Lomas Limited, Level 1, 127 Alexandra Street, Hamilton 3204.

2. The address for service of the defendant is now 2a Para Street, Matapuna, Taumarunui 3920, New Zealand, dennis@dennis.nz.
Date: 18 August 2020
The New Plymouth District Court engaged with me over this but at the end of the day the Judge said basically, "Mr Smith, you're not a lawyer so you can't represent the company [hint: bugger off]". The company had no assets nor any liabilities and was about to be struck off so I scratched my head over that one.

I could not engage a lawyer because as a Director of a company it is against the law to incur debt that I do not believe the company has the capacity to ever repay. As it had ceased trading and had a zero balance sheet, I did exactly what the judge hinted at – I buggered off.
Withers' lawyer had failed to tell the court that the Defendant company was sold and that it was renamed and that I was by right representing the Defendant company as its Director and they actually secured a Judgment by Default in my absence. She actually didn't know back then as evidenced by her admission that she only "recently" found things out in mid November 2020. Worse than that though, judgment was also entered against the old company name after it had been struck off which to me is a pretty massive professional failure on her part but she tells me that she did every thing right. Whatever. The court can sort all that out if she pushes on with the legal stuff.
So yesterday the company Mr Withers is suing was renamed to bear his own name, almost as if he is suing himself and we enter the next stage of this sorry saga. Withers has his judgment for a gazillion dollars which he got against a company that has nothing, but didn't even exist at the time of the judgment. This all seems pretty dodgy to me, but hey I'm not a lawyer. Speak to the top-notch lawyer that I called out over this if you need a more detailed explanation of the legal matters.
The moral of the story is this . . . when you think you're a smart-arse in business ready to take on others apparently less fortunate and not as smart as you think you are, make sure that you engage lawyers who are onto it and sue people who actually have something (like Clarry himself) – not dead companies previously run by licensed Private Investigative Bloggers who are onto you; who love a good fight; and who enjoy exposing crooks, crims & crazies!
And if you ever come across an odd-ball with human relationship issues, check with others around you to see if you're dealing with someone like Clarence William Withers that shows all the symptoms of a serious dose ASD. They'll be trouble, sometimes BIG trouble.
One of my informants who had fought with him big-time recounted the story that while waiting to be called into court, Clarry wandered in and started chatting to him as if nothing had happened. That's a perfect sign of ASD for you right there – just no comprehension that others are hurt by your conduct. Totally self-centered, if they're not selfish. They seem to treat it all like a game, but they will defend nonsense because to them, challenging their loopy story is to challenge their identity. Remember that they cannot handle emotional reality without it being a personal thing. This defense of the indefensible is akin to them challenging our faith or gender or race.
There are other clues of Autism as well, such as repeating patterned behaviour; an incredible focus on the unimportant; their propensity for massive instant violence over abnormal things; fixations on (to us) minor things (often called majoring on the minor) and on and on.
Sniff it out. Don't try to rationalise it out. It'll drive you bananas if you try to reason with them. Just let them be and go your own way, or if you want to play them at their own game make sure that you're ready for a wild ride. You'll win eventually, and they generally do cough up in the end if they owe you, but sometimes you gotta go through a wild patch until the're cornered and then admit that you got 'em!
I conclude now with a repeat of the public warning, I'm certain that Clarry (Clarence William Withers) from C.W.Withers Ltd in New Plymouth has some form of Autism. If you're doing business with him, beware and expect not to get paid without a fight, even if you use a third party escrow service and even if you do every thing you can to try to keep him happy! It's not your fault that he never will be. He's got the Autism, and probably created the BS, not you!