This post gives advice for Mr Clarence (Clarry) William Withers of 353 South Road, RD4, New Plymouth who is suing an impecunious company for more than $300k – a company that I owned but that ceased trading a year ago, Clarence William Withers (Professional Swindler) Sting Operation Ltd (formerly 2004 Holdings Ltd). Get ready to sue your own lawyers Clarry because they have given you bum advice and you won't be getting a cent in return for your many thousands of dollars you will have racked up trying to do evil. Enjoy this one everyone . . . it was a hoot to write I can tell you!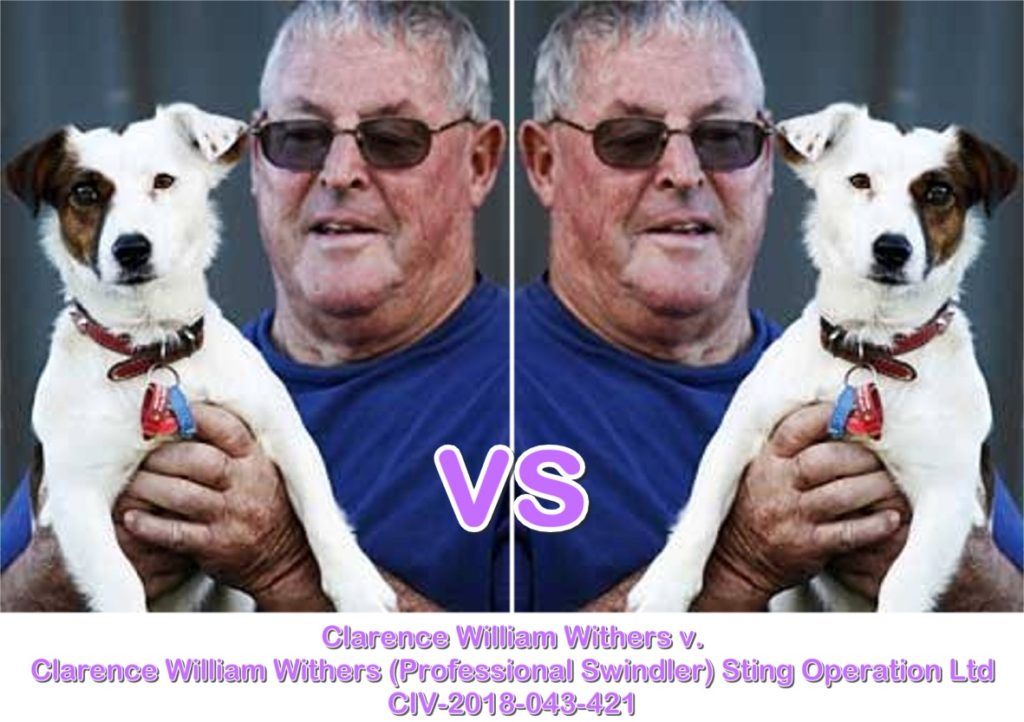 Clarry has a reputation around the Taranaki region as a rich dude who plays games with other people in business. His modus operandii is to suck business people in to do work for him. He generates a dispute – genuine or not doesn't matter to him. He will then use that excuse to avoid paying the monies genuinely owed by him and in the process he screws others around. There is no pleasing him. He has huge human relationship issues and clearly has Autism (ASD).
In mid 2020 I purchased a company that tried to sue him for an account outstanding of some $16k. Clarry has never won a court case that I know of and the people of the region know him and his ways well going back decades. I've shared about this dude previously. He and his lawyers have walked straight into a sting operation which has worked thus: Clarry hurts people by doing his stuff secretly. Unless the Taranaki people talk to each other none of them know of others' troubles with this dude, so I wanted to get the word out. I bought the company in July, 2020, renamed it to 2004 Holdings Ltd, settled all its debts, collected on its assets and then informed the court that the old lawyers had gone and I was the new representative of the Defendant and notified them of the changed Address for service. I let the companies registration lapse, affected when the COVID-19 delays had worked their way through the system. The trap was set.
Now as with all plans, they rarely survive more than a minute into a war, because the enemy has a vote. I did not know how matters would evolve in detail but I knew that whatever happened I would be making the events public.
I waited and then the unexpected happened – my notice of change of representation and change of address was rejected by the New Plymouth District Court Judge. In the presence of Mr Withers' lawyer Lauren Wallace, the District Court Judge looking at the matter said that as I was not a lawyer, I could not represent the Defendant company. So either Mr Withers' lawyer knowingly misled the court, or allowed the court to issue a ruling on false pretences (both very serious matters) or (more likely IMHO) she didn't even know that the company had been sold. I've shared previously how this unprofessional conduct was covered up rather than admitted and resolved constructively. Basically the crooked lawyer found out that the company had been struck off in November 2020 shortly before the hearing (this is the correct thing for a lawyer to do) and then slipped a memo to the court notifying the court that she was applying to have the company reinstated. It later was. It was Gazetted on 3 December 2020 and the company was restored in 21 January 2021.
There is more skulduggery though because the court DR in New Plymouth told me that she had spoken to Lauren personally; Lauren sent her memorandum to the court (obviously to cover herself!) but she did NOT supply a copy of her Memorandum to the court to the Defendant company (which she knew the correct identity by now – and that she had made a big mistake) and the court also never sent the Memorandum to the Defendant (me) as she is supposed to if I have not confirmed receipt either.
So the judgment which was defended all the way for years was entered against a company that had ceased trading; had no assets or liabilities (the technical/legal description of this is "impecunious" meaning that it has no money) and our claim was rejected because there was no-one there to defend it!
So what should the other party have done and what should the courts have done, and WTF will happen now?
Lauren claims to be a professional. She got very indignant that somebody (especially a non-lawyer like me) slighted her integrity. Like I have said before, most professional lawyers would put the company on a free watchlist from the companies office and she would have found out within hours that it had been sold. I got an email from another dude on the Monday morning following the sale on the previous Friday. He had obviously put the company on his watchlist, the notification coming from the Companies Office weekly on a Monday morning. To me this is basic stuff which Govett Quilliam dropped the ball on. One error like this is not enough to sue a legal team over but it sure as eggs caused Clarry some problems. Lauren should have responded to the sale by informing her client immediately and undertaking communication with the new owner. She did neither of these things.
She should have fessed up to the court of her error and sought space to establish WTF was going on. Instead she slipped a memo off to the court (and not me) telling them that she would be reinstating the company. She can do this of course but it is an application not a right. It takes time. It has to be gazetted. Anyone can object to the reinstating. If someone had objected successfully then she would have been in the sh*t with a judgment against a company that couldn't be reinstated. Her cover-up is now out there for all to see. Naughty, naughty Lauren.
Next having proceeded against a company in which she had contributed to it being unable to defend itself and trying to cover it all up, she stood in court and eventually (I understand that she had to provide the judge with additional evidence before she could get the judgment) got a judgment against the company that didn't even exist! There is NO WAY that Clarry would have knowingly paid for this kind of legal representation. If she was up-front and honest with him over this I'll eat my hat and update this post with a correction/apology but I know this dude and Clarry would surely have let her have it, if she had told him! He might be obnoxious and play games but he is NOT that much of a fool I can assure you!
The court too is at fault because to issue a judgment knowing full well that the Defendant doesn't even exist at the time of judgment makes me raise my eyebrows and say, "Really? What was the reason that a DC Judge was prepared to do that? Does his grand daughter go to the same school as Lauren's kids, or can he not exercise his independence sufficient to check the status of the Defendant with this lawyer?" My take is that Lauren didn't raise it in court because there is nothing about the legal status of the Defendant company in the judgment. Nothing! If there was then this would surely have set a precedent and be somewhat newsworthy . . . Judge issues $300k judgment against a non-existent company! On top of that one has to ask the question why the court didn't slip the Defendant a copy of this 'secret' memorandum! Do I smell corruption again folks? Surely not in the courts in New Plymouth in New Zealand – surely not?!
I jest of course with a little bit of sarcasm in there too!
So now what? On 9 March 2021, I discussed this whole matter with Lauren and made her an offer. She said that she would take instructions from her client and the next thing was that we're off to court again. This time it was one of her companies long-term insolvency specialist lawyers whom she had put on the job. They actually tried to deny it and it took ages for me to work it all out but the guts of it is that Clarry had instructed them to wind my company up. So be it. I always knew that this was a possibility, but the case Clarence William Withers v Clarence William Withers (Professional Swindler) Sting Operation Ltd will be defended, and probably subject to a Strike Out Application too.
The law says that I need to supply a Statement of Defence to both the Court and the Plaintiff within a few working days of receipt of the documents. I have just done this. I'll also probably supply these fools with a Strike Out Application in due course as well, on the basis that they don't have a dog's show of winning their case. Any judgment issued when the Defendant doesn't even exist, let alone when the Director is wrongly prohibited from defending it must surely have very little chance of success – surely? It is also a frivilous and vexatious case. Frivilous because the company has no assets and vexatious because it was only reinstated in order to wind it up via litigation.
So now Lauren's cover-up has been shown for all to see in all its splendiferous glory, perhaps we can all feel for Clarry, facing legal bills for BS that could and should have never occurred in the first place. Now how's that for a conspiracy theory – lawyers who get it wrong, cover their butts and make matters worse for their client AND they make money at every single turn as well!
Clarry, you've got all the evidence you need here on this blog to take these fools to the cleaners. You will have to take the negative PR from not paying your bills in the first place, but IMHO your legal bills from Govett Quilliam and their insolvency people should be totally wiped and you should be looking at a sizeable settlement from your legal services underwriter – that is if they still do GQ's insurance! Pay your bills to me as you should have to the company years ago and who knows, I might even supply you with assistance to sue your legal people! Affidavits . . . assistance in any form you like except for legal advice, I'm not allowed to give that to you. You've got to get that from others more 'skilled' in all that stuff, and that's by law of course!
Here's the Statement of Defence as supplied to the Court and to the Defendant. I'll post the Application to Strike Out once it is also served.
Grrr . . . the world really is full of weird loopy people isn't it? Is it time for a bit of sanity anyone?