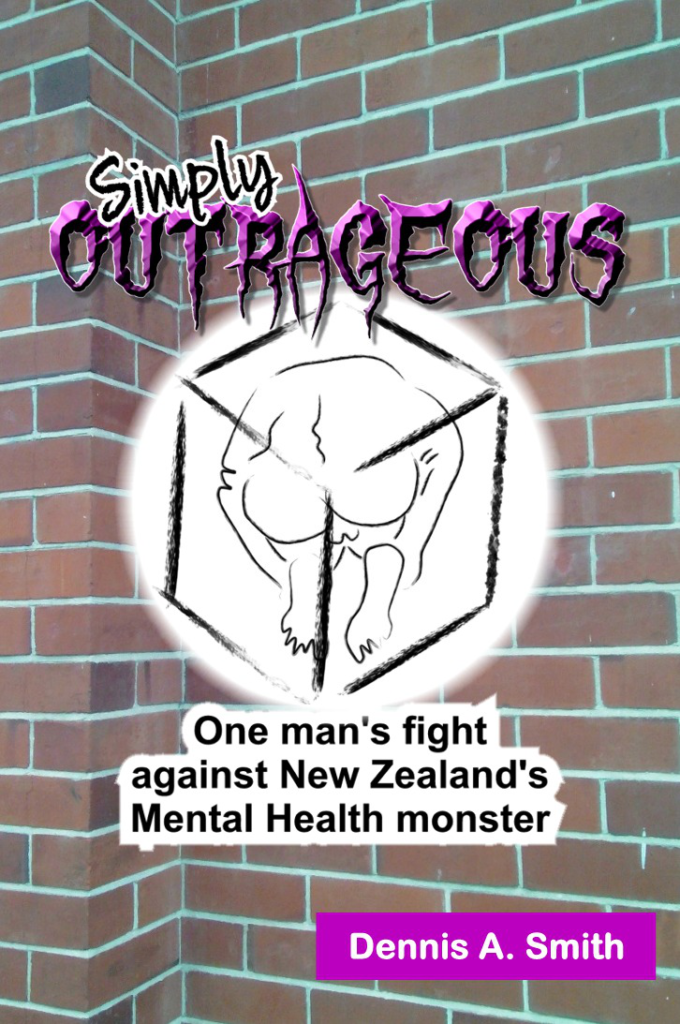 Everybody has a story to tell – everybody. Some stories are easy to share; easy to listen to and can be widely interesting. Others can be sad as people talk about losses, grief and so on.
Some though are Simply Outrageous.
Righteous anger is an incredibly powerful force in the world because it is intensely motivating. When we see or hear about injustice many of us will get off our chuffs and do something about it – shake our fists at the TV, write letters to our MP, speak to others, post a Facebook link, or get active with something!
This man's story appears to be a mix of bureaucracy challenges, ego issues within the Mental Health system, a medical issue with bi-polar, a criminal matter gone wrong and a rebellious spirit that hasn't yet learned that within the medical establishment you have no choice but to comply!
The book Simply Outrageous is the story of one man's fight against the Hamilton Mental Health services in 2018. The picture of a naked man forced into a small box inside a brick wall tells much, and then add in a suicide attempt and people who simply do not give a shit – to be direct. Luckily one caregiver cared enough to come to his aid but that he was even in this position is a disgrace. A cover-up and lies from those directly and indirectly responsible – of course.
It is a difficult story to tell for a range of reasons – first it is removed from time and distance. It happened a while ago, and in Hamilton. I live in Taumarunui. That's not terminal for a guy who does most things remotely but it does make it a little harder.
Secondly it relates to Mental Health. I'm not a medical person and while I can handle Autism and Asperger's because I have had a lot of experience with these people, Bi-Polar and depression is not my scene. That makes it a tricky subject for me to share with others except in an intellectual or remote way. This story needs a close intimate empathetic manner that I know that I cannot provide.
Thirdly my client is up and down. I can be confident of knowing my own role in the research and writing exercise. I can be confident of determining reality from both a medical perspective and factual perspective, even from a spiritual perspective, but with a client a patient, subject to the ups and downs of bi-polar in a fairly intense situation, I doubt that I will be able to get the job done on-time and on-budget and to produce professionally. Put into a nutshell, I can do my part but I cannot be sure that he will be able to do his.
I withdrew from the project and sadly, recommended that the victim just suck it all up and get on with life. The point here is that while I can show sensitivity to a victim, being sensitive to my own situation sometimes means backing off, minding my own business and going away. At times, life hurts.