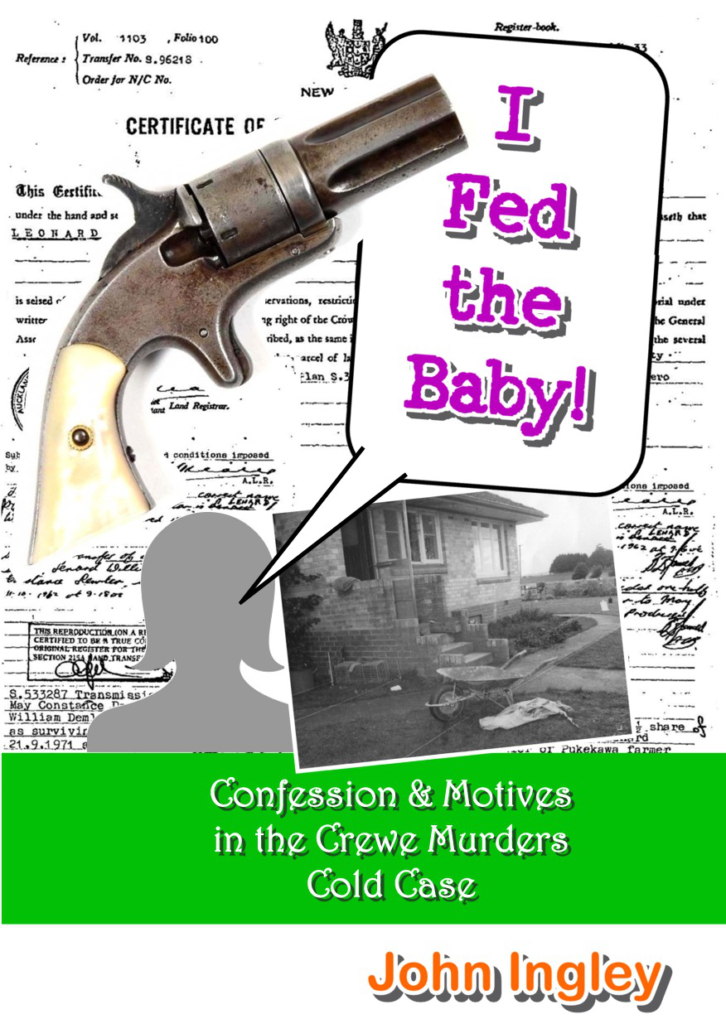 Establishing the name of a story requires an understanding of both the story and the marketplace. In the case of the book, I Fed the Baby – Confession & Motives in the Crewe Murders Cold Case, author John Ingley noticed that there was what he saw as a code of silence from many in the Pukekawa region. Meeting and hearing of the local farmers who knew more than they let on helped him to see that the Police at the time did not have the respect of a significant part of the local community.
His first book title therefore was proposed to be, "Code of Silence". As his research work progressed though, he found that the motives for the murders were primarily financial and thus his book came to be called, "Legacy of Greed".
The final book title became "I Fed the Baby!" when it was established that the identity of the 'mystery' woman was of more interest to the public who remembered the case than anything else, and that his girlfriend at the time was the woman who in 1980 confessed to feeding the Crewe baby in 1970.
The book sub-title is also packed with meaning by using rich, carefully selected keywords.
It's not always possible to see the big picture at the outset of an investigation, and it can take an outside set of eyes to pick up on important things. It doesn't mean that we need contribution from others to complete our work, but more than one person involved can certainly bring depth to our understanding.
Noting how John Ingley came to research the Crewe murders is also an interesting example of how one man simply asked questions, backed himself and did the necessary work to solve a crime that many before him had failed to achieve. Puzzled by the true identity of his girlfriend at the time, his decades of asking questions, smelling a rat and then asking more was the genesis of his posthumously published exposé.
TIP 15:
We all have a story.
Sometimes we need help to define it, to appreciate its value, to determine who else would want to hear it . . .
and then to tell it!
Fifty years after the Crewes were killed, after many articles, news stories & books have been published, the New Zealand Police admits that they don't know who the murderer was; nor why they were killed; nor who fed the baby following the murders. They also say they do not know the murder weapon.
John Ingley's book really gets the story out!