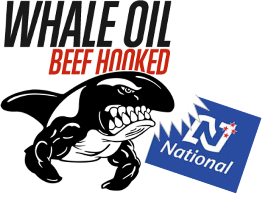 Cameron Slater is an astute New Zealand political commentator, son of a long-term National Party big-wig. Over the years he has struggled with defining his own identity; he has fought depression; tackling many a personal ghost and he has done it in the public gaze. In recent years he has lost some high profile defamation cases, suffered a stroke and has been marginalised by most.
His blogging career started as a form of therapy and his unique mix of fearlessness, passion, strong sense of justice, conservative values and creativity came to the fore as he developed what at one stage was New Zealand's top website, Whale Oil. Say the full website name in a certain UK accent and you'll see how his mind works! "Well I'll be f*ked!"
It is an understatement to say that many journalists love to hate on him. He is utterly despised by many who consider him nasty, vicious and to be avoided at all costs. Engaging with Cam can indeed be a two edged sword. Those who have done so have largely all got their hands burned as a result. Fortunately I've avoided that fate, to date.
Cameron's political take is second to none. In his heyday he capitalised on this with TV appearances, a surge in his website growth and a strong reputation for having a strong political nouse. His fall from grace and subsequent bankruptcy however involved defamation litigation from several of his victims – those who had conspired to buy his marketing services and those who were less than forthright in their tip offs.
Court appearances, legal documents, judicial observations and the exercise of cautionary analysis provide important lessons for observers.
1. Mental or psychiatric issues are not an excuse for the consequences of our conduct. Issues relating to Cam's depression for example could not avoid the consequences of breaking the law. When he revealed the names of people with name suppression (a popular move at the time), he still got charged and fined.
2. His commercial and political success did not stop the courts finding that he had committed defamation on occasion. Yes, he was also exonerated of some claims against him but he did go bankrupt over the events in question, and it would be a brave man who didn't put his stroke down to a direct result of the stress.
TIP 36:
Backing yourself can come at a cost if your adversaries find error in your words or conduct. Like rust, evil never sleeps, thus it is incumbent upon those who 'go public' to get their facts right and to maintain integrity at ALL times.
3. Fearlessness is a powerful attribute to have, especially when undertaking an investigation into or expose of those who deceive. It must be balanced though with realism and a willingness to pay the price.
4. I noted in a courtroom in realtime when a Christian lawyer, a long-time friend of his (I knew her too) destroyed the friendship – a nasty cocktail of gender, faith, & occupation.
Cam's blogging career has provided me with valuable lessons. He's a brave, flawed man, IMHO wrongly written off, for the fighting spirit within a true visionary usually returns.