In this post I use the story of a 'crooked operator' that I have crossed swords with here in Taumarunui, to demonstrate the consequences of entertaining evil by way of stretching the rules. I explain how deception always comes out in the end and how and why deceivers hate so much – especially those that stand up to them, and their crimes. Enjoy.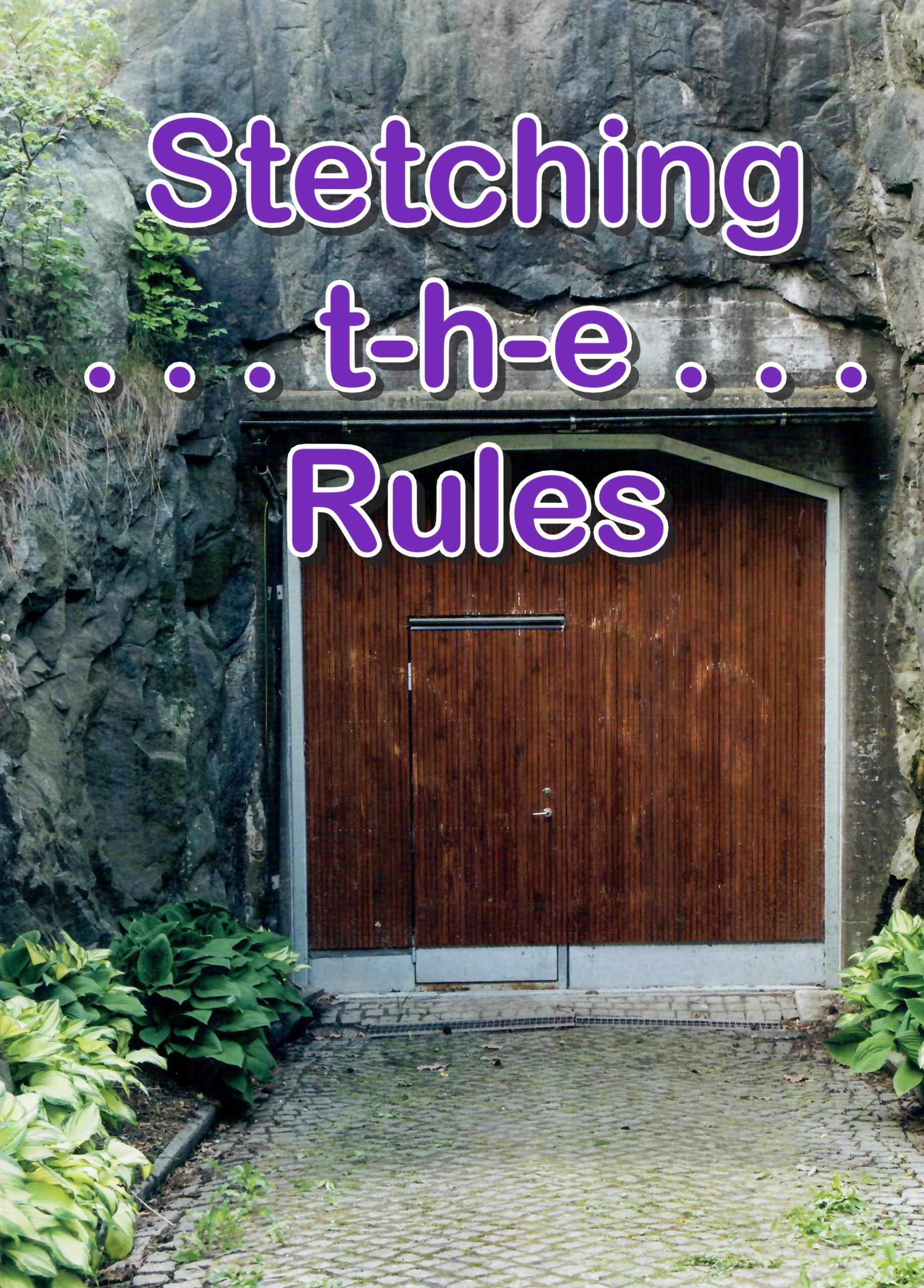 A Taumarunui woman by the name of Audrey Walker stood up for her husband's actions; but actions that I believe to be a betrayal of a supposed longtime friend, and which has become the subject of litigation. No big deal about that really, but when matrimonial loyalty becomes personally unreasonable and screws with public money this is worthy of exposure. It has now gotten this far with Audrey.
Audrey has had a rocky relationship with KCET since its inception and in 2020 she was eventually banned from KCET premises. If she ever comes to 2a Para St she will be breaking the law and can be arrested. I'm not the only place she is not welcome but whatever, that's her business. This post shares the consequences of stretching the rules using her story where I make the point that it is far better to do it right, and to be kind and friendly rather than to be selfish, snarky or sneaky.
The Background
Following a major investigation into The Taumarunui Museum Trust (TMT), Audrey's husband, Jim Walker, confessed to me that it was his idea in 2018 to sell the Memory Bank, evict Ron Cooke (RLC) and to gift the proceeds from the memory bank building sale to the local Council-led Museum project.
At a meeting in my loft at 2a Para St in 2019 initially with RLC, Jim told me that it was all his idea. I believe him. He explained three specific reasons why he saw this as the best pragmatic solution to a festering conflict situation (i.e. the festering RLC vs TMT issues). He explained how he and Audrey visited RLC c. 5.00pm on the day of the TMT Board meeting with his ideas typed up and printed ready to present to the TMT board meeting where the conspiracy was consummated between TMT and Clive Manley, CEO of the local council Ruapehu District Council (RDC).
When I questioned him, RLC confirmed to me that Audrey and Jim did visit him at his office at The Memory Bank on Miriama St that afternoon and that Jim did have a piece of paper in his hands, although he said that he never saw the contents of the paper.
I believe that Jim's confession to me was 100% accurate at the time he gave it for multiple reasons because:
He had no obvious reason to lie, as he told me, "I'm just a farmer. I chase sheep all day!";
He did not see it as a confession nor indeed anything to be ashamed of;
He still (at that stage at least) believed it to be the best solution to ongoing problems (i.e. close the whole TMT/Memory Bank thing down and get the problems onto the Council to sort out);
If you ignore the personal trashing of the historian, and assume that he would donate his resources to the council which they did, it was indeed a pragmatic solution;
Of my personal read of his body language; but most importantly because of
His explanation of the three (in his mind logical) reasons why he had come up with the plans/recommendations made perfect sense. In my experience thieves and liars do not put themselves in the position of another person effectively and then justify their position with logic as Jim did – no matter how selfish or short-sighted or immoral that logic may be to an outsider looking in.
Clive Manley admits to being present at the meeting which decided to sell and gift the value obtained from the sale to the RDC Museum project but he did deny any impropriety there by way of conspiracy. He told me that he was "simply there as an observer" (and obviously the representative of the potential recipient!).
My Take
It is my belief that TMT had multiple but primarily three main problems, or certainly perceived problems:
a) Ron Cooke's "intransigence" as Weston Kirton and others described it,
b) an aging building and
c) a weak ineffective leadership that lacked vision.
The TMT agreed to sell (and to evict RLC) and to gift the proceeds to RDC which was essentially Jim's idea, supported by his wife Audrey and in the presence of Clive Manley. I have been told that when the subject of Cookie's fate was raised at this meeting, Weston Kirton said, "Oh, leave that to me!" and he slipped Ron a typed note without a letterhead under his door early the next morning before Cookie got to work. I have put the evidence in the book two volume book set, Breach of Trust UNMASKED!! [ISBNs: 978-0-473-53910-8 & 978-0-473-58242-5] available on Amazon.
Circumstances and later events also firmly point to this conclusion as being accurate.
KCET – A Spanner in the Works
My arrival and KCET's creation but specifically KCET's request for recognition as an entity worthy of consideration for the proceeds put a major 'spanner in the works' to which the entire board of TMT, Clive Manley and most associated with the RDC, and the Walkers (founders of the TDHS) resented, ignored and resisted me personally and KCET's progress.
Adversity came openly from Audrey by way of contempt, passive aggression and outright mistrust. RLC attempted to maintain good relations with Audrey and TDHS due to historical relationships but conflict between me & KCET and Audrey occurred frequently.
During the period of KCET's establishment Audrey caused RLC and myself extreme difficulties:
Audrey insisted against all reason (at least to us) to "just let it [the eviction] go and get on with life";
She refused to perceive the TMT's actions as "an eviction" which we believed it was;
Her attitude towards me personally was dismissive, contemptuous and often openly aggressive;
Many times, she came into the Abundant Past offices, logged onto Ron's computer and used it, often but not always with RLC's explicit approval as she knows his password;
She failed to move in to APL even though we specifically made a space for her.
All in all, nothing made sense to either Ron or myself in that period (prior to Jim's explanation and/or confession) except one instance when she advised both of us that the reason she had loaned Ron $3,000.00, which was so that she could get him back on track to finish "her book".
I drew this important explanation to Ron's attention immediately after the event and he agreed with me that this "all made sense now[then]" and that he agreed that was being used.
Eventually, following more than one event showing disrespect for others and KCET resources, Audrey was banned from KCET property and other third parties have done the same, some noting her rudeness and that her bad attitude towards me was unusually strong. I guess if you take her, and the establishment on, you can expect this kind of thing eh?
TDHS & Dodgy Deals
So it is clear that Audrey's ethics (or more accurately her lack of) have influenced those around her and visa versa. Jim and Audrey along with Cookie established the Taumarunui & Districts Historical Society following their frustrating extended conflict with TMT leadership.
TDHS had sought funding from various funders including Lotto and they did a dodgy deal with RLC to provide a "quotation" in writing to validate their application. RLC was asked to provide a firm quote, a requirement of funders who will obviously never (and IMHO quite rightly) fund open projects which can continue on, milking the system so-to-speak, forever and a day!
This fraud was known to Ron Cooke. He initially resisted cooperating but then willingly participated in the fraud by providing a formal written quote but insisting (by way of an associated oral agreement) that the quotation was actually not that – it was only an estimate. TDHS essentially used his actual [fraudulent] quotation to secure Lotto funds.
Lotto would of course only advance funds on the basis of a firm contract – a quote.
Now, Ron has always been very clear that he NEVER works on a contractual basis and even to this day insists on getting paid for his work on an hourly basis. I can verify this and he has told me this many times. I supported and continue to support him in this fact – totally.
I also know that Audrey and Jim Walker arranged this fraud, and I believe that Don Tidswell and the entire TDHS committee too knew of the fraud, because in my capacity of Managing Director of Abundant Past Ltd (Ron's then employer) I refused to perpetuate any skulduggery and actually told TDHS to "bugger off". I insisted that Ron never would have and indeed did NOT agree to any contract, and that there was no way that APL would ever take it upon its shoulders to complete an un-measurable (and indeed) an un-measured project, with an aging and increasingly inefficient operator and certainly not with an aggressive and obnoxious client who had and who was continuing to rip off Lotto and potentially other funders by misrepresenting reality. I also predicted (correctly of course) that TDHS would never complete the book project with their divided and utterly useless management of their project, let alone on time.
I have all the proof of this of course and my claims are provable in a court of law regardless of what these crooks, crims and crazies may say behind my back!
But it gets worse than this because I know that TDHS has continued to fund their latest book from public moneys under false pretenses. I also know that their delivery commitments to their funders have been extended, and extended in direct contravention of all the ethical guidelines for public funding! BS, BS and more BS!
The Fallout
It is my opinion that such stretching the rules (that's a polite way of putting it, it's actually "fraud") with funders such as Lotto, just like TDHS did (and probably still does) is socially acceptable to some but that in my book it is directly akin to insurance fraud, tax fraud and other immoral conduct. Yes, it is common, justified by the people getting the actual benefit, and those with vested interests out to protect their own reputations but this is all based on deception, therefore it is evil.
Personally, I think that Audrey and perhaps Jim deceived their own Board members, because it appears to me that they genuinely believed that Cookie gave them a genuine quote when he never did. I can't prove this yet, but I surely will be able to though when the little birdie sings, as she usually does.
What is really nasty however, is that it is always the whistleblowers; the thinkers; the ones with integrity who stand up and speak the truth (like me) that get tarred and treated like crooks by the crooks! They keep on lying and blaming others rather than doing the honourable thing. Over the years Cookie has suffered from this badly because he is seen as a soft touch. I can and do stand up to it however.
This then is the true nature of evil – it hates. It attacks people who cause it embarrassment by the shining of the light on their skulduggery. They always attack the messenger, only because they know that the message condemns.
Just like Adam did when Eve twisted his natural sense of morality way back when, RLC knowingly participated in deception. While he is widely recognised across town as a soft, gentle, honest man, IMHO he deserves to have shame heaped on him for bowing to the feminine pressure exerted on him to stretch the rules. He knew it was wrong and that he participated in a fraud against Lotto.
Sadly, the real crooks however, the ones that engineered the funding under false pretenses and who have mismanaged and lied year after year to save face are likely to get away with their immorality.
That's life though and that's evil.