Divining truth requires an understanding of the background of an 'information source'. In this post I share some fringe sources of 'Military conspiracy information' so that one can see how I put the source into proper context. As mentioned in previous posts in this series, truth speaking can never be a binary matter, where we exercise a definitive right or wrong or good/bad judgment but each source provides a piece of the puzzle to increase our understanding of complex dynamics. Enjoy.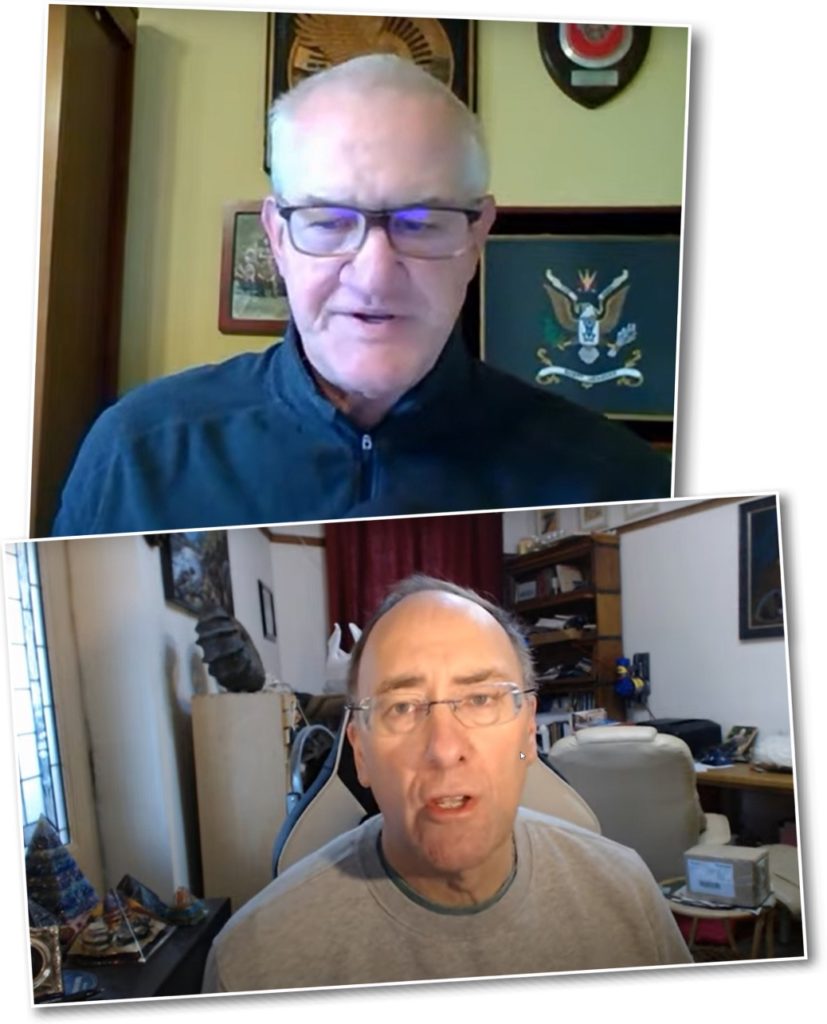 In previous posts I have explained that I approach all research with a big-picture Christian worldview – God created 'good'; mankind screwed up and that democracy (mankind's efforts at self-rule) runs contrary to His instructions in the Good Book. This approach accepts that there is ultimately binary truth (logically therefore deception and falsehood also exist), but that growth in understanding is a process of understanding things and people that we are all going through here on earth, not so much a binary, "He's no good, but I am!"
Ideologies and beliefs that exercise the requirement for a simple binary choice (for example that Trump is essentially good or bad, or say belief that election fraud never existed, and therefore that someone like me is a conspiracy nutter) do not fit into this worldview. Political situations are popularly turned partisan, thus requiring this binary selection, an error IMHO.
In analysing conspiracies I have accepted some and rejected others. Calling me a 'conspiracy theorist' (when I consider myself first and foremost a truth seeker by way of being a 'conspiracy analyst', then in time more of a truth speaker is a falsehood), is a logical fallacy. As I ask of my detractors, "Which the many conspiracy theories don't you accept on my long list of subjects I've researched?" The ones you ignore then I know that you agree with. "See you too are a conspiracy theorist!" I will reply. It's just this one or that one that we disagree on the details.
So I have already mentioned that it is my belief that some senior leadership of the US Military with patriotic leanings took issue with the Deep State's execution of JFK in 1963 and have worked to "protect the Republic" since. I see evidence that they have supported President Trump into office and to his mission to take on the NWO advocates after what they see as a multi-decade slide. Spawning the MAGA movement and the America First agenda has brought them into open warfare with the Deep State. The 2020 US Presidential Elections appears to have been an operation that has flushed out the people traitorous to 'the [patriotic] cause' and this has been so successful that Big-Tech, Media and other companies with vested interests have reacted hotly and violently to the President's claims & actions.
This flushing out and panicking reaction is (to me) evidence of a man who is fully in control, knowing that he cannot lose, no matter what is thrown at him by:
a) Trump's introduction of appropriate laws as early as 2018 (two years before the election) which shows huge foreknowledge;
b) Trump's apparent willingness to accept obfuscation, delays and even defeat in all legal challenges to the election fraud; and
c) His apparent peaceful but patient resolve to push on with doing what he has been doing, simply talking about what he has done and why he believes what he does.
Nobody in the natural would normally be able to stand what he has been coping with so the US President is either a lunatic who lives in a parallel universe, or he is a very smart man who knows exactly what he is doing and who is behind him. My firm take is that he is the latter.
The power that Trump gets comes from working with the Military (and Law Enforcement too) but at its fundamental level the Military is it. Indeed I recall him saying at the outset of his political career that he had the backing of "200 generals", clearly in retrospect a cryptic nod to the 200 generals and their replacements who determined post the JFK assassination that they would protect the Republic. The Military is clearly intimately involved with the US President and his agenda.
Diving into these various sources of information however requires us to 'go alternative' and this is not an easy process as egos and disinformation abound. I had been keeping up with the play for years in the US political arena as it interested me but I really started researching this all in earnest in mid 2020.
David Bray
One of the first things I had reinforced more than a decade ago was from an ex-US Military guy turned on-line preacher David Bray. David has run Cutting Edge Ministries for years now (BTW I don't subscribe to much of his theology), but he tells how his awakening came from his time in the Pacific as a Military Intelligence officer when he came to see that the vast majority of official information given to the public was false. Long before the concept of False News, even False Flags, this confirmed my own experiences. Beyond the Christian worldview that expects corruption on the planet, this understanding then sets the scene for deception to be the norm.
Q
The Q operation has involved a team of people (the Anon parts are the others) and is intricately associated with the Trump team. Q aims to inform the public. Q talks constantly about The Plan – that there is a plan and for us to "trust The Plan". Q is a Military insider that shares hope for US patriots, but is this a ploy or a False Flag and to what extent is it for real?
First, an anti-Q approach from known Deep State operatives is an instant clue that I'm on the money. Whenever a threat arises the MSM always rises to address it. Anti-Q stories started to become noticeable in mid 2020. Analysing their criticism I noted their focus on a few carefully selected subjects (a logical fallacy called cherry-picking), ad hominem attacks and omission of any mention of the core thrust of his message.
The first proof to me then came as a negative-positive. Yes, it appeared that Q was indeed real, and hitting home runs that hurt the NWO agenda, hence their defensive response.
Secondly his message seemed to match up with other information that came from other 'informed' and 'inside' sources, especially with the Supreme Court of the USA having refused to deal with any evidence. Perhaps bribed; maybe extorted, certainly compromised.
Simon Parkes
More recently Simon Parkes has come on my radar. He claims to have inside information from Q himself, a claim that is entirely plausible. His information on the US Military, US politics, the "#italydidit' work can indeed all be checked out in many regards, even though I'm not into the Alien, Pyramids and Lizards of the conspiracy world.
What we have to do in Simon's case is ask from where does he get his information and why do they, and the others trust him? I see his desire to move into the USA and self-promotion as his biggest asset, probably why his sources involve him too. He's not a Military guy as far as I can see but he is getting relevant information and has been helpful to me in seeing reality.
Jeffrey Prather
Jeffrey Prather however is at the opposite end of the professional spectrum. He is a Military man through and through:
Jeffrey Prather is a retired army officer, ex-DEA special agent, former DIA intelligence officer turned whistle blower and then targeted by the government.

In addition to hosting his own call in weekly talk radio show, "The Prather Point", he is also a martial arts master and teacher, Apache wisdom teacher, Kinetic Quotient creator and trainer, firearms and horsemanship instructor, published author, SAG film actor, speaker, father, husband and chaplain.
His mission statement is to "restore our fallen Republic" believing that the country has already fallen. He says that he is not hopeless but hopeful, while recognising the huge power that the Deep State has with regards to the recent Media embargo of the President and more. His advice is to avoid the larger cities, stock up on food, water & medications in preparations for Deep State driven False Flag attacks, possibly in all 50 states. He fully expects the National Guard to be deployed and is not convinced that the President can or will fight back.
I find his commentary totally credible and note that his life experiences have taught him that "Planning is invaluable but plans are useless – because the enemy has a vote."
I totally concur and in response encourage people to get to know the Master personally as fast and as deeply as they can, seeking to learn and apply His principles into each of our life situations.
In regards to the censorship of the conservative voice, Jeffrey has recently said that while Newsmax did cover the President's latest from Texas:
Fox did not cover the President of the United States. That just shows the power of the Deep State – the force that can be brought to bear – the ability to extort and to bribe and to pay off and to threaten – that's raw naked force, make no mistake about it.
I use Jeffrey's analysis as a major credible source of understanding, particularly from a Military perspective. Sure, he's a chaplain but his focus is much more on understanding gained from his military career. Listen to more from him for a moment:
The [Presidential] order targets China's military, civilian, fusion, program that seeks to obtain technology and information to boost Chinese modernisation efforts. [i.e. what he calls], Fifth generational global unrestricted warfare declared by the Chinese against us after the first Gulf War.
He goes on to highlight that in 2014 the Chinese stole 21m personal records, the year later some 78m, and calls this China's mass tool for global oppression, China's digital totalitarianism i.e. The Great Reset.
Like he says of himself, I see him analysing facts as they come to him and concluding that they show evidence of the covert Fifth Generational World War 4 global war battlefield. He considers that what he does, as he says himself, is the best way of connecting the dots.
I particularly like his get in there and do it approach to difficult issues:
I have NEVER said, "Sit back and watch The Plan!" We are The Plan. We are God's Plan. Neighbour up and become independent. Get away from big (Deep State) government. Build your emotional and spiritual resilience. Be patient & kind.
While he specifically refuses to say this week with Trump's apparent capitulation that "we are winning", he does confirm that there are signs of a "Final Option" being implemented. He says that he hopes, but you can see that he has lost a lot of confidence with the censorship events of the past week knocking Trump around quite a bit.
In order to assess the veracity of Jeffrey's take, please consider the following points from his most recent podcast/vlog/video blog:
The US DOJ & FBI have been and are currently purging evidence.
In discussing apparent flips of support to Trump from some EU states, he notes that behind the scenes negotiations have resulted in the shift of their support to Trump … that all masks are now off [pun intended] and that some of Europe is now solidifying behind Trump.
He mentioned that the capitol breach resulted in 25 laptops with secret Internet access getting removed from the building. All of them had Secret Internet access to the SUPRANET some remained open. His analysis is that somebody wanted more direct evidence of treasonous acts from the Left/Dems
These things all make perfect sense, although the information of "up to 25 laptops taken" is not what is more widely spoken of elsewhere where only 12 were mentioned. Proof of Jeffrey's claims comes from multiple sources as well as the application of logic. He speaks from an ex-operative in the US Military still working for 'us' being Team America, and thus when seen in this light he is a vital source of news and understanding for me.
He asks good questions, like "Why [would they say/do something] and talks of matters being, "VERY confusing" and "Difficult to understand". This is exactly in keeping with my own take – you do not have the good guys vs the bad guys in little easy-to-define camps. The fog of war, be it between China and the rest of the world, or between the Deep State, NWO proponents and the Right Wing Conservatives or indeed the ones on God's side vs the enemy of His purposes, ensure that we have to dig deep, engage brain and be careful not to make definitive judgments.
As I said at the outset of this series, I will know if my assessment in regards to Trump's second term is right or wrong and how many of the conspiracy theorists are right and to what extent they got it right, or wrong in due course. I trust that you have enjoyed this journey with me into the world of divining truth in a sea of deception!